Semiconductors have been an integral component to the secular bull market.  I would argue they are leading the whole move.  I did a long-form blog about my thesis at the end of 2017.  I'll save you a click, this is the main hypothesis of my belief:
One of our firmly held investment beliefs is that we are at the beginning of an era of economic prosperity the likes of which nearly every living human has never seen.  A revisiting of the roaring '20s, but this time the driver is automation.  Soon our daily lives will be augmented in a big way by AI.  Listen, we are a point where computer power goes parabolic according to the rules established by Moore's law.
Last week during the Exodus Strategy Session the PHLX semiconductor index grabbed my interest because it has been coiling up and building energy pretty much all year and we had nearly reached the apex.  I wrote the following note:
Semiconductors continue to form a coil.  More and more I expect the first move away from this compression to be a false start before a real move happens in the opposite direction.  Long term trend is bullish.
Fake a move, make a move.  The overplay for the underlay.  Whatever you want to call it.  Everyone watches these coils and everyone thinks the breakout from them is a great trade.  I think it is a shit trade.  I prefer to fade it because markets spend the majority of their time in balance.
Well, here we are.  Sellers attempted a move down-and-out of the coil: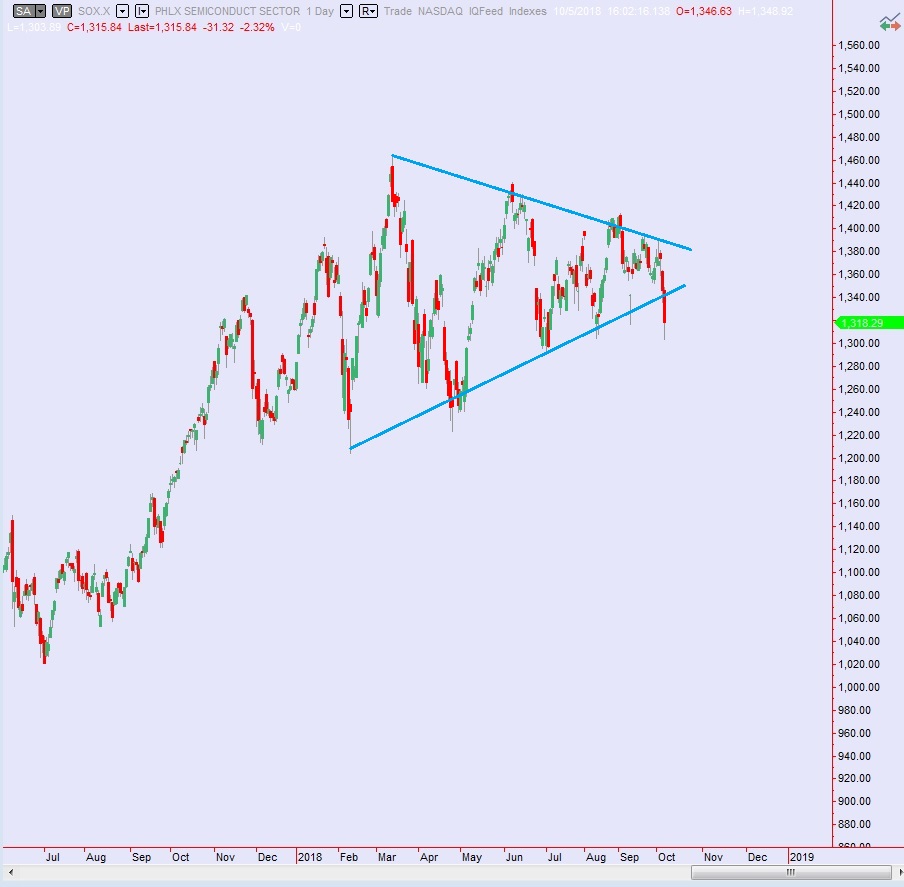 This chart should be on every serious traders screen this week.  My primary hypothesis is we have a bullish setup on semiconductors heading into the second week of Q4.  Secondary hypo is this downside accelerates and takes the whole market down with it.
Plllllllace your bets.
Or don't.  I don't really care.
Alright, I am diving back into my Sunday research.
ciao ciao, kiss kiss
If you enjoy the content at iBankCoin, please follow us on Twitter