"The rare sight of sharks and crocodiles feasting on a huge humpback whale carcass has been recorded off Australia's Kimberley coast.  The spectacularly gruesome footage was recorded after a tourist cruise boat spotted a massive object floating in the sea north of the remote Montgomery Reef."
ABC News, November 28th, 2017
NOTICE: There will be no discussion today on the RAUL blog regarding crypto currency.  You are on your own.  There is something much bigger and primal to discuss.  And if you pay attention, it may just improve the way you attack the bitcoin market, or whatever.
You need think about how your brain thinks.  This is important.  One of our firmly held investment beliefs is that we are at the beginning of an era of economic prosperity the likes of which nearly every living human has never seen.
A revisiting of the roaring '20s, but this time the driver is automation.  Soon our daily lives will be augmented in a big way by AI.  Listen, we are a point where computer power goes parabolic according to the rules established by Moore's law.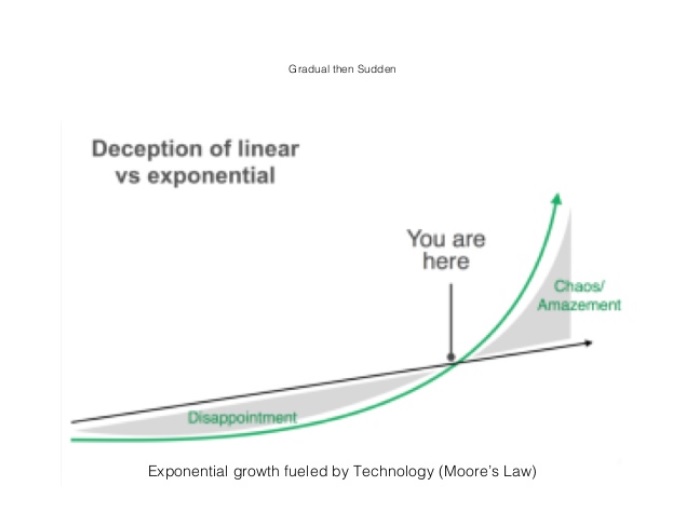 While computers can handle massive feats of calculus like we see in the bitcoin-blockchain-mines, they still lack a human touch.  As primitive as the biological bodies are that we inhabit here on earth, these decaying meat sacks are still impossible for us to build.
We have investments in CRISPR that are challenging this impossibility.
But my favorite theme going into 2018 is humanizing AI.  When I was out in California I had a conversation with a girl who reached out to Match.com and demanded all the information they had gathered on her through her use of Tinder.
They sent her over 500 pages, many of which were downright humiliating.  Think about what is going on when a person uses Tinder.  You are seeking companionship, maybe even love.  At a minimum you are curing boredom through snap judgement of other people.
In any case seeking companionship is a time of human vulnerability.  Desperation even.  There are all these societal pressures as you grow older, especially around the holidays.  To pair off and procreate.  It can drive weaker minds into a panic.
Humans fear being left behind.  Abandoned.  Excommunicated.
There are a few conversations every year that I walk away from firmly believing an opportunity exists.  I have not had one since the CRISPR situation back in Q1.
Match Group is the next big one, ticker symbol MTCH aka Lil' Mitch.
Investing and trading are one in the same for me.  There are long periods of nothing.  If you become bored you run the risk of finding ways to justify taking action.  Action for the sake of activity.
This used to be a big problem for me.  Then I started to study to crocodile. Why the crocodile?  Because the species has been roaming the earth for hundreds of millions of years, unchanged by evolution, because it was properly equipped to survive on planet earth before any trace of humans even existed.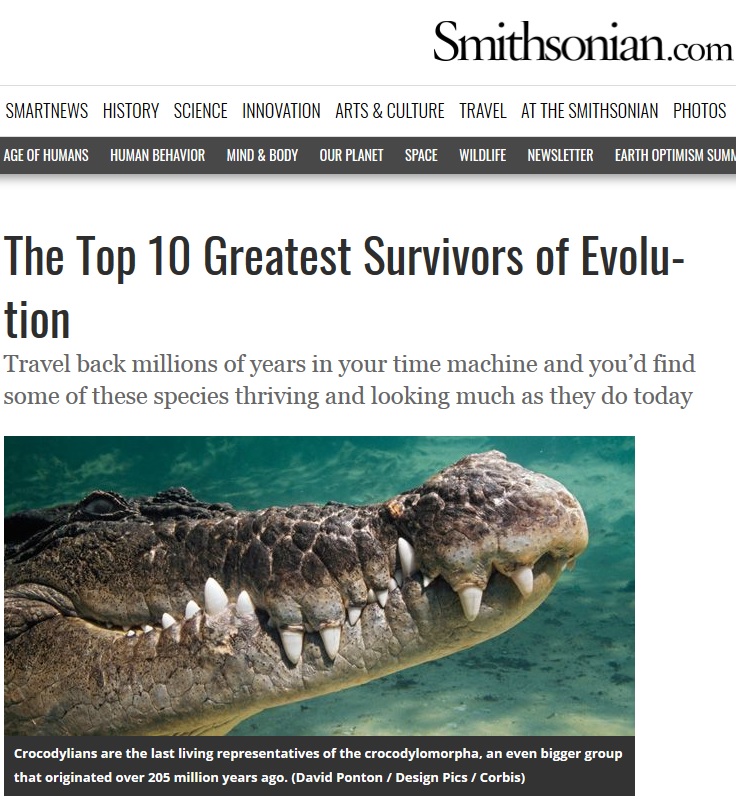 How does a crocodile behave?  It waits.  It uses very little energy, loafing around in a puddle of mud, not moving for days-weeks-YEARS.  Then, all at once, with absolute tenacity and certainty it strikes.
And feasts.
A crocodile can go up to three years without eating.  It can fast.  It can wait.
So when Tinder parent Match.com hit my radar in late-November I pulled up a chart, much like I always do, and I decided where I am going to sit, like a floating log, waiting for my opportunity to strike.  I decided to wait at $26, look: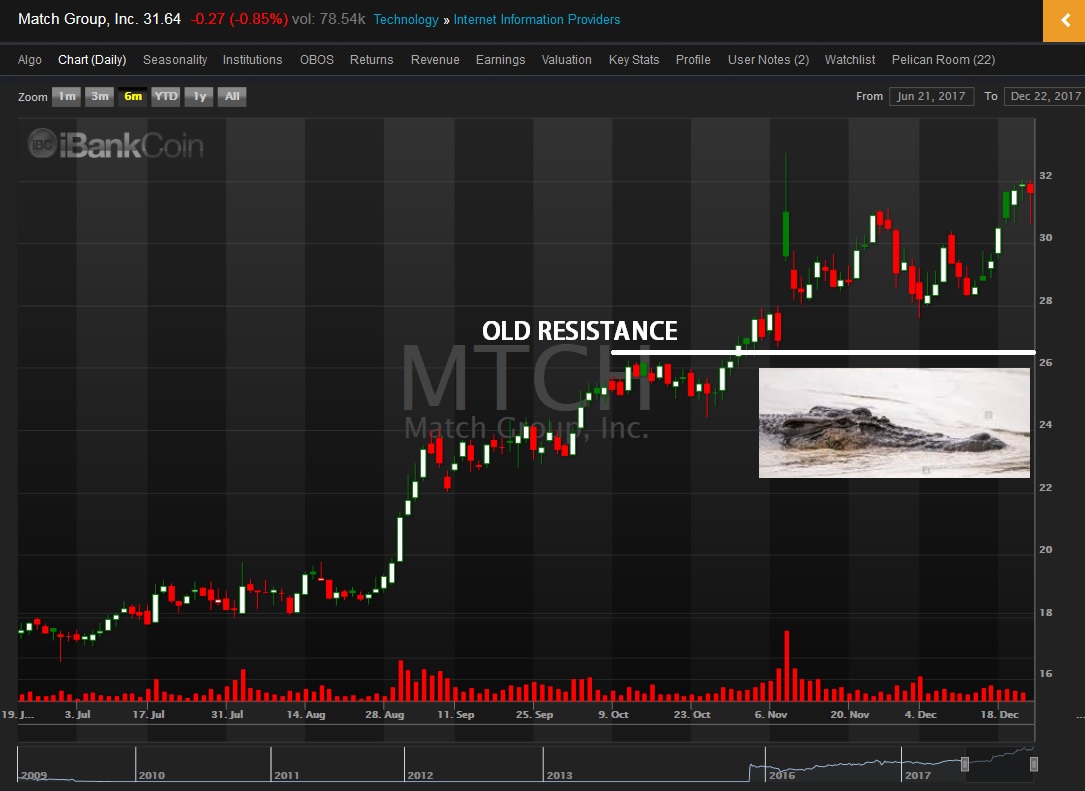 But life does not always work out perfectly, and sometimes you have to inch a bit further ahead, especially when you have contextual reason to believe your meal may not fall right into your mouth.  In the instance of MTCH, we had repeat bullish signals coming out of the Sunday quant.  I knew I needed more exposure to stocks before the rising tide began lifting all boats.
So as I barrelled down the interstate, traversing from Jackson Hole-to-Detroit, I was having a running dialogue with my OG homie: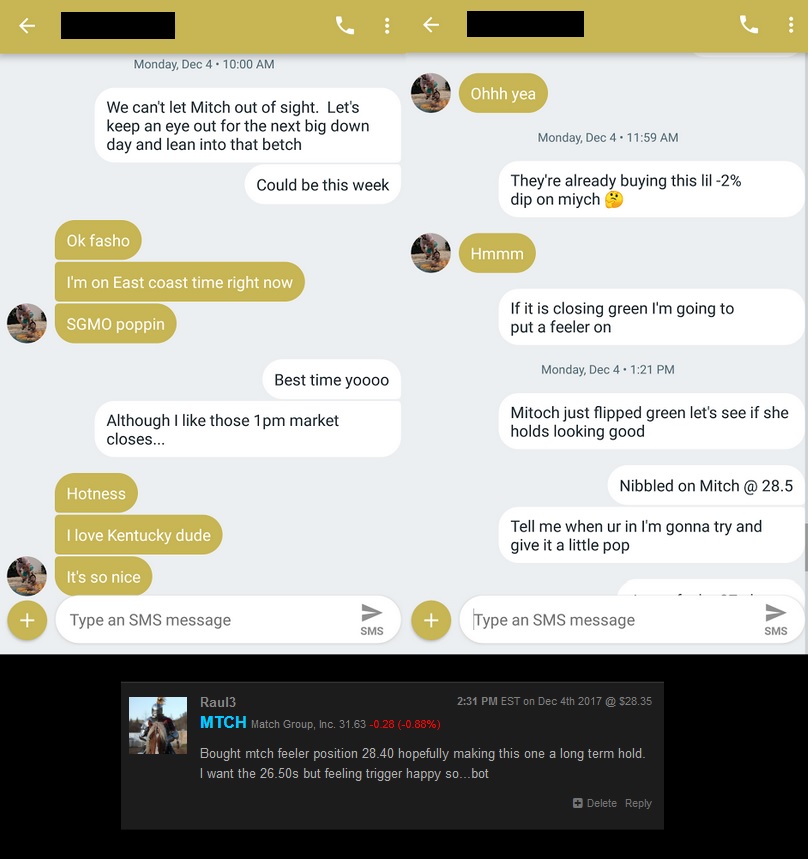 I am sharing all this behind the scenes information for the simple fact that I want you to see my thought process and how I act when it comes to investing.  I do not seek your admiration.  These are the ramblings of a salty old reptile.  But if it helps a 21 year old version of me to be more PATIENT, then there is a better chance they will survive their learning years and become a successful steward of their own investment decisions.
That is all I really fight for out here on the blog, to liberate the small-to-medium sized investor from the fees and charlatans that exist in the world of finance.
It really is not that sexy.  Being a crocodile is boring most of the time.  But once you have sunk your teeth into a trade properly a few times, and you develop a taste for blood, it is hard to go back to living a normal life.
We are at the precipice of something huge here.  Feeding massive data sets of raw, vulnerable interactions into a learning computer might be a way to make humans more comfortable inviting a servant robot into their home. Match group is sitting on an extremely valuable data set.  They are also growing their revenues and earnings: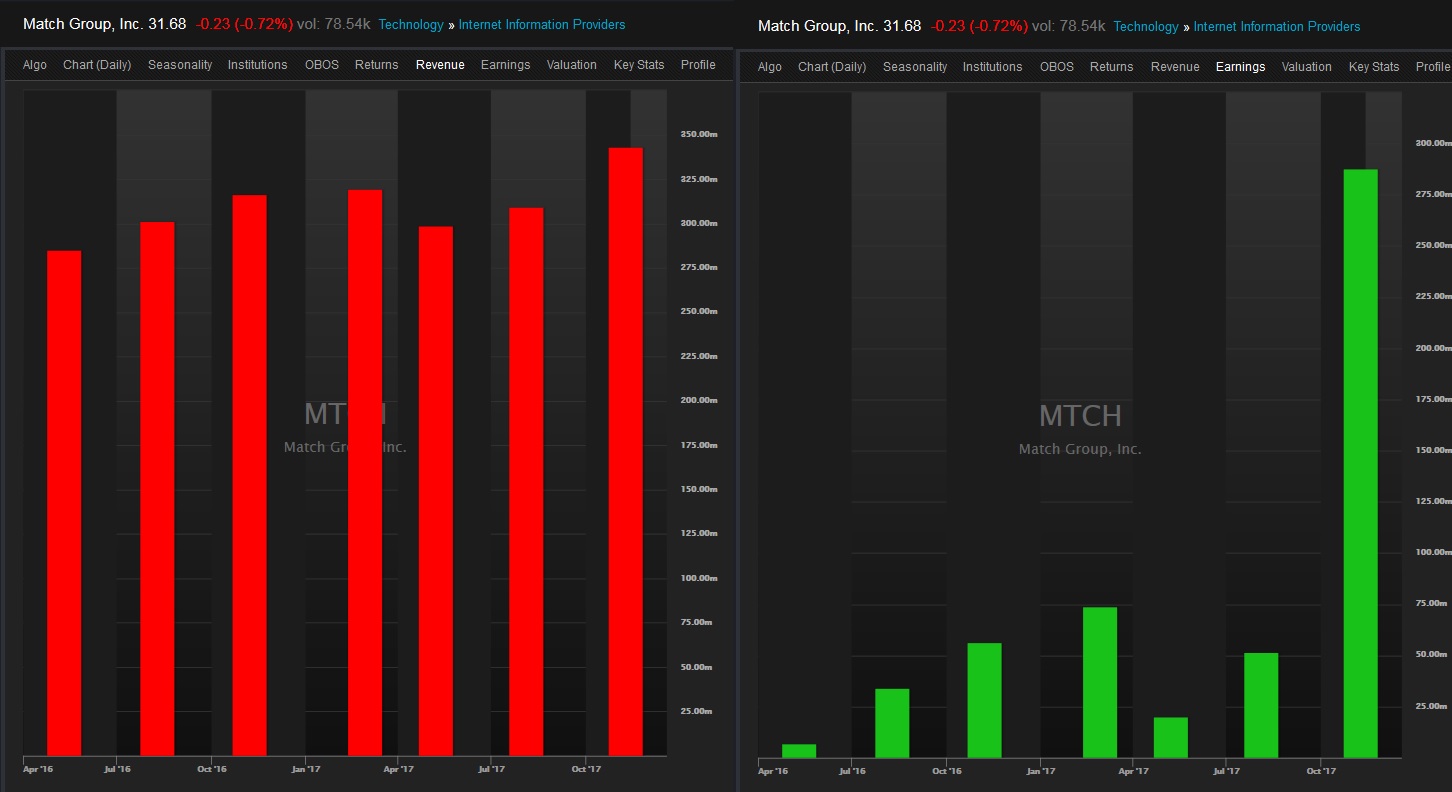 It would not surprise me to find out Google or Facebook or Amazon has Match Group on their radar.  That Google executives are waiting in the fringes like crocodiles, wondering when they can sink their teeth into the glorious data set hiding behind these corporate walls.
Now that my feeler position is up +10% I have to grow some huevoes and average up.
#developing
If you enjoy the content at iBankCoin, please follow us on Twitter