I have an optimistic bias towards Tesla and anything else Elon Musk touches.  Unlike a journalist, I have told you my bias up front.  Now, let's look at a few relevant details regarding Tesla.
The bonds everyone is talking about, with the increasing premium?  They are still being serviced.  They do not expire until 2021.  Also news flash: interest rates are going up.  Did you happen to look at $TLT during Monday's bloodbath?  It was red.  Welcome to the Jerome Powell Federal Reserve.
The Model 3 production numbers that are being repeatedly thrown under the bus, they have issued more than 20,000 VINS.  A Model 3 typically delivers within 9 days of being issued a VIN number.  Here is a Twitter account you can follow to track VINS on your own, without some negative spin being added to it:
#Tesla registered 2,041 new #Model3 VINs. Highest VIN is 20581. https://t.co/LXEyupKdSn

— Model 3 VINs (@Model3VINs) March 30, 2018
Are the Model 3 production numbers below forecasts?  Yes.  But behind every VIN number is a person elated to receive a Tesla, a person who will spread the word of Tesla faster than any traditional disciple ever could.  BEHOLD:
Two years ago to the day, I was standing in line to reserve my Model 3. Today my Model 3 got a VIN! Happy 0th Birthday, my as-yet-unnamed sweet! Thank you so much to all @Tesla for their incredible hard work. I'm counting down the hours…#tesla #model3 #birthday #throwback pic.twitter.com/P3pnMM1wTV

— Owning a Tesla in the City (@lexiheft) March 31, 2018
I wonder how much BMW or General Motors or Toyota spent on advertising last year and how many times those add dollars yielded the kind of brand excitement shown above…
Regarding the Model S recall, I believe our very kind and benevolent Leader addressed the media hullabaloo surrounding the recall sufficiently:
Tesla policy is to issue a recall *before* there are injuries. This is absolutely the right thing to do. Yet there were dozens of recalls by other car companies last month, incl w injuries & deaths, but you only wrote an article about Tesla. Why so?

— Elon Musk (@elonmusk) April 2, 2018
I am not here to convince you Tesla is going to succeed and be the biggest company in the world, surpassing Apple slowly, that all at once.  I already believe.  And I have my money where my mouth is, long a considerable amount of $TSLA shares.
The value I can add, aside from being the loudest bull when it matters most, and otherwise quiet, is to show you how I expect $TSLA price action to play out over the next several months.
Here is how I envision Tesla price action playing out, going forward: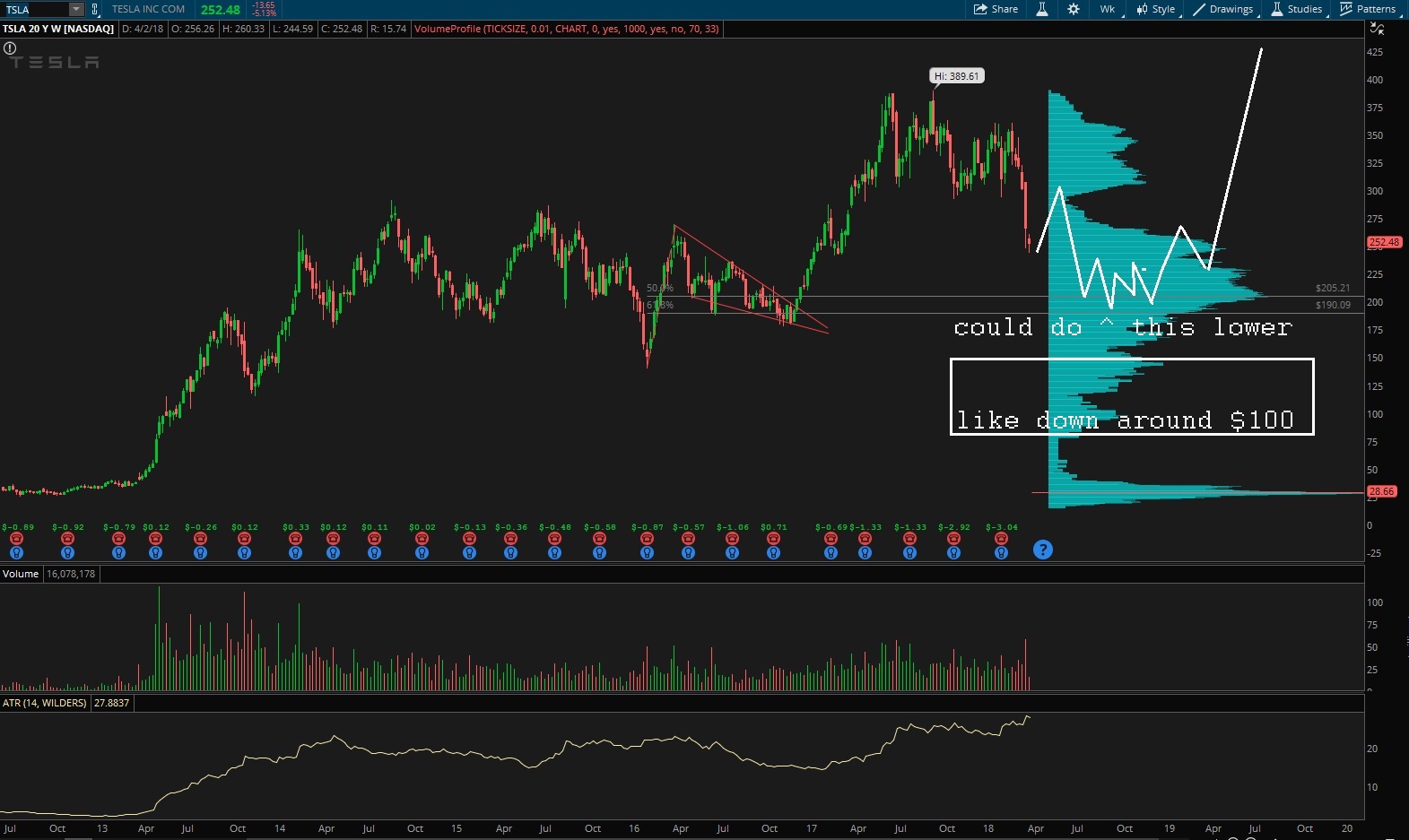 Is the above chart accurate?  Perfect?  Not really.  These are broad brush strokes.  With any luck, share price will be compressed for many years, allowing me to continue accumulating shares.  But I think this gives you a sense of my mentality.  I am extremely long term.  The shares I am buying will not be sold.  They will be passed onto my kin.
This is my take as a permabull.  We are in the middle of a negative news cycle, and journalists from all publications are showing their true colors—they despise the hope and change Tesla and Elon bring.
Fine.
I will continue to be a voice of hope in the sea of negativity.  Also I bought more $TSLA today.
If you enjoy the content at iBankCoin, please follow us on Twitter