Two weeks back, iBC labs issued a public announcement that trouble was brewing.  Much like the nor'easter that drifted by last week, dire warnings were issued only to see little devastation and chaos come from it.  However, the short bias had utility.  Intra-day trading the short bias during the week spanning 3/6 – 3/10 yielded successful results.
For the week we had two neutral days, one range extension up, and two range extension downs.   It was one of the first weeks in 2017 where sellers had any traction.
From a swing basis, the trade was wrong.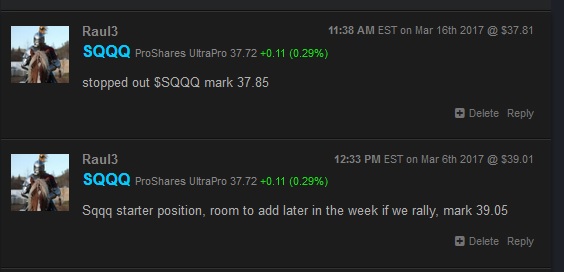 Having the post FOMC-rate hike reaction as a proxy for whether this trade was right or wrong was useful, as it provided a definitive answer to the question.  It was wrong.
Under the surface of index prices there were some heavy blows to the energy and basic materials sectors, as well as financials and healthcare.  Take a look at some of the losses endured from 3/6 – 3/10 from several industries: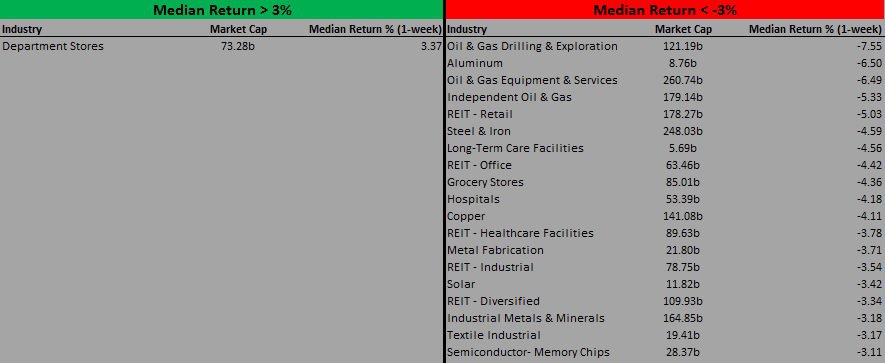 All that being said, we have headed higher since the call was made, and prices have recovered handsomely across the board.  Into the upcoming week, the Exodus Strategy Session offers no clear indication of where price is headed.  There is one piece of data inside Exodus worth noting.  The algorithmic Hybrid Chg % number, found on the Historical tab, has kept us on the right side of the tape for a very long time.  It has shown, simply, that buyers have pushed harder and more often than sellers.  Until we see larger absolute numbers populating this column, iBankCoin laboratories is content sticking with the trend: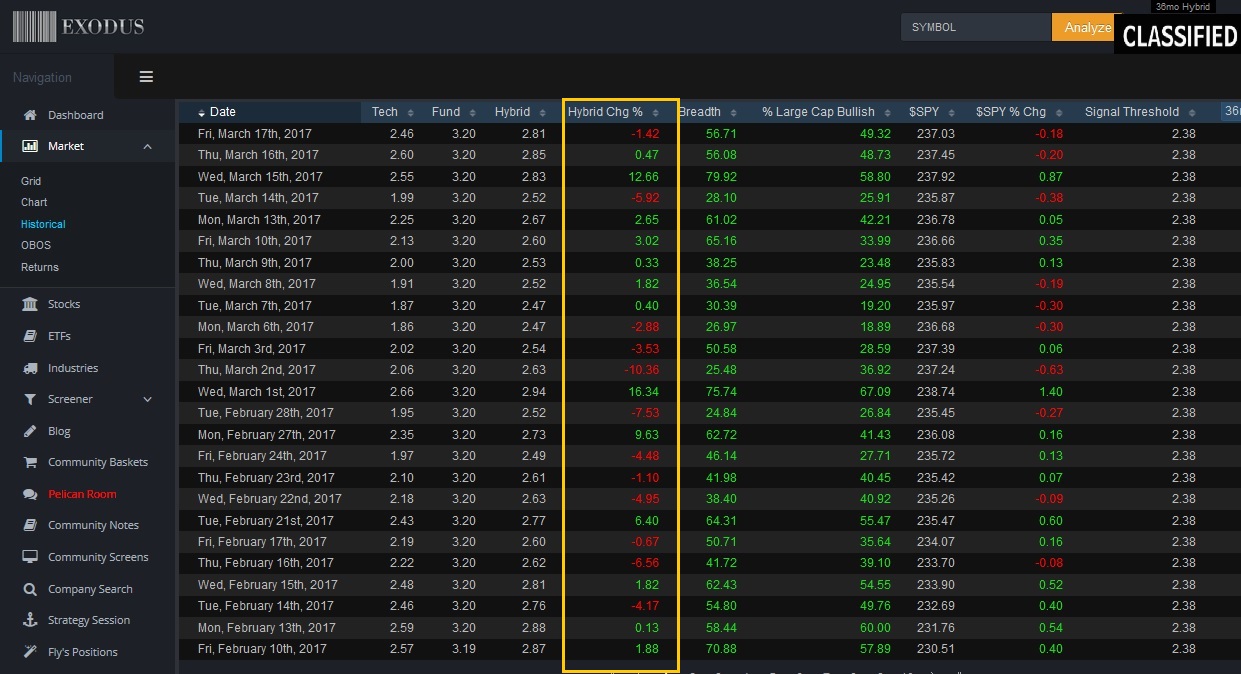 The good folks at iBankCoin labs are happy to walk you through the many features of Exodus.  I recently had the opportunity to speak with a new member who is using Exodus to supplement his gold/index futures trading process.  We looked at the specific tools inside this massive toolkit that are best suited to his needs while also discussing some of the pitfalls to futures trading.
If you would like a one-on-one demonstration of the software, send an email to [email protected] or leave a comment below.  As iBankcoin grows under the diligent leadership of Senor Tropicana, and with zeropointnow expanding our reach like never before, it becomes paramount that new members become cohesive stock market operators, so we may dominate the financial markets.  Your success means a continued broadcast of truth and greatness—honest narratives of world happenings and MOAR—all while banking industrial quantities of coin along the way.
As for next week, iBC Labs have no data rolling in from the thousands of autonomous sensors deployed throughout the financial markets.  The economic calendar is slow, and we have a full two week of March left.  Therefore, we are content to issue a neutral rating, erring on the side of the bulls, going into the fourth week of the third month under our new American authoritarian regime.
Shine on you crazy diamonds
If you enjoy the content at iBankCoin, please follow us on Twitter