Greeting lads,
Not much vigor in me today to write something odd and entertaining. Just sort of plugging away. Let's see…what happened last week.
Well I paper handed the open Friday, missed out on a nice morning pamp. It happens. I am not immune, despite my best planning and efforts.
What else did I miss? Ah yes. The ENS domain airdrop. I have had the ens registration opened on a tab in metamask for months. Sort of back burnered it after I couldn't decide on a name. Missed out on about $20k in quick money. Ce la vi.
Did some airdrop alpha hunting over the weekend because of this. I opened a second metamask wallet. Swapped some coins on paraswap. And opened a Ronin wallet but heck if I know how to port any internet money into it. (any help in this regard would be appreciated. Feel free do dm me on twitter @vinnumbrr).
What else…what else. Ah yes. I took a position in a governance token called $spell. The abracadabra network. Real greasy defi stuff. I shall explore this further but essentially you can post some collateral to their protocal and in return they loan out $MIM (magic internet money, lolz). This is another stable coin. Then you can like use this magic internet money to leverage any yield earning schemes you're into.
All very nice ponzi-economics.
Okay for now. I am off to do some yoga'd training and then eat some punkin.
-Raul Santos, November 14th 2021
And now the 364th edition of strategy session, enjoy.
---
Stocklabs Strategy Session: 11/15/21 – 11/19/21
I. Executive Summary
Raul's bias score 3.55, medium bull*. Continued sideways drift along the highs.
*extreme Rose Colored Sunglasses bullish bias triggered, see Section V.
II. RECAP OF THE ACTION
Topped out early Monday then sort of just of calmly drifted lower until some buyers stepped in Friday and then we drifted higher.
The last week performance of each major index is shown below: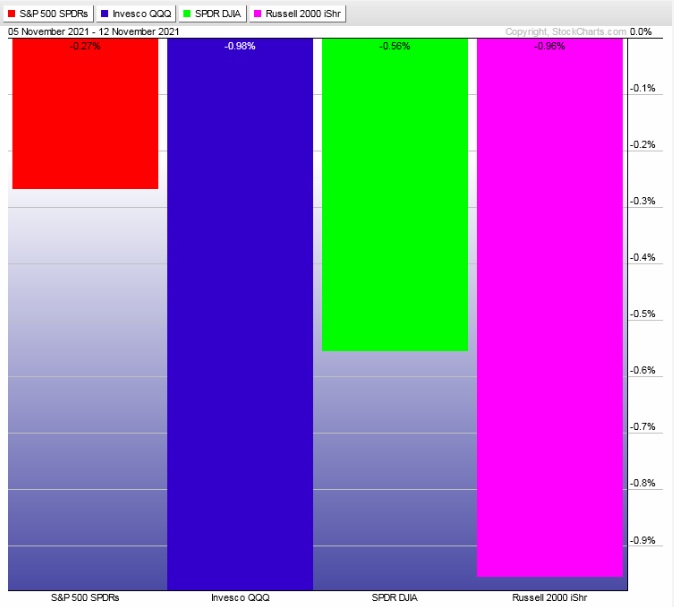 Rotational Report:
Discretionary took a hit. Everything besides Materials sort of flat.
slightly bearish
For the week, the performance of each sector can be seen below: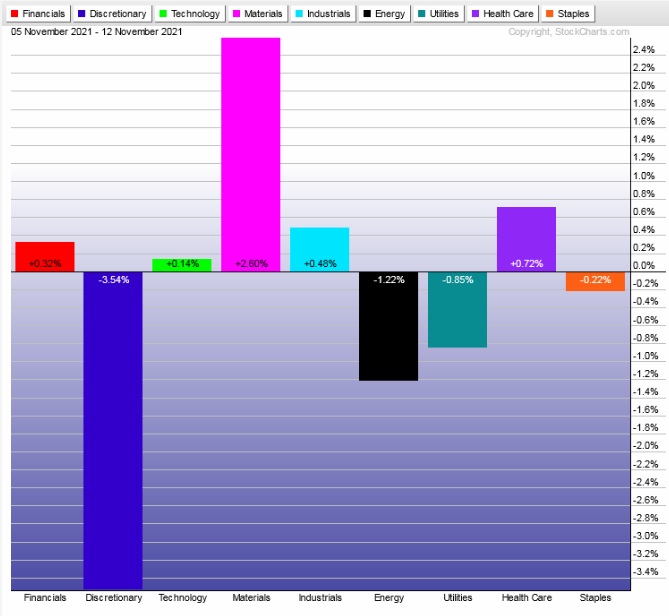 Concentrated Money Flows:
Eleven weeks back we had a major bullish skew that was never negated. Then three weeks back we had another major bullish skew. The ledger was fairly balanced last week. Semiconductors on the positive side. Bulls not loving seeing gold and silver perform well. They do not support the rally well.
neutral
Here are this week's results: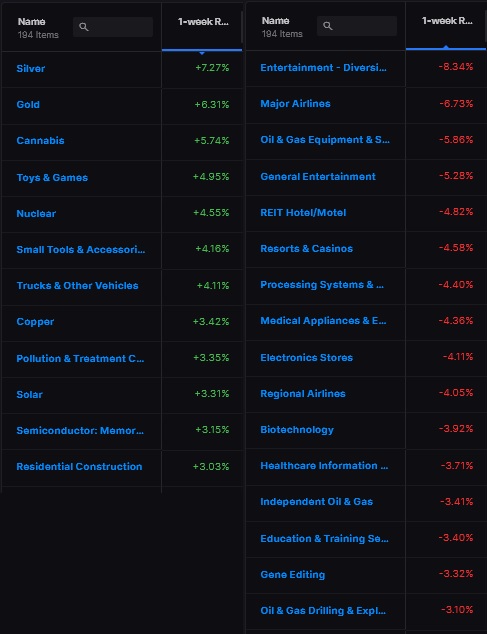 III. Stocklabs ACADEMY
Stocklabs zoom call
Here is a link to a live demonstration of Stocklabs: https://youtu.be/4sLqFk402AY
Always helpful to see someone else walk through the toolkit.
Note: The next two sections are auction theory.
What is The Market Trying To Do?
Week ended searching for sellers
IV. THE WEEK AHEAD
What is The Market Likely To Do from Here?
Weekly forecast:
Continued sideways drift along the highs.
Bias Book:
Here are the bias trades and price levels for this week:

Here are last week's bias trade results:

Bias Book Performance [11/17/2014-Present]: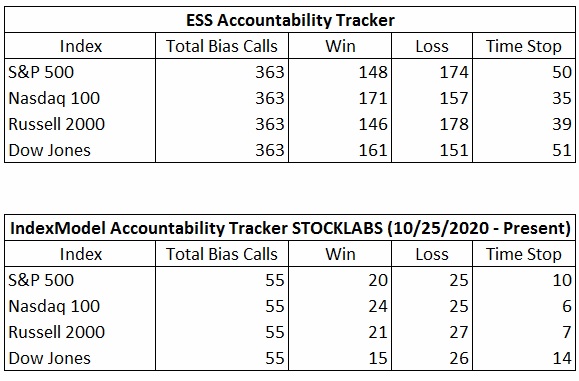 Discovery up across the board
Markets fluctuate between two states—balance and discovery.  Discovery is an explosive directional move and can last for months.  In theory, the longer the compression leading up to a break, the more order flow energy to push the discovery phase.
We are monitoring two instruments, the Nasdaq Transportation Index and the PHLX Semiconductor Index.
Transports are attempting to convert old resistance into support. This is classic discovery up action.
See below: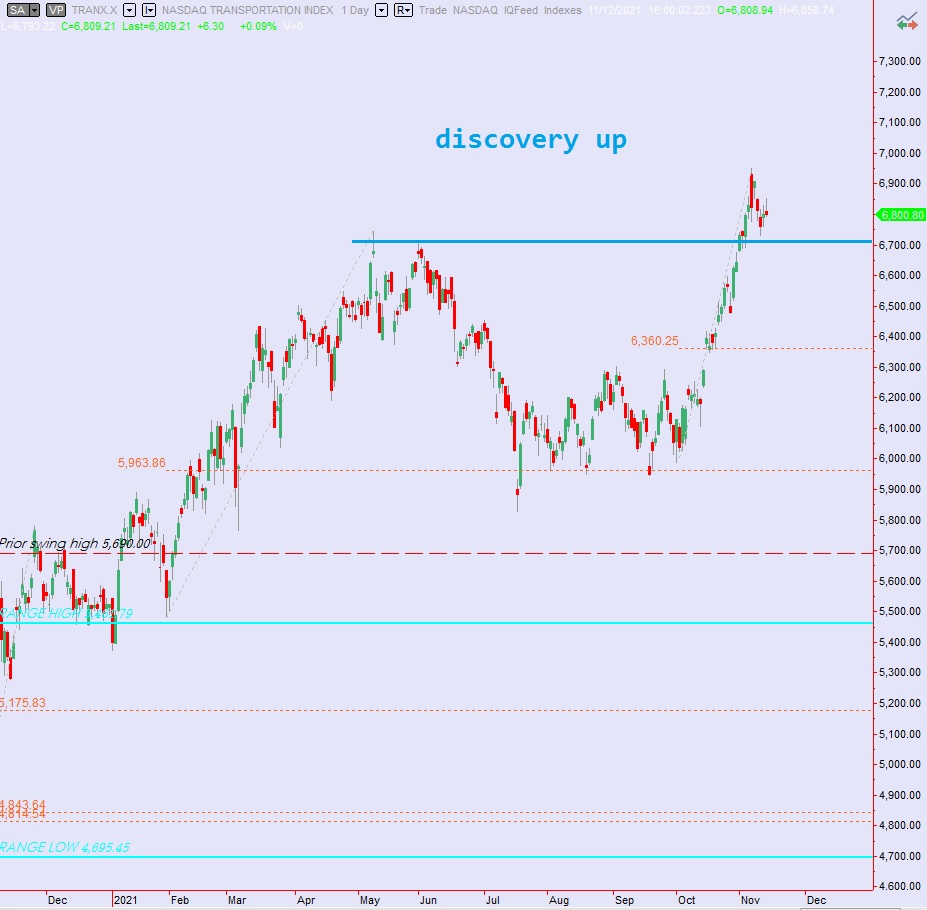 Semiconductors are majorly stretched but in discovery up. NVIDIA earnings are due out Wednesday after the bell and may serve to continue this rally or call it to an end.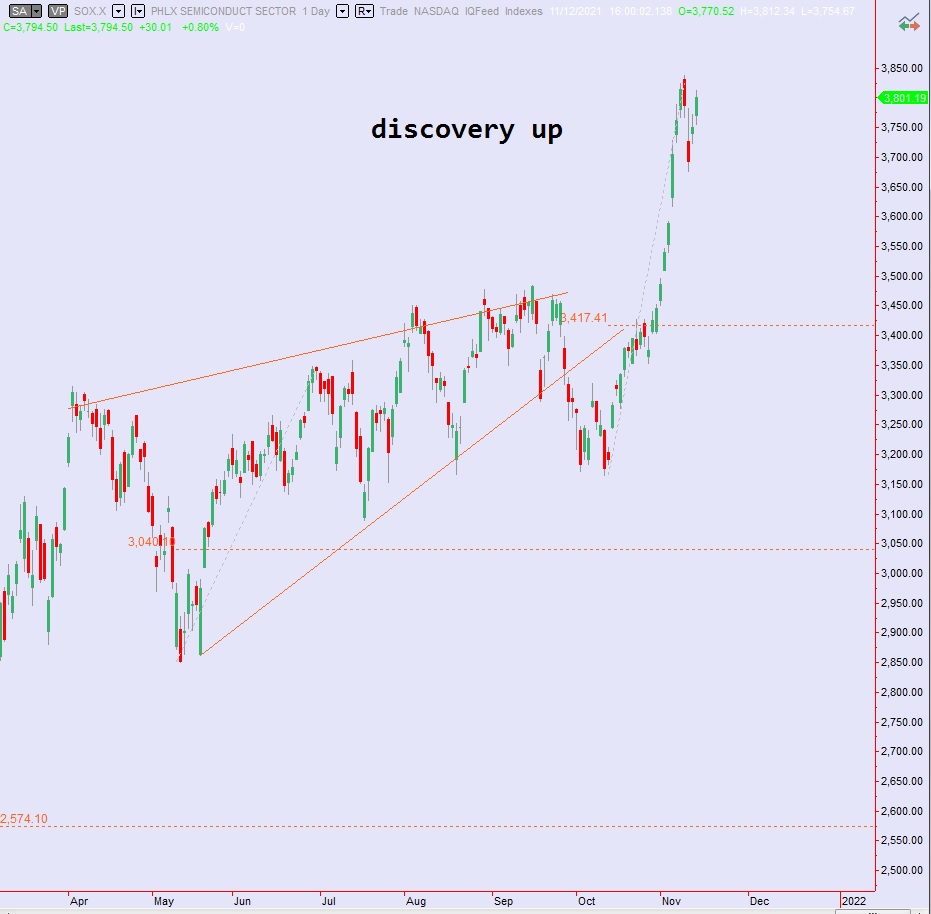 V. INDEX MODEL
Bias model is extreme Rose Colored Sunglasses [RCS] bullish for a fourth consecutive week after being bearish RCS for two consecutive weeks. Bias model was neutral six reports back after signaling Rose Colored Sunglasses [RCS] bearish seven weeks ago. It was neutral the prior two weeks after being Rose Colored Sunglasses [RCS] bearish teb weeks back after being neutral eleven reports back and Rose Colored Sunglasses bearish for the two consecutive weeks prior to that.
We had a Bunker Buster thirty seven weeks ago.
Extreme Rose Colored sunglasses calls for a sideways drift, perhaps with a slight upward bias.
Here is the current spread: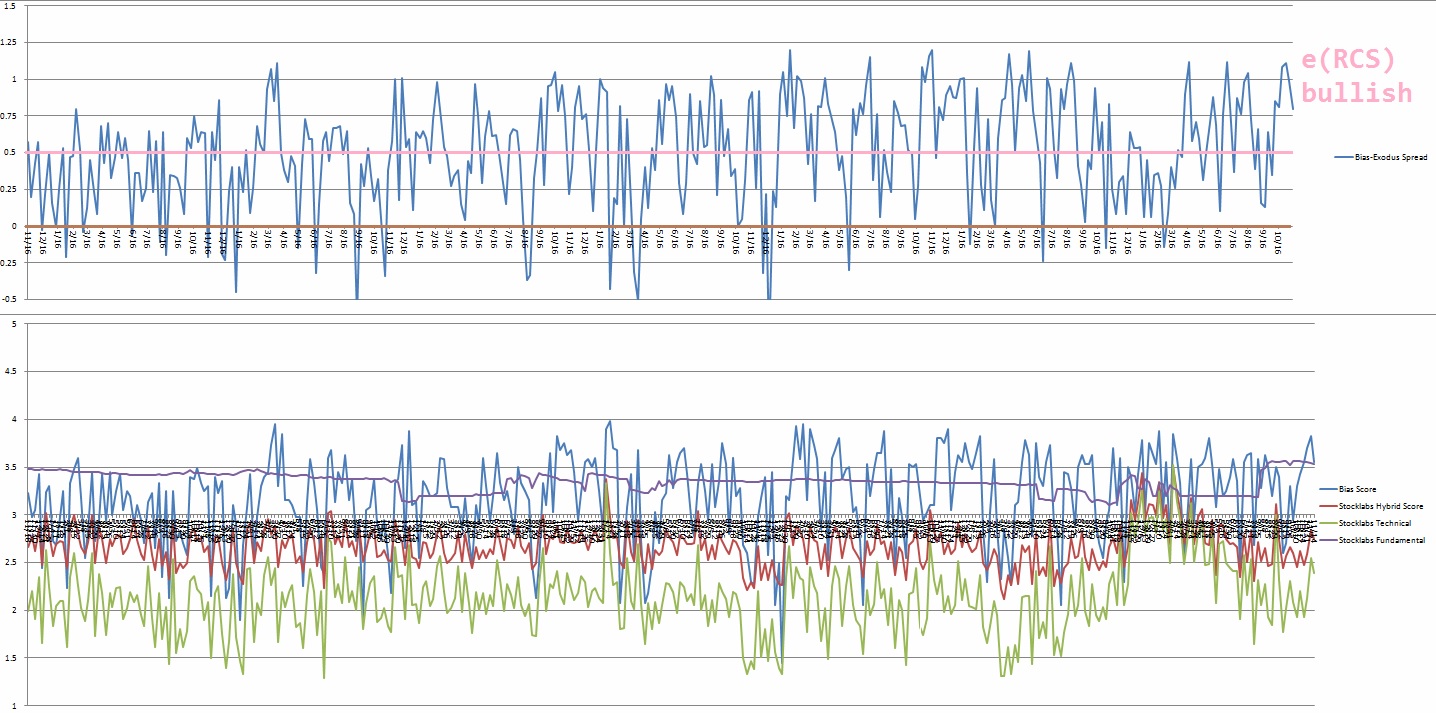 VI. Exodus 6-mont Hybrid Overbought
The 6-month hybrid algo triggered overbought Monday, November 1st. That is a bullish signal that runs through to Monday, November 15th end of day. Here is the performance of each major index so far: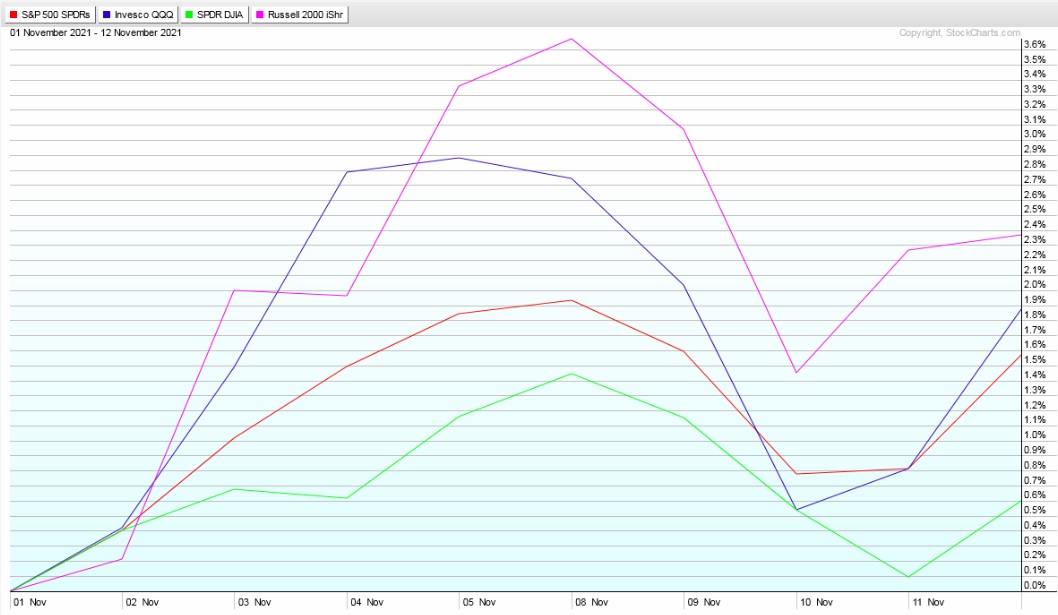 VII. QUOTE OF THE WEEK:
"Expect the unexpected. And when whenever possible, be the unexpected." – Jack Dorsey
Trade simple, stay sharp
If you enjoy the content at iBankCoin, please follow us on Twitter