December 20th was a big day on the S&P 500 (aka $SPX aka /ES_F) where price extended upon the large trend day only two days prior. The events of December 20th set the stage for a holiday drift of benevolent proportions.
Then yesterday came and we erased the entire drift in one foul swoop. Or did we?
The balancing process is an interesting natural phenomenon driven by the collective actions of all market participants. Yesterday the sellers were in control but intermediate term we are working through a balance.
This balancing event is occurring at very elevated prices which should bring the trader a bit of caution for continued liquidation. I compressed the balancing action into one profile this morning on the S&P 500 because the resulting picture is rather interesting and gives us a solid bit of context to frame our minds around. Put simply, we're stuck between two humps…until we aren't: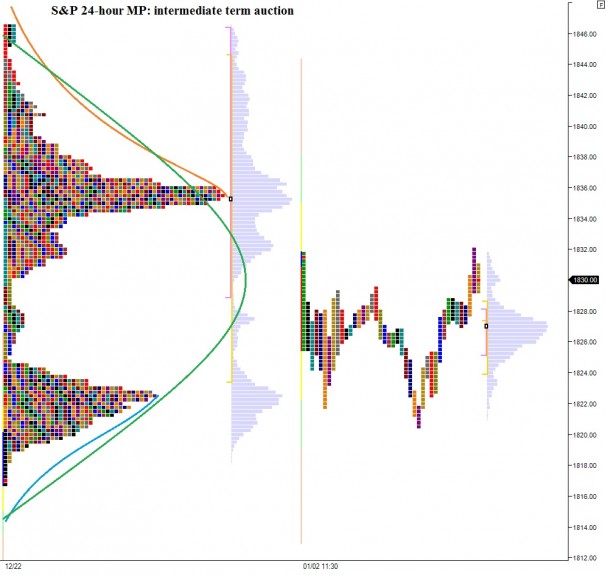 Overnight our range was larger than recent past where the action has been benign. Sellers could be seen early in the evening beating price lower at 1829 and producing a wonderful rotation down to 1820.50. This is where we can see the intermediate term balance/auction come into control—buyers defended the price zone and their demand was strong enough to propel price a tick above yesterday's RTH range.
The bad news for bulls is we typically do not set swing high/low during the overnight session. Thus the downside is vulnerable. The good news is we are seeing healthy market activity and participation by both parties.
I have highlighted a few levels I will be keying off of in the NASDAQ today on the following market profile charts: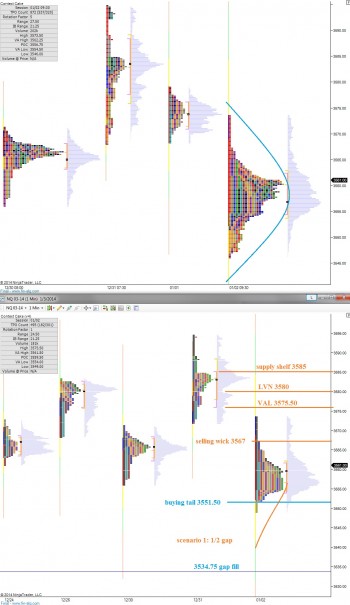 If you enjoy the content at iBankCoin, please follow us on Twitter