Nasdaq futures are up on 2nd sigma range and volume suggesting we are seeing an abnormal globex session. The ranges the Nasdaq has printed this week have all been quite abnormal. Macro waves tend to cause this uptick in volatility and correlations, and we are certainly experiencing such an event as oil explores lower prices.
At 8:30am Initial and Continuing job claims came in better than expected and we saw a slight bounce on the news. This is a slight shift in character. Recently participants have been rewarding worse than expected job stats because an improving labor market is influential on Fed policy. Of course the monthly NFP report carries more weight than this morning's data.
After the open we have Markit PMI stats at 9:45am and Philadelphia Fed at 10am. This may cause some choppy trade early in the session until participants hear the data. Or it may not.
Turning to the charts, you can see on the daily bar chart (right-side chart) how we are pricing inside of two volume pockets. These thin volume areas are prone to rapid price discovery. We initially found buyers at the first high volume node separating the two pockets, then we slid through and tested the bottom of the second pocket.
We came into solid structure Tuesday afternoon and I noted that we were likely to find support here. I do not say this to pat myself on the back, but instead to draw your attention to the fact that the market has memory and this isn't just some random walk by prices. We also tested a prior zone of resistance. Piror resistance often converts into support and vice versa. The former is an attribute of a market trending up, which, long term, the Nasdaq is still trending higher.
Intermediate term we are seeing overlapping value. Balance. On the left-side chart I have noted the key price levels I will be observing today. There are several points of resistance up above current prices. They will be key in assessing whether we again V-shape higher or instead churn out a balance. Please see below: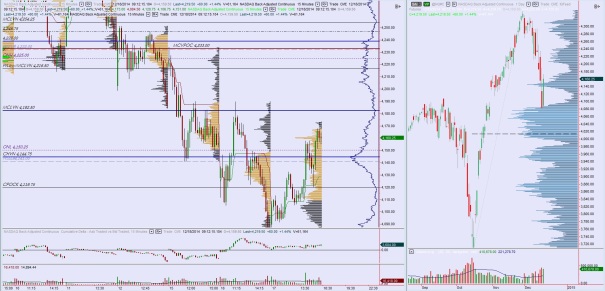 Primary hypo is choppy open which squeezes higher to take out overnight high 4225 and test MCVPOC at4223 before finding some sellers and chopping.
Secondary hypo, given the large gap up, is to see sellers work into the overnight inventory. I will look for signs of buyers at 4190 then again at 4182.50. Otherwise look for a range gap fill to 4173 and potential full gap fill to 4160.25. This hypo might take on some driving characteristics (down) early in the session.
Third hypo is a gap-and go run higher. Given the large, 'pro gap', the markets are out of balance and the risk of a drive is elevated.
Comments »