Equity futures are slightly up overnight, snapping the consistent seller control the globex hours have experienced all week.  This presents us with conditions this morning which are different from all the prior days in this holiday shortened week.
As the USA comes online, prices are right in the middle of a balanced price distribution.  There does not appear to be any sort of imbalance in the short term for us to envision scenarios upon.
The buyers are in control of the short timeframe.  They were successful in defending us against the "slip zone" yesterday by exhibiting the same type of aggressive demand at these levels as we had seen during the first go at prices.  It's slightly odd, because the profile we were printing yesterday premarket has an imbalanced look—and to complete the distribution would have put us well into the slip zone.  This could have started a liquidation trade.
This is an interesting clue, because it signals the buyers were acting with enough haste and force to disrupt the natural process of distribution.  By doing do, they claimed control of the short term timeframe.
The intermediate term timeframe is balance.  Until we see a higher high, we are in a balancing zone where mean revision is likely.  The long term control is in buyers hands.
We could get a sense of buyer sentiment by testing lower today to see if demand still exists at key prices like 3667.50 where we printed a low volume node on a surge of orders.  Should we test this level, and not find the same amount of buyer participation, we may continue to test lower to the VPOC at 3665.75 and our value area low at 3655.  I have highlighted these levels and a few other observations on the following market profile chart: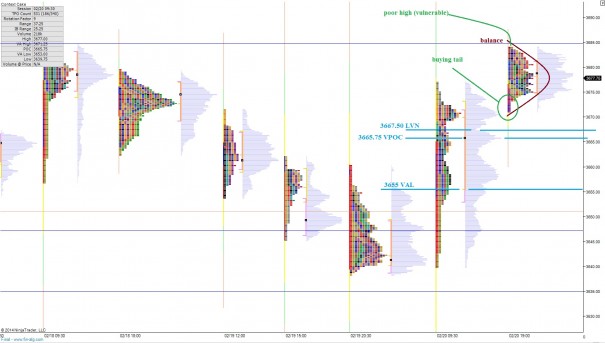 Comments »