Max pain is risk assets going on a strong run right after we're subjected to a liquidity blitz from that jolly saint nick and his cadre of capitalists at Target and Costco. I dunno about yous, but I feel a bit underexposed, despite being quite irresponsibly exposed. The question is what happens next?
Obviously we dunno and anyone who says they do is a no dang good charlatan.
We can formulate an educated guess used good cold, hardt, dead data. The data suggests we could continue this probe higher next week.
Then there are the charts. Semiconductors and Transports are still in balance and have some headway to keep moving higher. Transports really look like some juan lit a fire under their toosh. That strong move these last six or seven sessions had some purpose behind it. It has been nice being big into FedEx to start the year—even though this is a long term hold—and not some gimmicky trade.
Then there are the central bankers. And they'll be jibber jabbering all next week alongside earnings from several major banks. These despicable professionals will be swaying the outcome of next week's price action to some extent. Not to the extent of like the honcho himself Powell talking, but perhaps little ekg bursts of volatility. We cannot trust these buggers. They do no real physical work theirs is a vocation of shaving away at the wealth of others and offering numbers on a screen in return.
Dreaded rallies tend to keep going. That is how they make to to make to for to make to when to make to inflict maximum pain on the genpop. That said, I am casting serious doubt on the rally in ethereum. That low is weak, and I don't like it, and until it resolves color me a skeptic.
That's all I've to say for now. I need to tend to some house plants, placate the other humans in my coexistence and with any luck get back to toiling on my projects.
Gyarrrrr.
Raul Santos, January 15th, 2023
---
Stocklabs Strategy Session: 01/16/23 – 01/20/23
I. Executive Summary
Raul's bias score 3.70, medium bull. Buyers continue to inch price higher during the holiday-shortened week.
*U.S. markets will be closed Monday, January 17th in observation of Dr. Martin Luther King Jr. day.
II. RECAP OF THE ACTION
There was this big rally Monday that like in recent history was sharply reversed by the afternoon. However the sellers could not follow through, and by late Tuesday prices were rallying. The rally continued through early Thursday when CPI put some chop into the tape for a whole day. Friday sellers attempted an early move but were thwarted and we ended the week on a strong note.
The last week performance of each major index is shown below: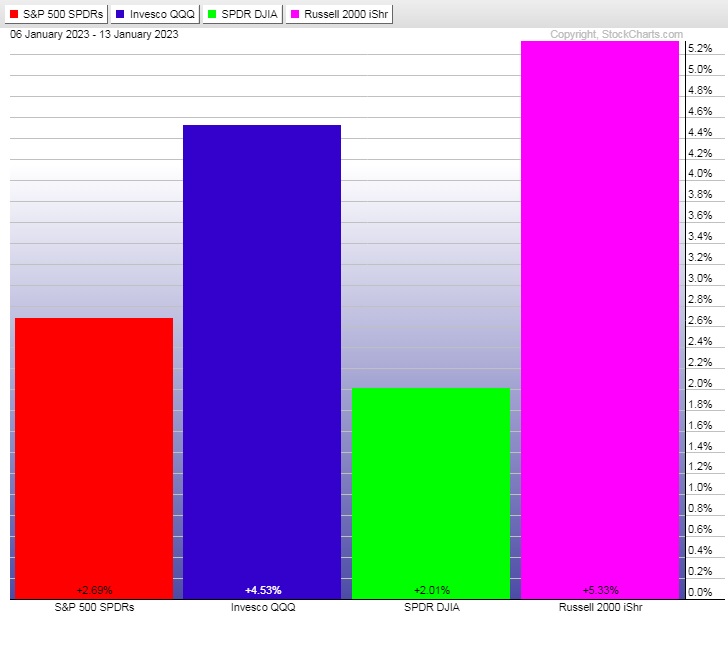 Rotational Report:
Rotations flipped bullish. Solid looking rotations for the bull camp, except we'd like to see Materials a bit softer, with all the concerns around inflation.
slightly bullish
For the week, the performance of each sector can be seen below: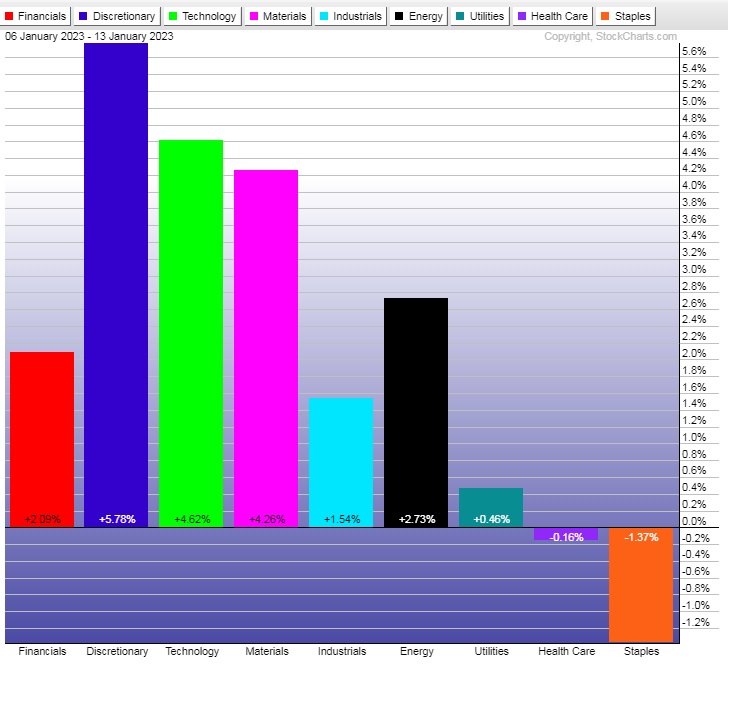 Concentrated Money Flows:
Second week of heavy bull skew.
bullish
Here are this week's results:

III. Stocklabs ACADEMY
Signal clusters
One of my twitter homies (@solinfluencer) noted that we are seeing a cluster of overbought signals on the main algo. This is an interesting observation, and it suggests that the indicator may be adjusting to changing market conditions.
That upper boundary may have made sense in recent history, whilst we spent 14-or-so months correcting, and perhaps now the correction phase is nearing an end. We don't know. But the clustering suggest that the upper boundary may have drifted too low.
I see all of this as bullish.
Remember, the first signal in a set of signals is the only on tracked by the system. So those other signals are all contained within the current cycle. And past performance of the 12-month overbought signal has bullish stats.
Note: The next two sections are auction theory.
What is The Market Trying To Do?
Week ended searching for sellers.
IV. THE WEEK AHEAD
What is The Market Likely To Do from Here?
Weekly forecast:
Buyers continue to inch price higher during the holiday-shortened week.
Bias Book:
Here are the bias trades and price levels for this week:

Here are last week's bias trade results:

Bias Book Performance [11/17/2014-Present]: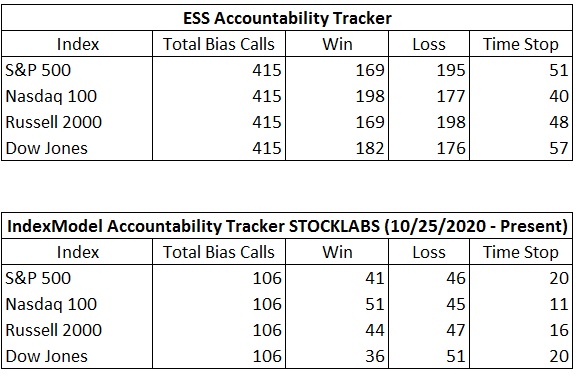 Equity complex still holds range – ether prints a sketchy rally
Readers are encouraged to apply these techniques to all markets. Markets fluctuate between two states—balance and discovery. Discovery is an explosive directional move and can last for months. In theory, the longer the compression leading up to a break in balance, the more order flow energy to push the discovery phase.
Market are most often in balance.
Every week this newsletter uses auction theory to monitor three instruments, the Nasdaq Transportation Index, PHLX Semiconductor Index and ethereum
Transports continued a little explosive discovery move up all week long. For now it is still contained within the confines of balance.
See below: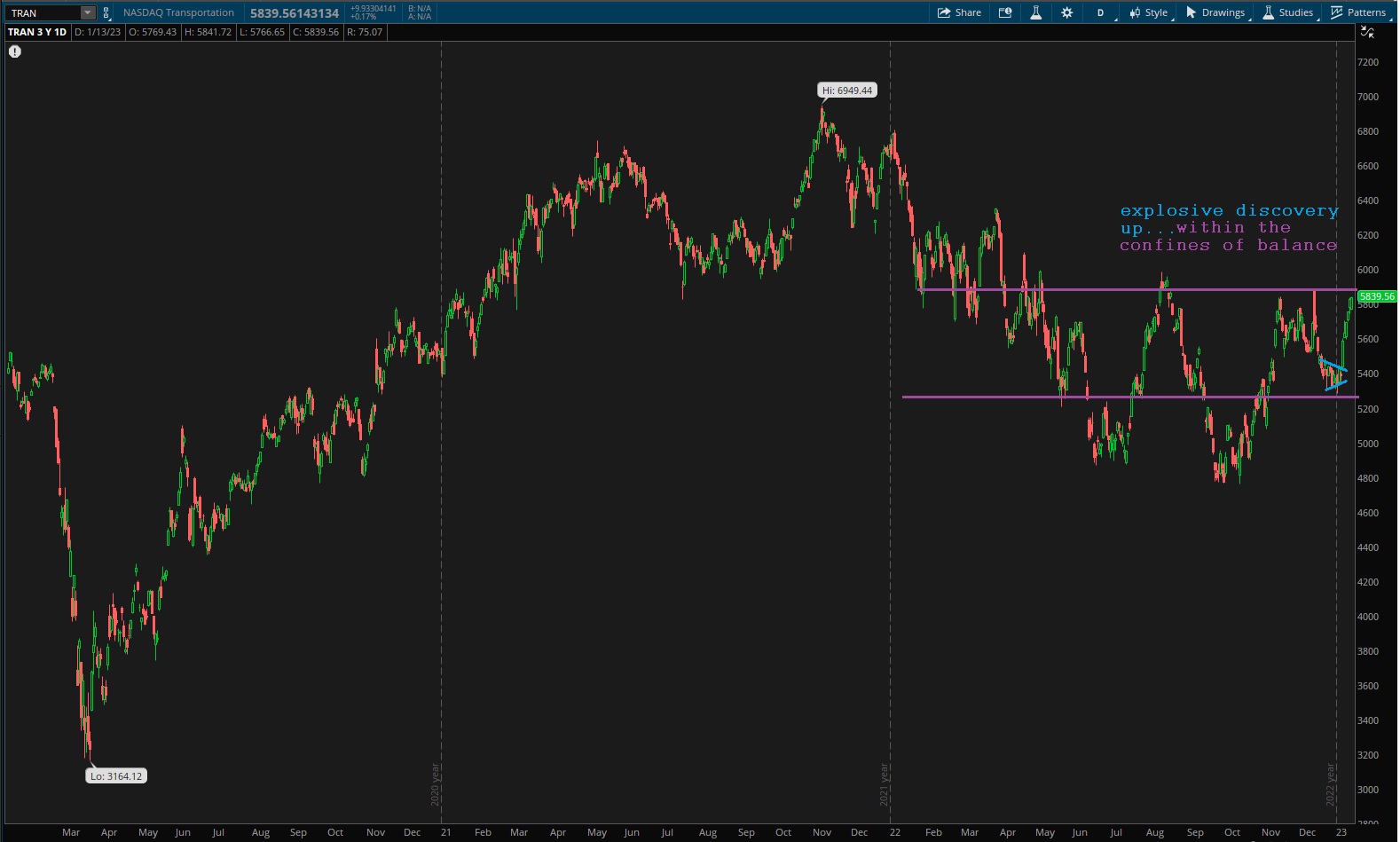 Semiconductors are moving up and away from a recent consolidation and still appear to be in balance. TSM reported a solid quarterly earnings last week.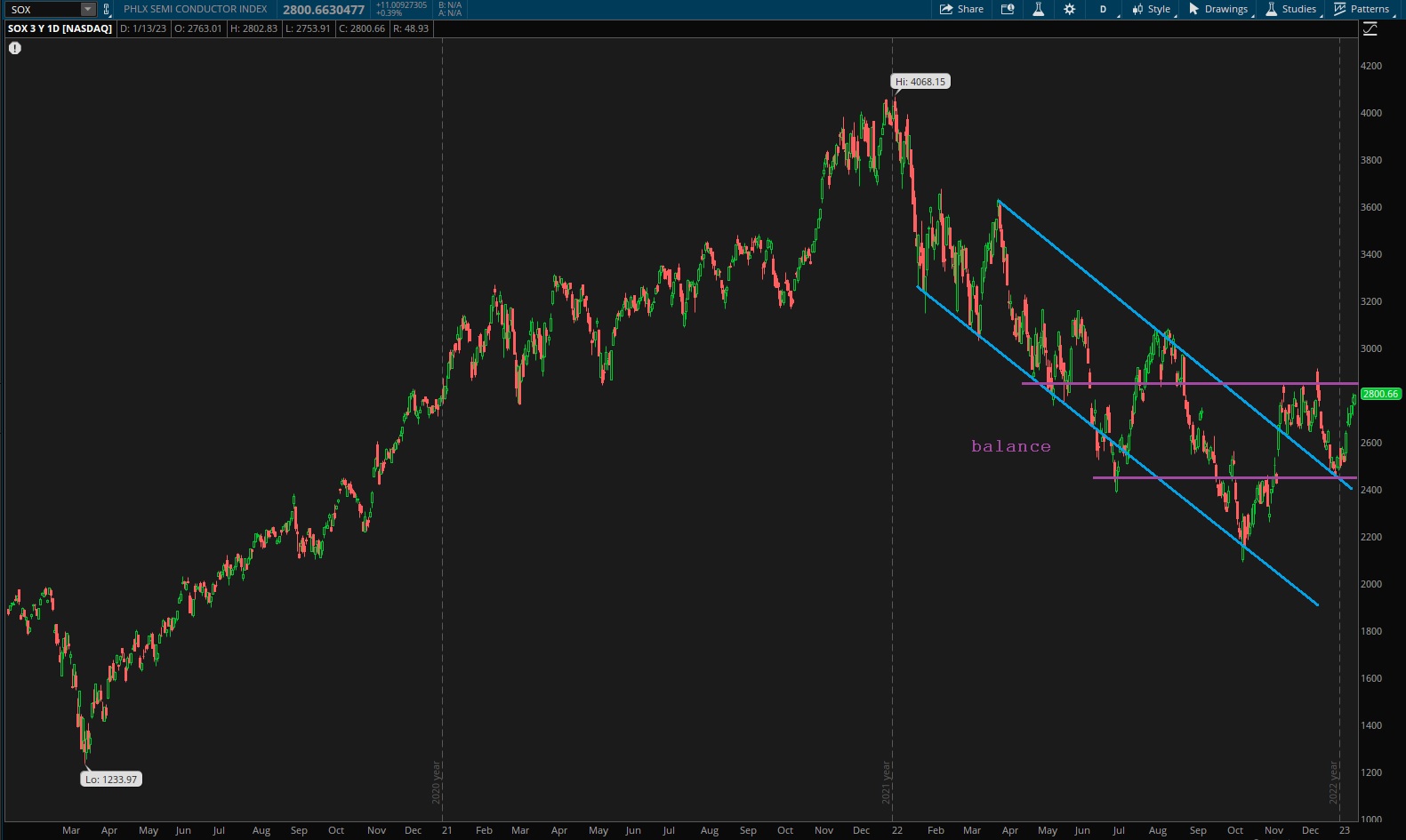 Ether *still* has those weak lows just below. Despite last week's rally, I am still not feeling great about this chart set up. We could be setting up another overplay for the underlay, like we have been drawing for so many weeks back a bit left on the chart.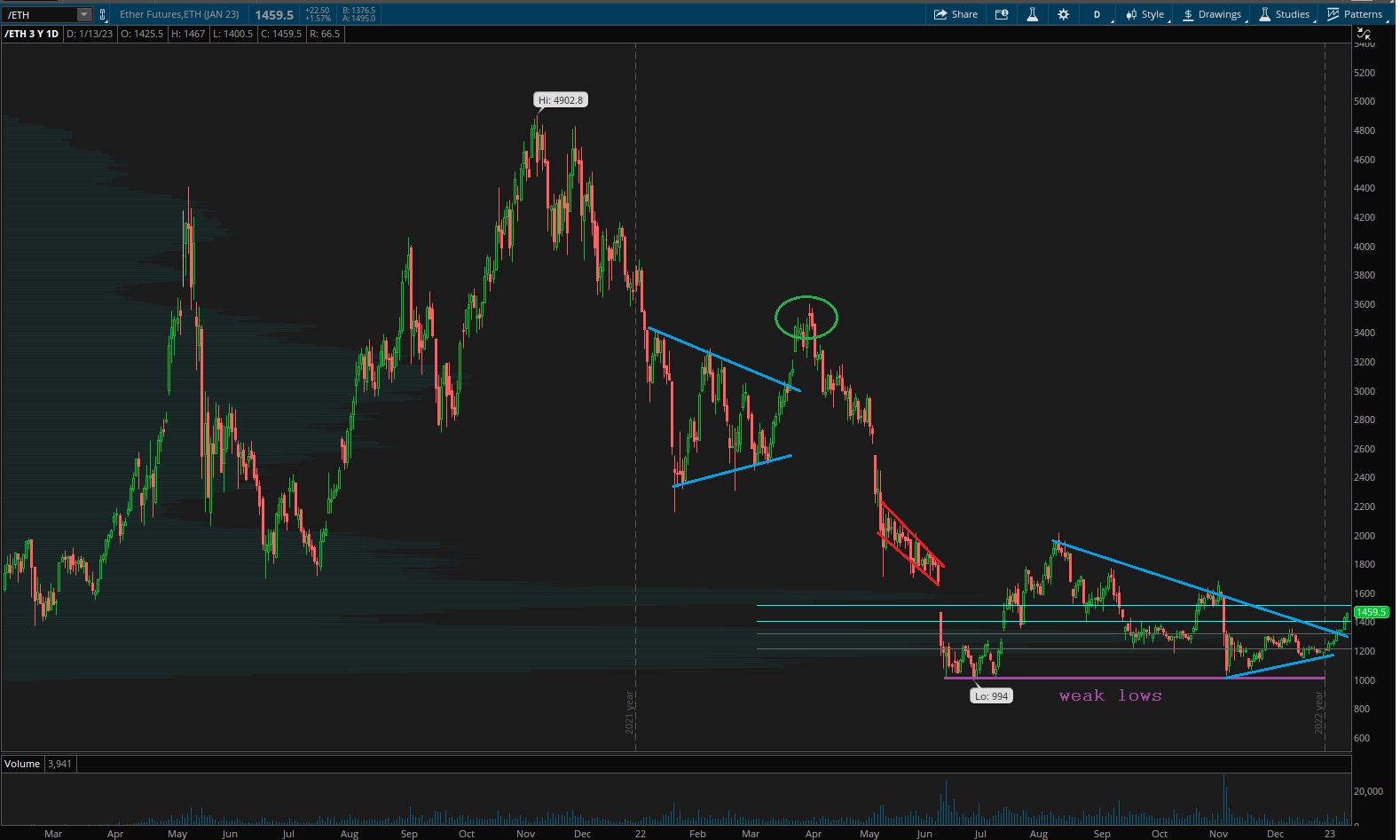 V. INDEX MODEL
Bias model is neutral heading into the second week of 2023. Still neutral.
Here is the current spread: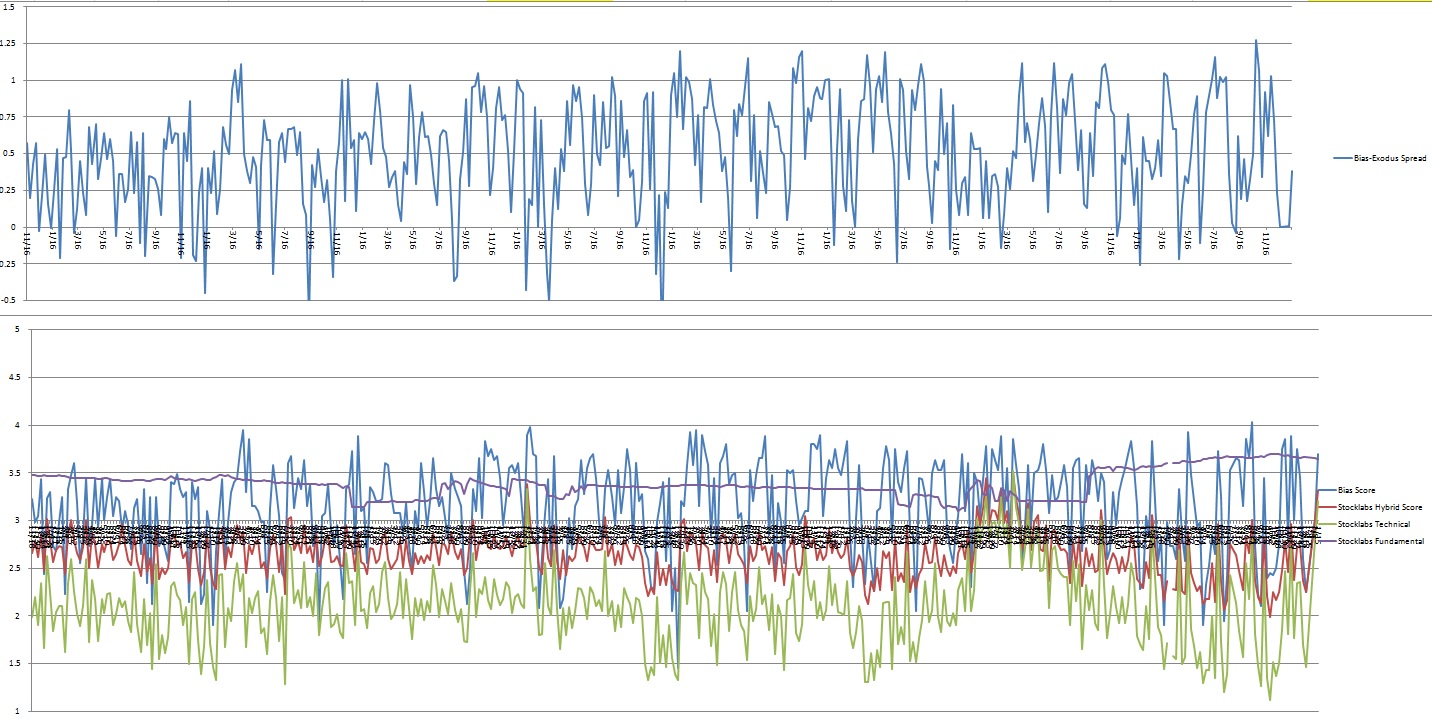 VI. QUOTE OF THE WEEK:
"We must use time creatively, in the knowledge that the time is always right to do right." – Dr. Martin Luther King Jr.
Trade simple, be kind
If you enjoy the content at iBankCoin, please follow us on Twitter