Been consuming financial, tech and geopolitical news like a glutton all week. Waking up at 5am (no alarm) full of power. Will read for a bit then it is on to Twitter — which despite every effort (or lack thereof) — is still the greatest information platform on the planet.
The interesting thing about this slow burn we've endured since November is how many people are actively communicating that this is nothing like the a real crash even though most of the best investments of the last five years are down somewhere between -45% and -90%.
I dunno man, I've been through a few of these cycles and it sure feels like the last times.
Pain.
But as a masochist and a hedonist there's a warm familiarity to it all. My own arrogance early on. My acceptance midway. There internal battles to stay kind. The embarrassing outbursts and then finally the unadulterated indifference of a cold dead observer.
Winter is coming and soon I will have lots of time at my disposal to sit around and retool my trading systems. At least that is the exception.
I do have to tear down an entire blight house, but I've given it a few solid walk around and I think if I hook the f-250 shit kicker to one of the outer walls I can pull the whole bitch down in one fell swoop.
Then a few days of sawing and moving rubble and voila! Our dear Detroit is one step closer to four from three.
You see lads, while I am arrogant, perhaps my greatest super power is total acceptance that I know nothing. Folks think it hurts my pride when they point out that I come out here, every hecking week (and historically morning) and write 200-1000 words about how we might go higher or we might go lower. We don't know. But theirs is a delusion if they think otherwise.
The past is certain, but present and future are the domain of fortuna.
And of course we're gonna spin fortuna's wheel. We have no choice if our intentions are to make our way through life as kindness and profit oriented thingies.
How do we make these decisions, if we truly don't know?
We need unbiased information for one. These bits of data are our best glimpse at immutability. Then we use these observations to perform tests. Then we adjust along the way.
Then we need risk management.
Then we need records of our battles to review and improve upon.
Okay I gotta go.
Raul Santos, October 2nd, 2022
And now the 403rd edition of Strategy Session.
---
Stocklabs Strategy Session: 10/03/22 – 10/07/22
I. Executive Summary
Raul's bias score 2.43, medium bear. Buyers step in early on this week and rally price higher.
II. RECAP OF THE ACTION
Choppy and lower through early Wednesday. Strong rally Wednesday. No follow through. Sellers pressured the tape lower into quarter end.
The last week performance of each major index is shown below: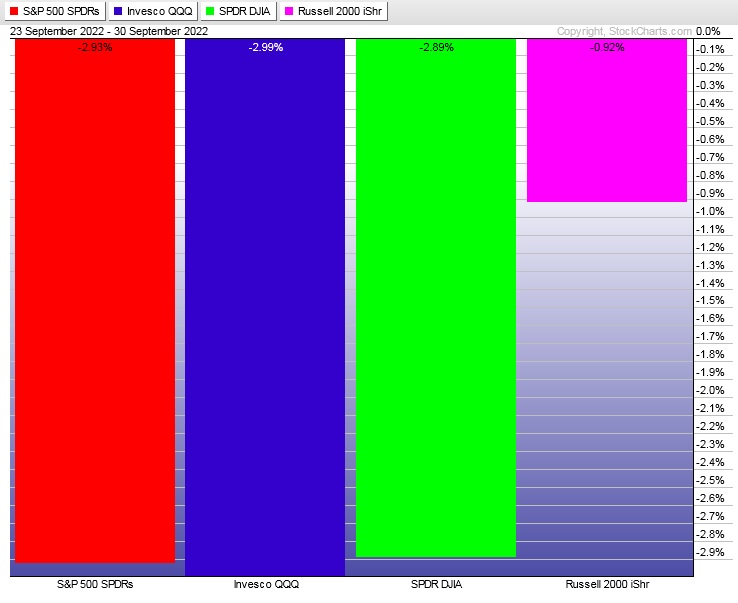 Rotational Report:
Utilities smashed during this latest round of selling. Perhaps this is like the inverse of the tail end of a rally? Where Utilities outperforming to the upside signals caution bulls. Key Tech sector also leading through
bearish
For the week, the performance of each sector can be seen below: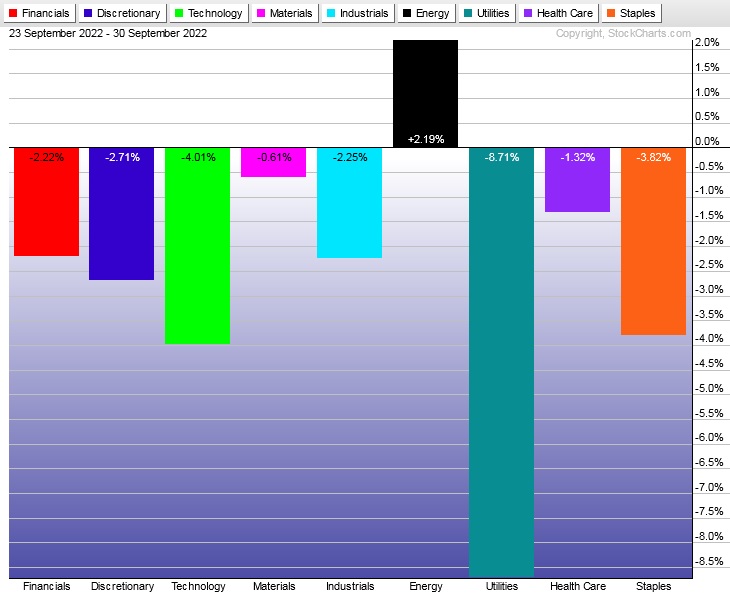 Concentrated Money Flows:
Money flows skewed to the sell side after two prior heavily sell side skews.
neutral
Here are this week's results:

III. Stocklabs ACADEMY
Everything looks bad
The technicals look pretty awful across the board. Yet IndexModel is not signaling the Bunker Buster again. Recall there was a signal two reports back. Meanwhile Stocklabs is halfway through a 12-month oversold cycle.
So far buyers have been unable to regain control of the tape, despite a few attempts last week. But as we peel back the layers via top-down analysis (index, sector, industry) we notice that the selling last week was pretty mild.
I think in many ways it 'felt' worse than it actually was.
Maybe the other shoe drops next week and we really start to nose dive. We don't know.
But sentiment (and the charts) are quite negative.
So negative we rally?
Again, we don't know.
Note: The next two sections are auction theory.
What is The Market Trying To Do?
Week ended searching for buyers. (First time in a few reports where the end-of-week auction was headed lower.)
IV. THE WEEK AHEAD
What is The Market Likely To Do from Here?
Weekly forecast:
Buyers step in early on this week and rally price higher.
Bias Book:
Here are the bias trades and price levels for this week:

Here are last week's bias trade results:

Bias Book Performance [11/17/2014-Present]:
Ether looks decent
Readers are encouraged to apply these techniques to all markets. Markets fluctuate between two states—balance and discovery. Discovery is an explosive directional move and can last for months. In theory, the longer the compression leading up to a break in balance, the more order flow energy to push the discovery phase.
Market are most often in balance.
Every week this newsletter uses auction theory to monitor three instruments, the Nasdaq Transportation Index, PHLX Semiconductor Index and ethereum
Looks like Transports could lose range. Some would say they already have. I'd argue they're still holding on to balance. Barely.
See below: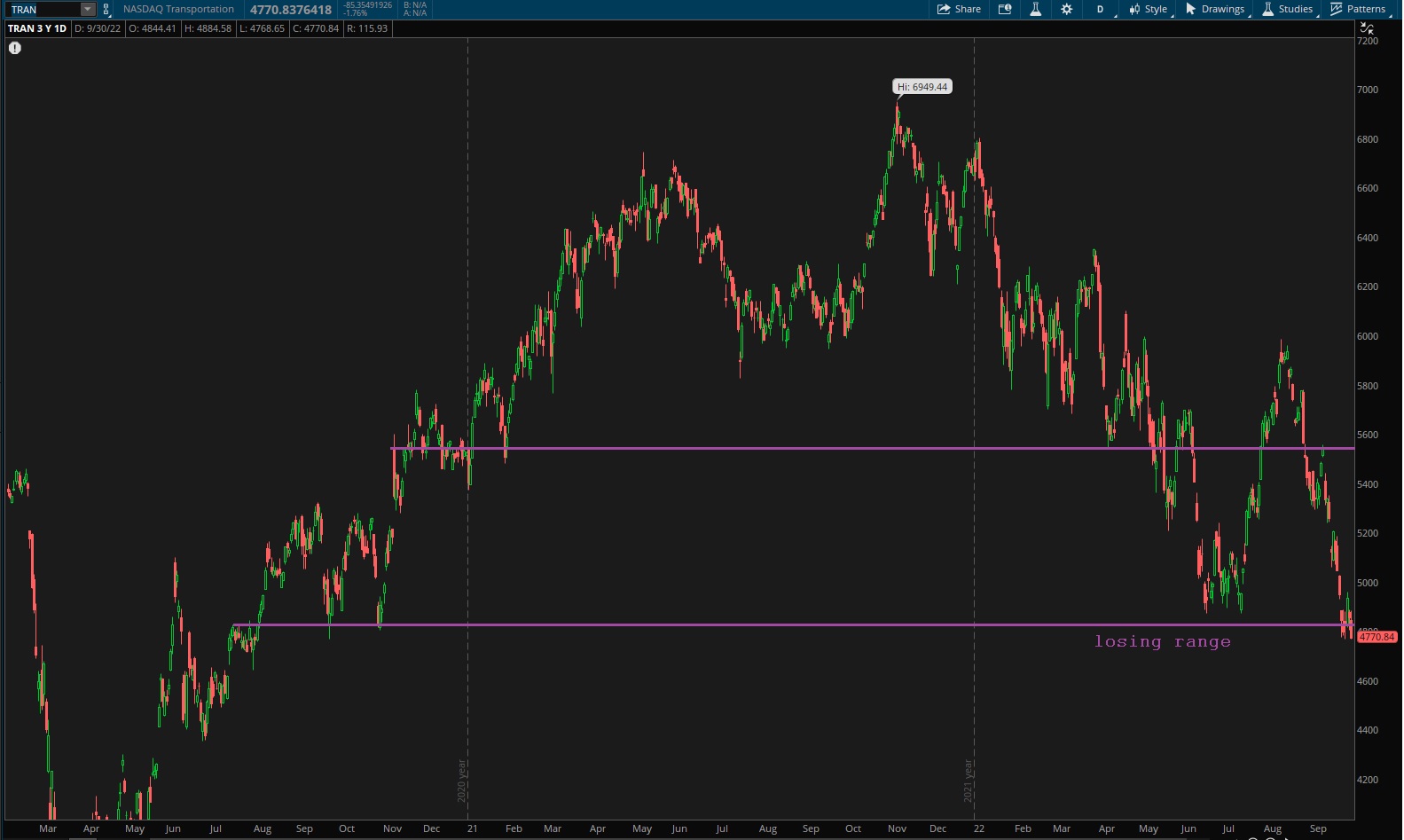 Semiconductors on the other hand have resumed discovery down. I highlighted the next level I am interested in.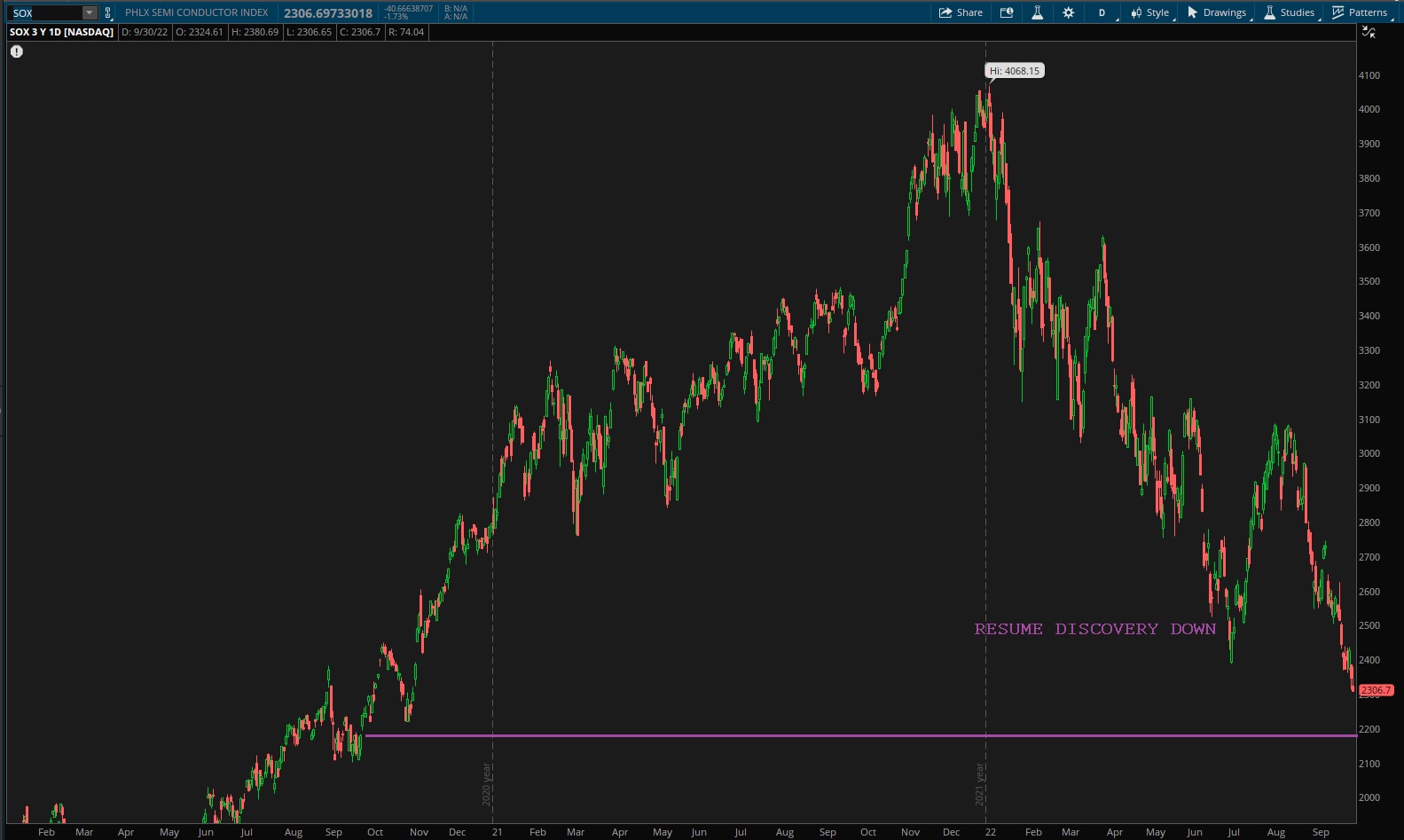 Ether still looks balanced. Much more balanced then the other two indices.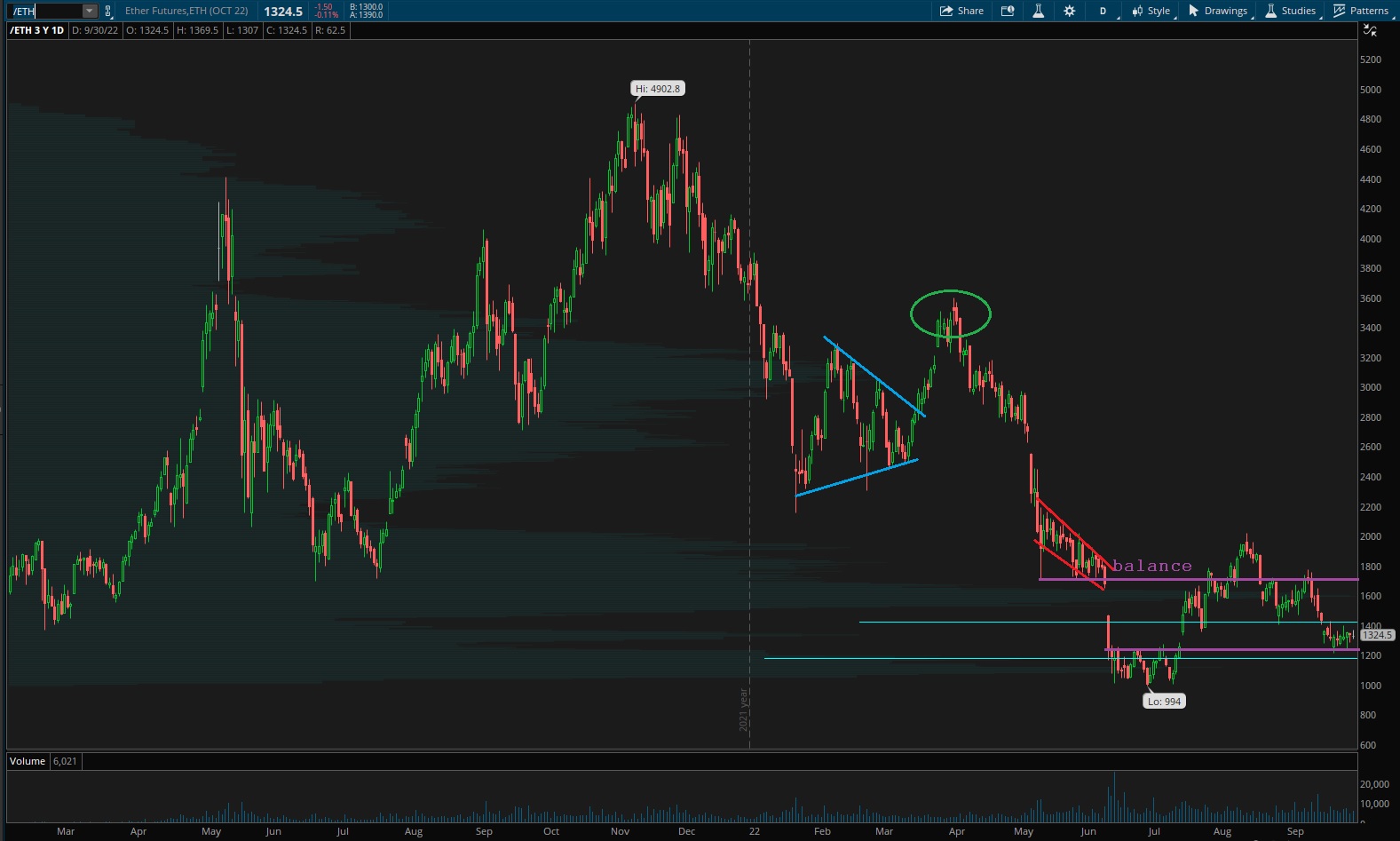 V. INDEX MODEL
Bias model is neutral heading into the first week of the fourth quarter. The third consecutive neutral reading. No bias.
There were five Bunker Busters in recent history — four weeks ago, thirteen weeks back, twenty weeks ago, thirty-three reports back and a thirty five reports back.
Here is the current spread: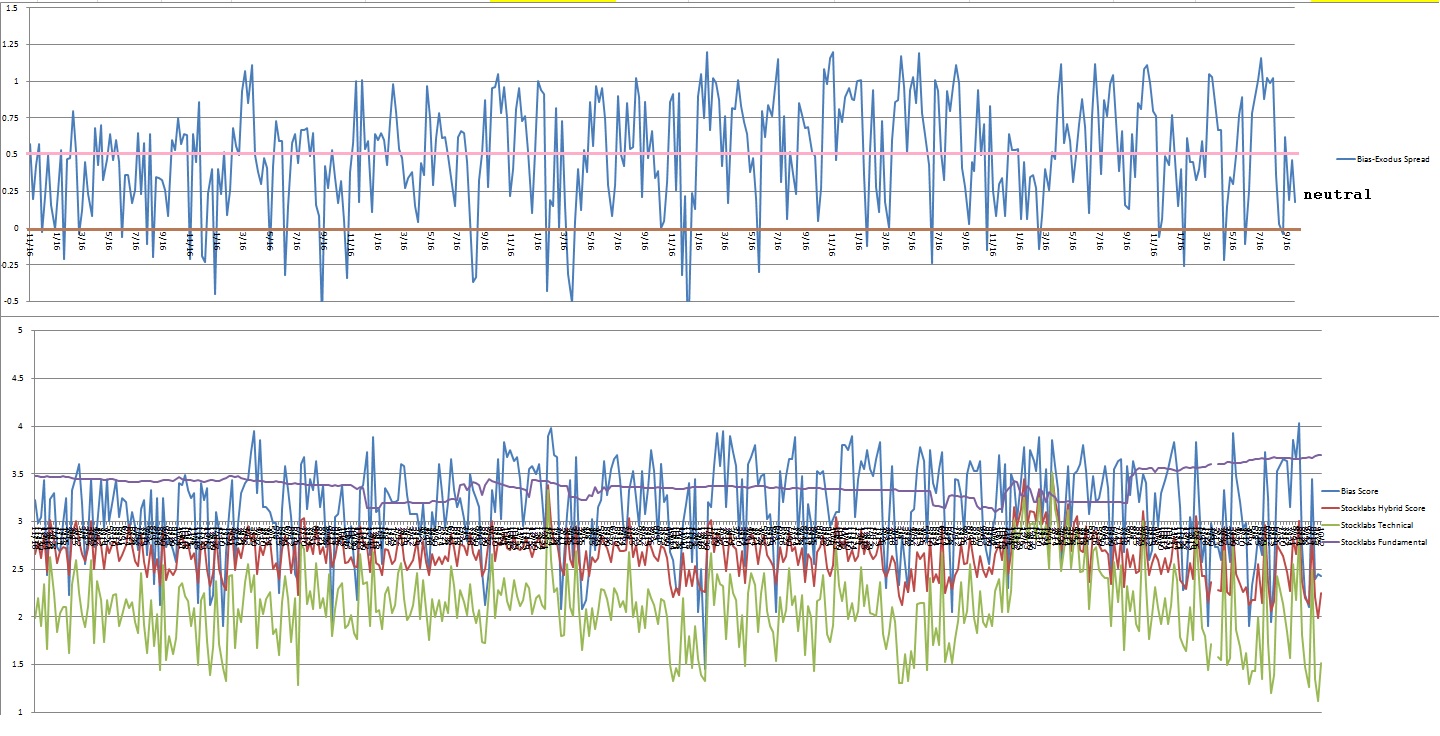 VI. 12 month hybrid oversold
On Friday, September 23rd Stocklabs went hybrid oversold on the 12 month algo. This is a bullish cycle that runs through October 7th, end of day. Here is the performance of each major index so far: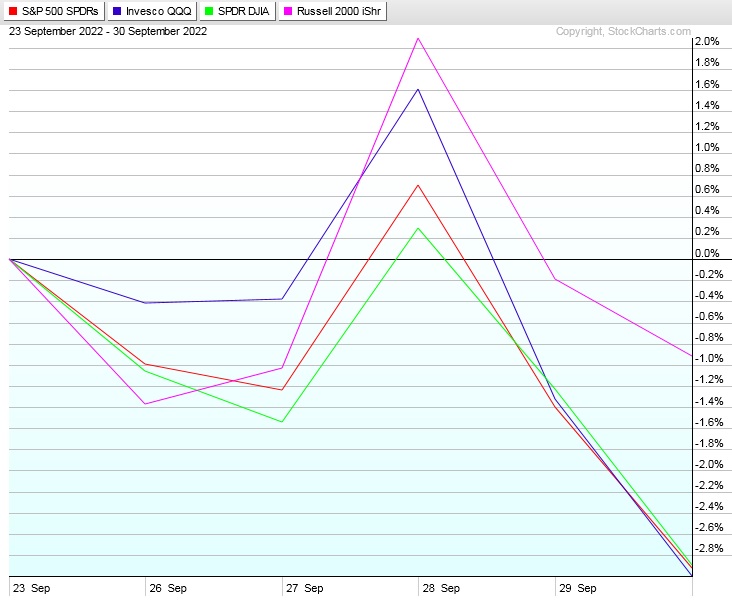 VII. QUOTE OF THE WEEK:
"It is worth remembering that it is often the small steps, not the giant leaps, that bring about the most lasting change." – Queen Elizabeth II
Trade simple, tweak your approach as needed
If you enjoy the content at iBankCoin, please follow us on Twitter