Not too much for bulls to hang their hat upon heading into the second-to-last week of September. I've learned over the years to know when I am emotionally unfit for trading. Overconfidence has plagued me over the years. It has never been fear that weakens me but the feeling of invincibility. So I haven't traded this year.
I made so much hecking money in that bull run, I started doing crazy things. It was time to back off.
I've kept busy in other ways. Working the land. Disco dancing. Helping me elders transition into more suitable housing.
I can see the light at the end of this transitionary tunnel and very much look forward to becoming more active again in the financial markets.
In the meantime, life just really seems to be working out splendidly for your dear and humble pen pal Raul. Like, hows a corn meme gonna go viral a few weeks before I pull down my biggest sweet corn crop ever? I was slanging ears of corn on the streets with ease.
This morning, I woke up cockstrong and went to help pour a cement driveway, no problem, then back to these decks to put out the weekly research.
Next I have to go assemble a bedroom vanity for a nice sounding old lady. With any luck, she'll tip me with some pie.
We dunno.
We just takes it as it comes.
Winter is coming. There is ultraviolence all around me. Not only in the city but the suburbs. That no dang good lock down really set children and adults alike back socially, empathetically.
They go onto the internet and find these little hate chambers full of groomer dootch bags that encourage bulling and for what? Because they're little bitches afraid of being bullied themselves.
Again, totally fine. Not everyone can be high born with immigrant/american hybrid genetics and a mind that understands the way of things. Alls your very humble and kind and handsome pal Raul can do is demonstrate greatness, day-after-day-after-mother-hecking-day, wearning tie dyed shirts and helping the olds and swooning the babes and hustling punkins and corns.
That's it.
The gambling halls down in chicago are putting 82% odds on a 75 basis point rate hike this Wednesday. The Federal Reserve is completely out of control. Ever since they kicked Yellen out of the chair it has been a chaotic organization that has failed the people. How much longer will this perverse and draconian obsession with inflation continue?
We dunno.
But we do know that the third reaction to that dang meeting Wednesday is all that matters to the focused speculator.
Maybe the crash is near. Maybe a gut twisting rally lurks in the shadows. These are spooky times.
I'm glad I'm just poking the dirt and making punkins pop out of it.
Okay for now.
Raul Santos, September 18th 2022
And now the 401st Strategy Session.
---
Stocklabs Strategy Session: 09/19/22 – 09/23/22
I.Executive Summary
Raul's bias score 2.40, medium bear. Choppy and indecisive price action through Wednesday morning. Then look for third reaction to the FOMC rate decision to dictate direction into the second half of the week.
II. RECAP OF THE ACTION
Markets were higher to start the week after buyers spent the Sunday evening Globex session working futures higher. The rally continued through Monday and into early Tuesday before hotter-than-expected CPI data sent prices careening lower. The selling continued through Tuesday. Then price chopped through Wednesday before continuing lower Thursday. Friday was choppy also before ramping a bit higher into the weekend.
The last week performance of each major index is shown below: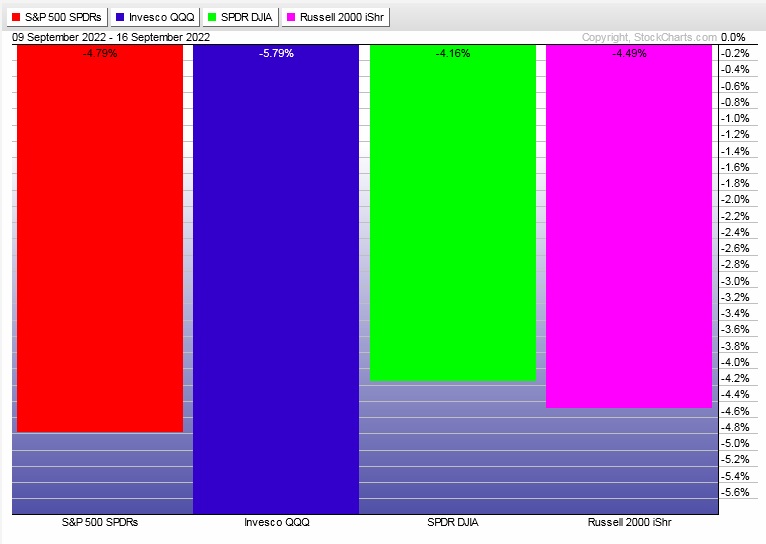 Rotational Report:
Recall we had two weeks of full risk off rotations, then a strong risk on rotation. Last week another full-on risk off rotation away from equities.
bearish
For the week, the performance of each sector can be seen below: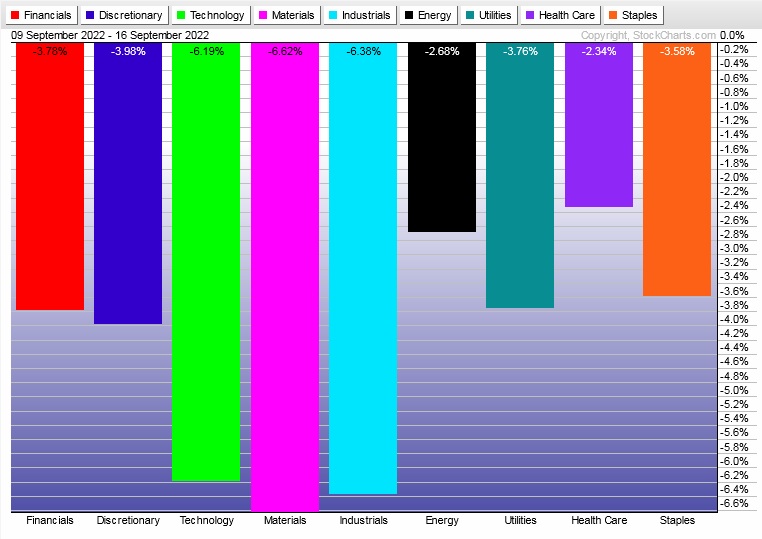 Concentrated Money Flows:
Money flows skewed heavily to the sell side.
bearish
Here are this week's results:

III. Stocklabs ACADEMY
All eyes on the Fed
Model is neutral heading into next week. Stocklabs is in a six month hybrid overbought cycle. While that stats on this signal are bullish over the 10-day cycle historically, it has been behaving well lately as a short signal.
CPI coming out hot last week really put the fear in investors and the selling was instantaneous. Then, later in the week FedEx put out a warning about the economy and together these major headwinds have not been kind to bulls.
One has to wonder if all this bad news is priced in a this point. The CME is placing 82% odds for a 75 basis point hike from the Fed this upcoming Wednesday. It will be interesting to see whether they raise this aggressively as most investors expect.
However, the actual hike is of less importance to us than the reaction.
That said, I expect markets to pause and chop until we hear from the Fed.
I am also interested in Costco earnings due out Tuesday after the bell. They could provide an interesting bit of context heading into the Fed meeting.
Note: The next two sections are auction theory.
What is The Market Trying To Do?
Week ended searching for sellers.
IV. THE WEEK AHEAD
What is The Market Likely To Do from Here?
Weekly forecast:
Choppy and indecicive price action through Wednesday morning. Then look for third reaction to the FOMC rate decision to dictate direction into the second half of the week.
Bias Book:
Here are the bias trades and price levels for this week:

Here are last week's bias trade results:
Bias Book Performance [11/17/2014-Present]: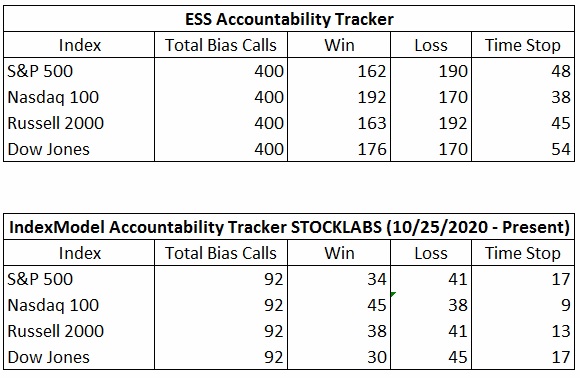 Balance breaking on Transports
Readers are encouraged to apply these techniques to all markets. Markets fluctuate between two states—balance and discovery. Discovery is an explosive directional move and can last for months. In theory, the longer the compression leading up to a break in balance, the more order flow energy to push the discovery phase.
Market are most often in balance.
Every week this newsletter uses auction theory to monitor three instruments, the Nasdaq Transportation Index, PHLX Semiconductor Index and ethereum
Leaving this note up until something changes: That weak low on Transports irks me. We've rallied far from it, that we're likely to encounter support ahead of any retest of the lows, but it poses a risk to a sustainable low.
Transports lost the lower bracket of the balance we've been monitoring. The FedEx warning pressed into this index. That weak low is definitely in play.
See below: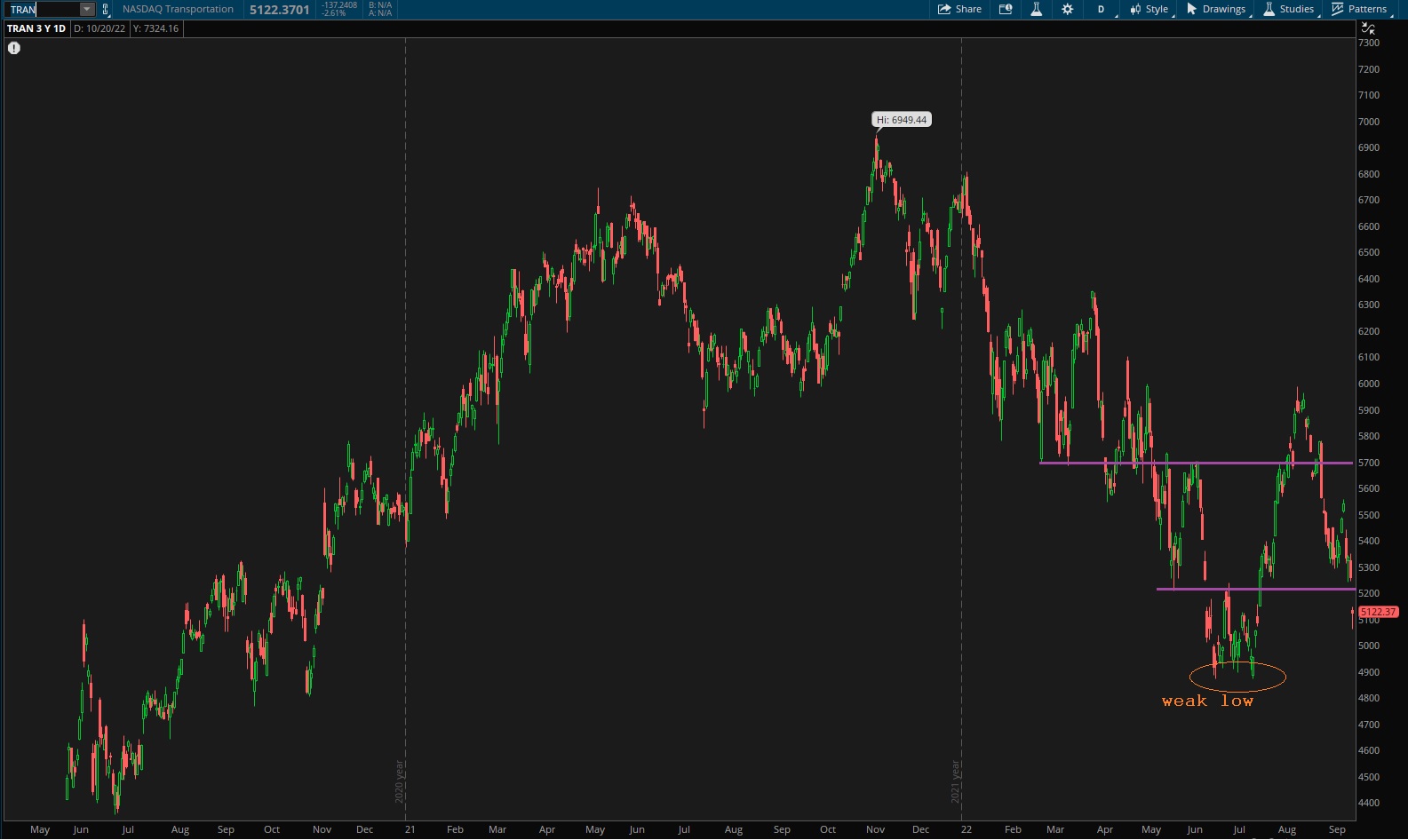 Semiconductors seem to have trapped some buyers a bit higher, and while still in range, bulls are on their heels.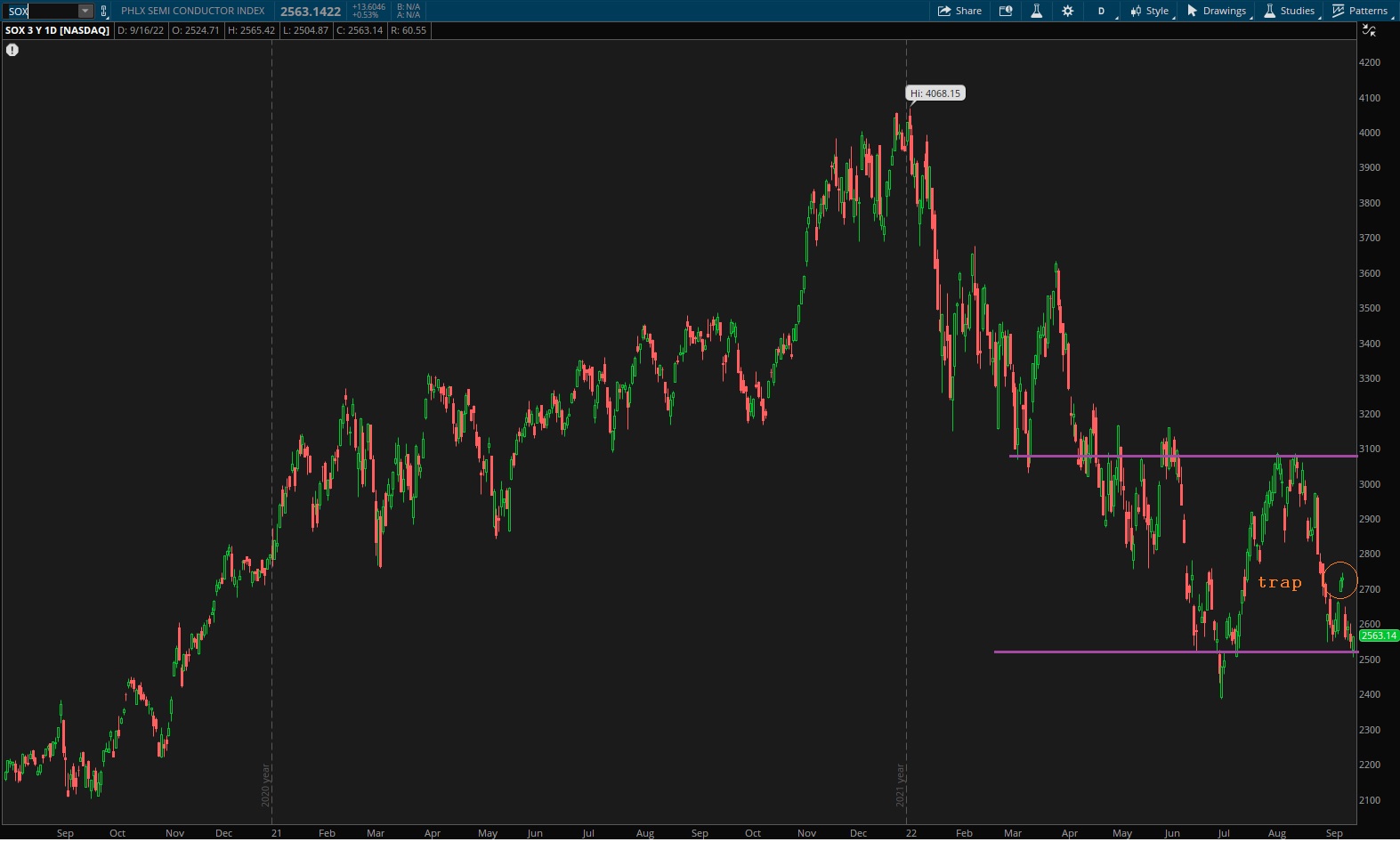 Ether looks a bit more balanced than our other two contextual indices.
V. INDEX MODEL
Bias model is neutral heading into the second-to-last week of September. No bias.
There were five Bunker Busters in recent history — two weeks ago, eleven weeks back, eightteen weeks ago, thirty-one reports back and a third thirty-nine reports back.
Here is the current spread: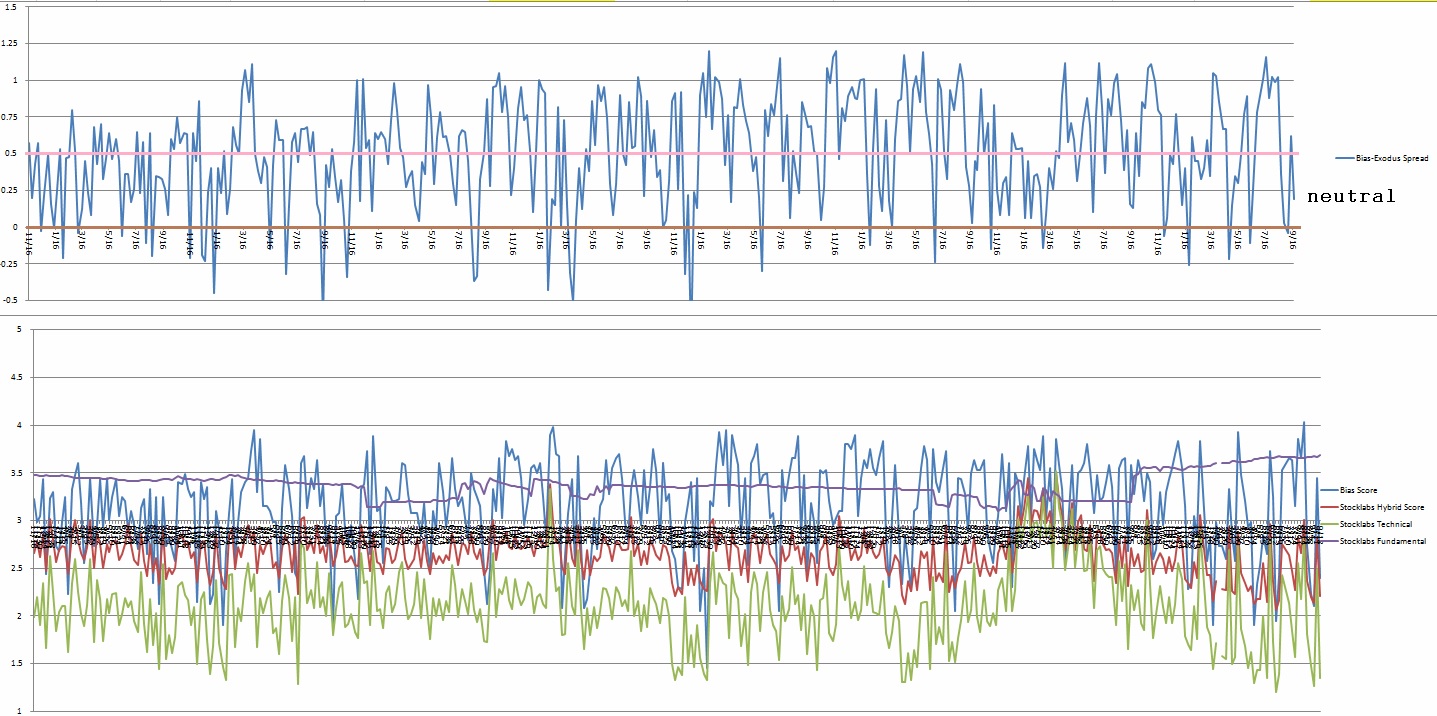 VI.QUOTE OF THE WEEK:
"Let me assert my firm belief that the only thing we have to fear is fear itself—nameless, unreasoning, unjustified terror which paralyzez needed efforts to convert retreat into advance." – Franklin Delano Roosevelt
Trade simple, stay cool
If you enjoy the content at iBankCoin, please follow us on Twitter