Greetings lads,
Shortly after sending out last Sunday's letter I was absolutely rocked by news a long time friend died from a ruptured aortic aneurysm. 37-years old. Took a nap and was gone.
I've been a mess, but also keeping it together for the sake of their family and mine. Definitly not in a mental state to trade.
Not that I have been all year…
but alas, we have our fourth Bunker Buster hot off the press heading into a strawberry super moon, 50 basis point fed hike, quad witching shit show.
I expect price to accelerate to the downside. The CPI gap down Friday morning has a penultimate step vibe to it, and it has me strongly expecting us to leap lower with lots of energy.
We all know the Pelosi clan is bid down here, but are their orders enough? Or will the market do what it does best and humble even the greatest titans of our time?
We dunno.
The gambling halls down in Chicago are giving 96.4% odds of a 50 basis point rate hike Wednesday. The remaining odds are on a 75bp hike.
People are acting very brittle and cowardly when it comes to risk assets and IndexModel is signalling Bunker Buster.
Therefore I must deploy fresh capital this week. Slowly. Gotta see buyers show up first.
Maybe they show up Monday morning and we rally all week we dunno.
Alls I know is the markets tend to give one side the feeling that ultimate success is finally within grasp only to abruptly change course and put the respective participants (in this instance, the butt-loving bears) back in check.
Ergo lower, than higher, unless it is over for real this time.
The corn is planted and the big seasonal work is about 70% complete.
*Remember – June is Raul's month*
–Raul Santos, June 12th, 2022
And now the 390th strategy session.
---
Stocklabs Strategy Session: 06/13/22 – 06/17/22
I. Executive Summary
Raul's bias score 1.95, STRONG BEAR*. Price accelerates to the downside early in the week, perhaps pressing lower through Wednesday afternoon's FOMC announcement. Eventually look for a sharp reversal off the lows to create a tradable low.
Major NASDAQ component Adobe is set to report earnings Thursday after market close.
*Bunker Buster signal triggered, see Section IV
II. RECAP OF THE ACTION
Choppy and mellow through Wednesday then hard selling Thursday and Friday. Sellers used Friday morning's CPI data to press price lower.
The last week performance of each major index is shown below: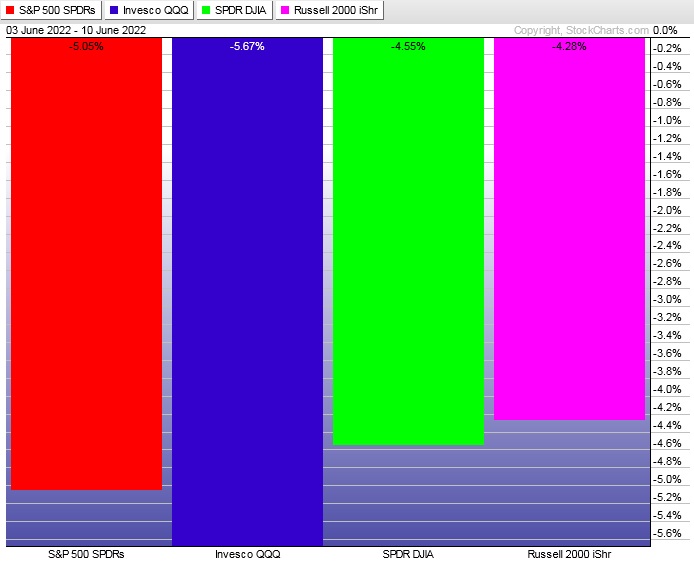 Rotational Report:
Another full-on risk off rotation away from equities. Energy still showing its independence from all other sectors.
bearish
For the week, the performance of each sector can be seen below: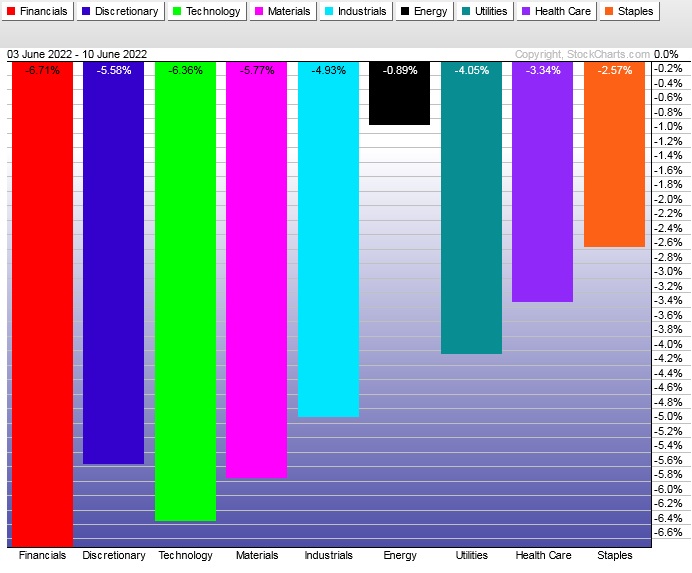 Concentrated Money Flows:
Three weeks back bulls regained control of money flows in a meaningful way. Last week that control was reclaimed by sellers.
bearish
Here are this week's results:

III. Stocklabs ACADEMY
All data points lower
Sometimes these signals are all crossed up and difficult to interpret. Not this week. They all point lower.
Note: The next two sections are auction theory.
What is The Market Trying To Do?
Week ended searching for buyers.
IV. THE WEEK AHEAD
What is The Market Likely To Do from Here?
Weekly forecast:
Price accelerates to the downside early in the week, perhaps pressing lower through Wednesday afternoon's FOMC announcement. Eventually look for a sharp reversal off the lows to create a tradable low.
Bias Book:
Here are the bias trades and price levels for this week:

Here are last week's bias trade results:
Bias Book Performance [11/17/2014-Present]: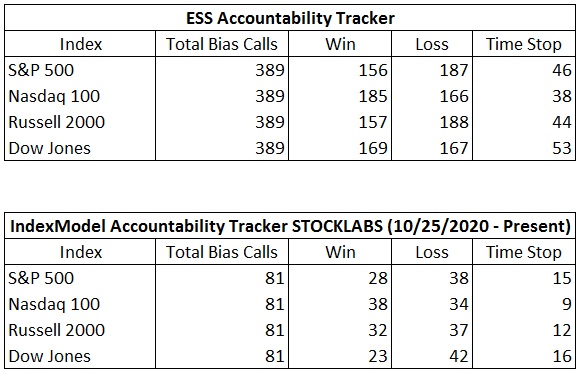 Found range high, plunged lower
Markets fluctuate between two states—balance and discovery. Discovery is an explosive directional move and can last for months. In theory, the longer the compression leading up to a break in balance, the more order flow energy to push the discovery phase.
Market are most often in balance.
Every week this newsletter uses auction theory to monitor three instruments, the Nasdaq Transportation Index, PHLX Semiconductor Index and ethereum. Readers are encouraged to apply these techniques to all markets.
Transports didn't drift much higher last week. They bumped up against the prior week high and then started selling off. The gap Friday morning is something that could have trapped supply above and may set up a fresh leg lower.
See below: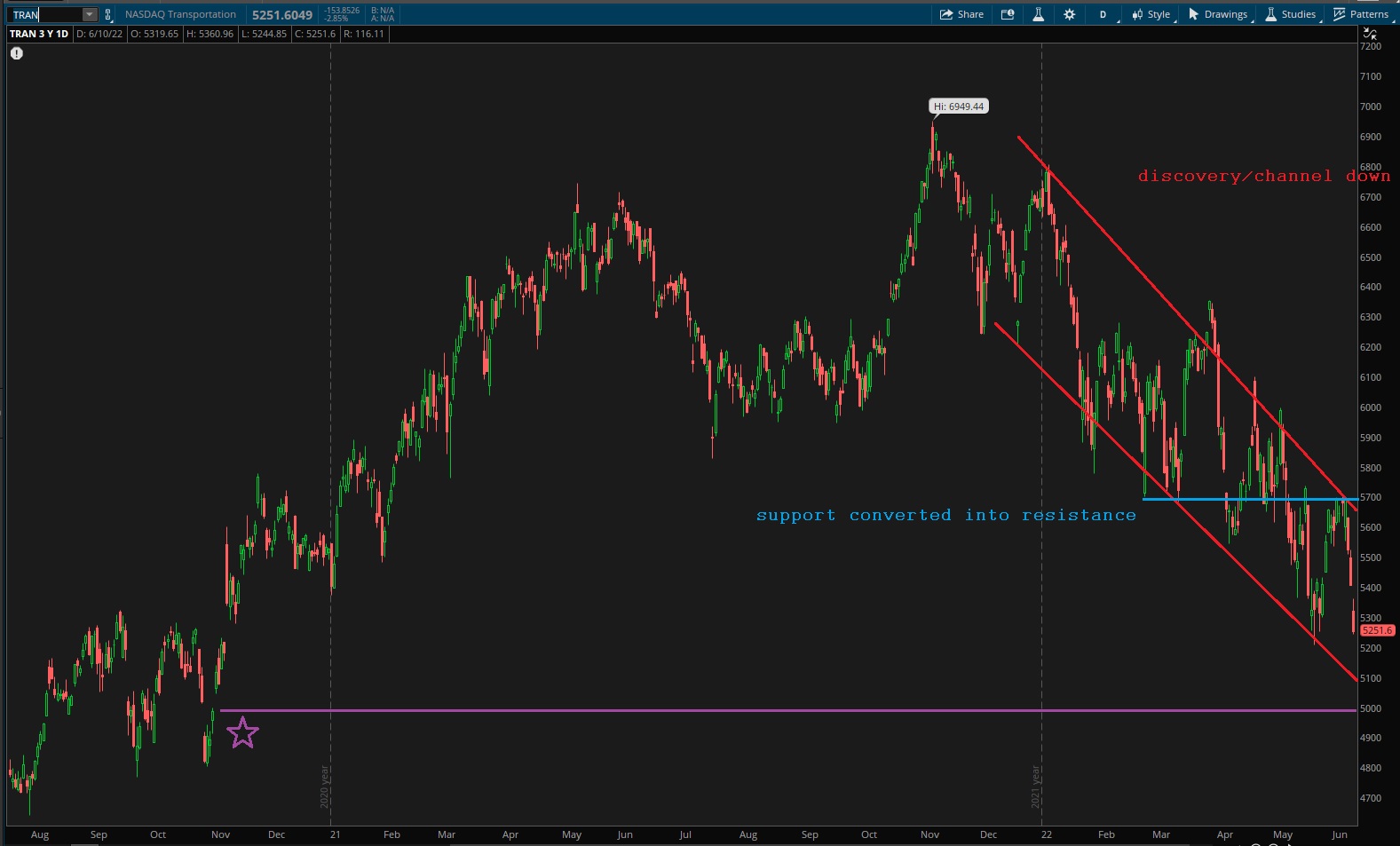 Semiconductors weren't as strong early in the week. They began selling off Monday and by Thursday they were on the move lower. Same as Transports, they gapped lower on the CPI data and now appear poised to discover lower prices.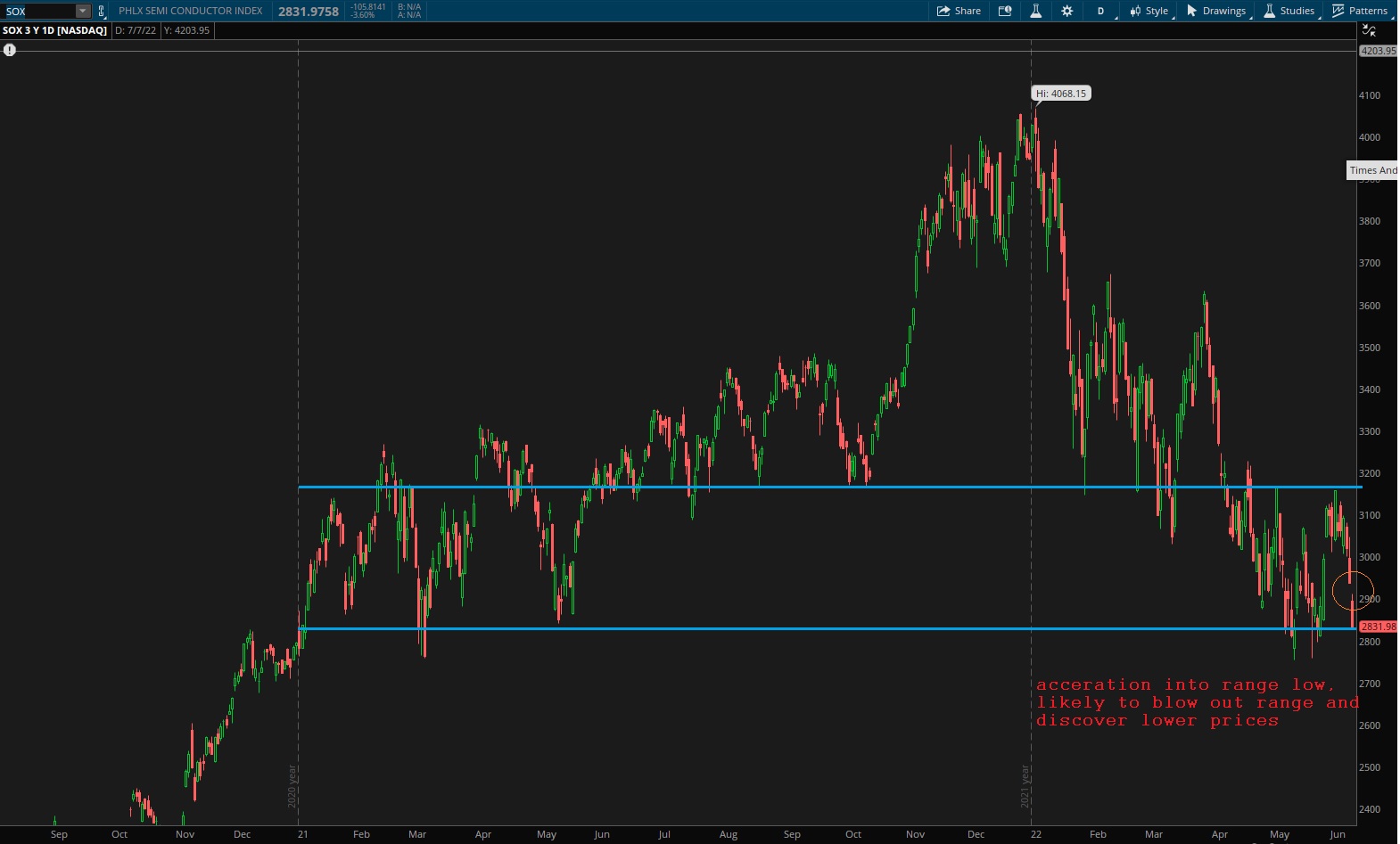 Ether just grinding lower as if some large amount of sell flow is being steadily worked onto the tape, perhaps systematically. The lack of auction info below has be expecting a probe lower into the abyss.
V. INDEX MODEL
Bias model is Bunker Buster again. The fourth in recent history.
We were rose colored sunglasses bearish last week after being extreme Rose Colored Sunglasses neutral two weeks back after four consecutive weeks being neutral. We went Bunker Buster seven weeks back after three consecutive rose colored sunglasses bearish signals after two consecutive weeks of extreme RCS bullishness.
We've had three other Bunker Busters in recent history, seven weeks ago, twenty reports back and a third twenty-eight reports back.
Here is the current spread: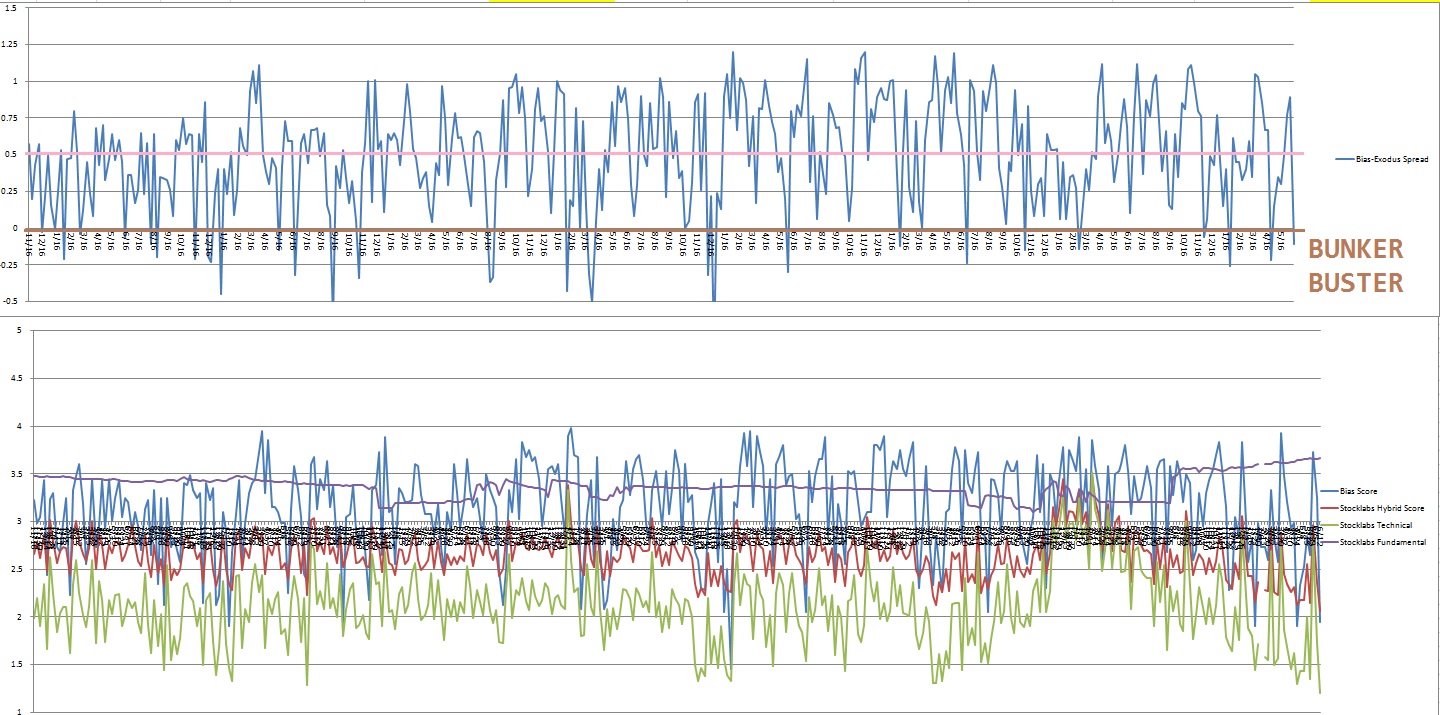 VI. QUOTE OF THE WEEK:
"It's the end of the world as we know it and I feel fine." – REM
Trade simple, keep moving
If you enjoy the content at iBankCoin, please follow us on Twitter