Salutations from the confines of Mothership lads.
I returned last night from a mission up through the Sault. A team of outdoorsmen made it through the northern border and went to work assessing a chunk of Her Majesty The Queen's land which my dear homie managed to secure with some tax chicanery and a crack team of lawyers. 150 acres of God's country, well the heck up on the north shore of Lake Superior.
The vehicles could only make it so far and we had to do the remaining miles on foot, breaking trail through dense boreal forestland with drones and binoculars, hootch and fishmeat.
Quite the lot, featuring a lake about the size of four football fields that had a bull moose drinking from it when we arrived.
While the mosquitos were absolute terrorists, the serine landscape offered my mind a bit of respite from the madness of the city. Now I am back and ready to plant my sweet corn fields and excavate the rear alleyway of the urban farm compound.
It's time to build lads. Digital warfare is me specialty but more and more lately I've felt like a gardener in a war more than the other way around.
Let the big dogs slug it out whist I poke on a chunk of earth. Soon the storm will pass and this little squirrl will return to the futures complex and resume extracting fiat from the global financial complex.
It takes a certain bit of humility to act right consistently in the financial markets. To accept that there are conditions that favor my strategy and ones that can destroy me. The last six months have been not my bag.
There have been glimmers of a return to my conditions. I've been watching the opens. The overnight gaps are shrinking. And they are being filled early on in the session. Soon I will participate in this great market pastime.
A bit more field work and then I will  return to battle.\
There is a reason June is my month. First of all it is the first real month of summer. Secondly my birthing occurred on Flag Day, compelling americans nationwide to raise a flag in my name. Thirdly, I have the most exquisite physique and it drive women and men wild, and this is good for business.
Okay for now,
Raul Santos, June 5th, 2022
And now the 389th edition of Strategy Session.
---
Stocklabs Strategy Session: 06/06/22 – 06/10/22
I. Executive Summary
Raul's bias score 3.25, medium bull*. Volatility continues to taper off. Perhaps the tape drifts lower through the week, but a major rally could be lurking on the horizon. Watch for CPI data out Friday morning to put some conviction into the tape heading into the weekend.
*Rose Colored Sunglasses bearish bias triggered, see Section V
II. RECAP OF THE ACTION
Volatility sort of decreased during the holiday-shortened week with the small cap Russell showing some divergent strength suggesting a slight increase in investors' risk appetite.
The last week performance of each major index is shown below: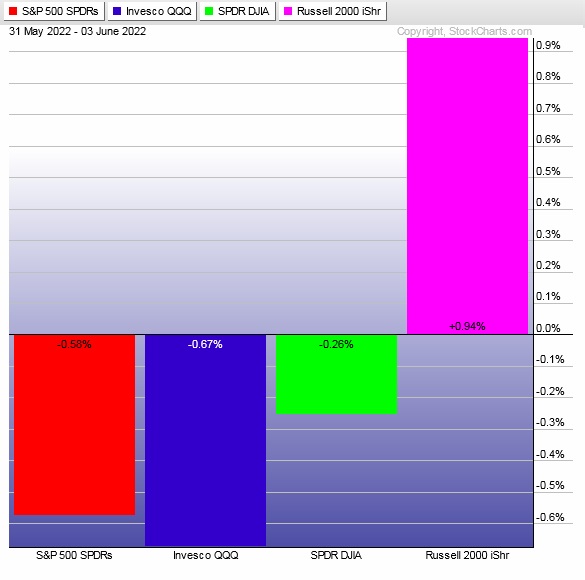 Rotational Report:
Energy continues to trade independent of the overall market. Last week's rotations not really the type to give conviction to the bulls. Market participants continue to reward more risk averse sectors like Industrial and Materials.
For the week, the performance of each sector can be seen below: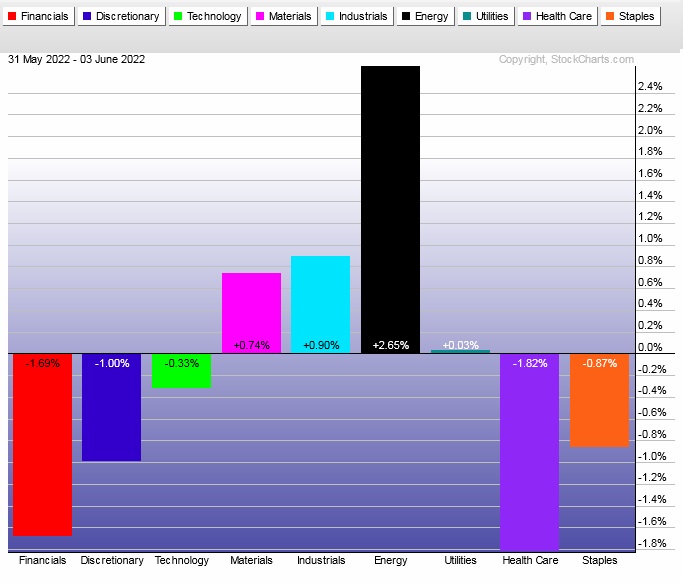 Concentrated Money Flows:
Two weeks back bulls regained control of money flows in a meaningful way. Last week's ledger was pretty calm, slightly favoring sellers.
slightly bullish overall
Here are this week's results:
III. Stocklabs ACADEMY
Hybrid Change still leaning bearish
This report is an attempt to square up all the algorithmic and economic context before the week begins and price starts moving. This week we have some pieces leaning bearish, others bullish. The hybrid change still favors sellers after printing that huge -27.96% back on May 18th.
This indicator is given more weight by me on the intermediate term. Short term it is less important. But the predominant flow of the markets is still lower until we see a larger absolute value print on the Hybrid Change column.
Note: The next two sections are auction theory.
What is The Market Trying To Do?
Week ended searching for buyers.
IV. THE WEEK AHEAD
What is The Market Likely To Do from Here?
Weekly forecast:
Volatility continues to taper off. Perhaps the tape drifts lower through the week, but a major rally could be lurking on the horizon. Watch for CPI data out Friday morning to put some conviction into the tape heading into the weekend.
Bias Book:
Here are the bias trades and price levels for this week:

Here are last week's bias trade results:
Bias Book Performance [11/17/2014-Present]: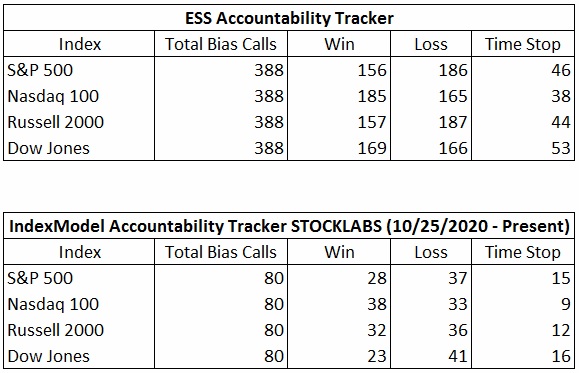 Searching for range high
Markets fluctuate between two states—balance and discovery. Discovery is an explosive directional move and can last for months. In theory, the longer the compression leading up to a break in balance, the more order flow energy to push the discovery phase.
Market are most often in balance.
Every week this newsletter uses auction theory to monitor three instruments, the Nasdaq Transportation Index, PHLX Semiconductor Index and ethereum. Readers are encouraged to apply these techniques to all markets.
Transports are in this descending channel which suggests discovery down intermediate term. However we have yet to really test those old support levels to see if sellers can convert them into resistance. This is why next week I expect this index to drift a bit higher.
See below: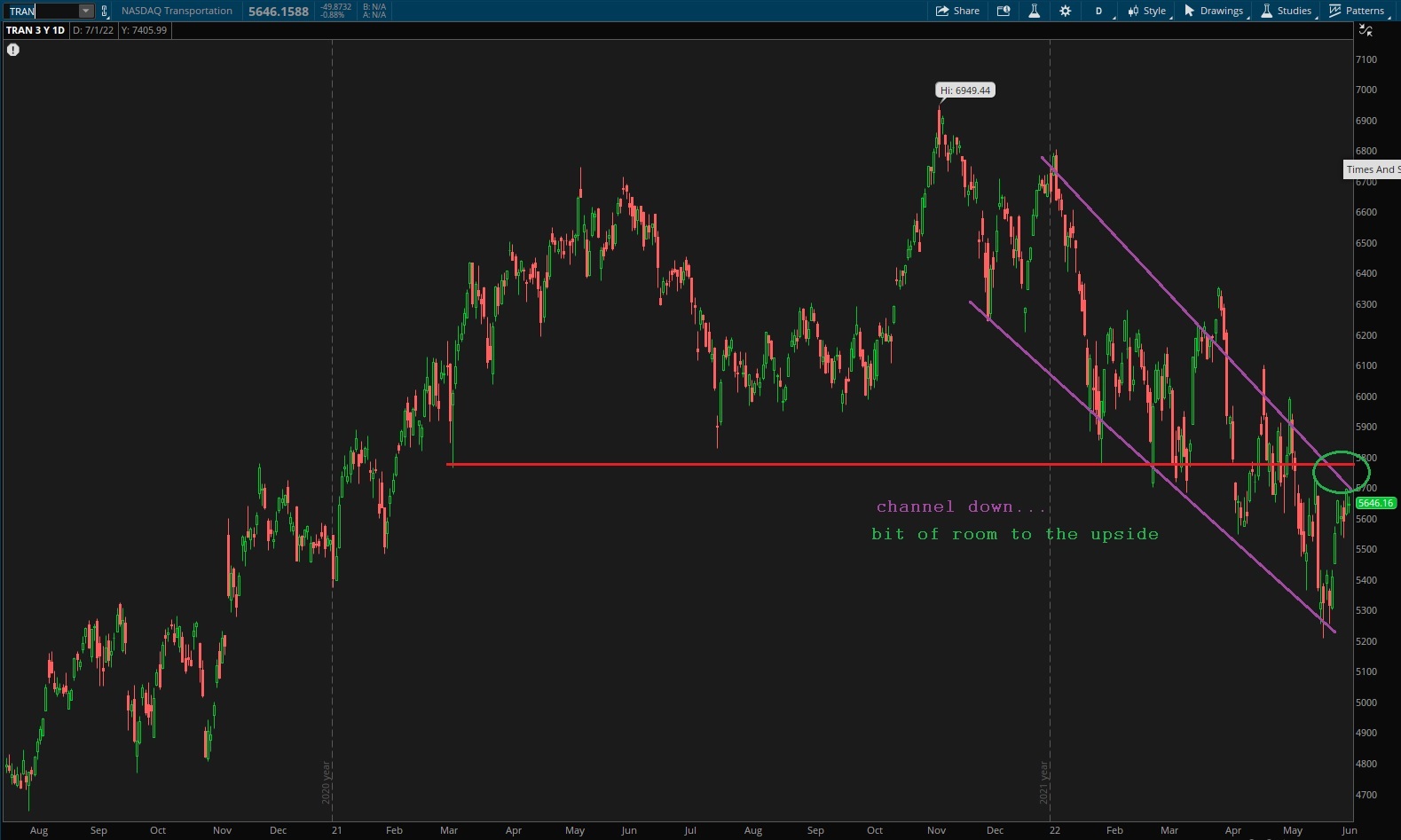 Semiconductors have made a clearer attempt higher on their balance and seem to be settling into a balance zone.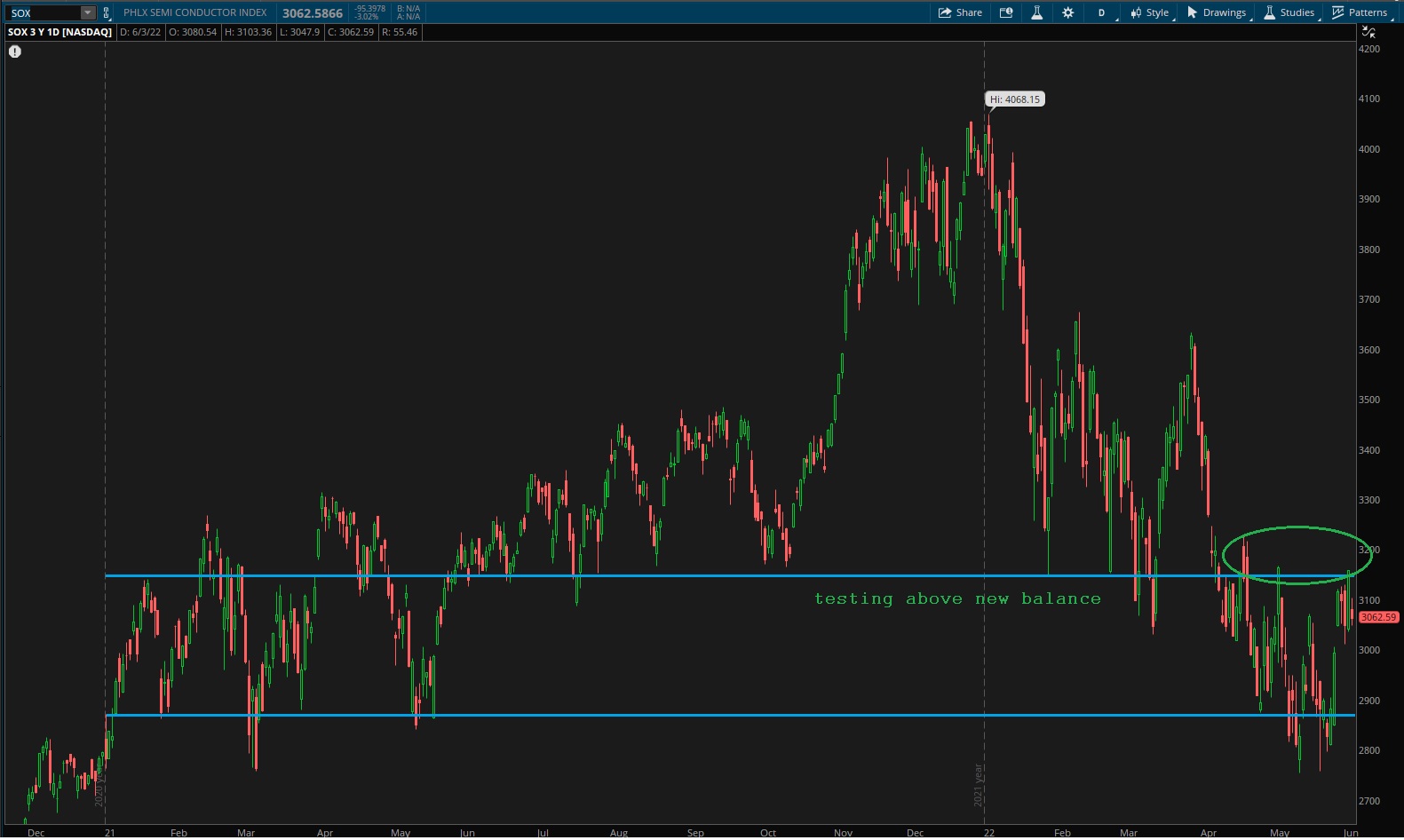 Ether is still sort of working through the overplay for the underlay. That bearish flag descending wedge pattern thing suggests downward pressure remains. There is rumor that some legislation will be introduced in the Senate this week that may affect the price of this instrument in a big way. My primary expectation is for a flush lower before we can gain clarity on the auction.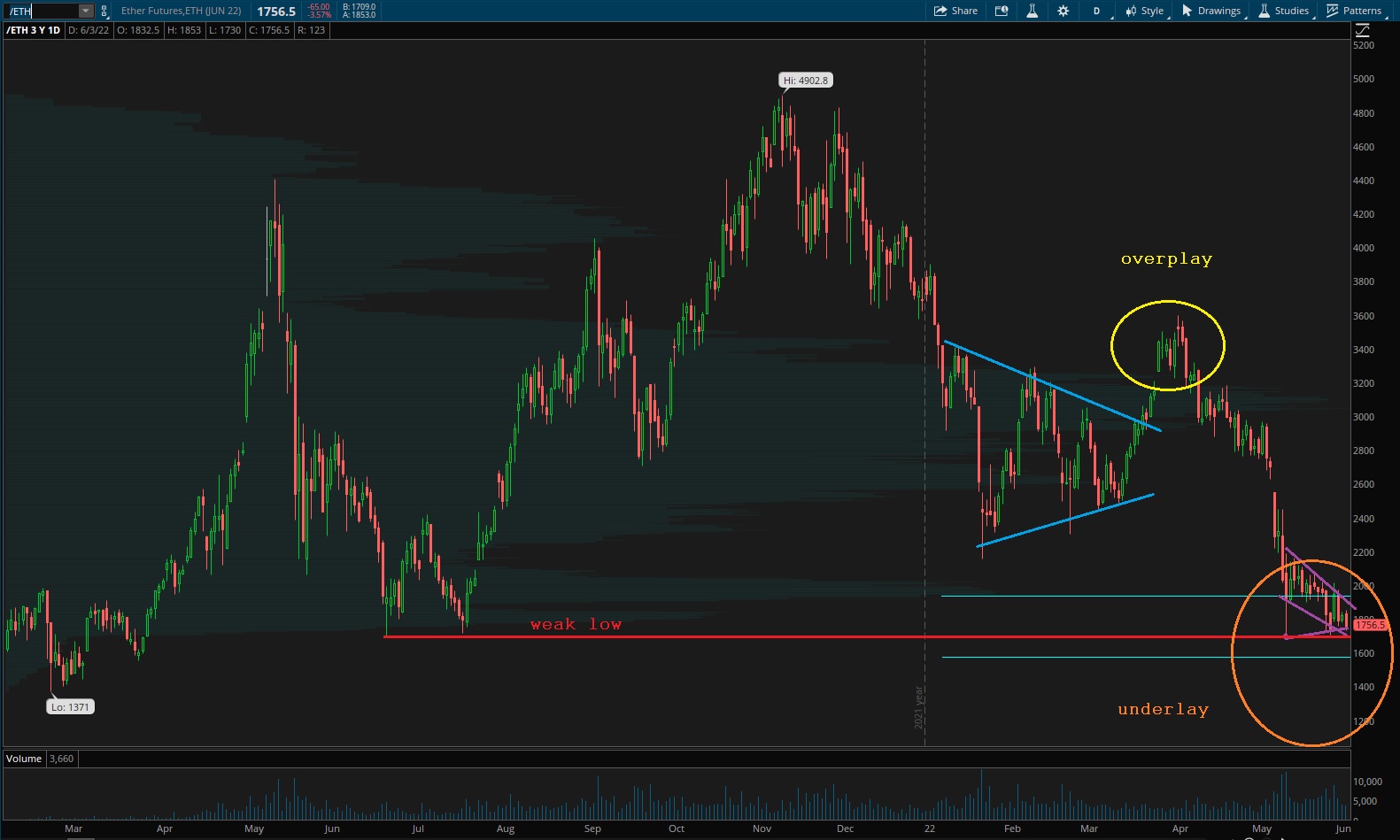 V. INDEX MODEL
Bias model is rose colored sunglasses bearish after being extreme Rose Colored Sunglasses last week after four consecutive weeks being neutral. We went Bunker Buster six weeks back after three consecutive rose colored sunglasses bearish signals after two consecutive weeks of extreme RCS bullishness.
We've had three Bunker Busters in recent history, six weeks ago, nineteen reports back and a third twenty-seven reports back.
Here is the current spread: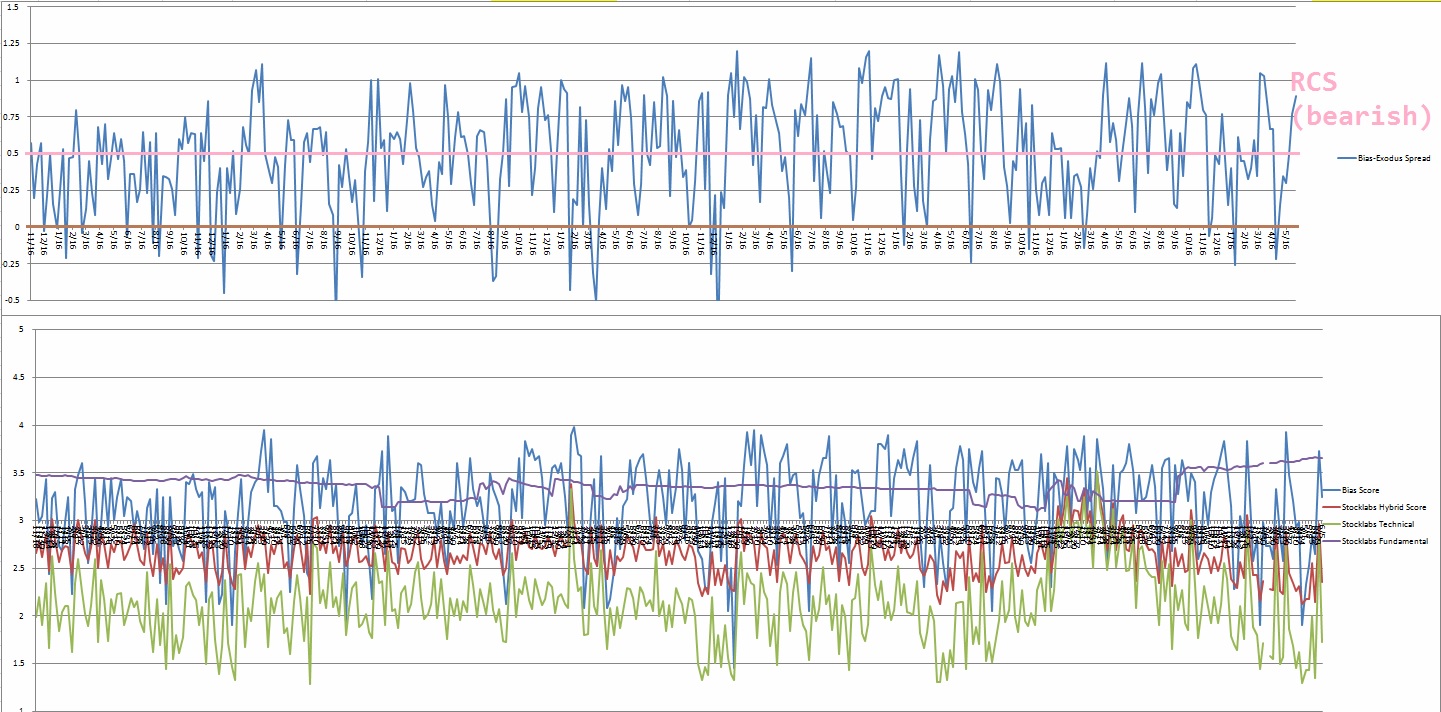 VI. QUOTE OF THE WEEK:
"The more you say, the more likely you are to say something foolish." – Robert Greene
Trade simple, focus on execution
If you enjoy the content at iBankCoin, please follow us on Twitter