Good day lads,
Not much to report from up here the the peaceful north. Temps are in the single digits. I can sit outside in peace without being menaced by the boomers and their souped up lawned mowers. It's just me and the bird and the fountains. I'm pretty sure the birds are real and I dug that fountain deep so it could run through the winter and so far it is operating exceptionally.
Markets still look iffy. We need to see something major to negate seller control. Jamie Dimon calling for all those interest rate hikes last week was pretty silly. Bankers are such pieces of shit, but I suppose we're all guilty of pandering to our own interests from time-to-time.
Striving to work towards the common good can be hard. You wouldn't believe how many folks are out to grift. Even seemingly in need hobos will pull a fast one, coming to your coat drive and taking all the nice new coats and selling them for hootch.
Scoundrels. Of course.
We cannot let the bad actors turn us into one. There is an axiom that nice guys finish last. Well I am out to disprove it. For better or worse.
We are still in the murky zone of a risk cycle reset. We are seeing little pockets of growth—mostly metaverse stuff which why the hell not? Right? We're all trapped, man. And also huge insurance agencies like Berkshire. You know why BRK.B is doing so well? Two reasons: folks are scared and they have actively sought to diversify their c-suite.
Having the inputs of people from different walks of live. Way different walks of life. Is a key component to success. I'll die on this hill.
The days of a bunch of bros from the same fraternaty thriving are over, man. Look at me? I'm the captain now and my crew is quite swarthy but also has some ladies that are really fancy.
It takes a bit of this and that to make a good soup.
Okay. No sense extending ourselves into high risk stocks until the smoke clears. Berkshire and blunts until otherwise noted.
Raul Santos, January 16th 2022
One more thing — no premium data yet.
And now the 372nd edition of Strategy Session.
---
Stocklabs Strategy Session: 01/17/22 – 01/21/22
I. Executive Summary
Raul's bias score 2.83, neutral. Look for buyers to hold price above last week's lows during the holiday-shortened week.
U.S. markets are closed Monday, January 17th in observation of Dr. Martin Luther King Jr. day.
II. RECAP OF THE ACTION
Gap down and selling pressure through Monday morning. Then a strong reflex rally through Wednesday morning. Choppy through Wednesday before sellers stepped back in and pressured the tape. The Russell and Dow made new lows late in the week while the other majors were bullish divergent.
The last week performance of each major index is shown below: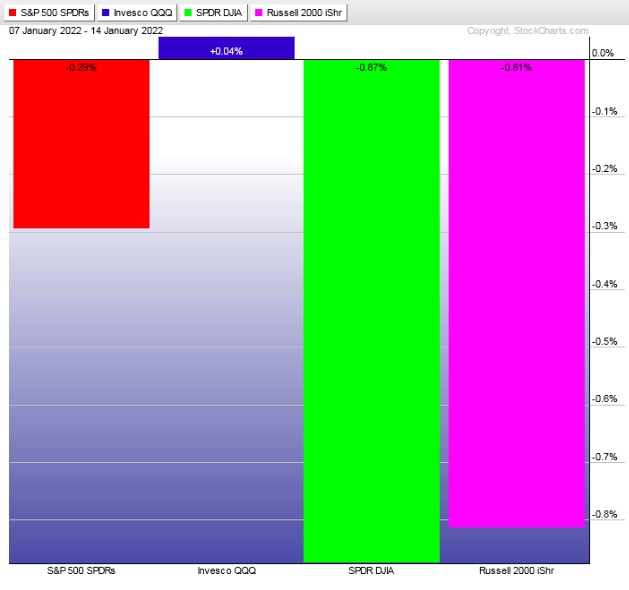 Rotational Report:
Weakness across the board. However bulls can find some respite in the slightly bullish divergent tech sector.
Energy followed through on the strength seen two weeks back and printed another strong weekly candle.
slightly bearish
For the week, the performance of each sector can be seen below: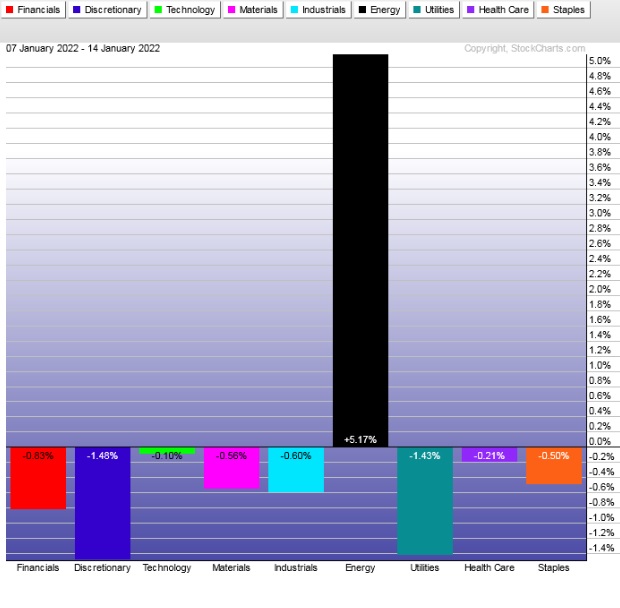 Concentrated Money Flows:
The selling skews over the last nine weeks have been dominated by sellers, including last week's strong skew.
bearish
Here are this week's results:

III. Stocklabs ACADEMY
Holiday pivot
Just an observation. I've noticed the markets pivoting around a holiday. There was the Valentine's day massacre and the Thanksgiving pivot last year. I have not run a study to put statistical conviction behind this observation. It is just an interesting observation that merits additional homework. Meanwhile I will be watching for a potential pivot higher next week. Buyers need to do something big to overrun the selling pressure of these last several weeks.
Note: The next two sections are auction theory.
What is The Market Trying To Do?
Week ended searching for sellers
IV. THE WEEK AHEAD
What is The Market Likely To Do from Here?
Weekly forecast:
Look for buyers to hold price above last week's lows during the holiday-shortened week.
Bias Book:
Here are the bias trades and price levels for this week:

Here are last week's bias trade results:

Bias Book Performance [11/17/2014-Present]: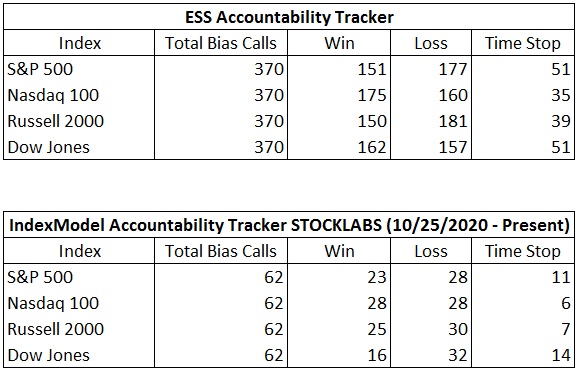 PHLX held range low but still has a failed auction print
Markets fluctuate between two states—balance and discovery. Discovery is an explosive directional move and can last for months. In theory, the longer the compression leading up to a break in balance, the more order flow energy to push the discovery phase.
Market are most often in balance.
Every week this newsletter uses auction theory to monitor three instruments, the Nasdaq Transportation Index, PHLX Semiconductor Index and ethereum. Readers are encouraged to apply these techniques to all markets.
Transports perhaps have the most interesting chart. Keep an eye on this compression, the eventual break could provide clarity on overall market direction.
See below: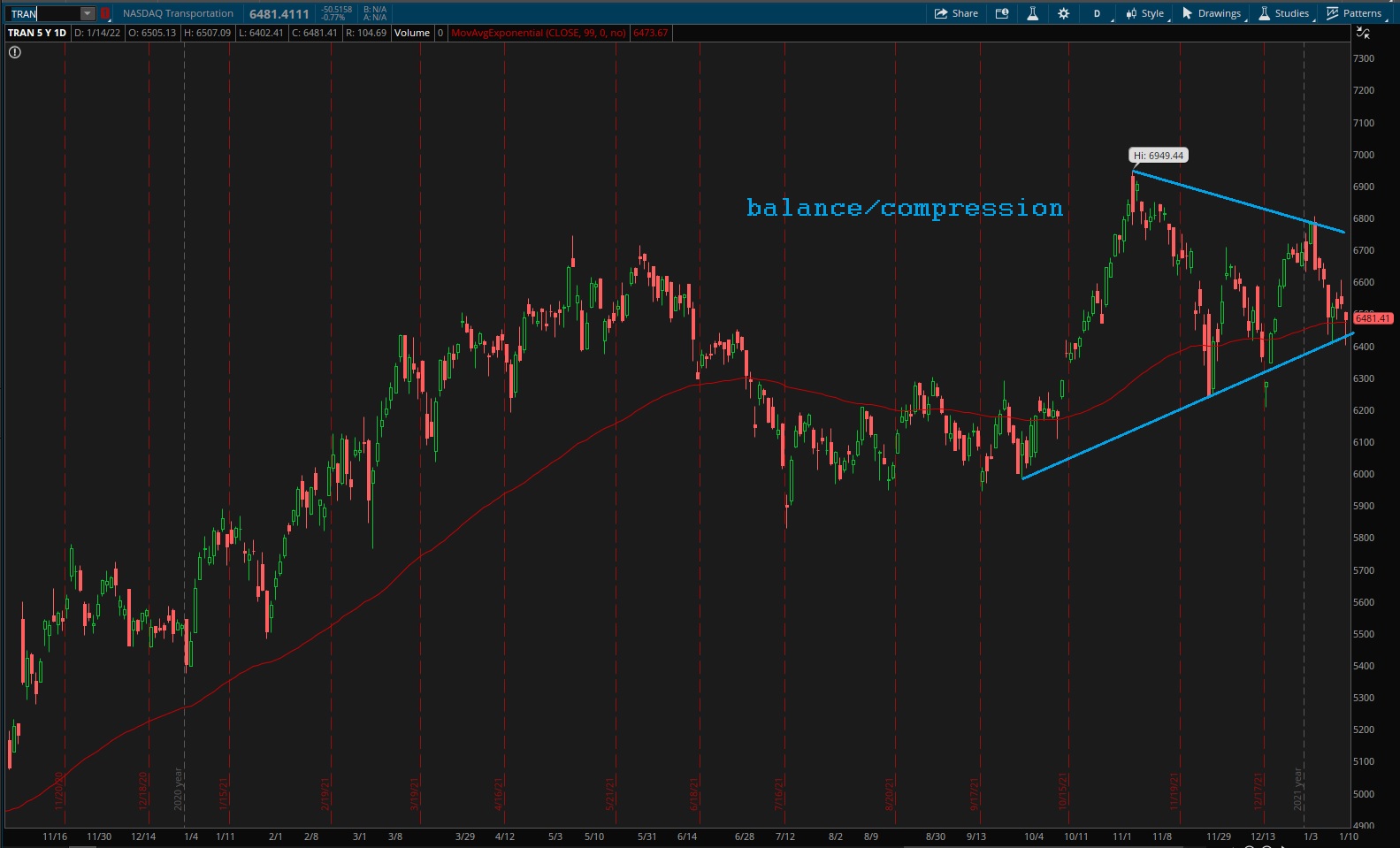 Semiconductors give us caution due to the failed auction above but did rally hard off of range low. This is another interesting balance and until it resolves it is difficult to forecast overall market direction.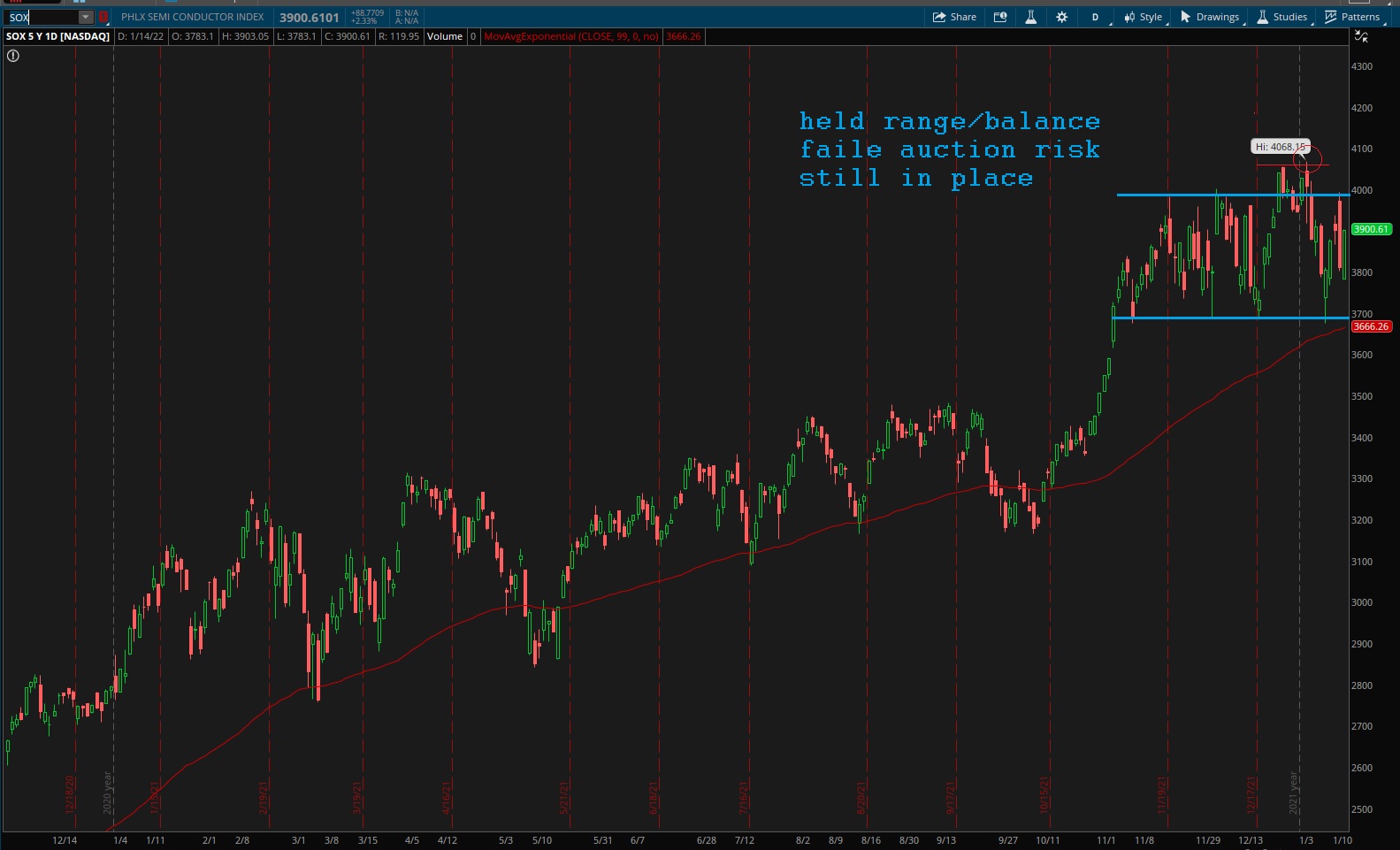 Ether will be monitored going forward as a third contextual component. The ethereum network currently has a market cap just under $500B. The PHLX is about $3.5T. Therefore while we analyze ether alongside semiconductors, we ought to give more contextual weight to semiconductors than ethereum.
Ethereum continues to have a discovery down look.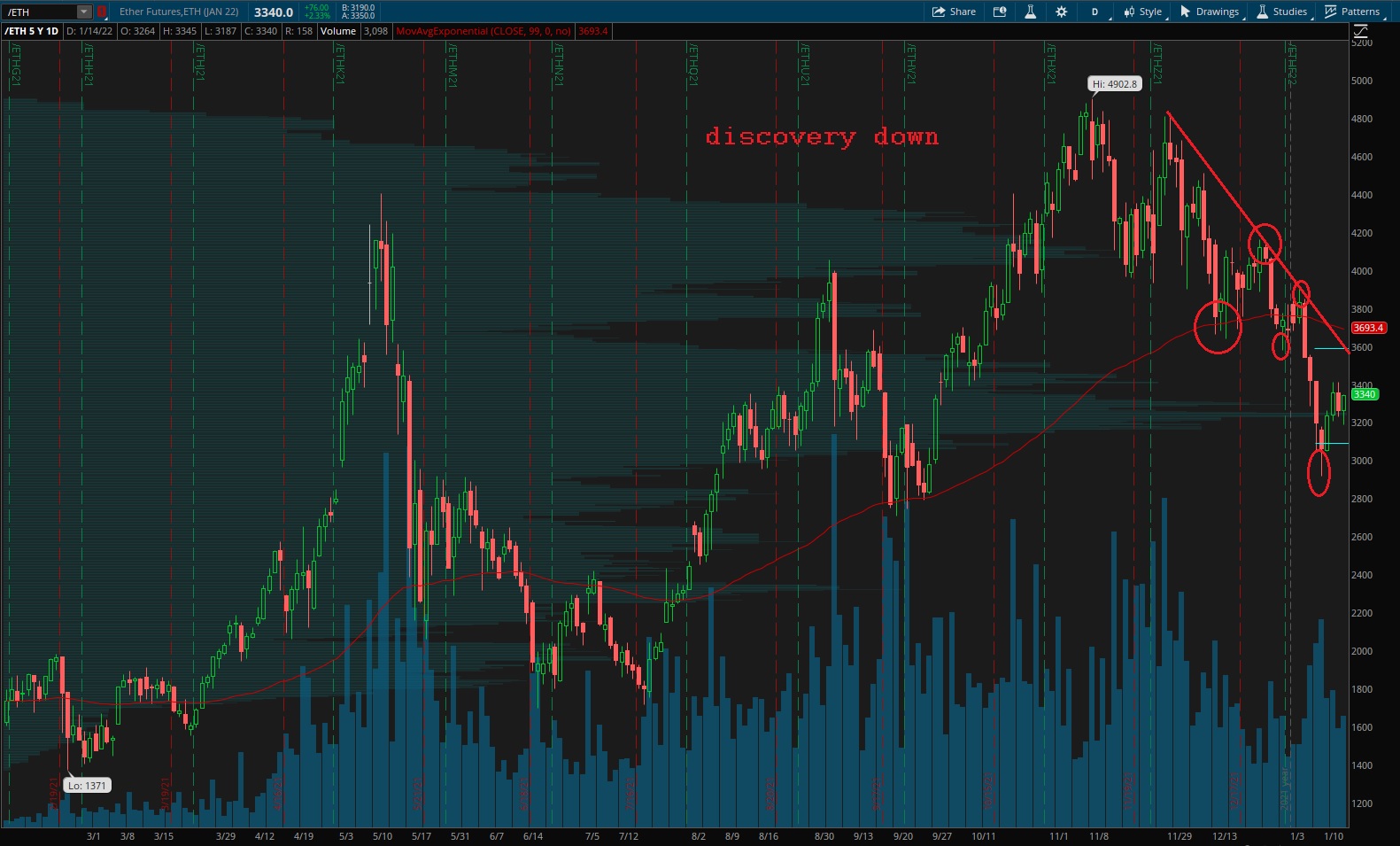 V. INDEX MODEL
Bias model is neutral heading into the third week of 2022. Mode printed a Bunker Buster signal seven reports back. The Bunker Buster before the most recent one was forty five weeks ago.
No bias heading into the week.
Here is the current spread: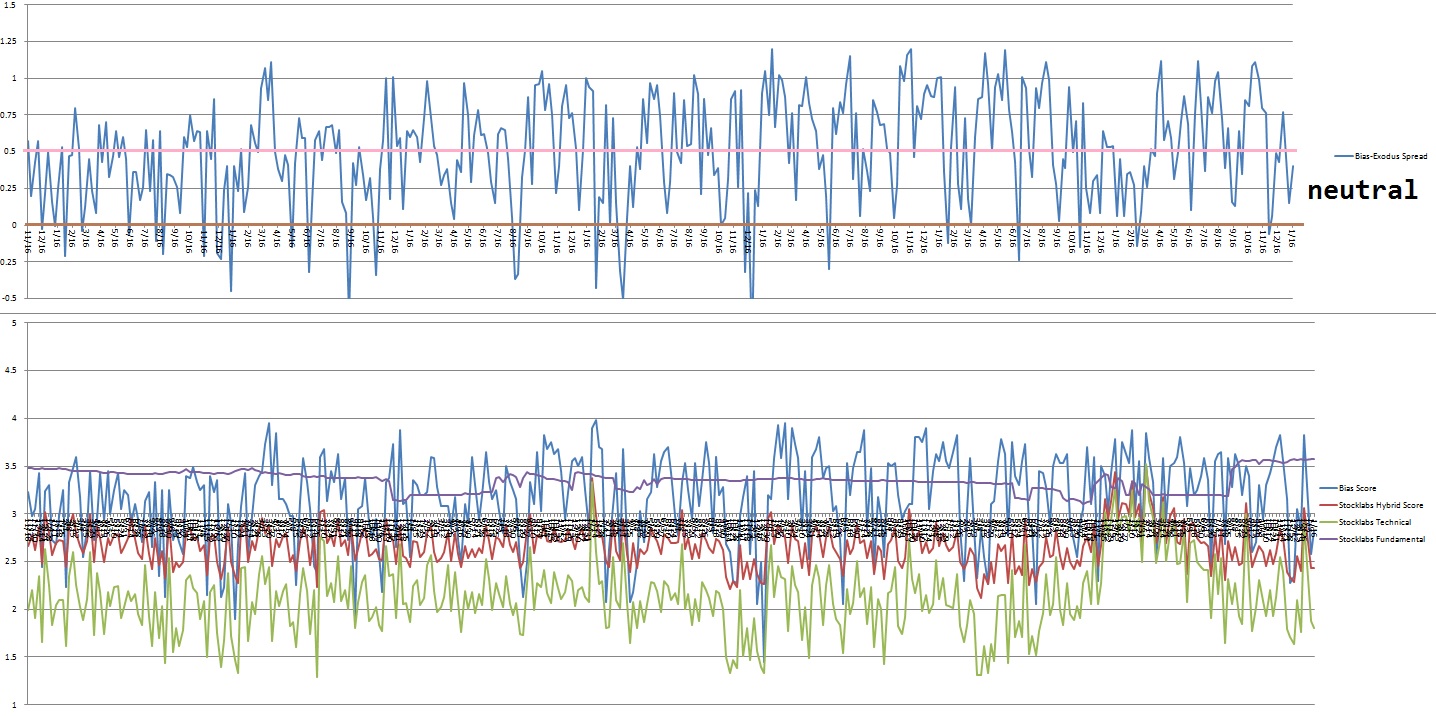 VI. 3 month Hybrid Oversold
On Thursday, January 13th Stocklabs went hybrid oversold on the 3-month algo. This is a bullish cycle that ends Friday, January 28th end-of-day. Here is the performance of each major index so far: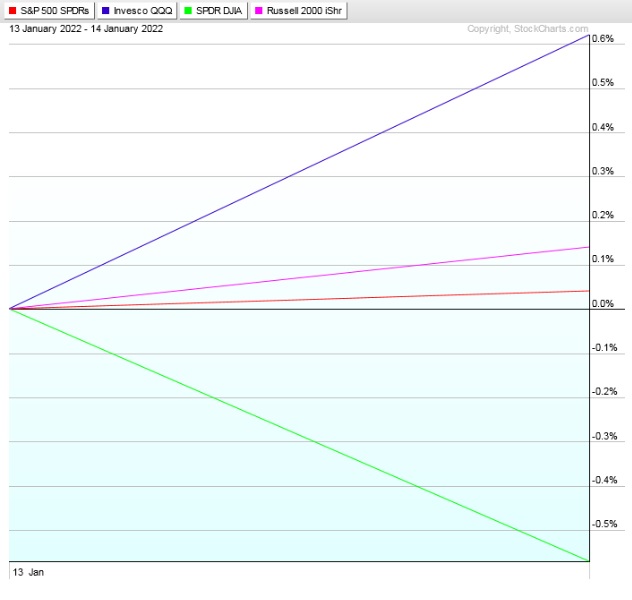 VII. QUOTE OF THE WEEK:
"We must accept finite disappointment, but never lose infinite hope." – Dr. Martin Luther King Jr.
Trade simple, expect to win, accept the losses along the way
If you enjoy the content at iBankCoin, please follow us on Twitter