Lads I have been producing Sunday research for the kind folks at iBankCoin for 350 weeks. Nearly seven years. I've been in these hallowed halls for even longer. What keeps me here?
Well foremost dear Fly has built one of the most under appeciated analytics platform available. PPT, and then Exodus and finally Stocklabs have been vital to my trading success. I stay for the signals.
The culture is odd. Very old man yells at cloud in the whole. But I **need** to expose myself to these thought patterns otherwise I'll be lost in the hyper-liberal echo chamber of urban progressiveness. Most culture is odd to me.
See lads, what few understand is I decommissioned from societal standards long ago. I was a blossoming young fellow, fresh out of university, on track to marry my main squeeze whilst commuting to a very normal job as a corporate accountant. By conventional standards I was a success. Bought a house in my early 20s, my ford focus was paid off, had a nice haircut and wore business casual clothes to work and around town. I was miserable. Something had to give.
I left the salary first. I figured heck, seems I'm bringing home anywhere from 30-90k fiat american ever year trading futures, why trade AND be an accountant?  Those first two years away from corporate I still woke up every morning, showered, dressed business casual and sat in front of my trading computer from 8am-to-4:30pm. It seemed like I needed to do that to be successful.
I was still unhappy. Next I broke off with my lady. That was hard. Took a few years of my self-deprecating and being a hoe to move on. I did though. It was during this time however that I learned some things about life. Chasing beautiful women had become more than a part time gig. It was consuming many resources, mostly time, something I was frittering away in front of a computer. I was a very happy dog, sashaying around town at my own whim. The world was my oyster.
I broke my work habit next. Rather, I made new habits. I looked at the data. Thousands of trades and a trend emerged. I was most profitable between 8:30am and 10am. My activity after that time lost money. The concept of work for the sake of work became visceral and I said fuck it. I'll focus on being even better from 8:30am-11am and use the rest of my time to be a hoe.
These were very special years. I become more and more aware of what made me happy and safe and it was family. I spent more time with the elders and listened to their regrets. Seemed like they were all building ranches and cottages and whathaveyou and they all wished they had started sooner. So I began to build my compounds.
And here we are today. I wear athleisure. I am in the best shape of my life. I have detailed processes that allow me to extract enough fiat american from the global financial complex to live comfortably and more and more I pepper funds into a variety of lottery tickets, both in real life and in the burgeoning metaverse. Earlier this year doge hit. I never sold any. Whatever. I couldn't think of anything useful to do with the proceeds.
I am losing my train of thought.
What happened next was the pandemic and shit got weird. And I was already like five years ahead of the shift away from "work" to life. So when everyone else moved work-from-home I had to go further. Now I spend lots of time kicking around on a piece of ground in a pretty seedy part of Detroit. Everyone's real nice to me and we're having a good time growing corn and pumpkins and drinking cheap hooch. I give fiat american to anyone who asks and it makes me happy.
I don't know what happiness looks like for you but I suggest cutting out 10-20 minutes a week to sit completely still and watch the thoughts that manifest and vanish in your mind. That's a good starting point.
Well this metaverse thing is nuts. The Facebook earnings call sort of made my antenna jiggle and ever since I've been dropping fiat on jpeg files. Maybe I just have way too much fiat. We don't know.
What we do know is my job is to extract as many fiat american dollars as possible from the global financial system. In whatever markets I see fit.
I've watched trader folks unfollow me on twitter in droves since I started lightheartedly participating in doge/nft. Sometimes it makes me sad. These are good people who sort of just take themselves way too seriously. Knee jerk reaction is to call them names like cuck or boomer or Trevor Milton.
But what will that do? Not make me happy I can assure you that.
That's about all I wanted to say for now. Thank you for being here and reading my research and odd Sunday entries all these years. I would be lost without iBankCoin. I do feel that way. It is some of the only remaining structure in my life.
Okay for now, and to 350 more, salute
Raul Santos, August 8th 2021
And now the 350th Strategy Session. Enjoy.
---
Stocklabs Strategy Session: 08/09/21 – 08/13/21
I. Executive Summary
Raul's bias score 3.63, medium bull*.  Calm drift, perhaps with a slight upward bias. Watch for earnings out of Berkshire Hathaway early Monday to provide some context for the week.
*extreme Rose Colored Sunglasses [RCS] bullish bias triggered, see Section IV
II. RECAP OF THE ACTION
Gap up into the week was slowly faded lower Monday. Hard selling early Tuesday discovered a strong responsive bid. Rally into the weekend with the NASDAQ lagging a bit.
The last week performance of each major index is shown below: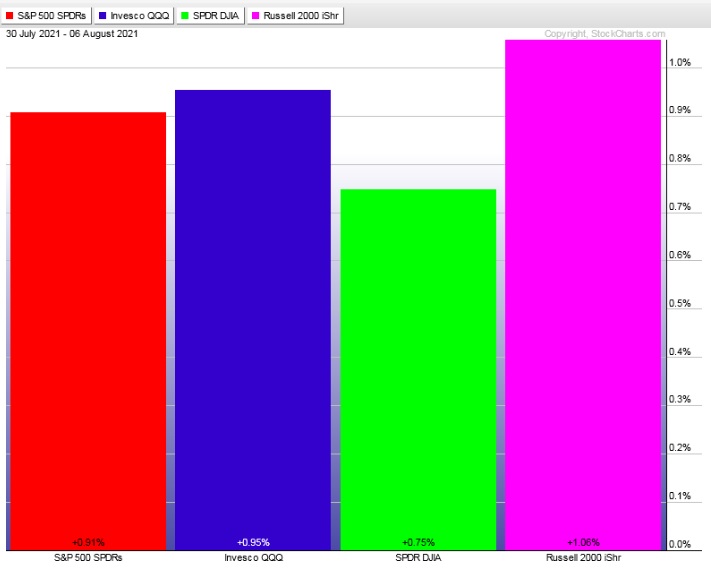 Rotational Report:
Leadership in all the wrong sectors. Tech still positive.
neutral
For the week, the performance of each sector can be seen below: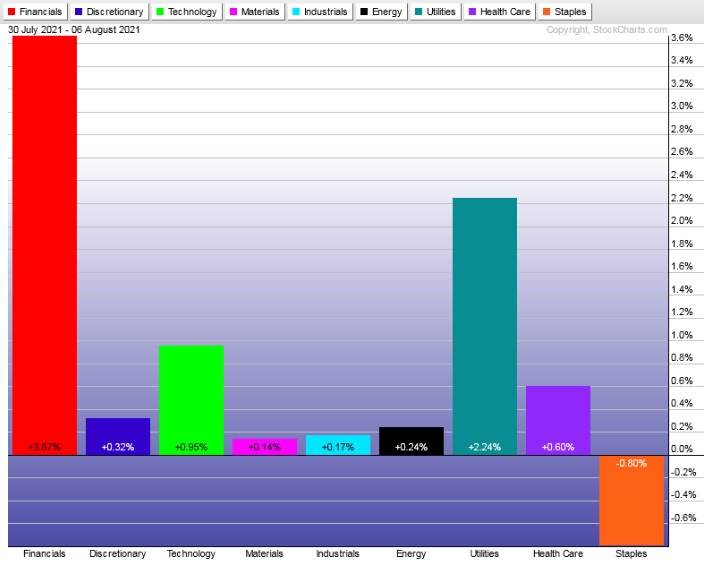 Concentrated Money Flows:
Ledger skewed slightly positive again but not enough to negate the major selling seen four weeks back.
neutral
Here are this week's results: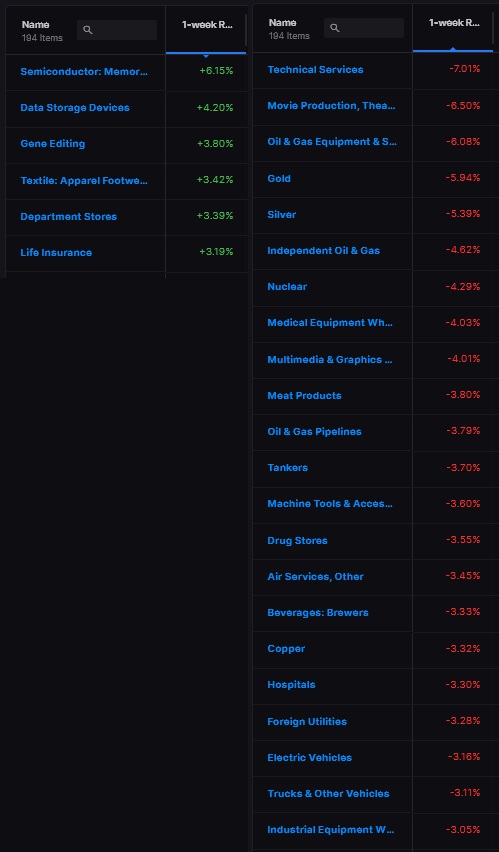 III. Stocklabs ACADEMY
Resetting the count
I am clearing all prior algo signals we were tracking here in the Strategy Session and starting anew once we see the 6-month go hybrid oversold.
Note: The next two sections are auction theory.
What is The Market Trying To Do?
Week ended searching for sellers
IV. THE WEEK AHEAD
What is The Market Likely To Do from Here?
Weekly forecast:
Calm drift, perhaps with a slight upward bias. Watch for earnings out of Berkshire Hathaway early Monday to provide some context for the week.
Bias Book:
Here are the bias trades and price levels for this week:

Here are last week's bias trade results:

Bias Book Performance [11/17/2014-Present]: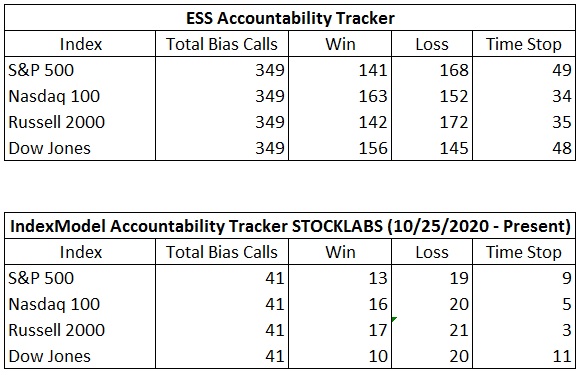 Semiconductors say "stay bullish"
Markets fluctuate between two states—balance and discovery.  Discovery is an explosive directional move and can last for months.  In theory, the longer the compression leading up to a break, the more order flow energy to push the discovery phase.
We are monitoring two instruments, the Nasdaq Transportation Index and the PHLX Semiconductor Index.
Transports continue to be discovery down. The downtrend is maturing and buyers printed a conviction candle a few session back. We may see this downtrend complete this week but for now sellers remain in control.
See below: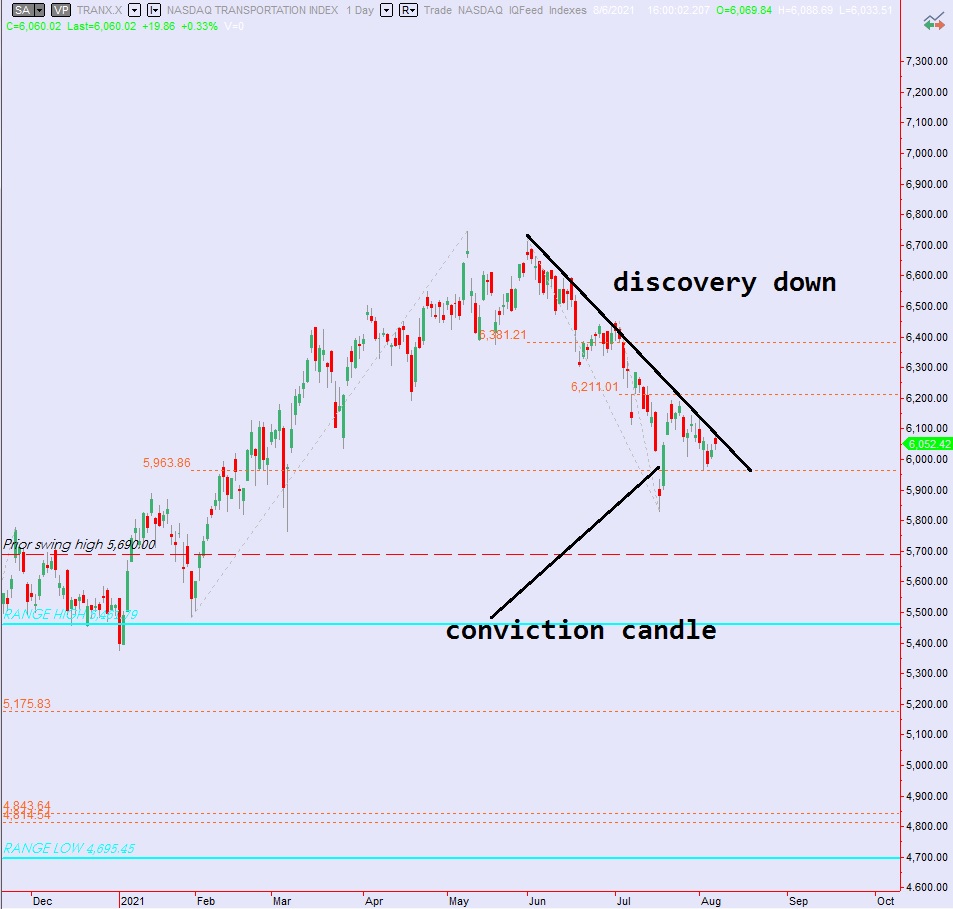 Semiconductors made new record highs and appear to be in a fresh leg of discovery up.
See below: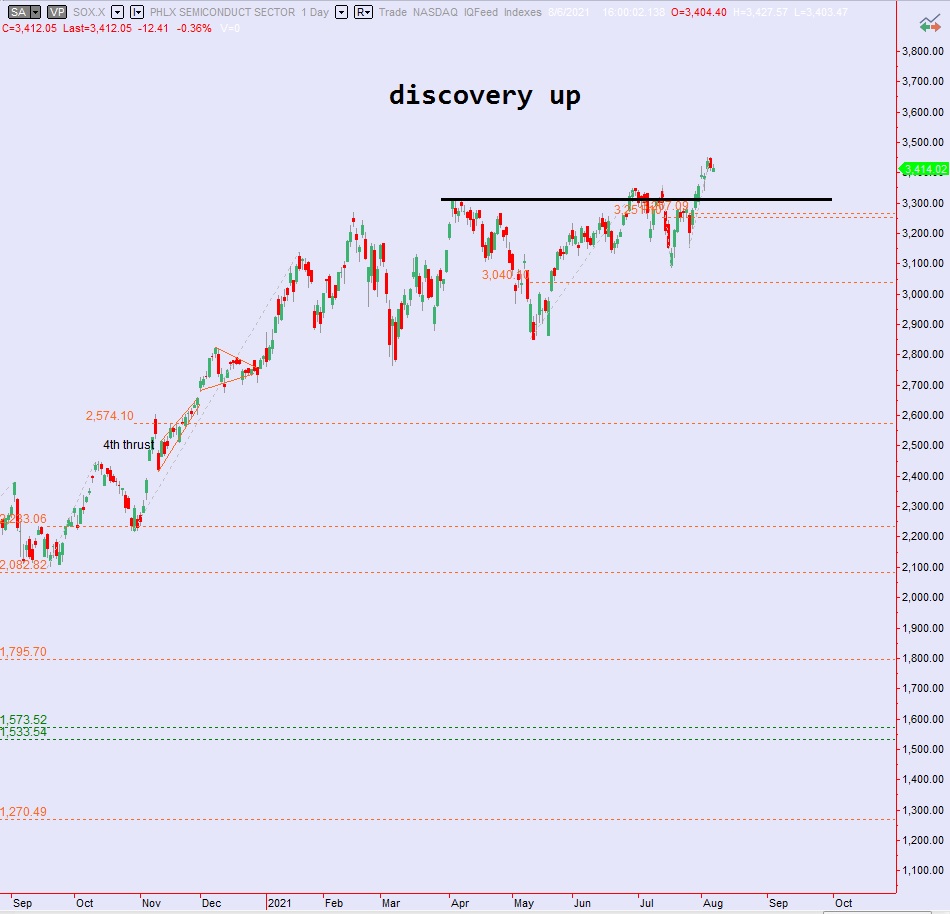 V. INDEX MODEL
Bias model is extreme Rose Colored Sunglasses bullish after being Rose Colored Sunglasses bearish on the prior report after being extreme Rose Colored Sunglasses bullish two weeks back after being neutral three weeks back after being extreme rose colored sunglasses bullish for the three weeks prior to that. Bias model was neutral seven weeks back after being extreme Rose Colored Sunglasses bullish bias for the three consecutive weeks prior after being neutral for the two weeks prior to that after being e[RCS] bullish thirteen weeks ago and RCS bearish fourteen weeks ago.
We had a Bunker Buster twenty-three weeks ago.
Extreme Rose Colored Sunglasses is a bullish bias that calls for a calm drift, perhaps with a slight upward bias.
Here is the current spread: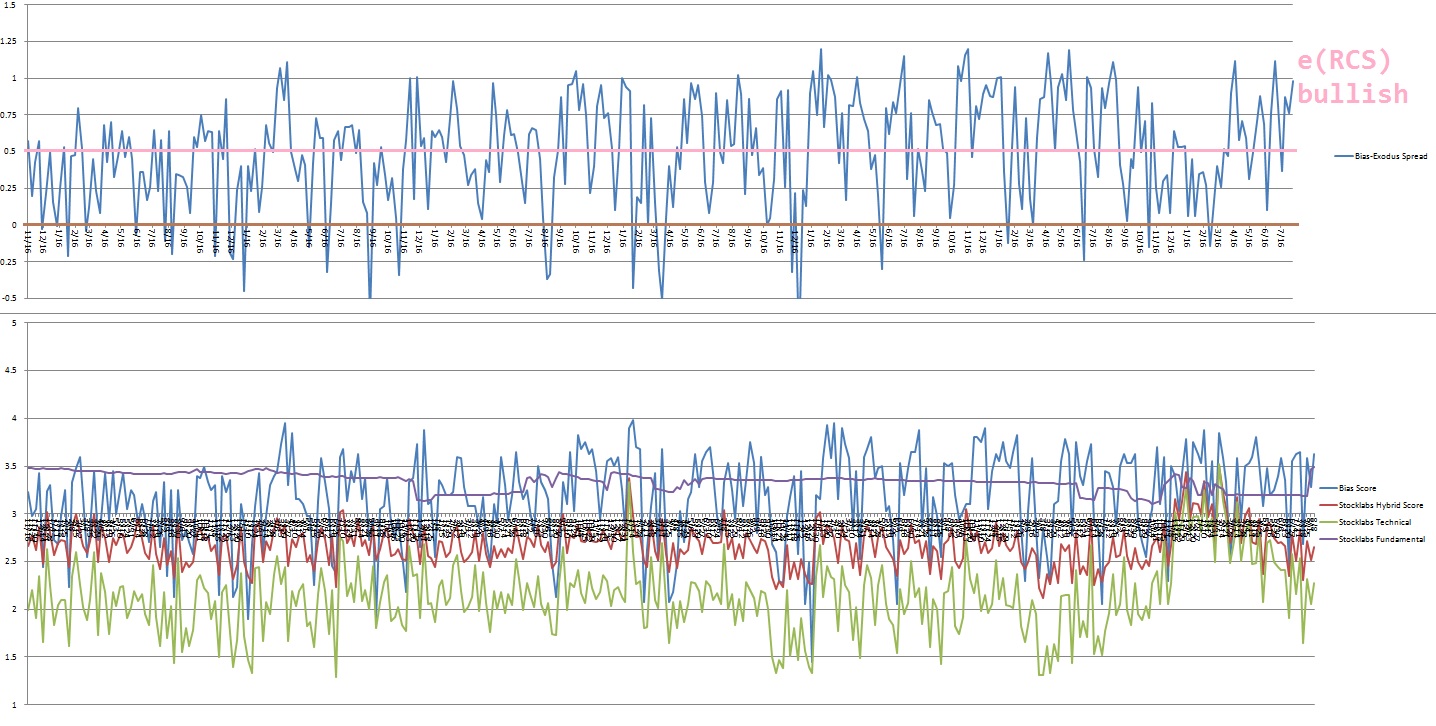 VI. QUOTE OF THE WEEK:
"Price is what you pay. Value is what you get." – Warren Buffett
Trade simple, invest the gains
If you enjoy the content at iBankCoin, please follow us on Twitter