Let this entry serve as a reminder to the reader that while most week day mornings Raul is a humble market practitioner, there exists a wild impulse that writhes in the background of my subconscious, fighting to break free from its cage and click-punch orders in a wild melee at the exchanges. The "boring" research I present in public forum and on Sundays behind the paywall is constructed to keep my carnal side contained. If it were not, my ability to survive trading would come to an abrupt end. The stock market gods would pick up this old crocodile by the hind legs and hammer toss my body off a high cliff.
It may sound a bit bourgeois, but all I care about is financial independence. I've tried the whole working thing—blue and white collar. I've even wrapped a rag around my neck and worked Latino style. Of all thesee workneck dressings, the only one I can feel right about is Latino style, and I can assure you even a structure as well fed and fit as mine is limited in the amount of honest labor it can perform.
A work horse dies toiling in the fields. That is no way to live. Therefore I must do what on the surface appears easy but when done right is simple at best and damn impossible for the 95 percent; to consistently extract a meaningful amount of fiat american dollars from the global equity complex.
Today I shook myself awake from a long-form dream where I was back at my last corporate employer, touring the facility and catching up with all my old comrades. They were all still where I left them. Poking away at keyboard in little foam and steel divided cubes except for one—the young feller of Bangladeshian decent who I trained to be my replacement. He transferred to the "product" department. It was on the ground floor and no cubes. It had smooth cement floors and giant screens everywhere and gorgeous women all around—some of them smoking. In short, he had ranked up to some kind of interesting role. The stress levels were high, so was his pay and there was a real sense of urgency.
Read into that how you will. I woke up feeling a bit off. Was part of me considering phoning my manger and begging to be reinstated as an Excel monkey? Mothership was a cool 61 degrees. The bedside fire had gone out while I was asleep.
Now I am on the desk and NASDAQ futures are up +70 or so and I don't want to trade. I traded great yesterday morning, capturing over 100 handles, traded according to a plan constructed before the open. Good trading. I made enough this week. Today poses too much risk of sullying my mood heading into the weekend. But before this existential prose drags on any longer I want to share some of the reasoning behind the SQQQ position I initiated yesterday. First, here are the daily levels to be aware of on NASDAQ futures:
The main chart that has me carrying a hedge into today and possibly the weekend is the semiconductor index. I imagine most of you are tired of seeing the old sentiment cycle analogue I hitched onto my wagon when OptionsAddict presented it a few years back, but I don't care. It works for me and helps me wrap context around all the noisy external events we're constantly wading through. More on this later. First, check out the semiconductor index: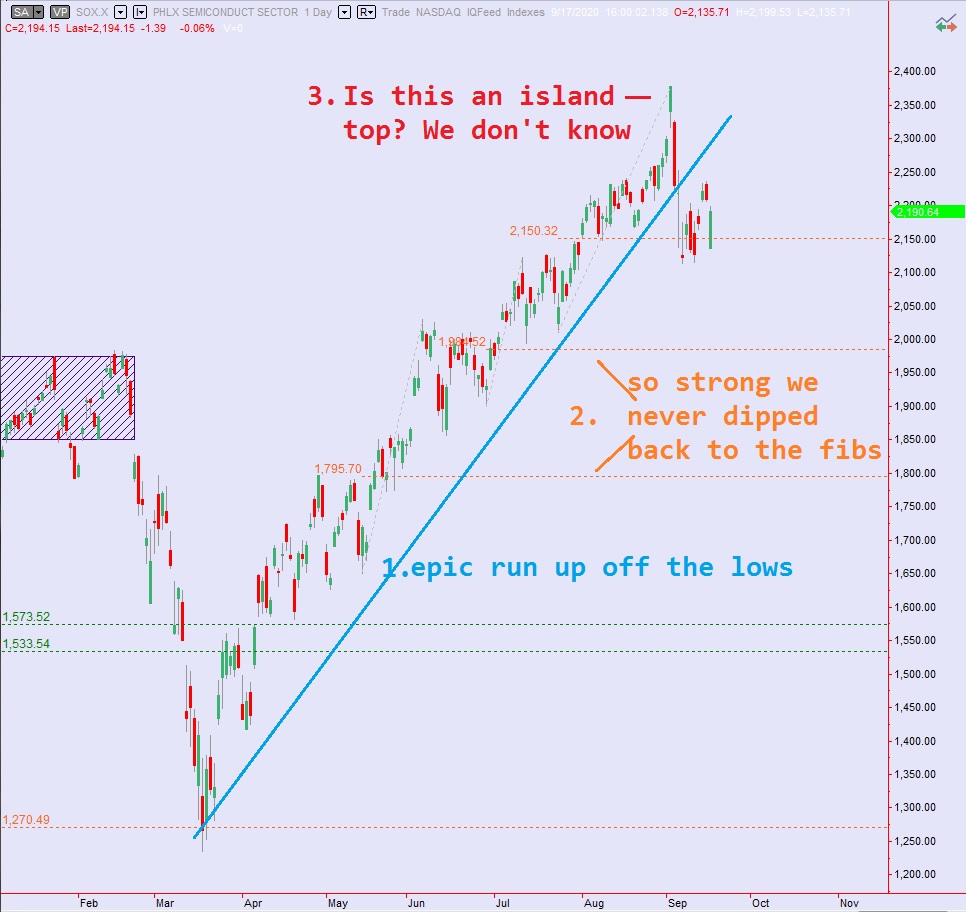 Nothing about the above chart is bearish. That is a strong up trend with a slight break recently. My brain however can't shake the image of the giant GPU NVIDIA recently put out. It really seems glutinous. This is my subjective brain, not the analytical one used above. But look at this thing: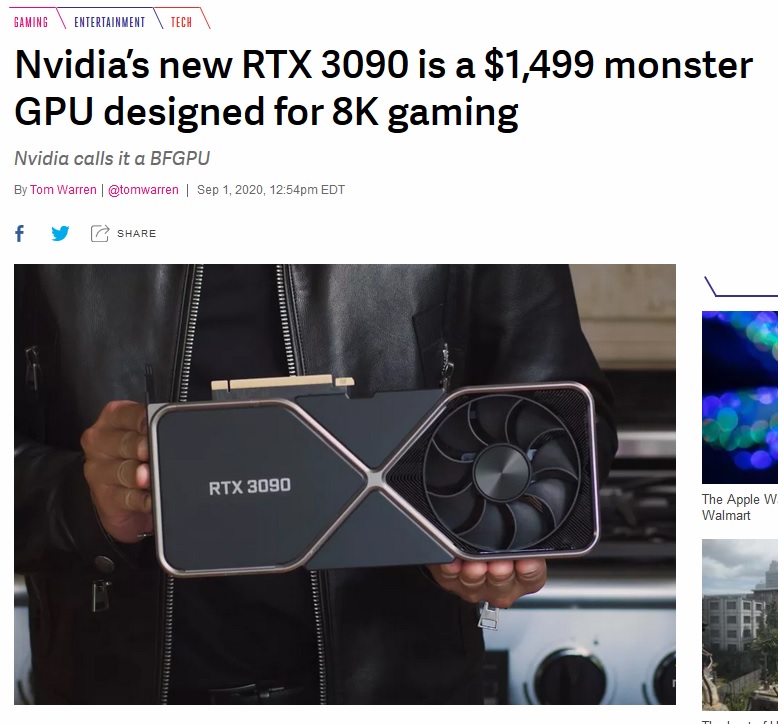 In my brain that hog of a GPU is the chrome spinner wheel that infested public streets back in 2006 before the Great Recession. A warning that seems so obvious in hindsight. It may be a stretch of the imagination. I will be first to admit that. But come'on man.
Next let's look at the daily chart of the NASDAQ-100 rolling futures contract:
If you read my entry last Sunday you'll recall my loathing these big instagram influencer accounts that have suddenly, in the absence of stimulus from posting videos of themselves doing things, became fucking stock market commenters. Another dude comes to mind with a green mallet. On Instragram it was not just an Amanda Cerny in on the act. KrispyShorts also was all over his story these last couple months talking about how he made millions in the stock market using a loan from the bank. What does this all look and sound like? To me it picks up a megaphone and shouts RETURNING CONFIDENCE…see Exhibit III: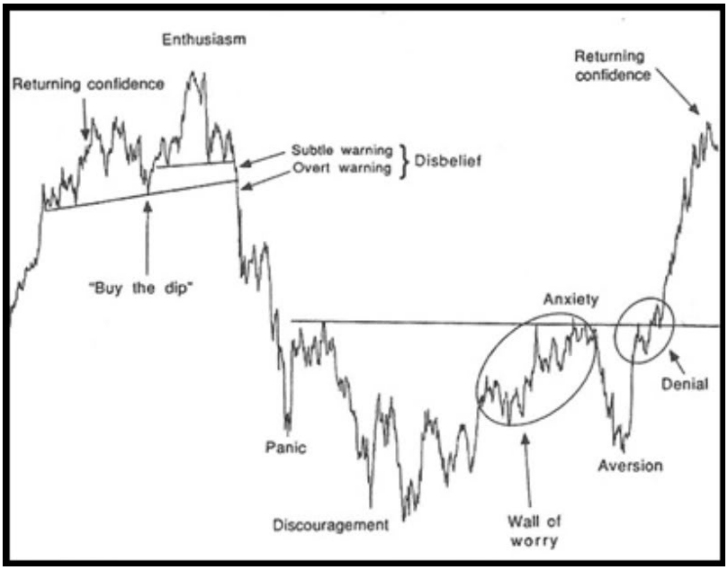 Now I may be just a humble Latino laborer, but part of my brain has an obsession with waves, stock markets, Hellenic philosophy, statistics, crowd psychology and a whole other slew of intellectual pursuits. Am I a bit jaded? Hardened emotionally from watching the entire Faces of Death VHS collection as a pre-teen? Four years fighting and fucking my way through a parochial college prep academy? Paying for a bachelor in finance and half a master in accounting only to abandon that career path? Heading into the wild? Alone? Living in a van down by the river trading stonks?
We don't know.
All I venture to do on this here blog is present the facts as I see them in a time stamped matter. Let history be thine judge.
summarily,
Raul Santos, September 18th 2020
If you enjoy the content at iBankCoin, please follow us on Twitter