Volume and range shot well beyond second sigma overnight. This is a clear signal that what you are seeing taking place in the markets this morning is anything but normal. The primary driver of this volatility was forex macro moves resulting from an unexpected move by the Swiss National Bank.
Also occurring overnight was a move higher in oil. This morning the markets are dealing with more earnings from big banks who one after another are seeing share prices lose value post earnings. BAC is trading lower as is C although Citi is currently holding its prior lows.
At 8:30am the economic data including initial/continuing jobless claims, PPI, and Empire Manufacturing brought in some buyers who were quickly faded. This afternoon after market close we will here from INTC while the entire semiconductor industry teeters on the edge of a breakdown. We also have many more banks set to report tomorrow morning and CPI before market open.
Turning our attention to the auction, we can see some weak shelving occurring right at 4106.75. This level will be a big tell today. My initial expectation is we 'spill over' the shelf which opens the door for a test of the overnight lows which puts us in range of testing the prior swing lows and the Nasdaq on the cusp of breaking lower. See the context below: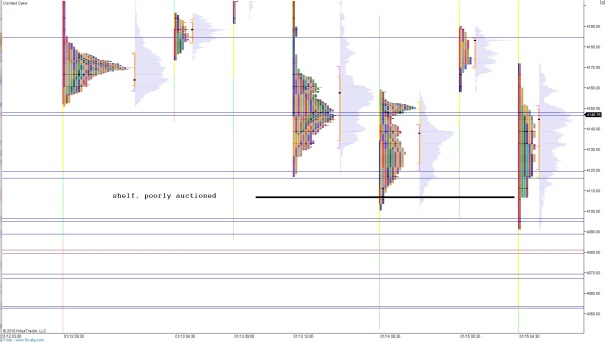 The intermediate term shows sellers controlling the market.
Yesterday the market continued trading lower until we closed to open gap from 01/06. Once we hit these levels a sharp buying response took hold and saw some continuation off the value zone around 4118.75. Buyers were unable to push through the early highs of the session during the afternoon ramp but did see their progress carry through into the overnight session.
The overnight session carried over 100 points of range and as we approach cash open we are trading right near the midpoint of that range. Early on I am looking the yesterday's VPOC at 4138 as a short term pivot. If sellers can sustain trade below this level that adds confidence to my primary expectation for trade to take out the market profile shelf at 4106.75 (seen above).
Hypothesis 2 is strong buyers off the open who take out yesterday's session high 4159 and continue probing higher into the volume pocket at 4171.50 and a continued auction higher to target overnight high 4190.
Hypo 3 is a slow open auction inside yesterday's range and then 2-way chop between 4171.50 and 4118 which eventually gives way lower during the lunch hour.
I have highlighted these levels on the following volume profile chart: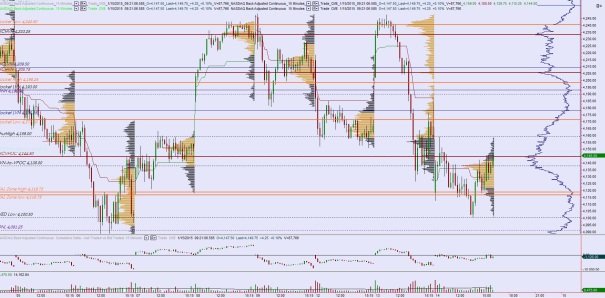 If you enjoy the content at iBankCoin, please follow us on Twitter