Nasdaq futures are inching higher as we head into the new year of trading. Volume has normalized in globex leading me to suspect the quality of trade may resume during RTH as well.
There are some economic data releases to be aware of – at 9:45 the Markit Mfg PMI and then at 10am Construction Spending and ISM Manufacturing. These early releases may lend some choppiness to the early trading action.
The futures managed to hold the Wednesday lows overnight and push up through the poorly auctioned zone from 4262.50 – 4252 (pink box on chart). The buyers are defending the globex midpoint at 4248 as we approach the open.
Sellers took control of the short term auction this week after a balance day on Monday. Tuesday went gap down and when buyers responded and attempted to push us back into Monday's range we saw a sharp rejection lower. When Monday showed afternoon follow through it suggested the intraday sellers had converted from responsive to initiative.
Wednesday they defended a gap and range extension up. Again they defended Monday's value and then pressed us lower for the rest of the session resulting in a neutral-extreme print. Wednesday's profile structure carries strong directional conviction with it, thus the sizeable gap up this morning is suspect.
The slightly longer, intermediate term timeframe resembles neutral-to-slight bullishness. We have essentially traded flat for the last three weeks.
Early on I will be watching for buyers to make a push through the thin zone for a test of globex high 4262.50. I will be looking for responsive sellers in the zone from 4262.50 – 4271.25. From there I suspect we could slide back down through the thin zone to test 4254.25.
Hypo 2 is sellers pushing into the overnight inventory early with a drive which is likely to target globex low and then work toward Wednesday low 4228.00. This opens up the auction to test the low volume node down at 4216.50 and puts the December 17th gap into play.
Hypo 3 we see buyers sustaining above 4271.25 and pushing a secondary leg up to 4285.25 thus regaining control of the short-term auction.
I have highlighted these levels on the following volume profile chart: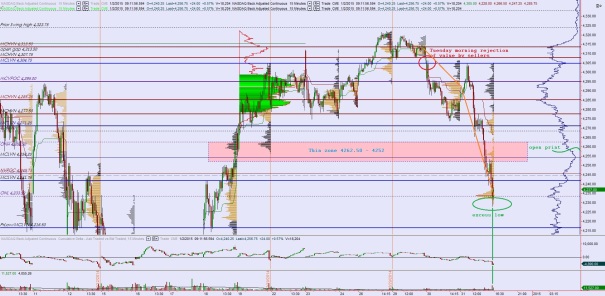 If you enjoy the content at iBankCoin, please follow us on Twitter