Nasdaq futures are trading lower overnight as volumes continue to come in light on the globex market. Around 8:30am some chatter out of Russia resulted in a bit of a reaction from equity and gold prices, pushing the Nasdaq below Monday's range and spiking gold higher.
At 9am the Case-Shiller Composite -20 data is due out and at 10am Consumer Confidence. The 10am news might cause some early chop before the market finds direction on the day.
The intermediate term is showing signs of coming into balance but still has a neutral-to-bullish skew. The monthly high is only about 20 Nasdaq points away and the quiet consolidation just below these levels increases the likelihood of a test up to 4323.75.
Early on I am looking for a bit of weakness to test the mcVPOC at 4295 where we see responsive buyers who work to close the overnight gap to 4313.25 and take out the overnight high 4318.
Hypo two is buyers push into the overnight inventory but get rejected away from Monday's value 4309.50 and begin exploring lower to target a move down to 4295 and if they do not find responsive buying here then a continued move to 4285.25 and finally a gap fill down to 4281.50.
Hypo 3 sellers drive off the open and close the open gap down to 4281.50 early and continue testing lower to 4277.50, 4271.25.
I have highlighted these levels on the following volume profile chart: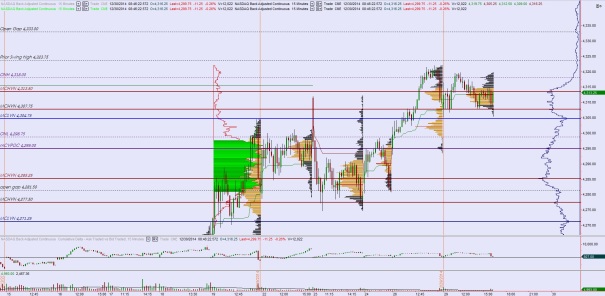 If you enjoy the content at iBankCoin, please follow us on Twitter