Good morning everyone. The overnight session has traded less than 3000 contracts so far on a drift up toward Wednesday's high. The session features one rotation, said upward drift, which thus far has encompassed 14.75 points of range.
We are entering day 7 of the market on an upward auction, an auction which came into balance during days 3-6 and entered a sideways drift. Weekly Strategy Session readers, you may recall we were on watch to see if the big-range index volatility would persist of if instead we would tighten up and allow individual stocks to perform on their own merit. Thus far the week has shown signs of the latter.
With the right bit of chart massaging you can clearly see the balance formation we are currently trading within. This gives us parameters for a session that is likely to see 2-way, local-to-local type trading which favors scalping from the outside-in, like playing ping pong.
Up above the current balance are a few magnets; there is a naked VPOC at 4313.50 dating back to December 8th then there's a weak high just above that at 4315.50.
Alternatively, there is a bit of a thin zone below the current balance which comes into play if we trade below 4271.25.
Primary hypo is to see an open auction inside range which tests above the overnight high where we find responsive sellers who work to fill the overnight gap down to 4281.50. If buyers are not found here then we continue down and resolve Tuesday's gap at 4279.50. I will be looking for signs of buyers here as well.
Hypo 2 is an early push higher which works higher to 4307.50, then 4313.50 then finally targets a break of the poor high at 4315.50.
Hypo 3 is a rejected move higher which sees a fast move lower down through 4271.25 and slides down to 4254.25.
These levels are highlighted on the following volume profile chart: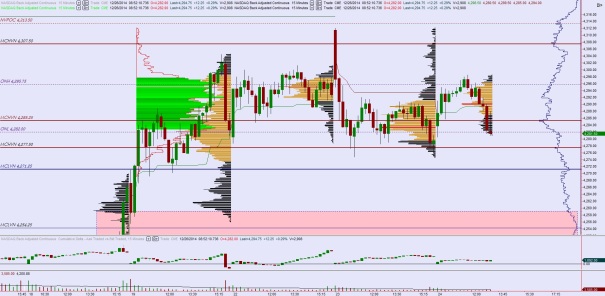 If you enjoy the content at iBankCoin, please follow us on Twitter