Volumes have officially dried up in the Nasdaq exchange. The overnight session traded sub 8000 contracts ahead of the 8:30am Durable Goods and GPD stats. The Christmas holiday is fast approaching. Session range was compressed to the low end of normal as well, ranging just a few ticks below 1st sigma and expanded a bit after 8:30am to become normal.
You really don't want to force trades in this environment. It's thin, primarily algorithmic participation.
Autopilot comes to mind.
However, if you are here, so am I and with the exact same intent.
Prices are high overnight after two primary up waves (9.25 and 12.5 points) pushed through the market. As we come into US trade prices are up in the upper quad of the globex range.
At 9:55am we have U of M Confidence numbers then at 10am we have Personal Consumption and New Home sales. The 10 o'clock hour also features the Richmond Fed Manufacturing Index.
Given the amount of economic news set for release at 10am, I am expecting a choppy, 2-way open.
Primary expectation is for us to chop about inside yesterday's range before deciding on direction up to target Friday high 4304.50 then the MCHVN at 4307.50. There is also a naked VPOC up at 4313.50 which might attract prices. Then a weak high at 4315.50.
Hypo 2 is a drive higher to target the open gap up at 4333
Hypo 3 is an open rejection reversal where we attempt higher, find a strong responsive seller who rejects us back into yesterday's value (4296-4290.75) and continues to test lower levels.
I have highlighted the levels I will be observing on the following chart: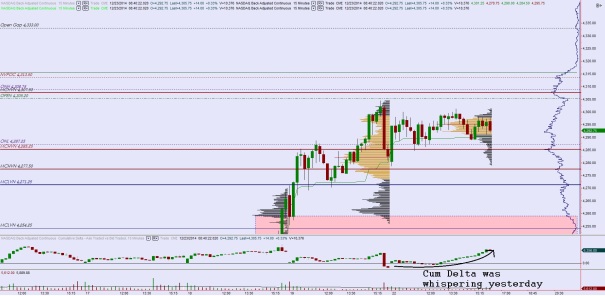 If you enjoy the content at iBankCoin, please follow us on Twitter