Today the stock price of GoPro, an American innovation in wearable technology, went apeshit to the upside.  This euphoric action ushered the simple class onto their soapbox to decree from their mountain of Twitter followers.  At this point in the cycle, you are either in the "camera on a stick" or "late to the party but screw it there's blow" category.  And that is okay, this is how markets are made.
You might think I feel a sense of missing out.  After all, I sold just shy of seventy two.  This assumption couldn't be any further from the truth.  I made a call months ago, executed it, and participated in the lion's share of this gain.  However, I am a long term bull on GoPro and look forward to the day you decide to cast these shares into the dumpster and declare them broken.  There I will be, like a greasy banana peel, slipping you to the ground and ensuring I milk another 2% out of your liquidation.
And in the meantime, I will spot the next big thing before most.  My first GoPro was procured from an infomercial on Nickelodeon.  My ear is always to the streets bro.
Yes, there is competition flooding into the marketplace and playing catch up.  If you do not expect that, then you have never witnessed the birth of a fantastic product.  Copy cats have to chase the early market adapter while they innovate to bigger and better widgets.  Or in the case of wearables, smaller, much smaller.  I know most of you homos love your American Football.  Just imagine the boner you would obtain from watching a point-of-view helmet cam on your fantasy quarterback man crush?  It's coming baby, will you?
As GoPro refines their product to smaller and smaller scales, the company will grow revenues to a robust, almost surreal size.  They are innovation in technology, never discount that.  As for applying valuations, good luck.  Wrapping your mind around the total addressable market (TAM) is a fool's guess.  Don't be a fool.
If you are chasing this sucker higher, have some risk in place. I salute your form and wish you good fortune.  Make the 'intelligent' short sellers walk the plank, mate.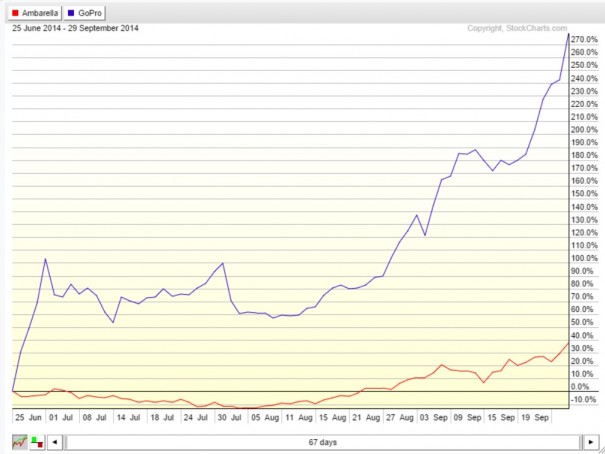 If you enjoy the content at iBankCoin, please follow us on Twitter