Nasdaq futures extended their overnight gains this morning when US GDP came in better than expected for the second quarter.  The price action took us just above yesterday's high on the session before finding some responsive selling.  As we roll into US trade keep in mind the FOMC Meeting Announcement at 2pm today.
The intermediate term auction is just a mess, and as we close out the first month of Q3 it is apparent the OTF is jockeying for position and performance.  What this means is moves possess more conviction, go further than you might expect, and will often times ignore "day-timeframe" or local price levels.  This is a huge concept to understand, and one that causes many system traders to struggle.  The conditions changed around 07/22 and have become even more pronounced as of 07/25.  With that in mind, these intermediate term price levels are more pertinent to our decision making process then our market profile levels: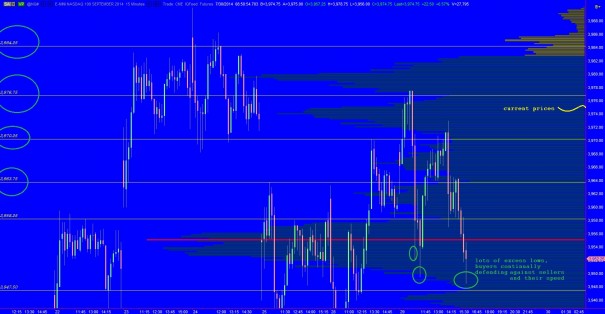 However, just as we shifted to an intermediate term climate, we could just as easily shift back into a local controlled chop.  This is the essence of market profile analysis, to answer a few questions:
Who is likely participating in the market?
What are they attempting to do?
How good of a job are they doing?
What are they likely to do from here?
The interesting piece of market profile context from yesterday-to-today is derived from the day type we printed yesterday–a Neutral Extreme.  The Neutral Extreme day type is characterized as such for having range extension on both sides of the initial balance AND a close near one of the daily extremes.  This type of close has a strong directional conviction in the direction of the close, which was down.  Meaning, participants were VERY confident they would be waking up to lower prices this morning.  Thus today's big gap up is likely to produce a squeeze if the sellers cannot hammer the tape early on.
Therefore, I have highlighted the short term levels I will be observing early on to gauge market conditions using the below market profile chart: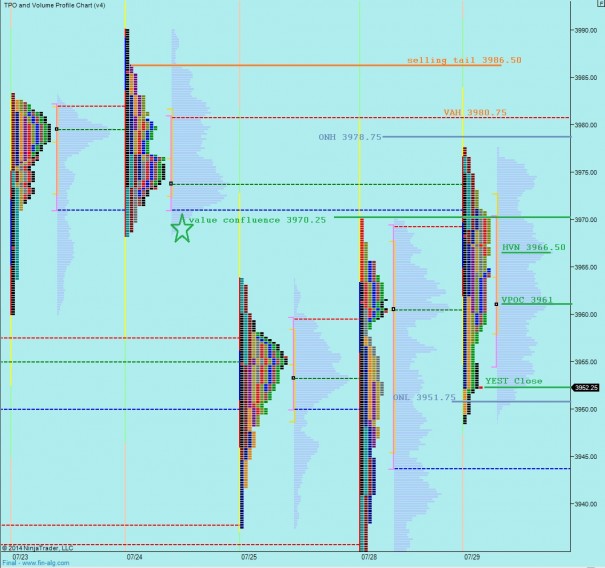 If you enjoy the content at iBankCoin, please follow us on Twitter