Index futures are higher overnight after briefly taking out yesterday's low late last night.   Yesterday the low of the day was printed within a few minutes of the cash markets opening for trade at 9:30am when an opening drive erupted.   The opening drive gives us a sense of the responsive buying demand that exists down at these bracket lows, and it gives merit to the idea that the intermediate term may sustain balance.
The long term auction in the NASDAQ Composite shows control by the buyer.  This control can be seen as a series of higher lows and higher highs on the weekly price chart.  Two weeks ago, we printed an outside candle on the weekly candle which is yet to confirm as a reversal candle lower.  We need to see follow through downward before considering the potential for a reversal on this long term timeframe.
On the daily chart, the auction is still buyer controlled after their success in holding the support at 4250 from Friday-to-Monday.  We are closely watching for the next leg higher to make new highs, otherwise the recent support becomes vulnerable.
The intermediate timeframe auction is seller controlled.  Their control can be seen dating back to March 7th when a series of lower highs and lows began to print.  We briefly breached intermediate term bracket lows on Friday before gapping back into the balanced bracket price yesterday.  The key here is to not be stubborn, and if the market succeeds in printing a lower high to consider the intermediate term to be back in balance.  Note how the low volume node at 3668.50 was converted into resistance with relative ease by the sellers.  For now, we remain seller controlled.  I have highlighted the intermediate term auction on the following volume profile chart: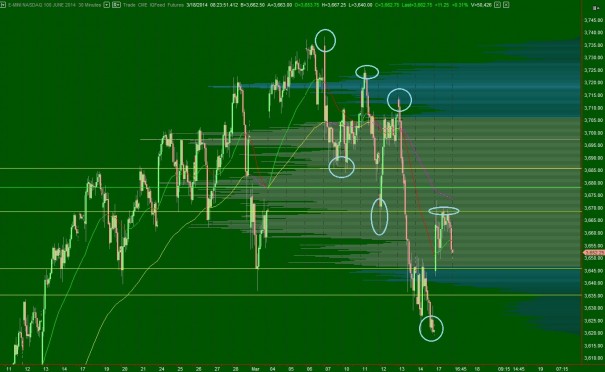 The short term timeframe is interesting.  Yesterday's opening drive produced a wide initial balance.  So wide in fact we never breached it for the rest of the session.  This is called a normal day and they are anything but.  Normal days show a lack of directional conviction by both parties to the auction.  However, in not losing sight of the intermediate term, it was clear the up move was likely to fade.  Couple yesterday's afternoon fade with the overnight action and you can see we are balanced and indecisive in the short term.  I expect some chop early on today as we deal with the imbalance of the overnight session after yesterday which was a relatively big up day.  I have highlighted a few scenarios and the levels I will be watching on the following market profile chart: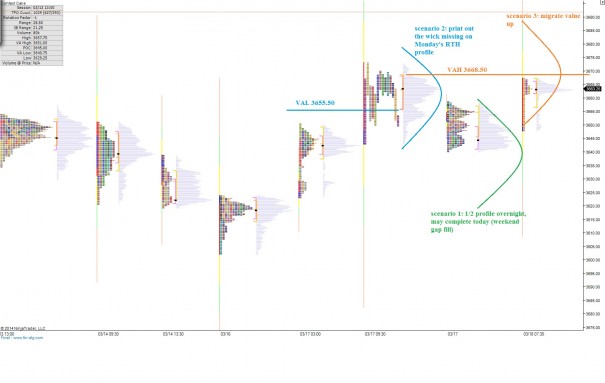 If you enjoy the content at iBankCoin, please follow us on Twitter