The stock index futures were strong during the entire globex session which spans from Sunday evening 6pm to the opening bell at 9:30am.  The action thus far has pressed the /ES futures (the contract tracking the S&P 500) six handles above Friday's closing price of 1754.50.
Long-term, we are still in an environment where the buyers are in control of the auction.  This can be seen on daily bar charts as a series of higher highs and higher lows.  We can view this longer term control in Market Profile by observing the continued migration of value (or volume-at-price) higher.
Last week, we began seeing signs of an active seller who managed to gain a foothold in the action and press value lower four sequential times.  However, late into Friday's session we saw dip buyers on the scene who regained control late in the day.
The key upside level I will be watching today to gauge whether the bulls have regained control of the short-term auction is 1766.50.  If we can sustain price above or tightly below this reference point we can hypothesize the buyers have gained control of the short-term auction.
The current conditions can be summarized as follows:
Long-term control: buyers
Short-term control: sellers
Overnight-control: buyers
I have highlighted the key price levels I will be monitoring to gauge intraday progress by the auction on the following market profile charts as we as a few scenarios to envision as the day progresses: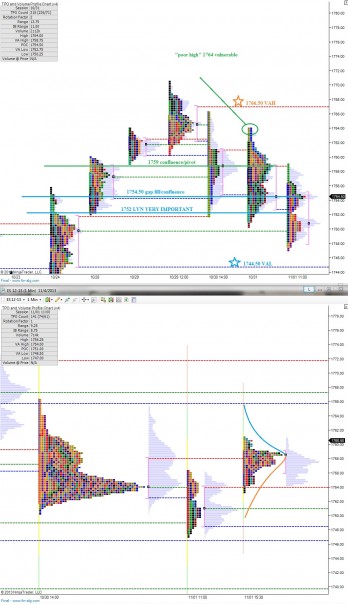 If you enjoy the content at iBankCoin, please follow us on Twitter