Sometimes you have to toss your entire school of thought out the window because someone logically teaches you something.  Your foundation stones, scribed with hammer and chisel, explode them on your knee and then open your mind to change.
Your favorite vagrant stock picker uses these charts to assess swing trades.  My most recent entry into Tesla was for the '200 role' which is a power move to $250 a share reserved only for the hottest of momo stud muffins. Lately I sit here, filling up my subcompact with sub $3.00 benzino, watching these Saudi Arabians push the black tea down, and news flow looking grim.  To make matters worse, the market was running a rout, this company has some despicable valuation, and the technical picture is a bit dicey.
Let me show you something before cleansing the earth by burning it to ash and smoke.  This is a daily candle chart of The Tesla Motors aka TSLA.  What it printed yesterday looked like a textbook start to another wave lower.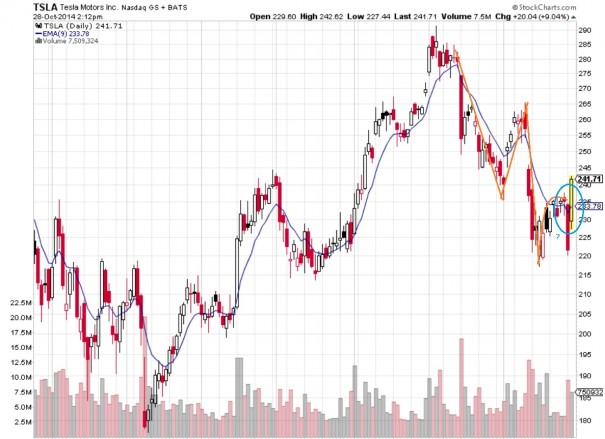 Then, on cue, like the guy keeps a technical analyst on staff, the most brazen CEO of our time takes out the South African whip and lashes the media.  Oh, the drama of it all:
Article in @WSJ re Tesla sales is incorrect. September was a record high WW and up 65% year-over-year in North America.

— Elon Musk (@elonmusk) October 28, 2014
Also, lease price improvement is due to US Bank deal. It is *not* a discount. Revenue to Tesla is unchanged.

— Elon Musk (@elonmusk) October 28, 2014
Said technical picture is now moot, the auction has pulled a 180, and the torque behind this move is spine bending.
Let this be a lesson to all of yous.  Tech analysis has its limitations.  It is simply a method of measuring supply and demand and their effects.  But when you have a brilliant company on the edge of scientific discovery led by a Swiss knife of brilliance, just sit back and never sell those shares.
These old TSLA charts will also be burned for good measure: