Since none of you care about the NASDAQ, or how to navigate its waves and gyrations, maybe you will pay attention if we talk about how Tesla is trading.
All eyes are on Tesla because the third quarter is over, and they only produced 260 handmade Model 3 cars.  Also there are lurid rumors Elon may be leave his CEO post soon, perhaps to spend more time launching big fucking rockets into space.
Tuesday morning bulls caught an upgrade from Morgan Stanley, who issued a modest price target raise to $379 from $317.
Let us now take notice of what all the above information is.  It is all news bits.  The first came from Tesla, the rumor is internet chatter, and the upgrade is from a firm that manages other people's wealth.
How do you draw an objective decision from all of it?  Do you feel confident taking action based off of words from other people?
You can go find this out on your own if you want, or you can just sit down and grab a pencil—trades based off of soundbites will not be consistent, and eventually you will lose all your money.
What we need is an objective way to assess the behavior of Tesla that is not static.  We need it to change as events continue to unfold.
Enter auction theory.
Every real transaction must go through the exchange, in the case of Tesla that exchange is the NASDAQ.  When the orders occur time, price, quantity of shares, and whether the order occurred at the bid or the offer.
We use this information to build charts.  Most charts are time-based, and the two charts displayed below are time-based.  The first is a daily chart.  It also is noted with all relevant auction notes, including a method of scoring the auction: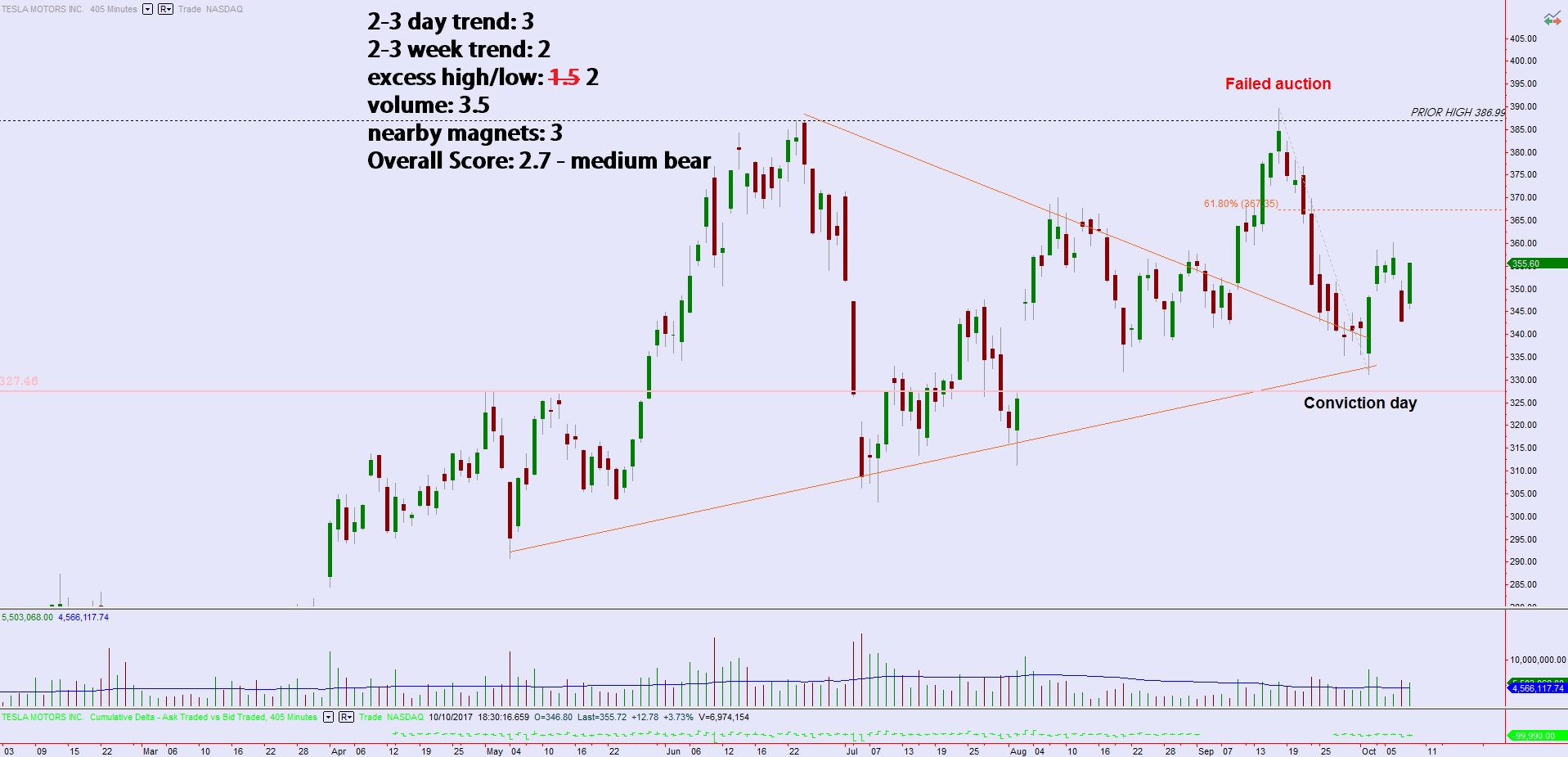 The second chart is hourly.  It is mainly to see where the nearby magnets are.  Powerful 'magnets' are areas that are likely to attract price.  These can be seen as zones of heavy volume.  Auction theory expects these areas of heavy volume to be revisited.  Old open gaps are another popular magnet.  The nearest magnet is just a touch above Tuesday's close price.  It is an open gap left behind last Friday: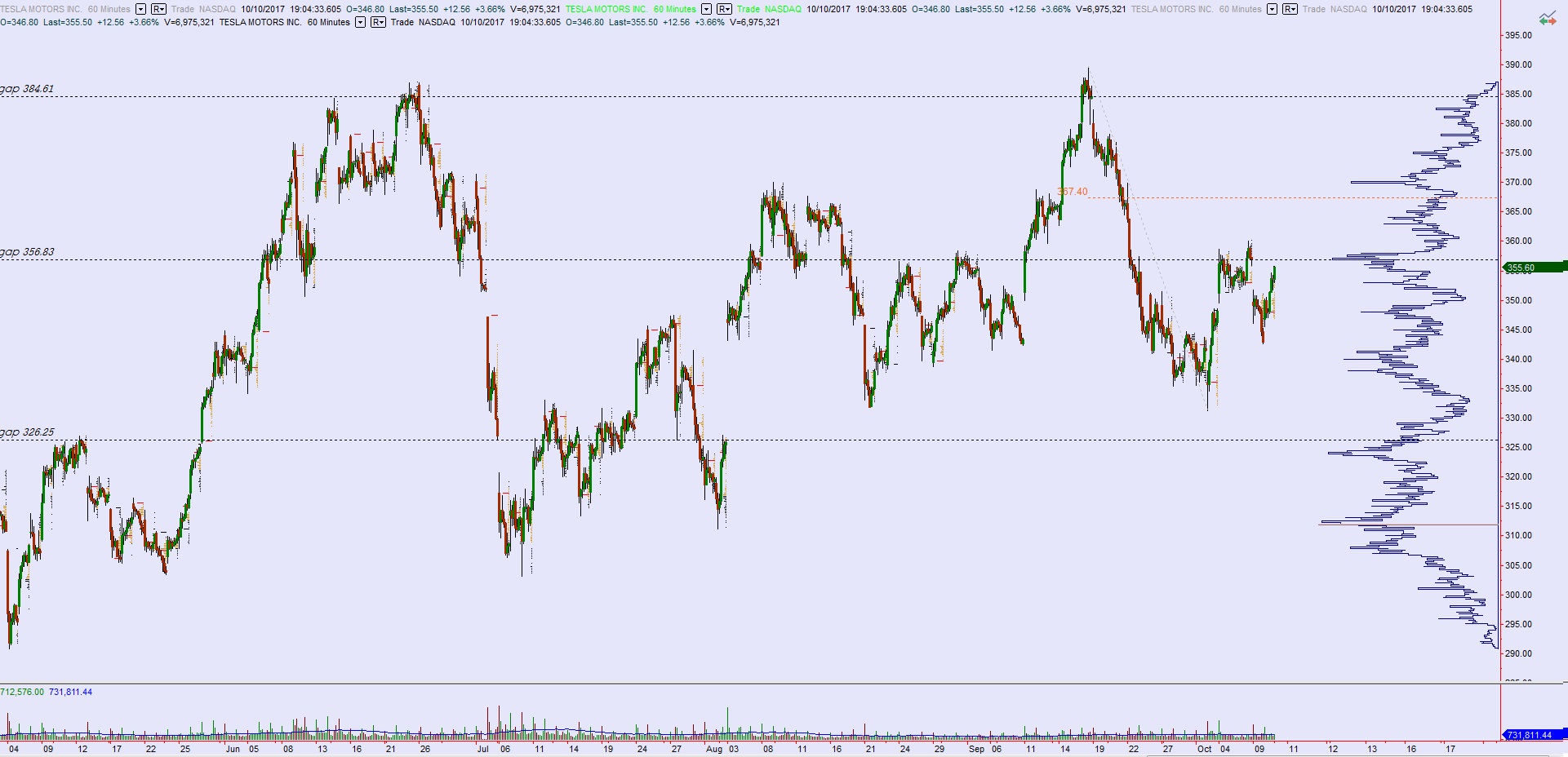 At this point the assessment is clear and objective.  The model score is 2.7 which is medium bear.  It is barely medium bear.  From 2.8-3.2 we are neutral.
Since we are bearish we have some simple levels that will tell us new information about whether we are wrong.  If sellers do not defend last Friday's open gap at 356.86 if/when we close it, we might be wrong.  If sellers do not defend our key Fibonacci retracement around 367.40 then we are wrong.
If price goes back down and probes below the prior swing low 335.64 then we might be right, and a quick trip down to the open gap at 326.25 is in order.  Then we reassess the auction.  Maybe next we test back to the heavy volume zone at 312.14, and so on.
The auction creates a continuous dialogue that is completely separated from the noise of the world.  It you can focus on the auction only, you will find yourself in a better position to consistently execute.
Your job as a trader is to tell the story of the auction and nothing more.  This aids your actions which are calculated and mindful.  No hearsay, just sturdy logic.
This is trading.  It can seem detached from humanity.  I can assure you it is not.
If you enjoy the content at iBankCoin, please follow us on Twitter