The equity futures markets were balanced overnight, however rather opportunistic given the large range and impressive volumes.  The actual auction that took place overnight was very organized and saw good participation from both the buyers and sellers who both seem to be willing to participate at these levels.  This suggests we are coming into balance.
However, there was no definitive point of value reached, as the resulting volume profile suggests a slight imbalance exists via the lack of a smooth, bell-shaped curvature.  Instead the profile shows a slight imbalance to the upside.  I have highlighted this imbalance as well as a few key price points and scenarios on the following market profile chart: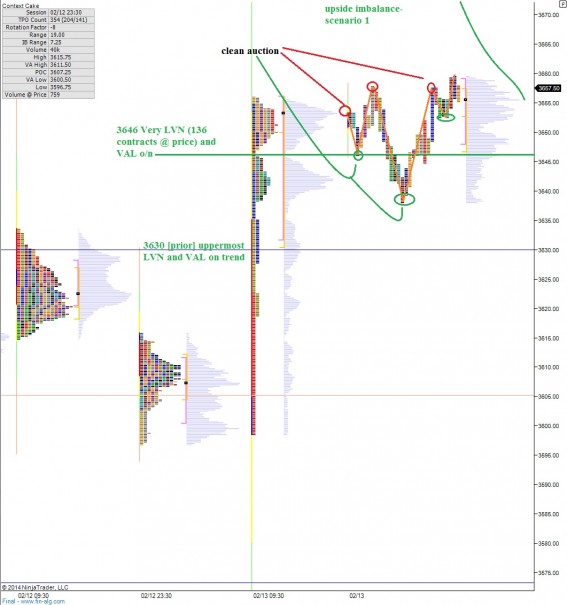 Yesterday was interesting and the morning vision work paid off in spades.  Inside 12631, I was taking through the profile development.  Within the first half hour of trade my entire upside scenario had been captured by a strong opening drive. This was OTF (other time frame) action, or the long term timeframe asserting itself on the marketplace.  OTF shows no regard for support and resistance levels seen on the daily and even intermediate term profiles, instead opting to plow money into the marketplace.  It did not take long to recognize the trend day activity and grab on and ride it until the wheels come off.
The NASDAQ seemed to play catch up yesterday, however, while the S&P put in a milder trend, almost static enough to challenge the trend day structure.  I will be watching the S&P today, to see if it can show strength.  Thus far in the AM, it has been diverging from the NASDAQ.  I have highlighted this divergence on the following market profile chart of the ES future: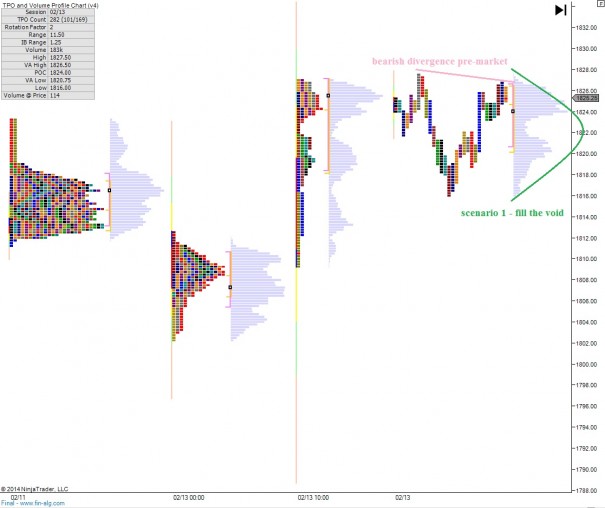 Also, have a Happy Valentine's day.  Be extra gay and sappy with your special someone.  But don't forget about the industrial production numbers at 9:15am and consumer sentiment at 9:55am.  Carry on.
If you enjoy the content at iBankCoin, please follow us on Twitter