As we come to an end of June, a month known to be Raul's, I feel the urge to briefly reflect and then plot a course against the will of my beloved Indexmodel.
This has been one of the hardest months of my entire life. I sincerely mean this. I lost a dear friend and it was terrible. This kicked off a grieving bender that lasted oh about 14 days or so. A real emotional roller coaster. On top of this is germinated about 3,000 sweet corn (peaches and cream), transplanted three paw paw, kept about 70 containers of tobacco (connecticut shade), brought water to the devil knows how many plants, planned and executed four events, some with over fifty folks in attendance. Became a year older. Celebrated my father. Bought the dip.
I've never worked this hard in this kind of heat for this long. Some days I feel like a leathery pickle. Acidic and tanned from the brine (hootch) and sun (labor).
Folks are taking notice. The area around the urban famstead is starting to hum a bit, with more and more fucking hipsters after me lucky charms. Land long abandoned by babied boomers, overlooked during millenial adolescence is suddenly becoming highly coveted. And there is this odd sort of entitelment from the hipsters that arrived five or so years ago that all the land is there for them and that it should be kept in a state of wildgrass and I gotta tell you—I don't think they know what Italian grit really looks like in practice.
I mean we're talking about a guy who bangs out stock market models on the weekends, has the skill set to grind money out of the chicago mercantile exchange, withstand deep crypto dips, dig swimming pools by handt. There's old country blood coursing through my body and often times it wants to make to kill but I channel it into more productive activities like building beautiful things.
Grand papa Raul spent nine years on the African front fighting alongside the Axis of Evil and now somehow that lineage has wound up on Detroit's eastside ready to buidl.
Don't fuck with my punkins unless you're ready to be gabagoled outta spite.
And heading into quarter end there are 4.5 more days of my month and I intend to squeeze every last bit of juice outta them.
Now I must be off—to a catalina wine mixer.
Okay for now.
Raul Santos, June 26th 2022
And now the 392nd edition of Strategy Session.
---
Stocklabs Strategy Session: 06/27/22 – 07/01/22
I. Executive Summary
Raul's bias score 3.53, medium bull*. Buyers follow through on last week's strong close with some continuation Monday. Then look for sellers to emerge by Wednesday. Then a battle for control into the weekend.
*Rose Colored Sunglasses bearish bias triggered, see Section V.
II. RECAP OF THE ACTION
Markets were closed Monday in observation of Junteenth. Buyers made a strong move at the Tuesday open only to see it faded the rest of the day and overnight. Buyers were strong again on the open Wednesday. Then a choppy Thursday gave way to a strong rally into the weekend.
The last week performance of each major index is shown below: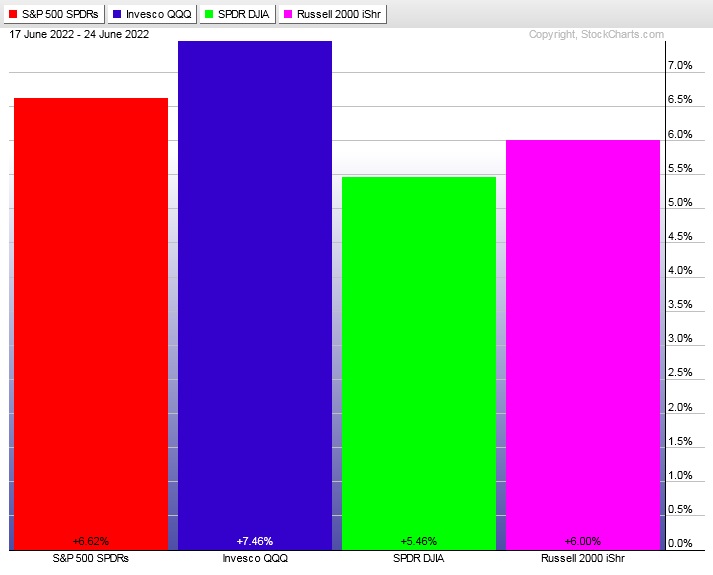 Rotational Report:
After three consecutive weeks of risk off rotations away from equities we saw a strong surge back into risk. Except for energy which continues to trade independent of the overall equity complex.
For the week, the performance of each sector can be seen below: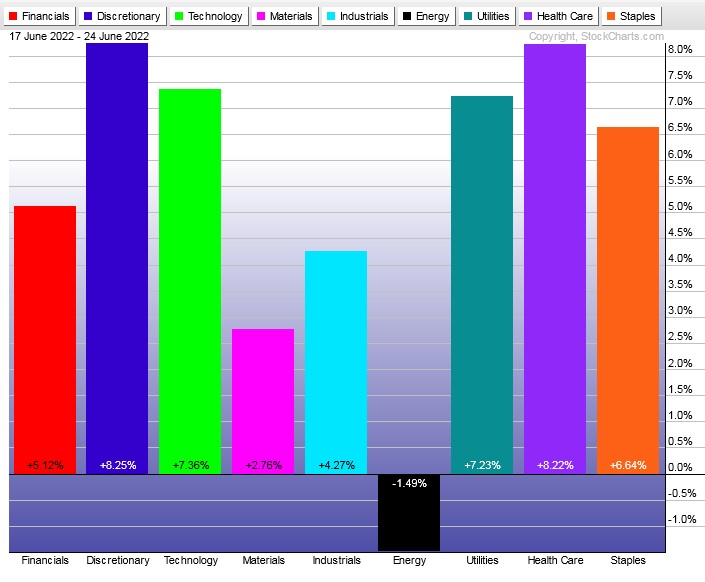 Concentrated Money Flows:
Five weeks back bulls regained control of money flows in a meaningful way. Three weeks ago that control was reclaimed by sellers.
Then last week buyers dominated. We appear to be in a zone where both buyers and sellers are aggressively battling for control.
neutral
Here are this week's results:

III. Stocklabs ACADEMY
Picture a bit clearer, but not much.
Two weeks back all the stars aligned for a plunge lower. Last week was quite murky.
Now we have a few factors clearing up. It is month end. New flows are likely on deck in the coming week. We discovered a strong bid last week, creating a much less ambiguous picture.
Expectations are for that week ending strength to carry through into the upcoming week. Then we'll look for sellers to reemerge since we have an RCS signal.
The sellers may not show. We've had six months of downward price action. Friday the Fed bankers were hitting the wires with extremely hawkish sentiment yet prices rallied.
The new month/quarter kicks in Friday. So there is potential for 'mark up'.
For these reasons we're giving the bulls an edge into the week despite the bearish signal out of IndexModel.
Note: The next two sections are auction theory.
What is The Market Trying To Do?
Week ended searching for sellers.
IV. THE WEEK AHEAD
What is The Market Likely To Do from Here?
Weekly forecast:
Buyers follow through on last week's strong close with some continuation Monday. Then look for sellers to emerge by Wednesday. Then a battle for control into the weekend.
Bias Book:
Here are the bias trades and price levels for this week:

Here are last week's bias trade results:

Bias Book Performance [11/17/2014-Present]: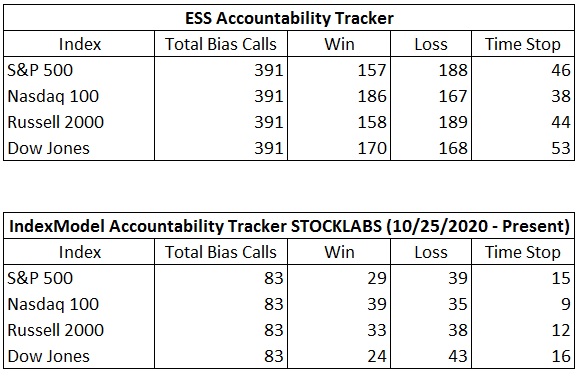 Room for upside even in discovery down
Readers are encouraged to apply these techniques to all markets. Markets fluctuate between two states—balance and discovery. Discovery is an explosive directional move and can last for months. In theory, the longer the compression leading up to a break in balance, the more order flow energy to push the discovery phase.
Market are most often in balance.
Every week this newsletter uses auction theory to monitor three instruments, the Nasdaq Transportation Index, PHLX Semiconductor Index and ethereum
Transports have a clear downward channel. Yet there is room for some upside both in the channel and before hitting any levels that formerly behaved as support (areas that have potential to be resistance). The lower timeframe appears set up to drift a bit higher.
See below: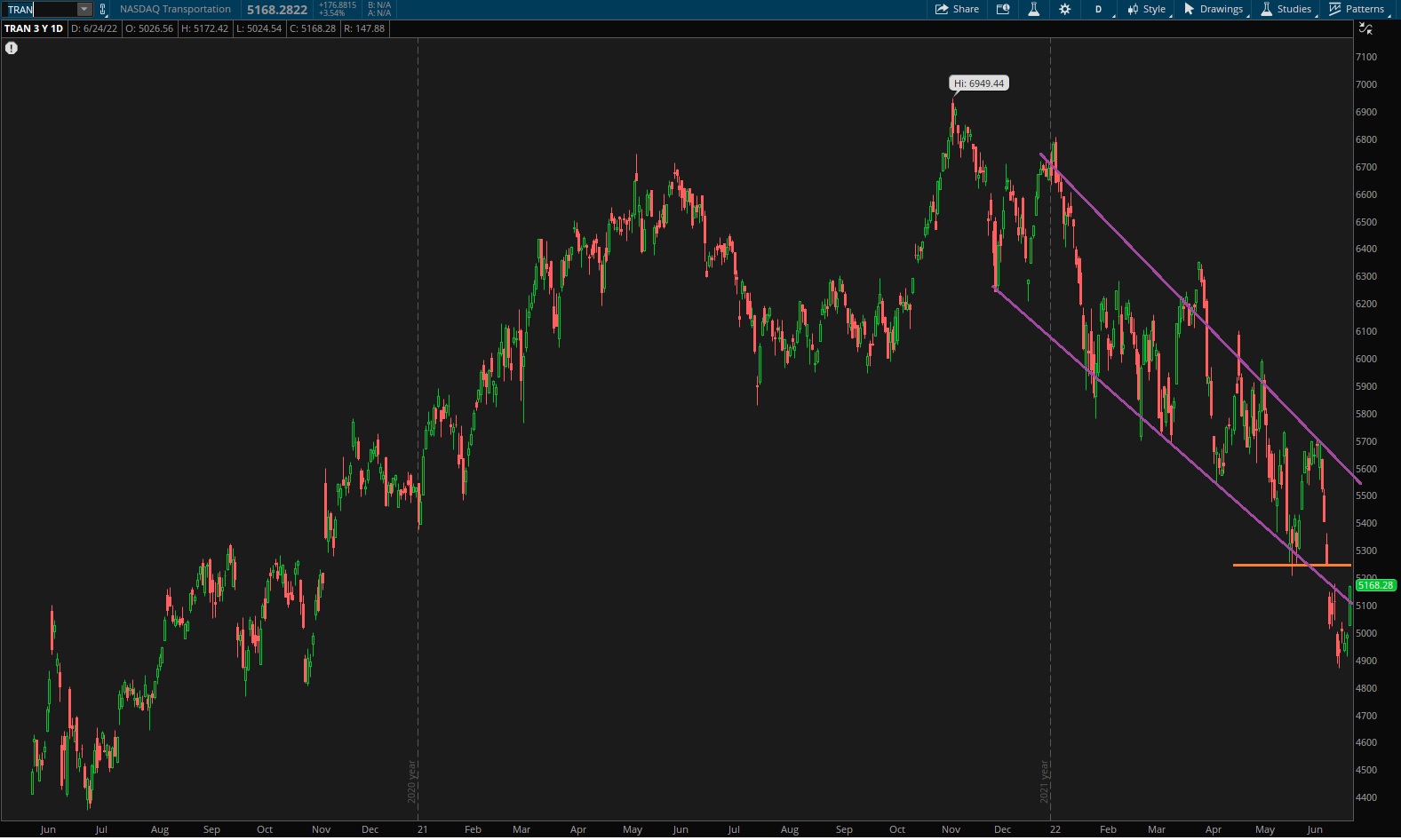 Semiconductors still have a gap in play down below, but similar to transports we have room for some upside on the lower time frame.
Ether has had a few strong moves upward these last few days. This is a messy chart, which means we could be coming into balance.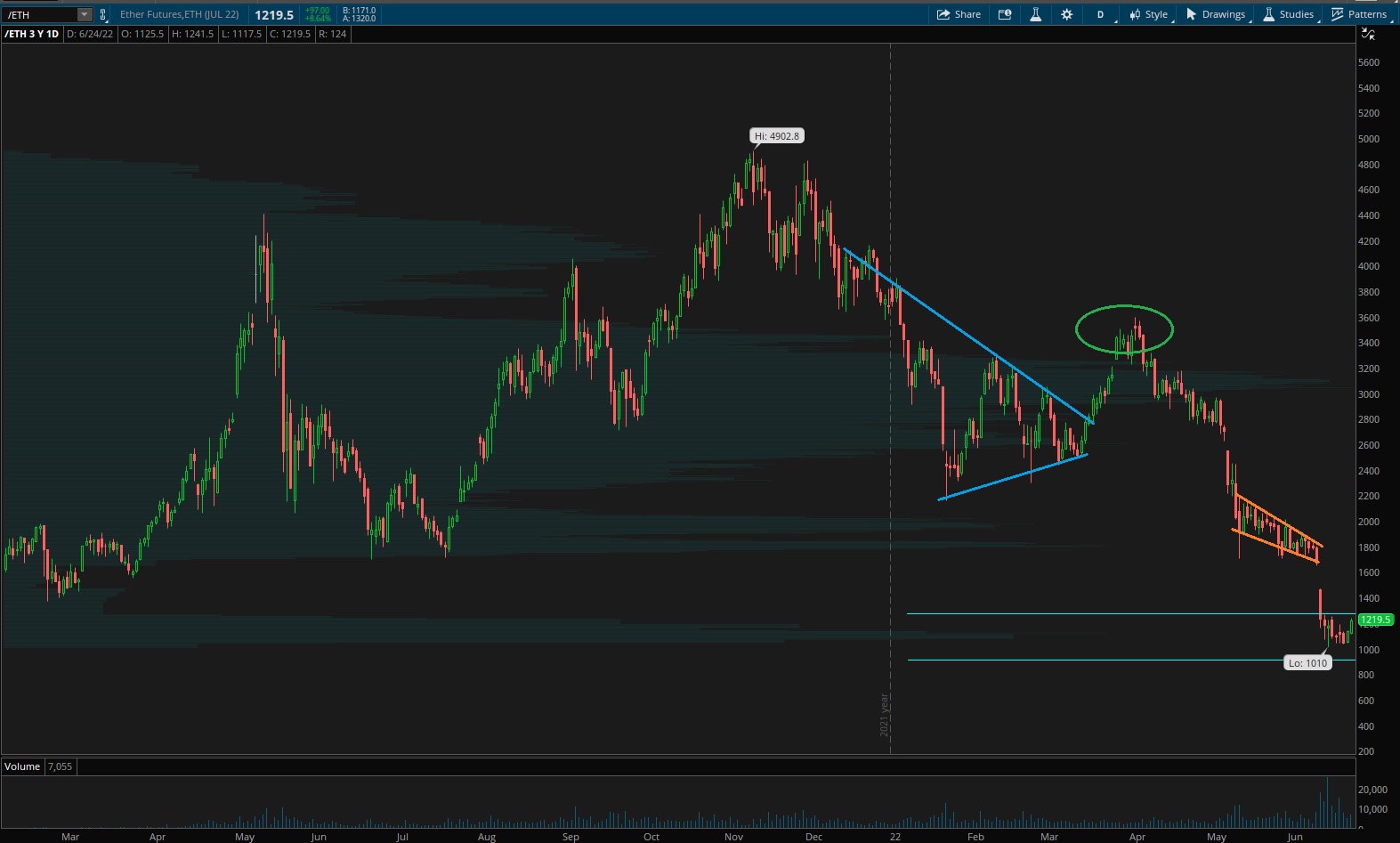 V. INDEX MODEL
Bias model is Rose Colored Sunglasses bearish after being neutral on the prior report.
It was Bunker Buster two reports ago. This was the fourth Bunker Buster in recent history.
The four Bunker Busters hit, two weeks  back, nine weeks ago, twenty-two reports back and a third thirty reports back.
Here is the current spread: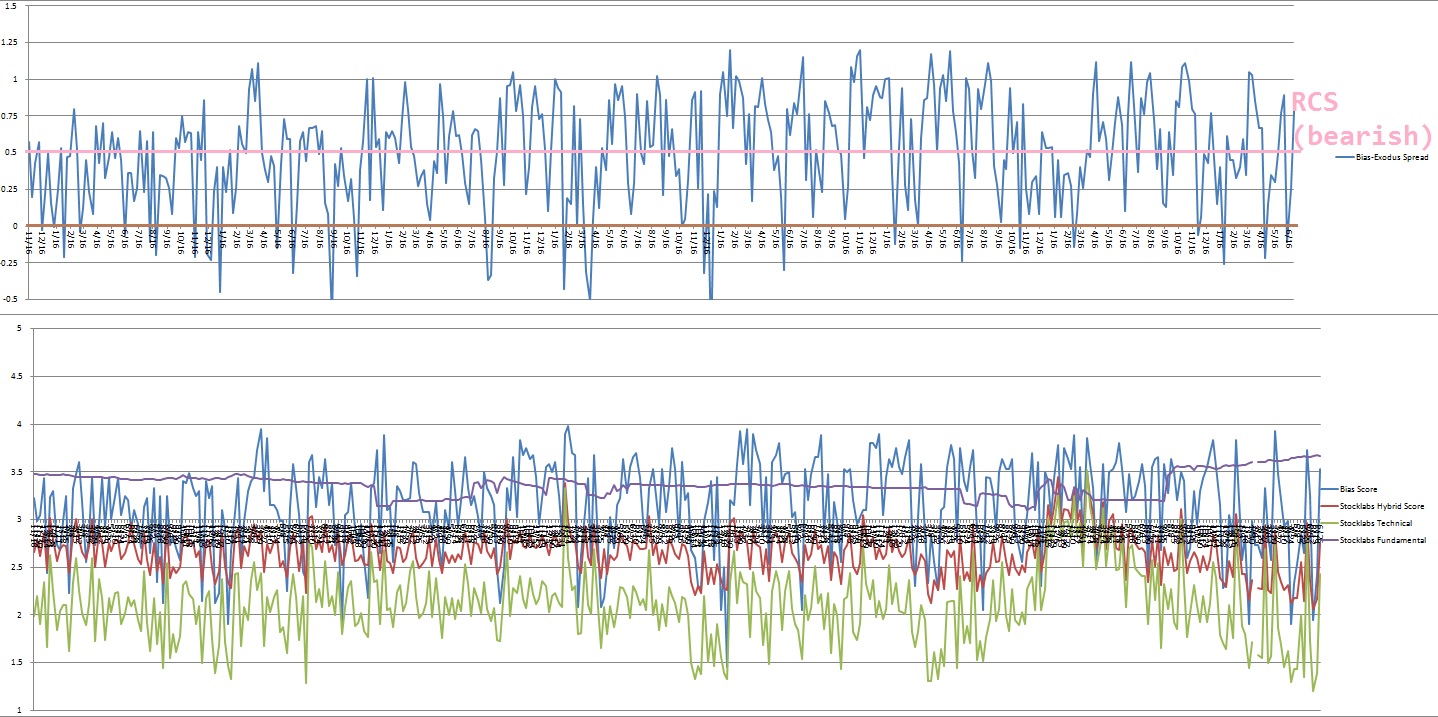 VI. QUOTE OF THE WEEK:
"Think lightly of yourself and deeply of the world." – Musashi Miyamoto
Trade simple, enjoy
If you enjoy the content at iBankCoin, please follow us on Twitter