I am working on being more easy going.  After all I am growing old, having been 34 for nearly four months now, and I prefer to be kind to folks.  It is tricky when you live by the sword of trading.  In some ways I feel like the old guard and with that comes a sense of duty.  I want to exact justice against phonies who deal in selling trading education.  But what the hell for?  After the phonies go on stage and give their spiel, Q&A rolls around and people always behave in the same, disappointing way—defending their strategy, boasting of their accomplishments and demonstrating an in general attitude about doing nothing and attaining riches.
Fine.
So lately I am setting the intention to seek real equanimity, and not just some surface-level thought exercise.  I mean really meditating on it, tying with steel re bar this modality onto my mind's foundation stones.  The slow driver?  The rude old man?  The blonde with long hair down to her cute little butt?  The clerk bagging groceries?  THE DOCTOR? The criminal?  The homeless? The body builder? That deer crossing the road? The guy selling an options trading service? The bird on the feeder? The opossum?  Giving them all the benefit of any doubt and shining my warm light their way.
I tell you what helps make my life super cruise-y and chill even though I hate to admit it—having lots of money.  It just does.  And when I make big, sweeping strides and acquire lots more money seemingly all at once, I don't want to be a huge asshole like I can do sometimes.  Like calling people idiots for not investing in Tesla.  That is uncalled for.
Okay now let's talk about how the market is likely to behave from today-onward.
The Sunday research I published into Exodus this morning indicates that all four major U.S. equity indices are statistically likely to be higher over the next five days.  We have three major earnings announcements coming up this week; Alphabet (Google), Facebook and Apple in that order.  The CME is pricing in a 93.5% probability that the Fed will cut rates by 25 basis points on Wednesday :::inhales and exhales slowly:::  All of these events are likely to support higher prices.
The PHLX semiconductor index is at all-time highs.
Friday is November first.
So we rally into the new month, then new funds push into stocks to start the month since every W-2 earning employee in America has a chunk of their paycheck sent to the stock market which the majority of their retirement is dependent on.  That fresh money flows like a river into quality stocks, pressing equity prices higher clean into the holiday season, then we continue to rally into year-end. Then the new year starts and we rally again.
So there is not much to do here.  Your money should already be allocated long.  You don't need to jump from one hot stock to another in some manic way, being active for the sake of activity.  If you are bored, go dig a hole or swim.  Channel that hedonistic energy into making delicious food for your family.  If you made some more money from other capitalistic pursuits, simply buy more of the best stocks in the world: TSLA, TWTR, GOOGL, AMZN, MSFT, COST, WMT, and so on.  Avoid ghetto stocks unless you want drama.  If you want drama, may I suggest going to the theater?
One quick note about Exodus.  Bear in mind I am not compensated in any way for promoting Exodus, or for all the research I publish inside Exodus, or for posting some of my trades inside Exodus, or for blogging in public forum like this.  The Fly does grant me access to the Exodus tool suite at no charge, which saves me about 500 bucks a year.  I would gladly pay several thousand dollars a year for Exodus, but that is beside the point.  See how I can digress?
One quick note about Exodus.  From October 2nd through October 25th we had a live signal.  Normally they only last 10 trading sessions but what happened was we flagged Hybrid overbought about 7 days into the oversold cycle.  It was one of the best trades out of the software this year.  I really don't think any members traded this signal properly.  Maybe I am wrong.  Maybe they just silently go about their business and I hope that is the case because this trade was huge.  Using TQQQ to 3x leverage the position, I returned about +16% on this trade.
If you can be patient and trade signals like these, whether from Exodus or somewhere else, you are well on your way to becoming a successful (read: consistently profitable) trader.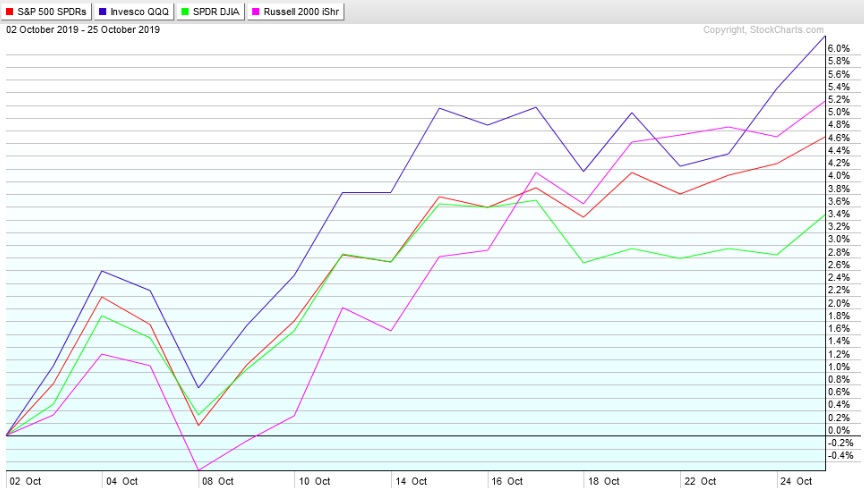 Okay I am done. Thanks for reading along.
RAUL SANTOS, October 27th, 2019
Exodus members, the 258th edition of Strategy Session is live, go check it out and let me know if you traded the oversold-to-overbought signal properly, cheers!
If you enjoy the content at iBankCoin, please follow us on Twitter