The overnight session continued gyrating and trading decent volume after yesterday's strong move.  The profile printed by the action shows a semblance of balance with the buyers working to regain a bit of control.  The key achievement of the buyers overnight was setting a higher low at 1656.75.  It will be interesting to see if they defend this level early on (if necessary).
Going into Friday trade, I'm interested to see if participants are as inactive as we've seen in other quiet Friday summer trading days, or if they've been lured back into the market by the dynamic action.  If we see a small range session with little range extension that would tell me we're seeing mostly local trading.
I've highlighted a few larger scenarios that wouldn't surprise me to see play out on the below 24 hour profile chart.  Either one of these distribution completions would firm up the auctions taking place.  However, both would require a push from larger market participants, so it will be interesting to see how today plays out.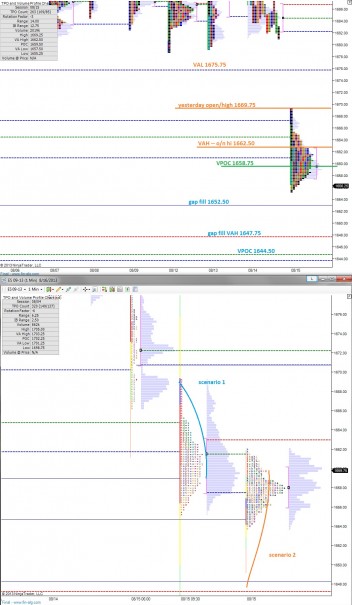 If you enjoy the content at iBankCoin, please follow us on Twitter