For thousands of years our DNA has hard coded us to want to win and be in charge of everything. The problem is, most of us did not win the nepotism lotto and worse—most americans have poisoned their guts with pound-after-pound of land meat. And no matter how big-a pick up truck they buy they still cannot out compete the waspy politician with a sensible diet of vegetables and boy blood.
I know. I know. There's adderall. Most of yous are fiends for it, popping little meth pills like ticked tacks in a bid to keep the focus and energy high. But let me hopefully be the last person who needs to tell you that the bill always comes due.
Your arteries will clog. That draconian mething of your heart will accelerate your one billion heart beat allotment. And unless you calm tf down you're going to keep ramming your head into a wall like a jabroni trying to fight our One World progressive trajectory.
Eat the bugs, chap. Save your paltry w-2 wages up for an electric vehicle. Simply be kind for a change.
Who knows? Maybe you'll like not fighting for every heckin' dang inch of gain on the roadway and in life.
With mid-terms just around the corner, and one of the greatest debt forgiveness schemes (without war) in history on the docket for student loans, the continued progressive victory is all but paid for and guaranteed.
If you need someplace to vent your cave-like anger with the fact that the world no longer needs your alpha-agressor type, perhaps join some gay meetup club for bikes and beef or something.
But if you intend to keep mind sharp for the business of extracting fiat american dollars from the streets and financial systems, accept that the only way forward is signing kum-by-ya and loving your neighbor as much (if not more) than yourself.
Also — Models still want the pump.
Raul Santos, August 14th 2022
And now the 397th Strategy Session.
---
Stocklabs Strategy Session: 08/15/22 – 08/19/22
I. Executive Summary
Raul's bias score 4.03, STRONG BULL*. The squeeze higher continues to press higher. Earnings due out from Walmart/Home Depot early Tuesday may accelerate the move higher. Then watch for third reaction to Wednesday afternoon's FOMC minutes to dictate direction into the second half of the week.
* extreme Rose Colored Sunglasses e[RCS] bullish bias triggered, see Section V.
II. RECAP OF THE ACTION
Slight drift lower through Tuesday. Then a strong pump after cooler-than-expected CPI data. Then a strong rally into the weekend. The Russell continues to be bullish divergent.
The last week performance of each major index is shown below: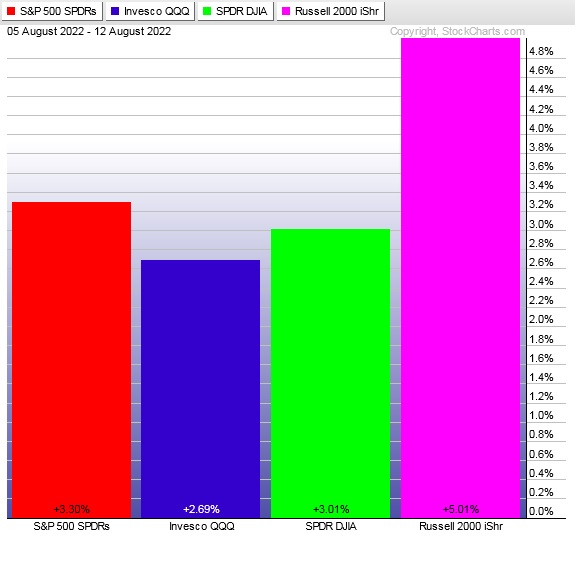 Rotational Report:
Key Tech and Discretionary sectors lagged a bit. But upward rotations across the board.
slightly bullish
For the week, the performance of each sector can be seen below: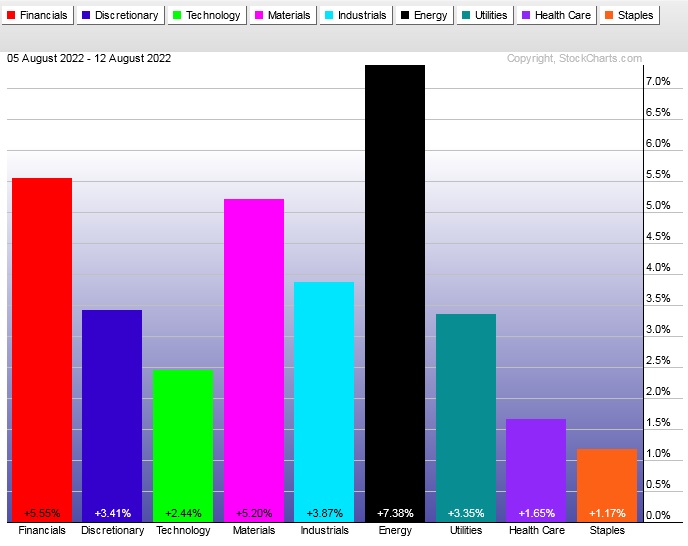 Concentrated Money Flows:
Money flows heavily skewed to the buy side of the ledger.
bullish
Here are this week's results:

III. Stocklabs ACADEMY
More squeeze into OPEX
Another light week ahead in terms of economic data and earnings. This opens the door for bulls to continue to press higher, with up currently being the path of least resistance.
Stocklabs and Indexmodel are in bullish signals. The above data is bullish. The contextual charts are bullish. This rally is stretched, but the call heading into next week is for continuation.
Note: The next two sections are auction theory.
What is The Market Trying To Do?
Week ended searching for sellers.
IV. THE WEEK AHEAD
What is The Market Likely To Do from Here?
Weekly forecast:
The squeeze higher continues to press higher. Earnings due out from Walmart/Home Depot early Tuesday may accelerate the move higher. Then watch for third reaction to Wednesday afternoon's FOMC minutes to dictate direction into the second half of the week.
Bias Book:
Here are the bias trades and price levels for this week:

Here are last week's bias trade results:

Bias Book Performance [11/17/2014-Present]: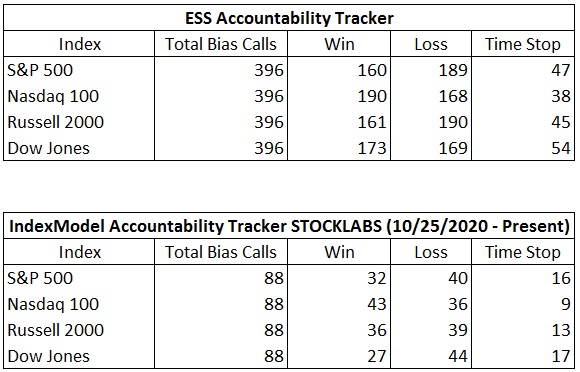 Discovery up, up against some pivots
Readers are encouraged to apply these techniques to all markets. Markets fluctuate between two states—balance and discovery. Discovery is an explosive directional move and can last for months. In theory, the longer the compression leading up to a break in balance, the more order flow energy to push the discovery phase.
Market are most often in balance.
Every week this newsletter uses auction theory to monitor three instruments, the Nasdaq Transportation Index, PHLX Semiconductor Index and ethereum
That weak low on Transports still irks me, but for now buyers are in control. This index is still hanging out at an interesting pivot zone, and could reclaim an old balance area that chops along all time highs.
See below: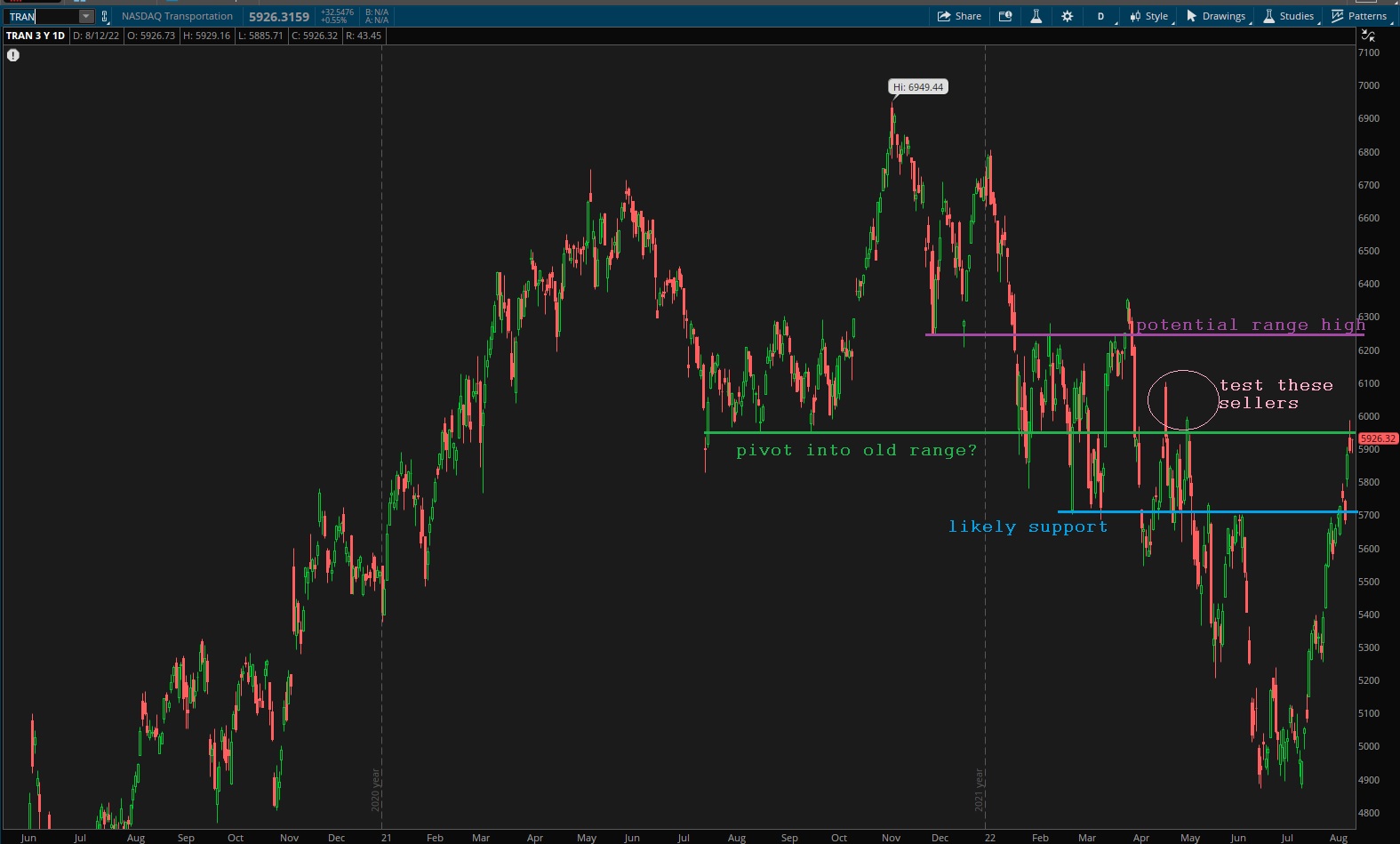 Semiconductors continue to tear higher after a slight pullback last week was aggressively bid into. Similar to transports, this index could pivot up into an old range.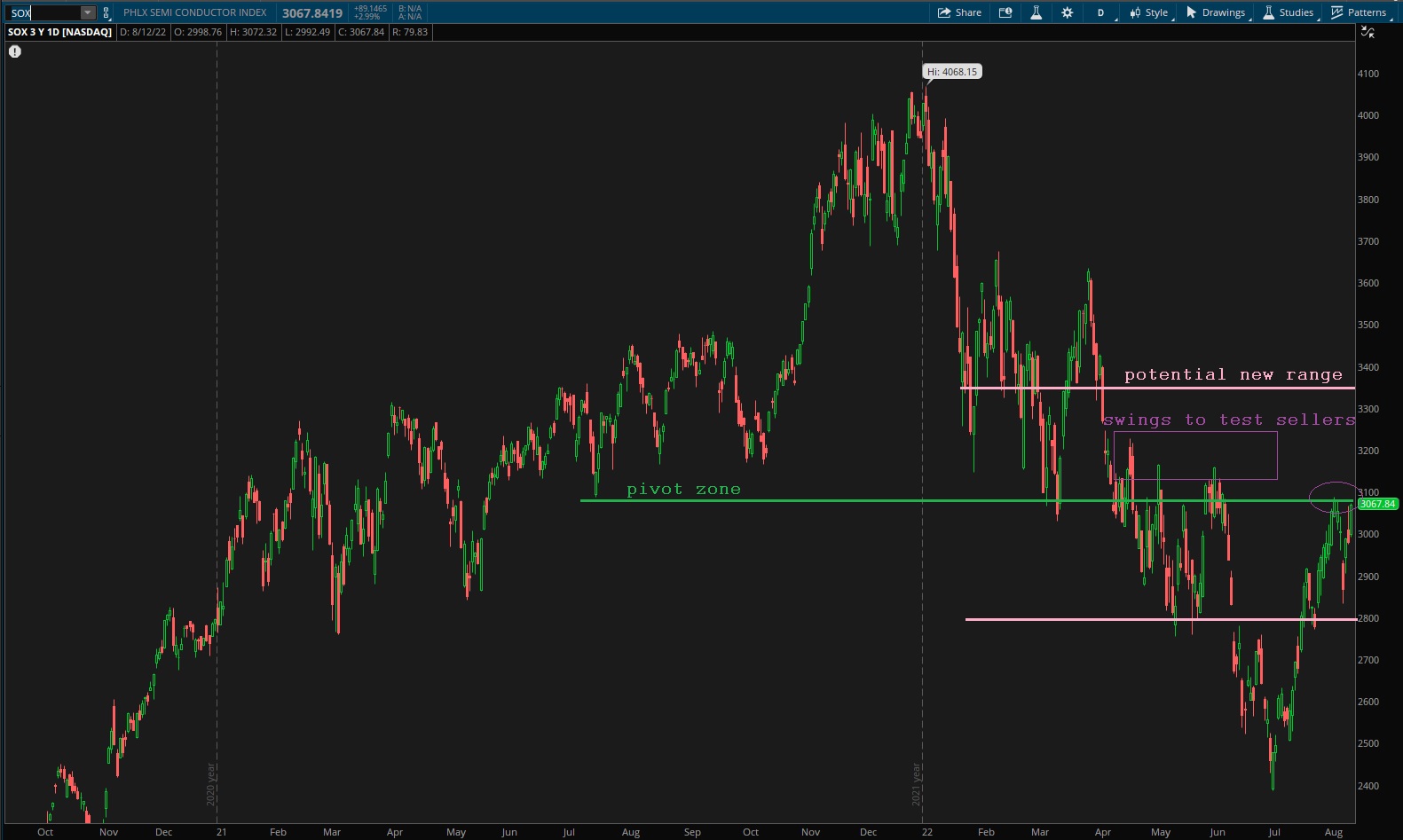 Ether still seems to be drawn to that volume pocket around 2100-2300.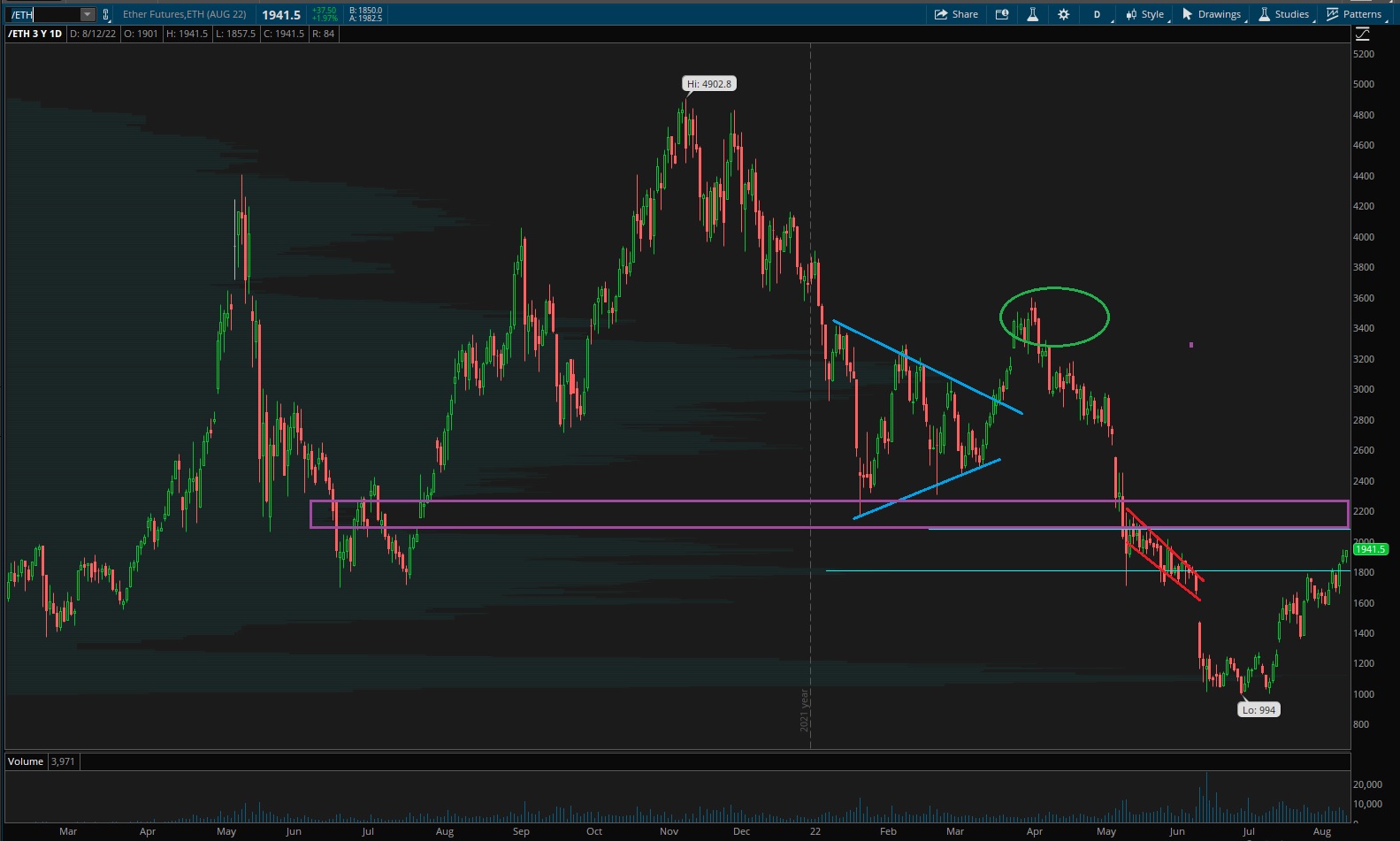 V. INDEX MODEL
Bias model is extreme Rose Colored Sunglasses for a third consecutive week. There was an RCS bearish three weeks prior and prior to that signal it was e[RCS] bullish for two weeks.
I've noticed that four e[RCS] readings in tight succession tend to suggest a rally is maturing. So we are certainly in a mature up phase which means the risk of a leg lower is elevated.
There were four Bunker Busters in recent history — eight weeks back, fifteen weeks ago, twenty-eight reports back and a third thirty-six reports back.
Here is the current spread: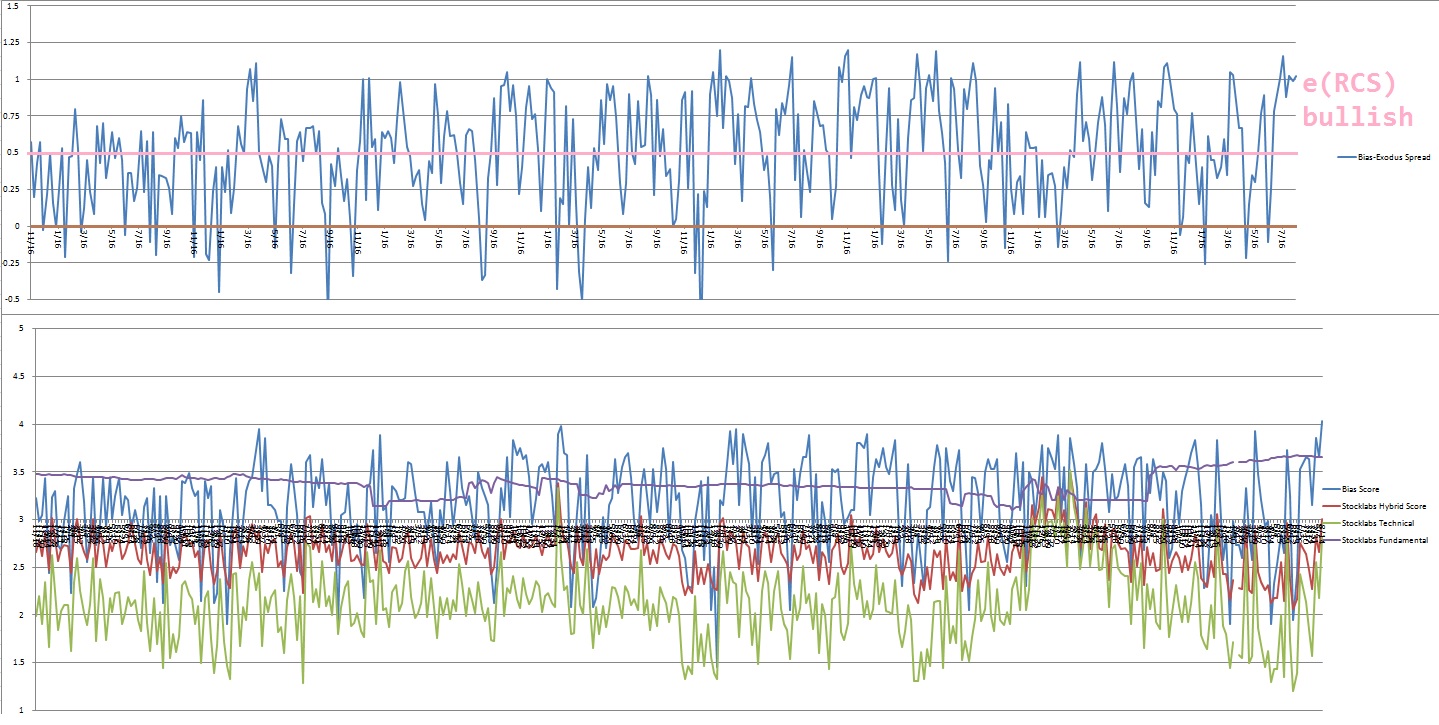 VI. Six Month Hybrid Overbought
On Friday, August 12th Stocklabs signaled hybrid overbought on the six month algo. This signal has bullish statistics. The cycle runs through Friday, August 26th end-of-day.
VII. QUOTE OF THE WEEK:
"I never lose. I either win or learn." – Nelson Mandela
Trade simple, keep learning, keep winning
If you enjoy the content at iBankCoin, please follow us on Twitter