Well we had a solid run off the lows lads. Called it decently too.
That bunker buster nine weeks ago, two months ago really, two hardt months of living. We pressed risk with vigor and sigma bravery.
Now I cannot approach the upcoming week with such conviction. Things have gone murky again.
The only real guidepost we have this week is NVIDIA earnings Wednesday after-the-bell. They're chips are vital to our success as a progressive one world economy where everyone lives in pods and eats bugs. So I definitely expect the entire risk complex to take their cues from their earnings.
I compiled my research this morning but couldn't pen the report and complimentary blog until after I did some touring about town. Thus my spirit for inspiring yous to do your best this week is waning a bit. Just know that I am rooting for you anon.
Let's tread easy this week and wait for a clearer picture to take shape.
Raul Santos, August 21st, 2021
And now the 398th edition of Strategy Session.
---
Stocklabs Strategy Session: 08/22/22 – 08/26/22
I. Executive Summary
Raul's bias score 2.73, medium bear. Choppy through Wednesday. Then look for earnings out of NVIDIA to dictate direction into the weekend.
II. RECAP OF THE ACTION
Continued strength early in the week, then a fade lower into the weekend.
The last week performance of each major index is shown below: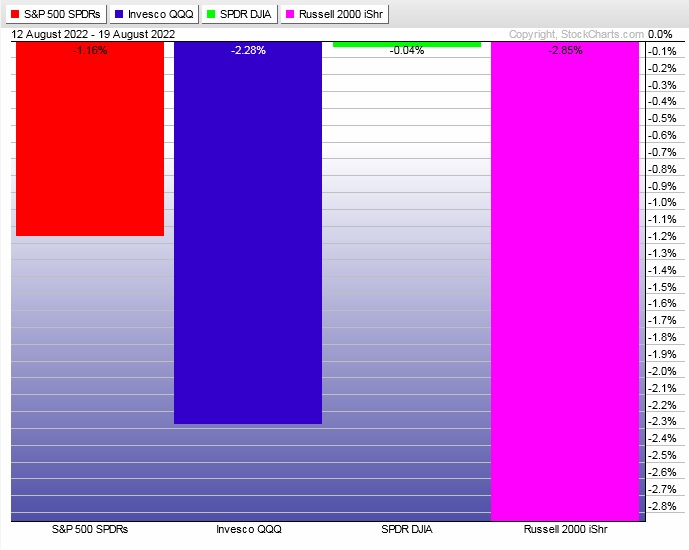 Rotational Report:
Last week saw investor rotating into safe havens.
slightly bearish
For the week, the performance of each sector can be seen below: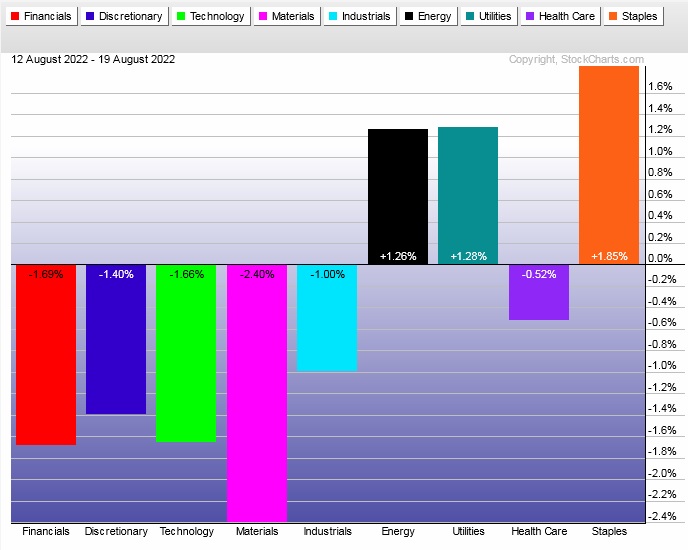 Concentrated Money Flows:
Money flows skewed to the sell side after many strong weeks for buyers.
neutral
Here are this week's results:

III. Stocklabs ACADEMY
Back to no clear read
We had solid context for a rally these last several weeks. Now things seem to be coming into balance, and without any signals from IndexModel we cannot really form a strong bias heading into the second-to-last week of August.
Note: The next two sections are auction theory.
What is The Market Trying To Do?
Week ended searching for buyers.
IV. THE WEEK AHEAD
What is The Market Likely To Do from Here?
Weekly forecast:
Choppy through Wednesday. Then look for earnings out of NVIDIA to dictate direction into the weekend.
Bias Book:
Here are the bias trades and price levels for this week:

Here are last week's bias trade results:

Bias Book Performance [11/17/2014-Present]: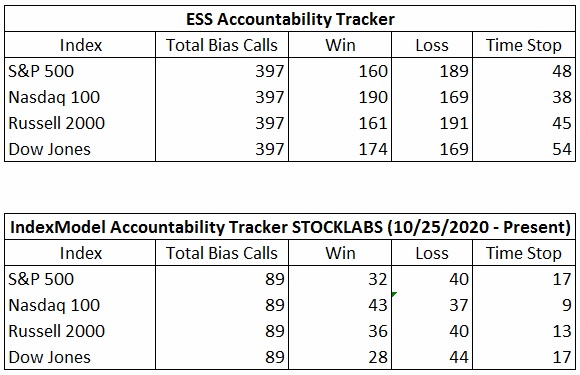 Seeing potential for balance
Readers are encouraged to apply these techniques to all markets. Markets fluctuate between two states—balance and discovery. Discovery is an explosive directional move and can last for months. In theory, the longer the compression leading up to a break in balance, the more order flow energy to push the discovery phase.
Market are most often in balance.
Every week this newsletter uses auction theory to monitor three instruments, the Nasdaq Transportation Index, PHLX Semiconductor Index and ethereum
That weak low on Transports still irks me, but we've rallied so far from it, that we're likely to encounter support ahead of any retest of the lows. This leads to the belief that a new range is forming.
See below: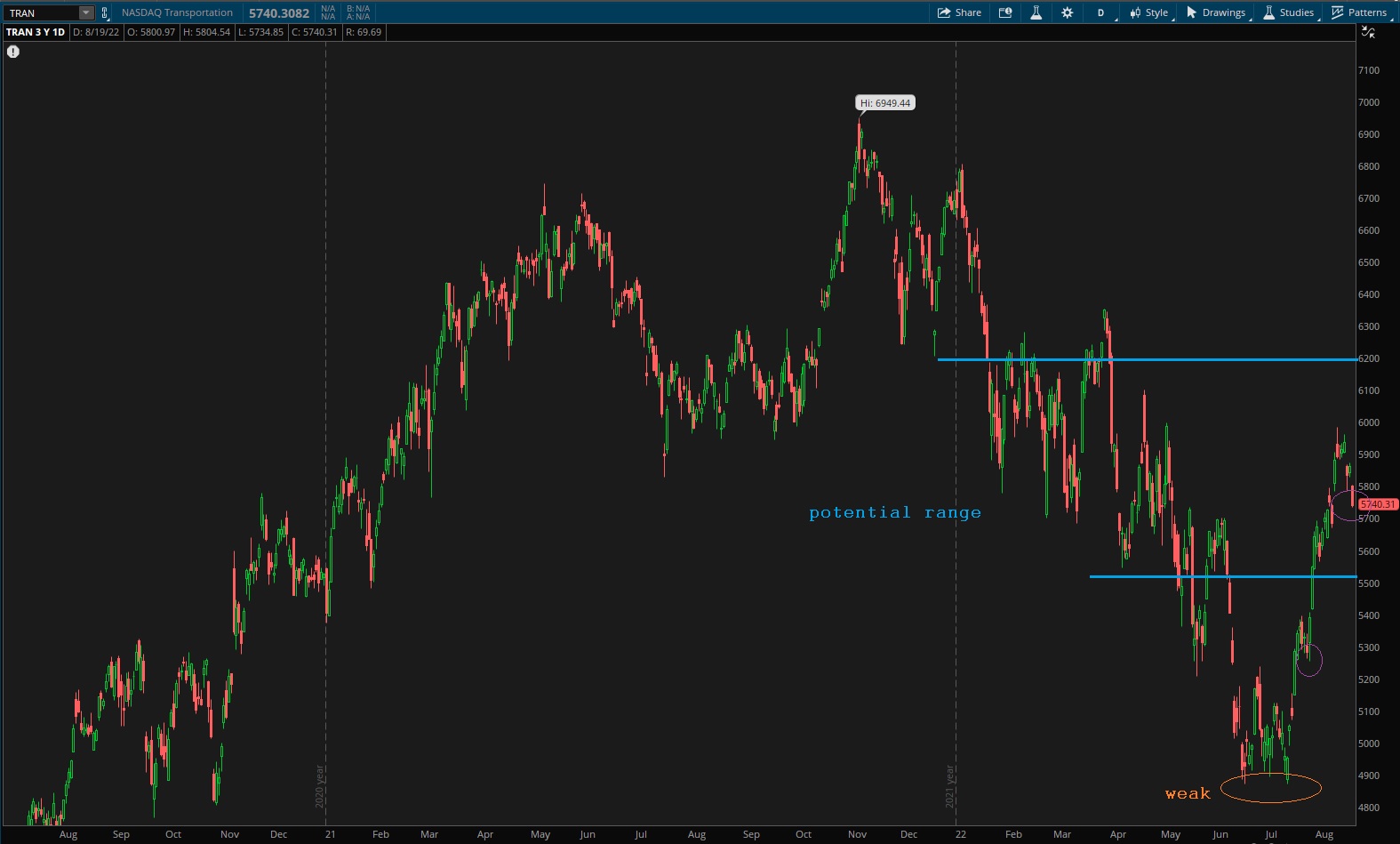 Semiconductors also seem to be coming into range.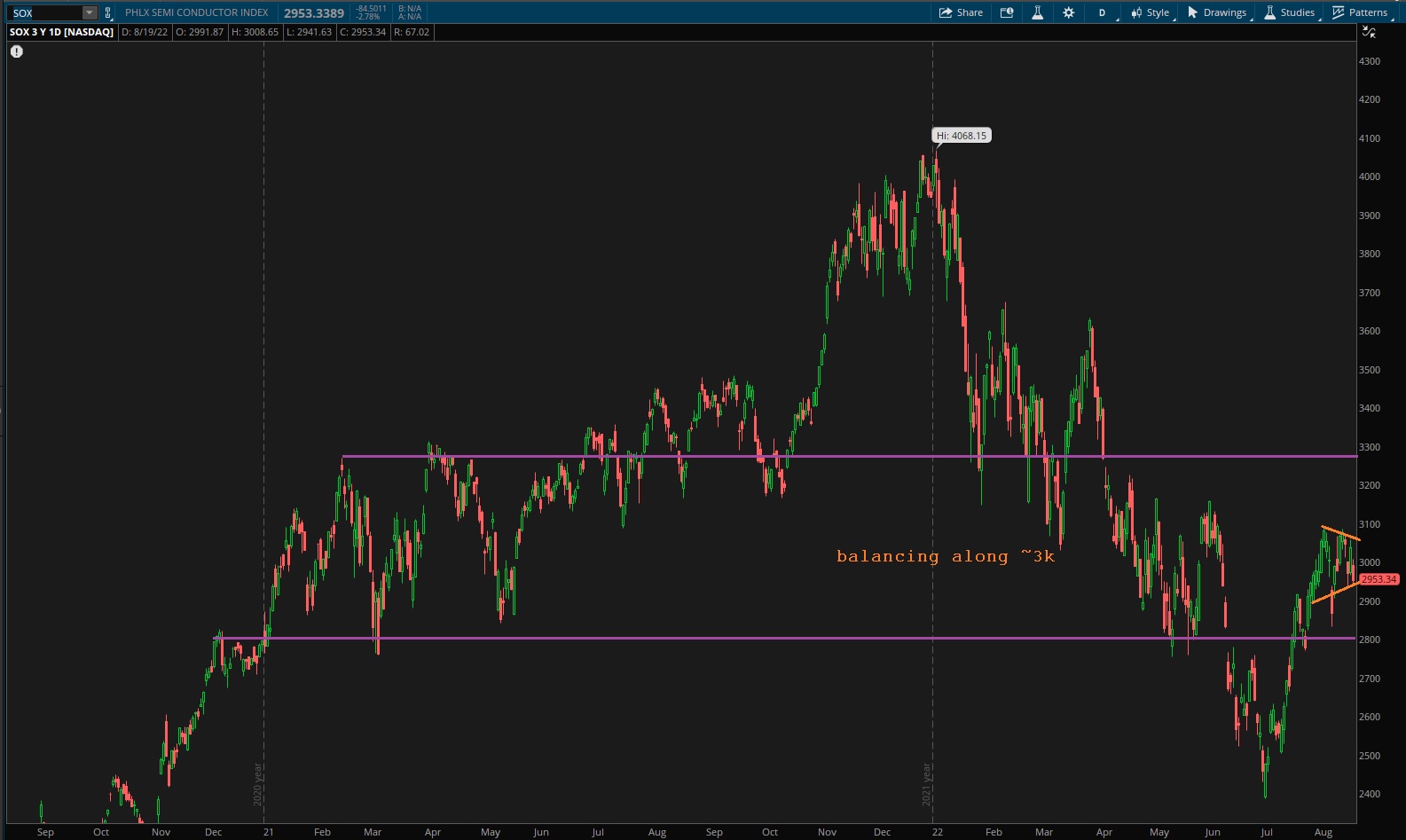 Ether was being pulled up into that vaccum for a while, but last week sellers sharply rejected it. Now it seems more likely we will avoid that pocket short term and instead form a range below it.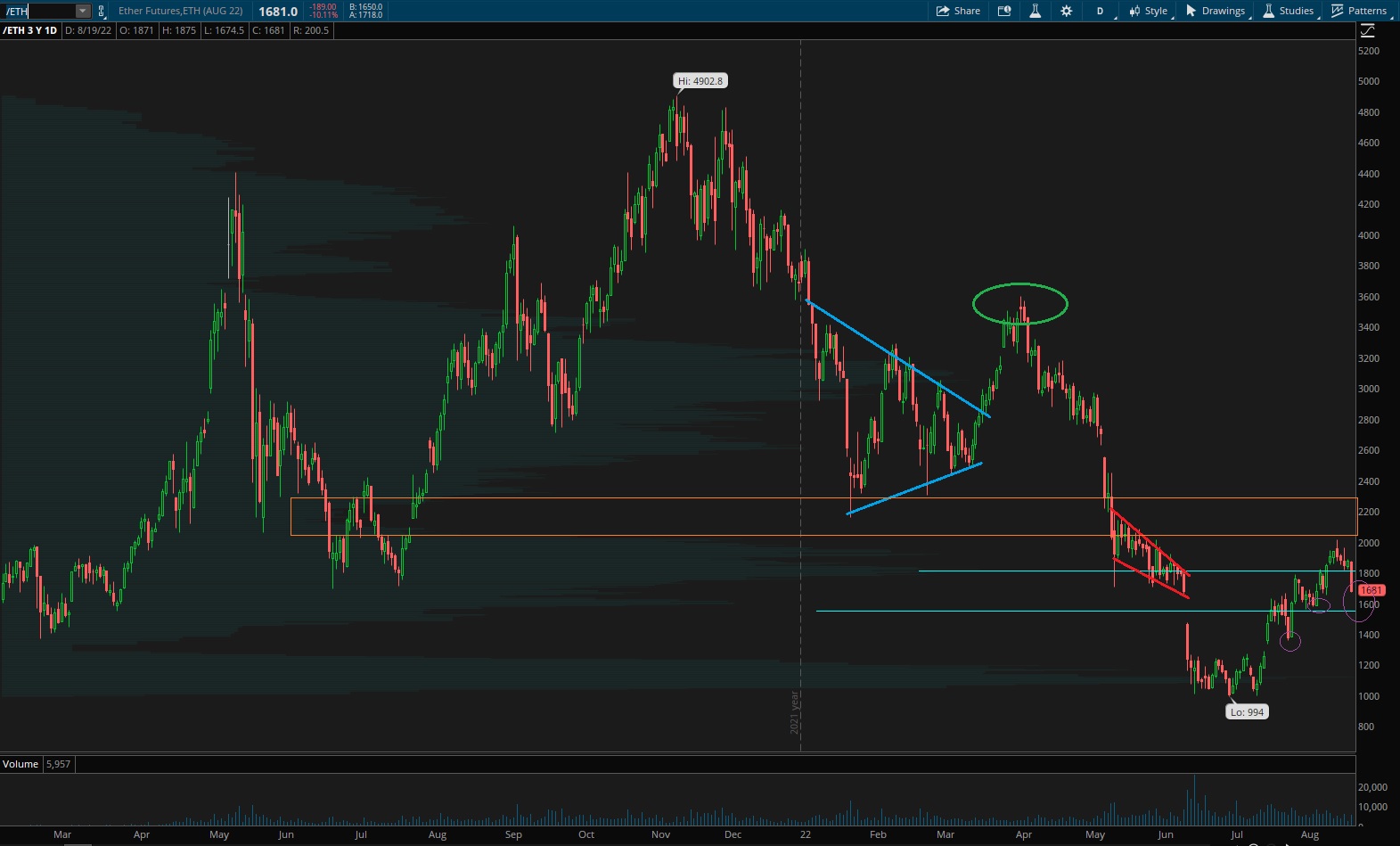 V. INDEX MODEL
Bias model is neutral after several weeks of signaling.
No bias heading into next week.
There were four Bunker Busters in recent history — nine weeks back, sixteen weeks ago, twenty-nine reports back and a third thirty-seven reports back.
Here is the current spread: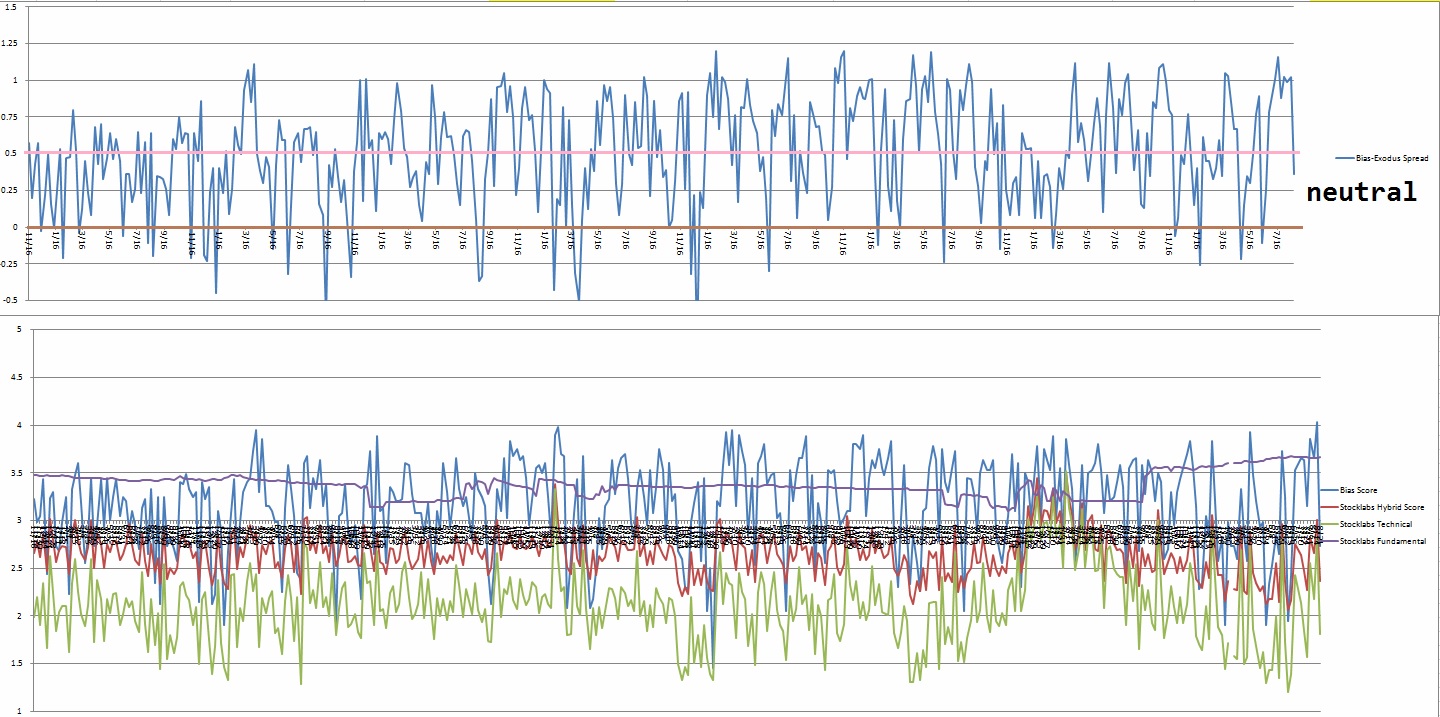 VI. Six Month Hybrid Overbought
On Friday, August 12th Stocklabs signaled hybrid overbought on the six month algo. This signal has bullish statistics. The cycle runs through Friday, August 26th end-of-day. Here is the performance of each major index so far: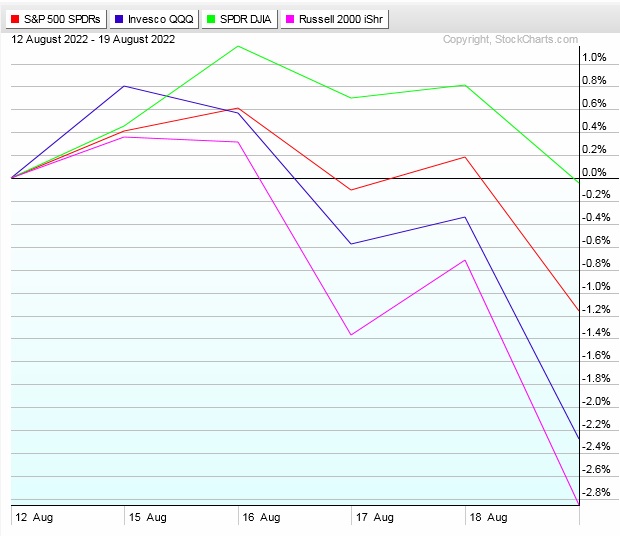 VII. QUOTE OF THE WEEK:
"What we play is life." – Louis Armstrong
Trade simple, play
If you enjoy the content at iBankCoin, please follow us on Twitter