Not much to elaborate on. We're probing higher lads. The deals are flowing. Heckin' Madam Speaker of the House asserted her dominance over the red commies and let the world know that semiconductors belong to democracy. The White House is about to put out big league electic vehicle credits. And they're lining up the knockout punch, simply erasing billions in student debt, just in time for the midterms.
It really is game over. The progressive thinkers have won and markets are responding in kind.
Amazon went out and bought iRobot. Why not? Soon alexa will be roaming around our homes and yards, zapping things with lazers and ordering our canned bugs whenever our allotment runs low.
Jack is hard at work growing his goatee and solving Universal Basic Income.
I am growing corn and courting the building department to allow for me to make to make to be allowed this time soon for to buildt the greatest steely plastic doohicky all of 5000 square feet of Raul's wonderlandt.
Which will of course mostly be inhabited by robots and plants.
My call heading into next week is simple — we squeeeze the no dang good short sellers. The paranoid. The kook and the seemingly so smart chartist. Through Wednesday morning. Then we rightly melt their faces off with the most grotesque post CPI pump.
That's my bias heading into the week before opex. Kill the shorts.
Raul Santos, August 7th 2022
And now for the 396th edition of Strategy Session.
---
Stocklabs Strategy Session: 08/08/22 – 08/12/22
I. Executive Summary
Raul's bias score 3.65, medium bull*. Buyers continue to sqeeze higher early on. Then watch for third reaction to Wednesday morning's CPI data to show direction into the second half of the week.
* extreme Rose Colored Sunglasses e[RCS] bullish bias triggered, see Section V.
II. RECAP OF THE ACTION
Sideways and choppy through Tuesday. Strong rally Wednesday. Continuation Thursday. Sellers pressured the tape post non-farm payroll data. Then we sort of chopped and regained the NFP reaction into the weekend. Divergent strength from the Russell 2000.
The last week performance of each major index is shown below: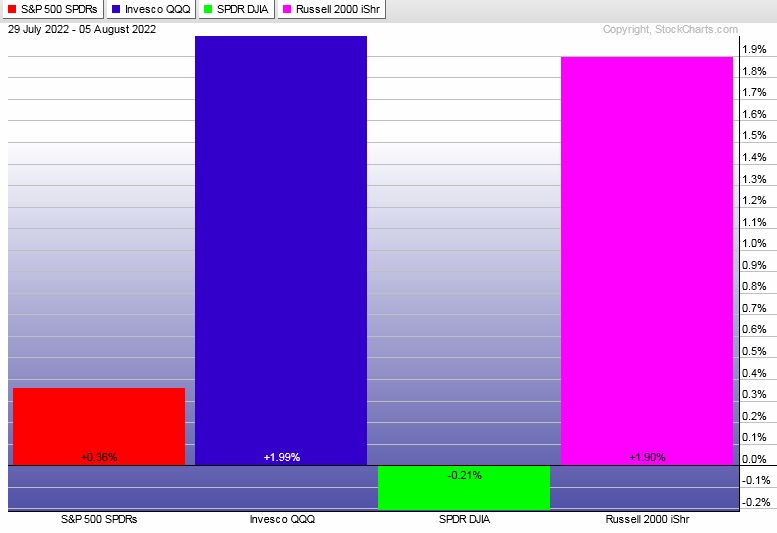 Rotational Report:
Interesting to see muted rotations during a somewhat strong week. However, leadership from Tech and Discretionary is ideal for bulls.
slightly bullish
For the week, the performance of each sector can be seen below: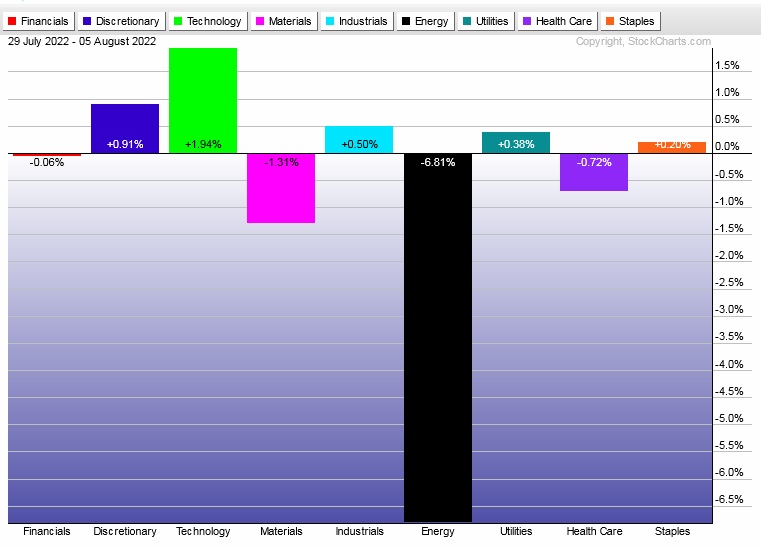 Concentrated Money Flows:
Money flows stabilizing. Slight bullish skew with mostly oil companies populating the sell side of the ledger.
slightly bullish
Here are this week's results:

III. Stocklabs ACADEMY
Squeeze into OPEX
The earnings calendar lightens up this week, and with the week having a clear focal point with CPI Wednesday morning, it provides plenty of runway for a short squeeze. The rally is several weeks mature, and the risk of turning lower is elevated. But given the contextual structure of earnings, White House policy, calendar/opex, indexmodel/stocklabs signalling and scheduled economic events we have the ingredients for a squeeze.
Note: The next two sections are auction theory.
What is The Market Trying To Do?
Week ended searching for sellers.
IV. THE WEEK AHEAD
What is The Market Likely To Do from Here?
Weekly forecast:
Buyers continue to squeeze higher early on. Then watch for third reaction to Wednesday morning's CPI data to show direction into the second half of the week.
Bias Book:
Here are the bias trades and price levels for this week:

Here are last week's bias trade results:

Bias Book Performance [11/17/2014-Present]: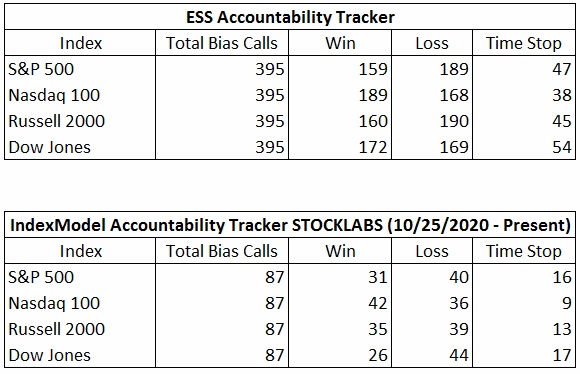 We've probed higher and sellers haven't really emerged, yet
Readers are encouraged to apply these techniques to all markets. Markets fluctuate between two states—balance and discovery. Discovery is an explosive directional move and can last for months. In theory, the longer the compression leading up to a break in balance, the more order flow energy to push the discovery phase.
Market are most often in balance.
Every week this newsletter uses auction theory to monitor three instruments, the Nasdaq Transportation Index, PHLX Semiconductor Index and ethereum
That weak low irks me. But for now buyers are in control. This index is coming into the week right along an interesting pivot zone that I expect to see contested and perhaps a multi-day battle for control.
See below: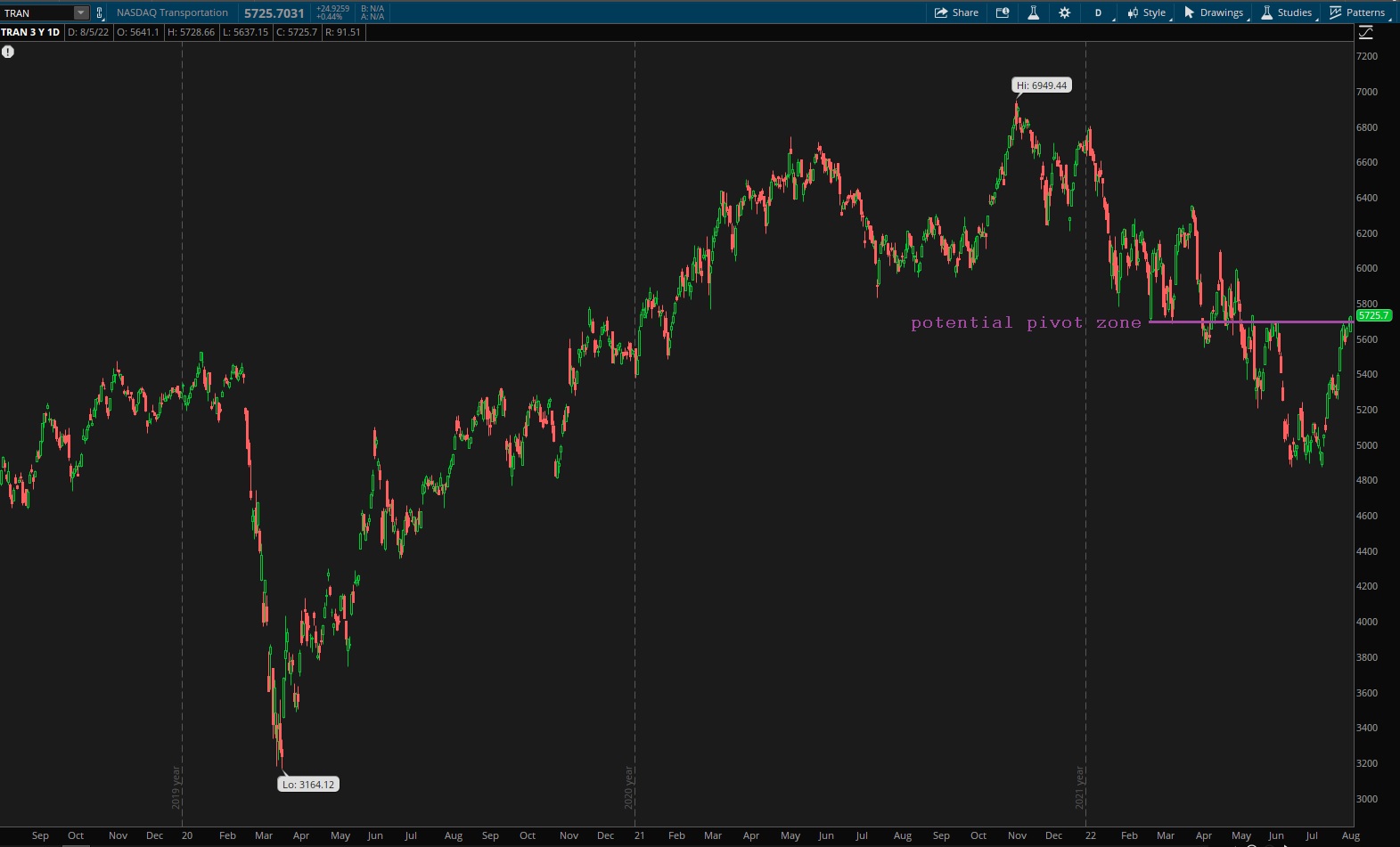 Semiconductors have printed a streak of green candles that give the index a strong discovery up look. We could see a new range develop soon.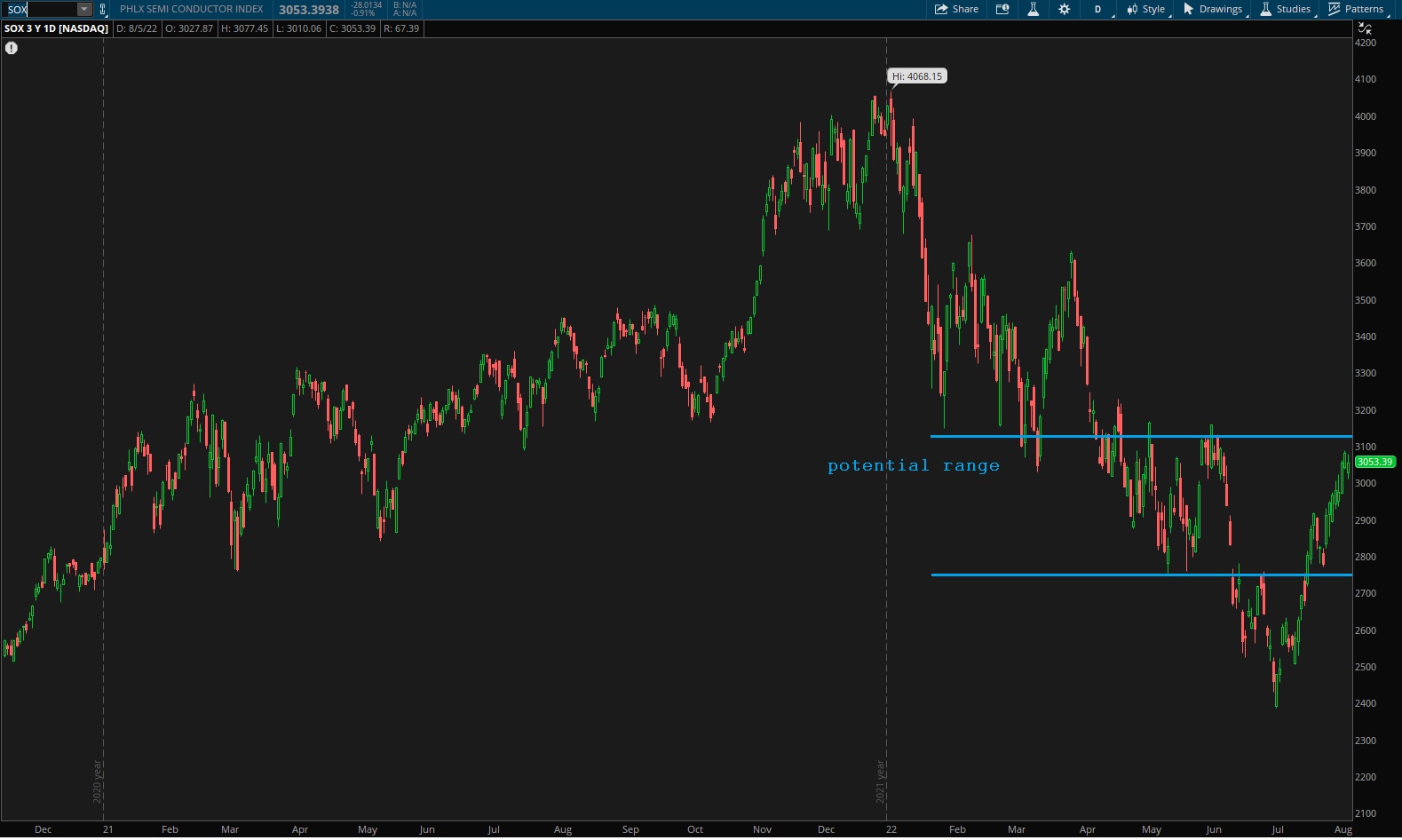 Ether has been auctioning on the CME for about a year-and-a-half and in that time it has left a significant volume pocket up between about 2100-2300. I could see us spending some time up in that zone, filling out the profile. Or it could be a huge wall of resistance. Either way it seems like an area we could probe up into now that the overplay for the underlay is complete.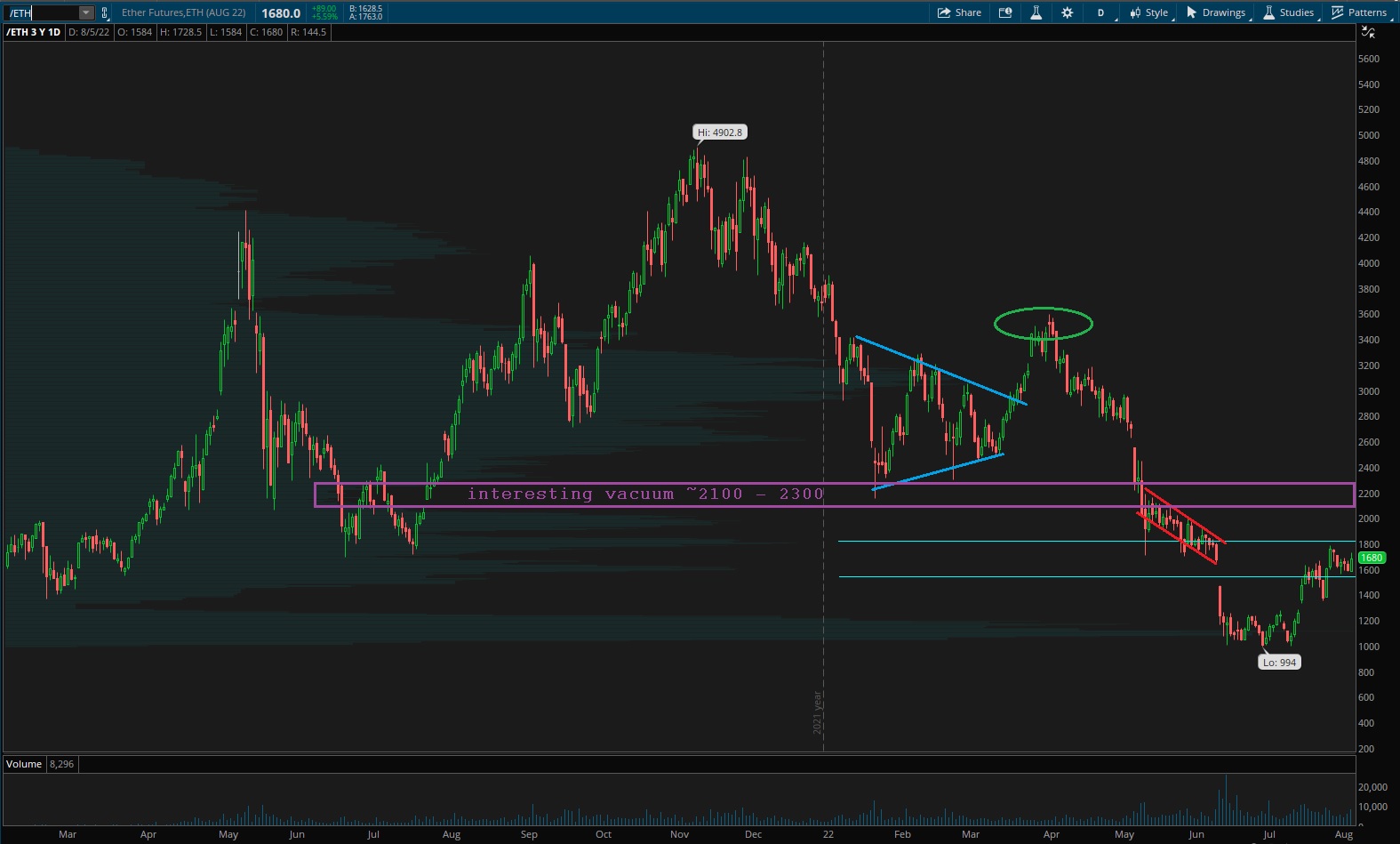 V. INDEX MODEL
Bias model is extreme Rose Colored Sunglasses for a second consecutive week. There was an RCS bearish two weeks prior and orior to that signal it was e[RCS] bullish for two weeks.
I've noticed that four e[RCS] readings in tight succession tend to suggest a rally is maturing. So we are certainly in a mature up phase which means the risk of a leg lower is elevated.
There were four Bunker Busters in recent history — seven weeks back, fourteen weeks ago, twenty-seven reports back and a third thirty-five reports back.
Here is the current spread: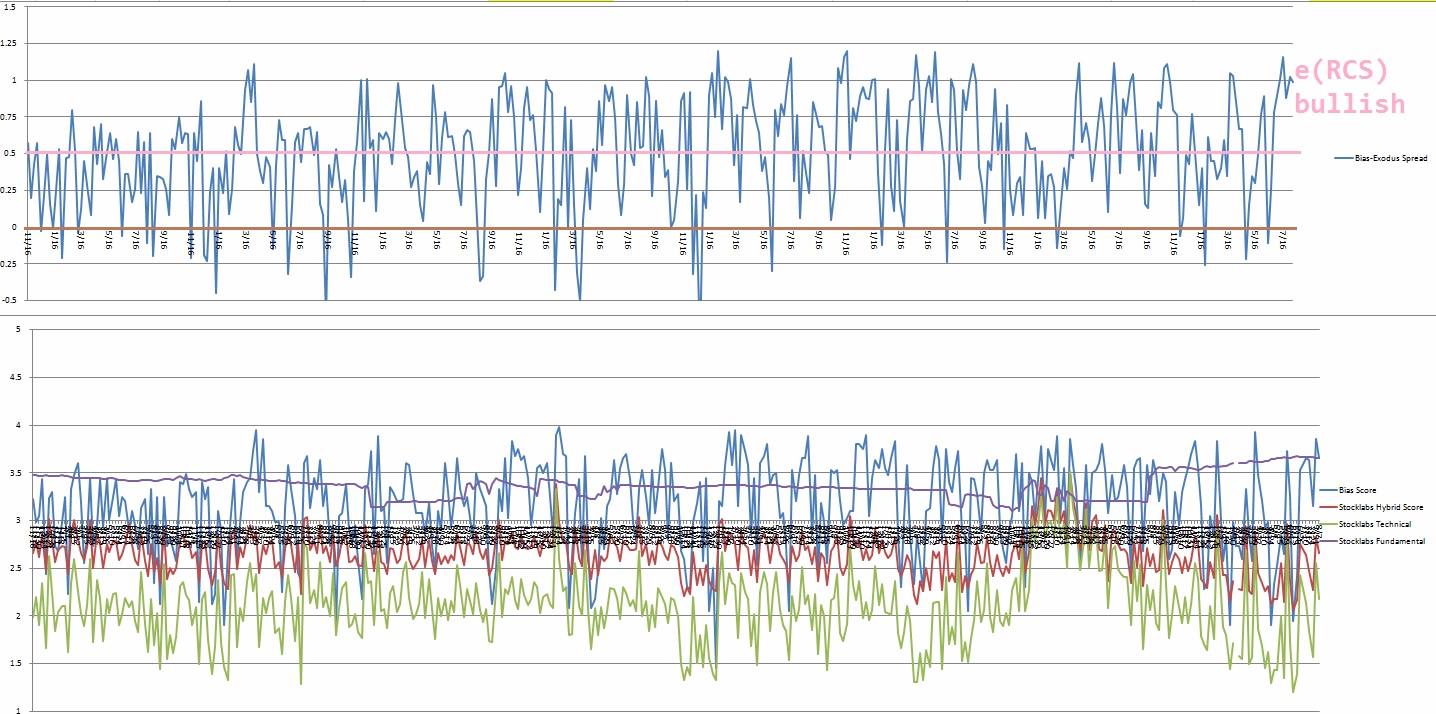 VI. Six Month Hybrid Overbought
On Tuesday, July 19th Stocklabs signaled hybrid overbought on the six month algo. This signal has bullish statistics. The cycle runs through Tuesday, August 2nd end-of-day. Here is the performance of each major index so far: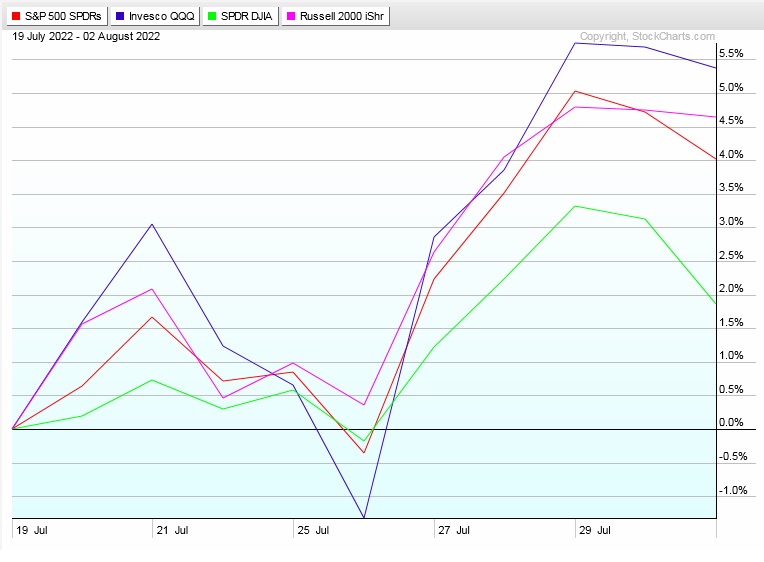 VII. QUOTE OF THE WEEK:
"To lose patience is to lose the battle." – Gandhi
Trade simple, trust the process MORE
If you enjoy the content at iBankCoin, please follow us on Twitter