Righty-o lads I hate to issue some fud but the model is the model and it is bearish heading into the first full week of Q2.
If I had my tools I would be using this signal to sell short any up gaps in range, with the explicit intent of closing said gaps. In the /nq.
On the tool front I have a good lead on some raw data. I had to screen a call from a decent chap who phoned me to get me set up because I was in the middle of a heated negotiation for a work van.
Work van fell through. Feller wanted 1800 (about 0.50 eth). I spent the morning collecting some debts owed to my person and then I picked up a refurbished battery from the local battery mart for 60 and then I commissioned elder Raul to drive me to the land of the libs, ANNED ARBOR.
We show up. Mf has like 800 chickens. Not going to lie I was impressed. Beautiful cocks everywhere.
The vans a real pile of shit. Windshield had been letting water in all winter and the rugs were soaked. The whole thing smelt like grease. There was debris everywhere. Fine. I am a draconian cleaner and you wouldn't believe the messes I've fixed.
I'm the fixer. The wolf.
Popped the hood. The rubber shoe between the air filter and the motor is tattered and in pieces, thus allowing the devil knows what to be sucked into the motor.
Fine. This piece of shit just needs to last long enough for elon to deliver me from evil via the CyberTruck.
Put the battery in. Starts right up. I say, "Right then. We have some unexpected things happening here. Would you take 1300?" We do the old back-and-forth, settle at 1400.
I hand him the cash. He hands me the title. I put the pile in reverse and good lord, an unholy sound comes from the rear end. Turns out one of the tires is totally seized up. Won't spin. I renege. Say farewell to the chickens and sell him the battery for cost.
Then elder Raul and I fight dense traffic for over an hour back to DETROIT, bitching and joking the whole hecking time.
European men (and perhaps women) like elder Raul will never be content with the american driver. They misuse the fast lane. They're general sense of urgency is too low. They cannot seem to do anything right. Which is why I drive and he sits, because if that wild old man is behind the driver's seat you're a captive audience for some rage.
Wow, what an aside.
Okay so anyhow model is bearish. Barring some hasty trip into the woods I should have my tools back in place next week, and what else? That's about it I suppose. The vibe around the city is impeccable lately. Beautiful birds are coming out of the wood work, ready to disco dance and mate.
Raul Santos, April 3rd 2022
And now for the 381st strategy session, enjoy.
---
Stocklabs Strategy Session: 04/04/22 – 04/08/22
I. Executive Summary
Raul's bias score 3.20, neutral*. Sellers reassert control early on. Then look for third reaction to Wednesday afternoon's Fed Minutes to dictate direction into the second half of the week.
*Rose Colored Sunglasses [RCS] bearish bias triggered, see Section V.
II. RECAP OF THE ACTION
Strong tape through Tuesday, then faded lower clean through the Friday lunch hour. Then a strong ramp higher into the weekend.
The last week performance of each major index is shown below: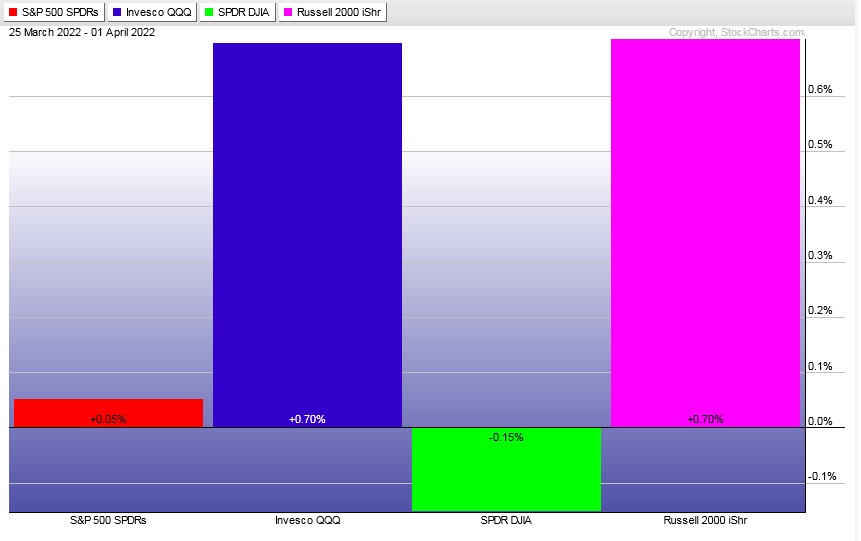 Rotational Report:
Second consecutive week of bleak rotations. Utilities and Staples strong suggests investors remain risk averse despite the recent rallies off the lows. Financials under pressure.
slightly bearish
For the week, the performance of each sector can be seen below: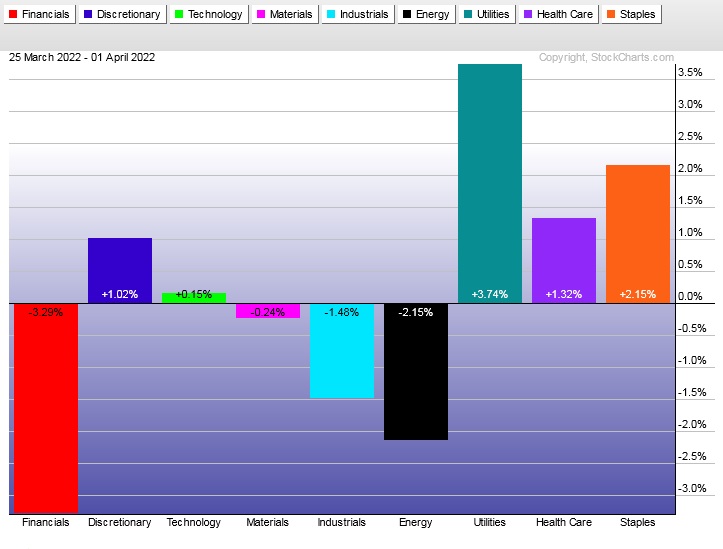 Concentrated Money Flows:
Bulls took back control of money flows three weeks back after sixteen weeks dominated by sellers, dating back to mid-November.
Last week's flows skewed slightly negative after being balanced two weeks back. Lots of semiconductor groups populating the negative side of the ledger.
neutral
Here are this week's results: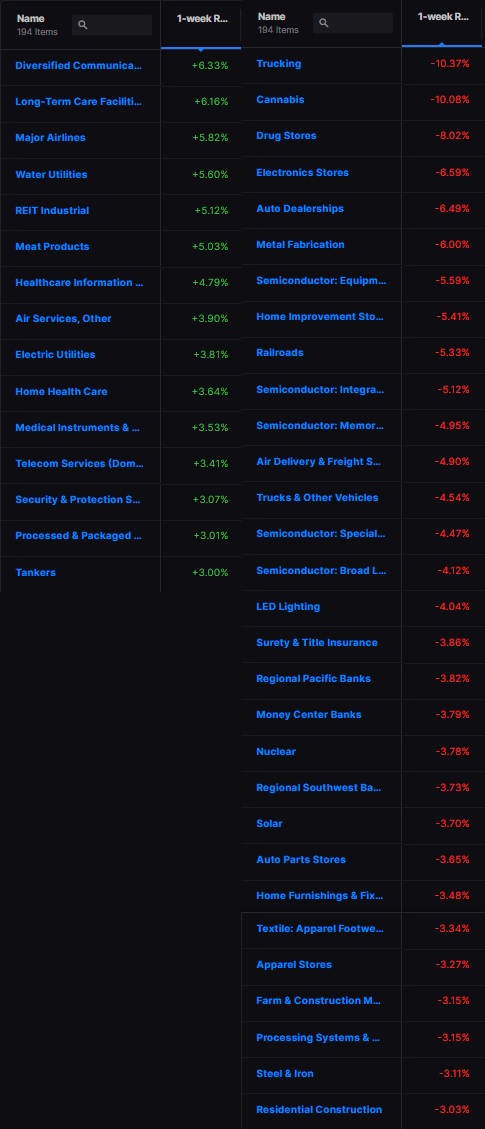 III. Stocklabs ACADEMY
April stats and recent changes in hybrid scores have me reluctantly bearish next week
The April seasonality statistics are strong. And on March 29th we saw a huge print from the Hybrid Chg % (+22.28% **see Algo page**). These two data points cannot be completely overlooked.
However, Indexmodel is signaling Rose Colored Sunglasses and we do not have an Stocklabs cycles in play heading into the week.
For these reasons I will be leaning bearish until at least the Fed Minutes Wednesday afternoon. Then I will reassess.
Note: The next two sections are auction theory.
What is The Market Trying To Do?
Week ended searching for sellers
IV. THE WEEK AHEAD
What is The Market Likely To Do from Here?
Weekly forecast:
Sellers reassert control early on. Then look for third reaction to Wednesday afternoon's Fed Minutes to dictate direction into the second half of the week.
Bias Book:
Here are the bias trades and price levels for this week:

Here are last week's bias trade results:

Bias Book Performance [11/17/2014-Present]: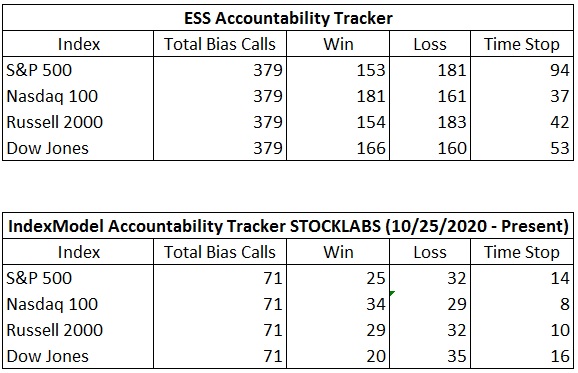 Big battle for control of Transports
Markets fluctuate between two states—balance and discovery. Discovery is an explosive directional move and can last for months. In theory, the longer the compression leading up to a break in balance, the more order flow energy to push the discovery phase.
Market are most often in balance.
Every week this newsletter uses auction theory to monitor three instruments, the Nasdaq Transportation Index, PHLX Semiconductor Index and ethereum. Readers are encouraged to apply these techniques to all markets.
Transports probed the upper end of range and found strong sellers. Sellers so strong they erased much of the conviction buy candle we printed on 3/16. There was a slight lower wick on the strong Friday sell candle, but that is not much for bulls to lean on. This key contextual index could careen into the low-end of balance and perhaps then we'll see if range can hold.
See below: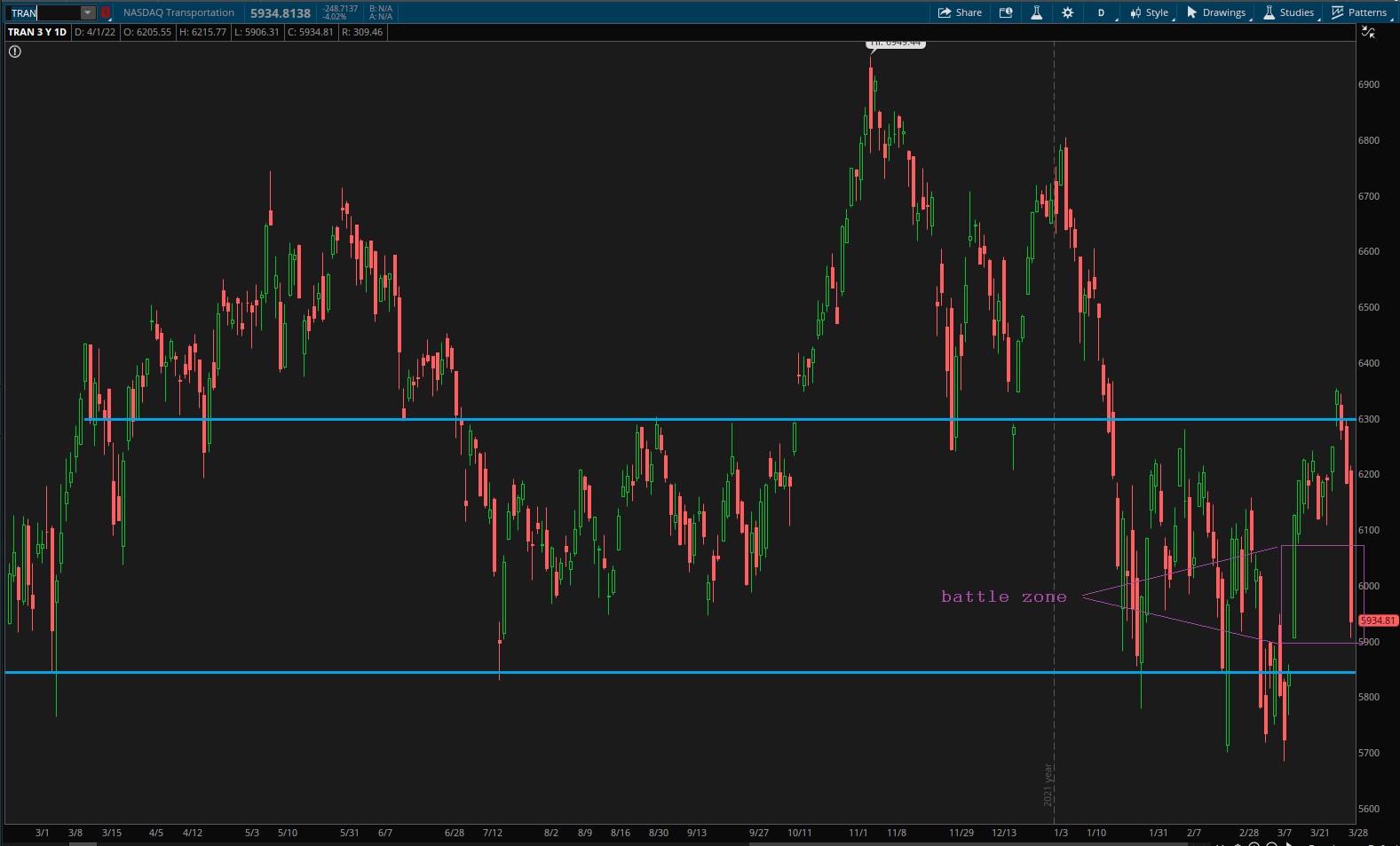 Semiconductors didn't manage to hold the top-side of their range pivot for long. Sellers reclaimed the level Friday. Again, there was a nice lower wick on the Friday candle that bulls may lean on. This index is clearly in range.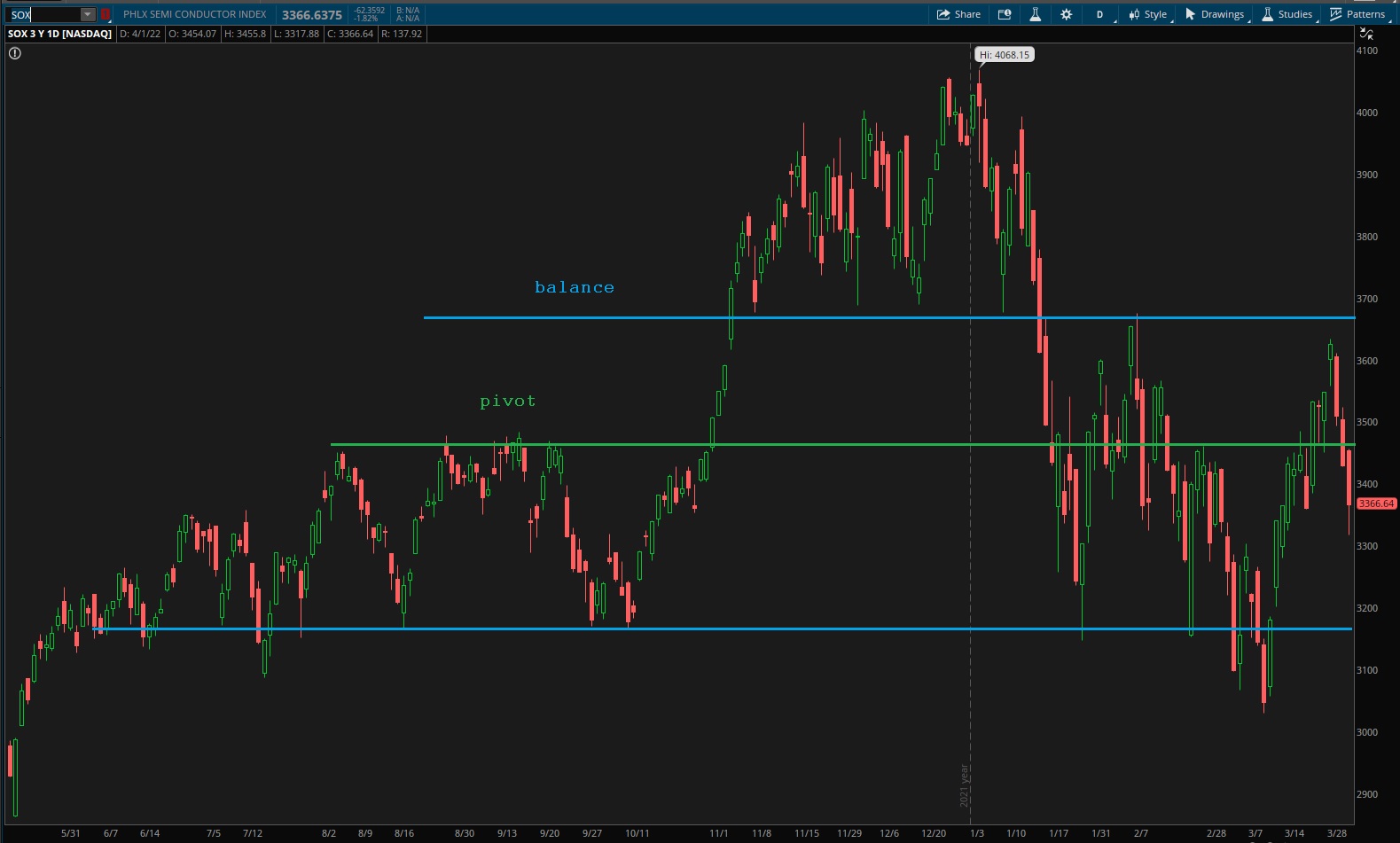 Ether is having a modest discovery up phase. I am not certain if it has the velocity to really begin exploring higher prices, but there is a low-volume-node around 3,680 that could behave as a magnet to draw price higher next week.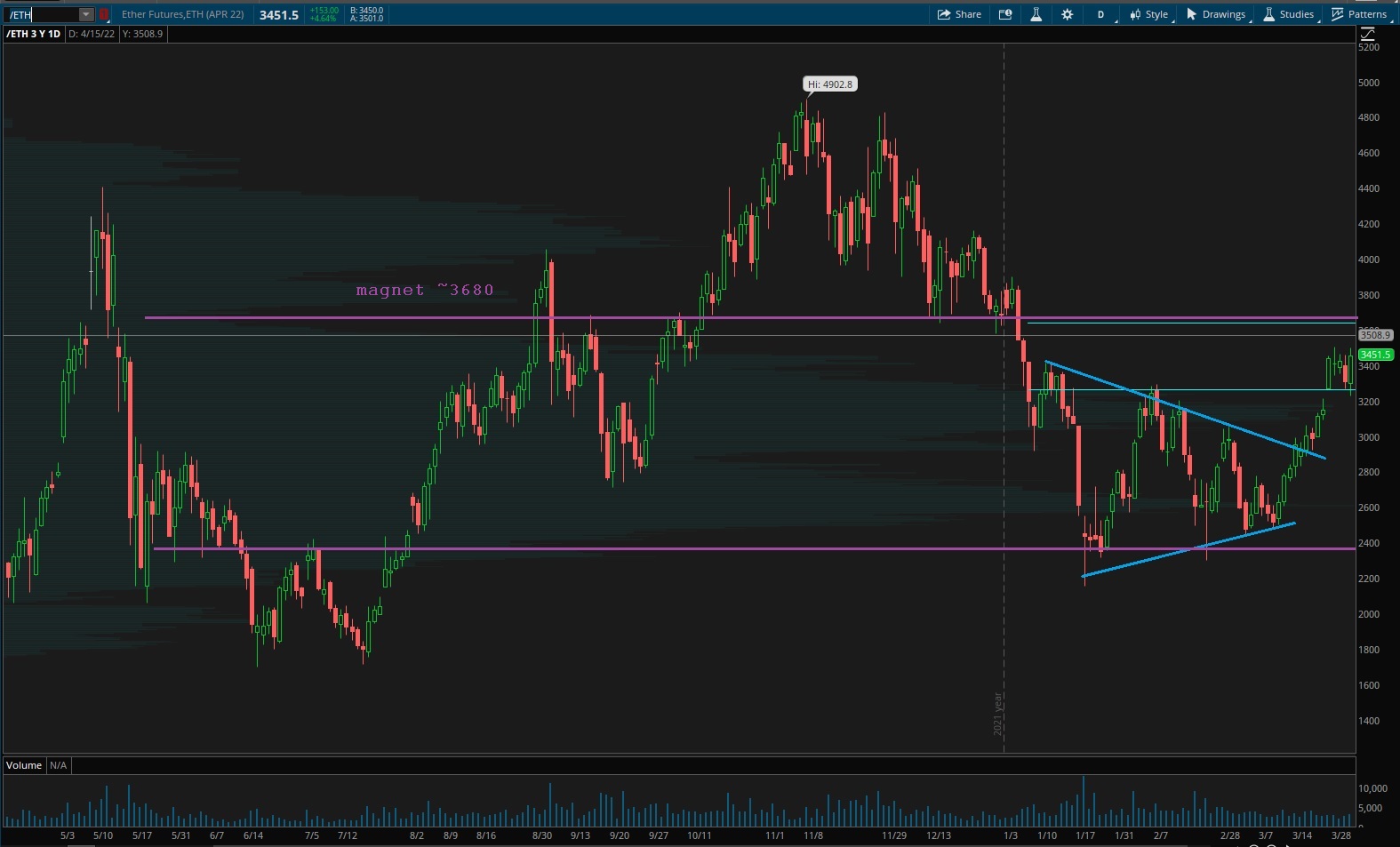 V. INDEX MODEL
Bias model is rose colored sunglasses bearish after two consecutive weeks of extreme RCS. This is a bearish signal that expects sellers to control the tape for much of the week.
We were Bunker Buster ten reports back. This is the second Bunker Buster in recent history, with the previous one being eighteen reports back. The Bunker Buster before these recent two was fifty-six weeks ago.
Rose Colored Sunglasses calls sellers to pressure the tape lower throughout much of the week.
Here is the current spread: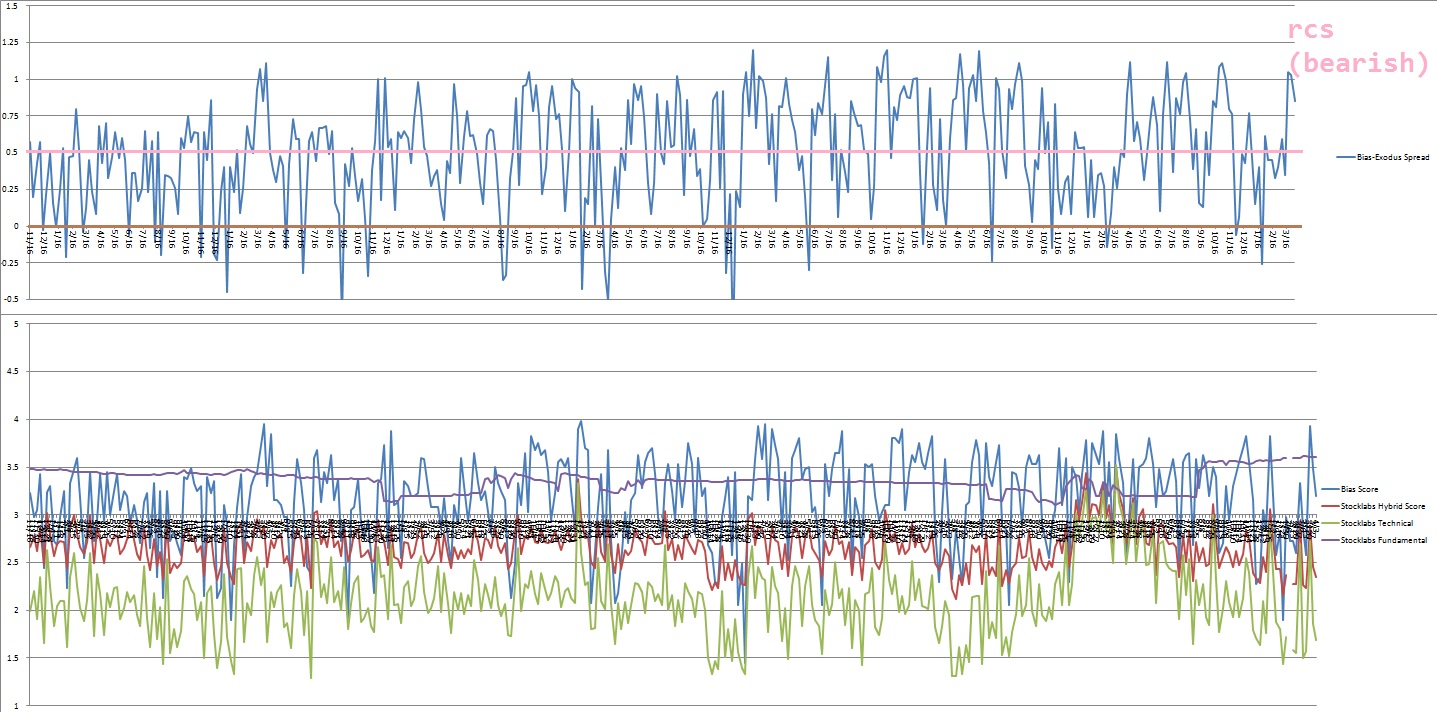 VI. 6-month Technical Overbought
On Thursday, March 17th Stocklabs went technical overbought on the 3- and 6-month algo. This is a ten day bullish cycle that runs through Thursday, March 31st. Here is the final performance of each major index over the cycle: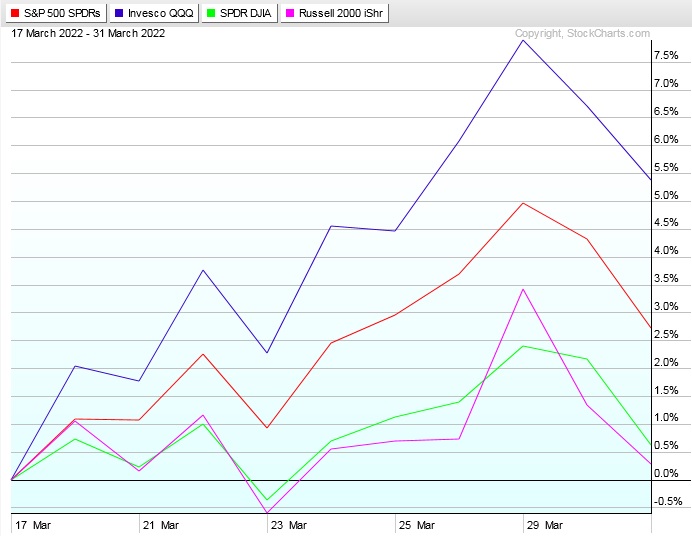 VII. QUOTE OF THE WEEK:
"It is not enough to have great qualities; we should also have the management of them." – La Rochefoucauld
Trade simple, manage yourself or else
If you enjoy the content at iBankCoin, please follow us on Twitter