Research updated. Conditions look decent for volatility to keep drifting away.
What else, what else.
Oh I held a meet-up last week on behalf of Stocktwits. They keep sending me boxes of hats and t-shirts and they're paying for the pizza and hootch. Alls I have to do is find a venue and do a little ditty on meetup.com and bingo bango — I've satisfied their demands.
I was just baffled by a few of the jokers at the meetup. So hecking bearish. I cannot help but fade people when they're so certain of themselves.
Like my idol Elon, who makes all sorts of wild predictions, speaks with way less certanty than some piker pushing five-figure trades on Robin Hood.
Fading these fools at every chance.
Aside from the free hootch that is why I'll organize these meet-ups. It is a wonderful litmus test. Another reading for my contextual model.
What else.
Last week was my first full week back in the gym training. Felt good man. My core was stronger than I expected. Perhaps the wretched floor project kept me abs tighter than I realized. My weakest quadrant has been identified (lower right, likely the arthritis building up from all the digging). My weakest muscle group, by far, were the chest and triceps. Those aren't really vanity muscles, but for whatever reason they don't see much use in a normal man's working day.
I mean, some desk jokey is probably just weak everywhere, but as a man of work it seems my back and legs stay jacked but my chest and triceps take a hit. I should be back to an absolute terror of build in six weeks time. Just in time to go back to the fields.
What else…
I am very close to turning my data and tools back on. I have a bit of side work to attend to next week but I should be back to daily trading sometime this month.
What else?
Seasonality is strong heading into April. My primary expectation is for some window dressing into quarter end and then perhaps a real ripper of a rally Friday, the first of the month.
That's all I've got for now.
Oh one more thing. I am reading the new Dalio book, Principles for Dealing with the Changing World Order.
Decent read so far. He essentially takes tons of factors and ranks them from 1-to-ten. Sound familiar?
I'll leave it at that for now.
Raul Santos, March 27th, 2022
And now the 379th edition of Strategy Session.
---
Stocklabs Strategy Session: 03/28/22 – 04/01/22
I. Executive Summary
Raul's bias score 3.48, medium bull*. Volatility continues to abate as equity prices drift into month-end. GDP data out Wednesday morning and non-farm payroll data Friday may provide some direction.
*extreme Rose Colored Sunglasses (e[RCS]) triggered, see Section V.
II. RECAP OF THE ACTION
Steady drift higher in the tech-heavy NASDAQ while the other indices essentially marked time.
The last week performance of each major index is shown below: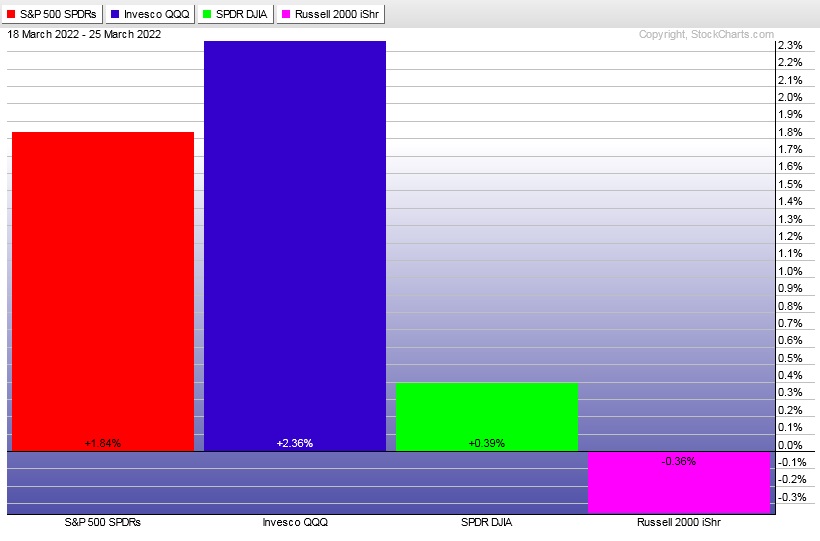 Rotational Report:
Rotations last week were not great. The leadership in Materials and Utilities suggests investors remained risk averse despite the dip in volatility seen last week. Tech was not too far behind though. Energy continues to trade independent of the overall market.
neutral
For the week, the performance of each sector can be seen below: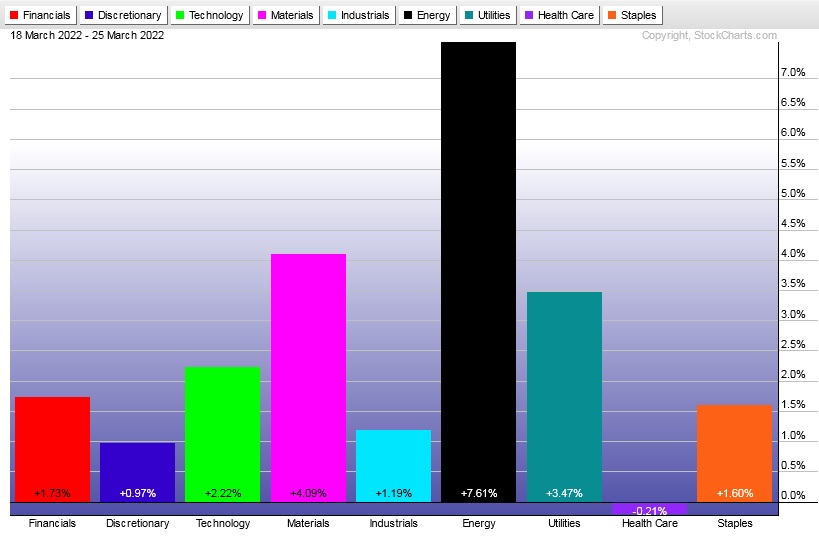 Concentrated Money Flows:
Bulls took back control of money flows two weeks back after sixteen weeks dominated by sellers, dating back to mid-November.
Last week's money flows were fairly balanced. However the industries populating the positive side of the ledger are hardly quality.
neutral
Here are this week's results: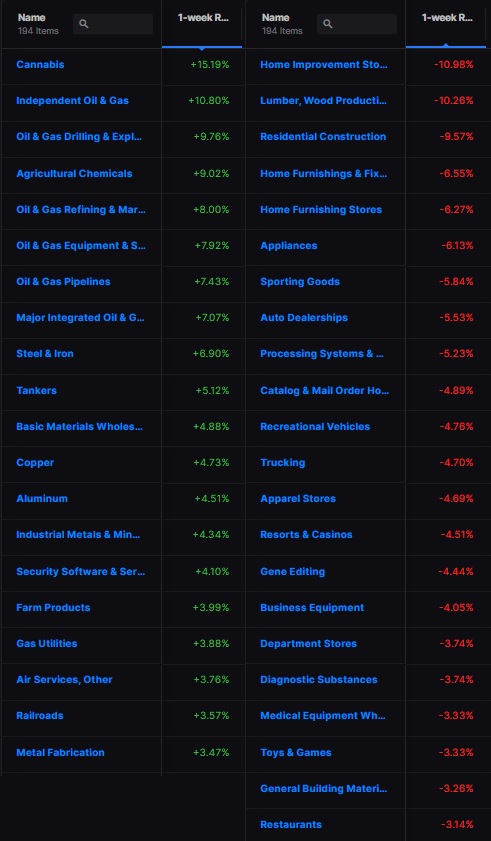 III. Stocklabs ACADEMY
April is statistically the most bullish month of the year
Investors were granted a bit of relief the in the last two weeks. Now we are headed into the final week in March (first quarter) and up ahead we have solid seasonality statistics. Past performance is not indicative of future results, but a glance at SPY seasonality shows an average return of +2.40% with markets higher on the month 79.31% of the time.
If buyers manage to hold the tape up through Wednesday's GDP reading, we could set the stage for a strong rally Friday morning into the next quarter. We may even see some "window dressing" take place ahead of Friday.
Non-farm payrolls are sort of like the river card on the week, and could either solidify a bullish week or be the catalyst for a reversal lower.
We don't know.
But stats are looking bullish.
Note: The next two sections are auction theory.
What is The Market Trying To Do?
Week ended searching for sellers
IV. THE WEEK AHEAD
What is The Market Likely To Do from Here?
Weekly forecast:
Volatility continues to abate as equity prices drift into month-end. GDP data out Wednesday morning and non-farm payroll data Friday may provide some direction.
Bias Book:
Here are the bias trades and price levels for this week:

Here are last week's bias trade results:

Bias Book Performance [11/17/2014-Present]: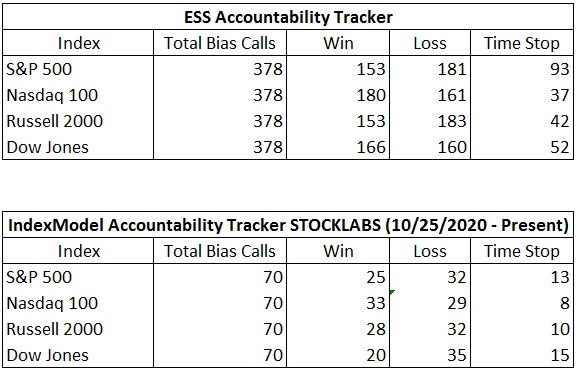 Pivoting the range in semiconductors
Markets fluctuate between two states—balance and discovery. Discovery is an explosive directional move and can last for months. In theory, the longer the compression leading up to a break in balance, the more order flow energy to push the discovery phase.
Market are most often in balance.
Every week this newsletter uses auction theory to monitor three instruments, the Nasdaq Transportation Index, PHLX Semiconductor Index and ethereum. Readers are encouraged to apply these techniques to all markets.
Transports appear poised to continue probing the upper-end of their established range.
See below:
Semiconductors wrestled with the range pivot we've been monitoring. During the last three days of last week there was quite the battle for this territory. The upper wick on Wednesday's daily candle and lower wick on Friday's reveal this. Heading into next week it appears buyers have the edge.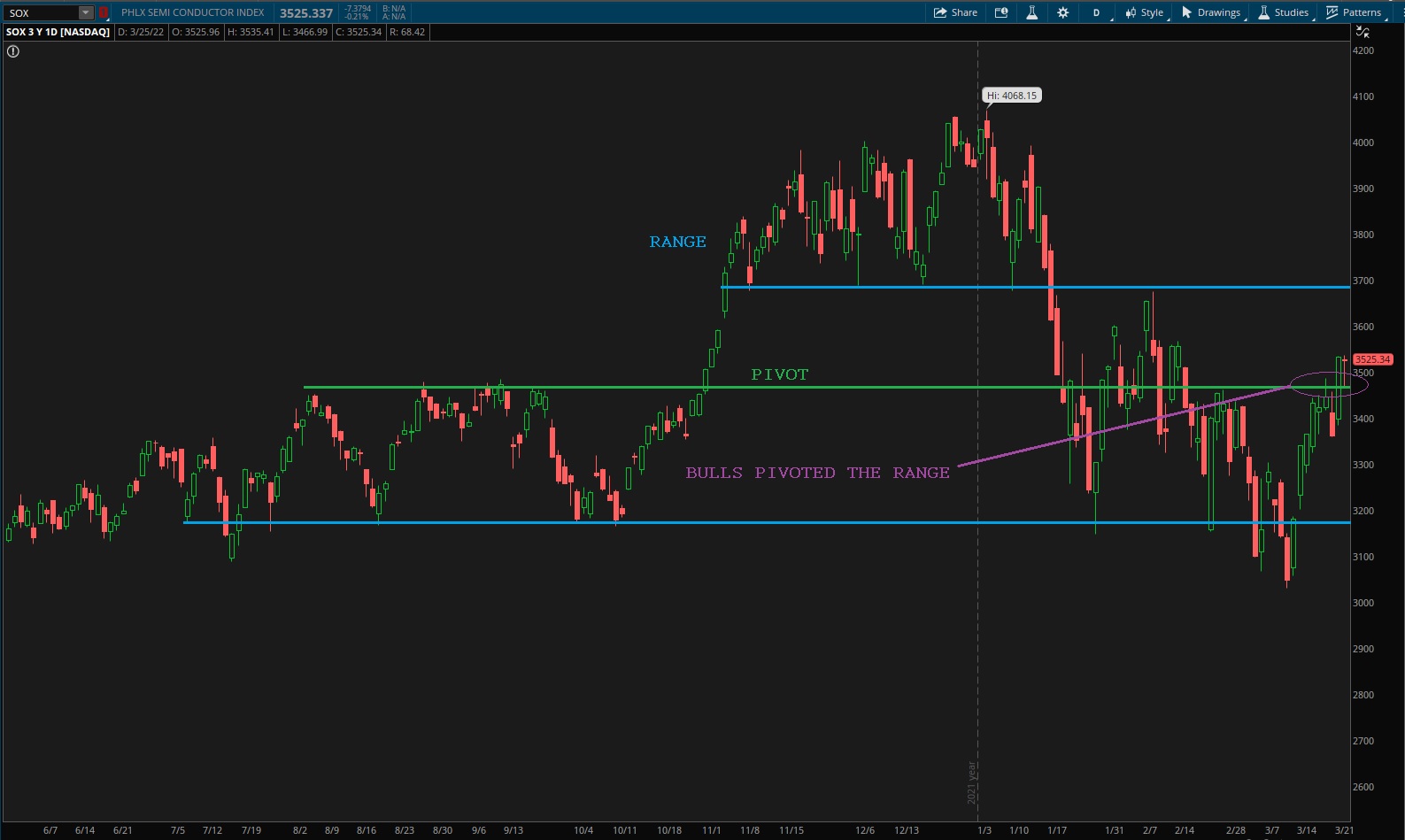 Ether surprised us last week, breaking free from its range compression and going into discovery up. There is a potential new range a bit higher as well as a low-volume node that may behave as a magnet.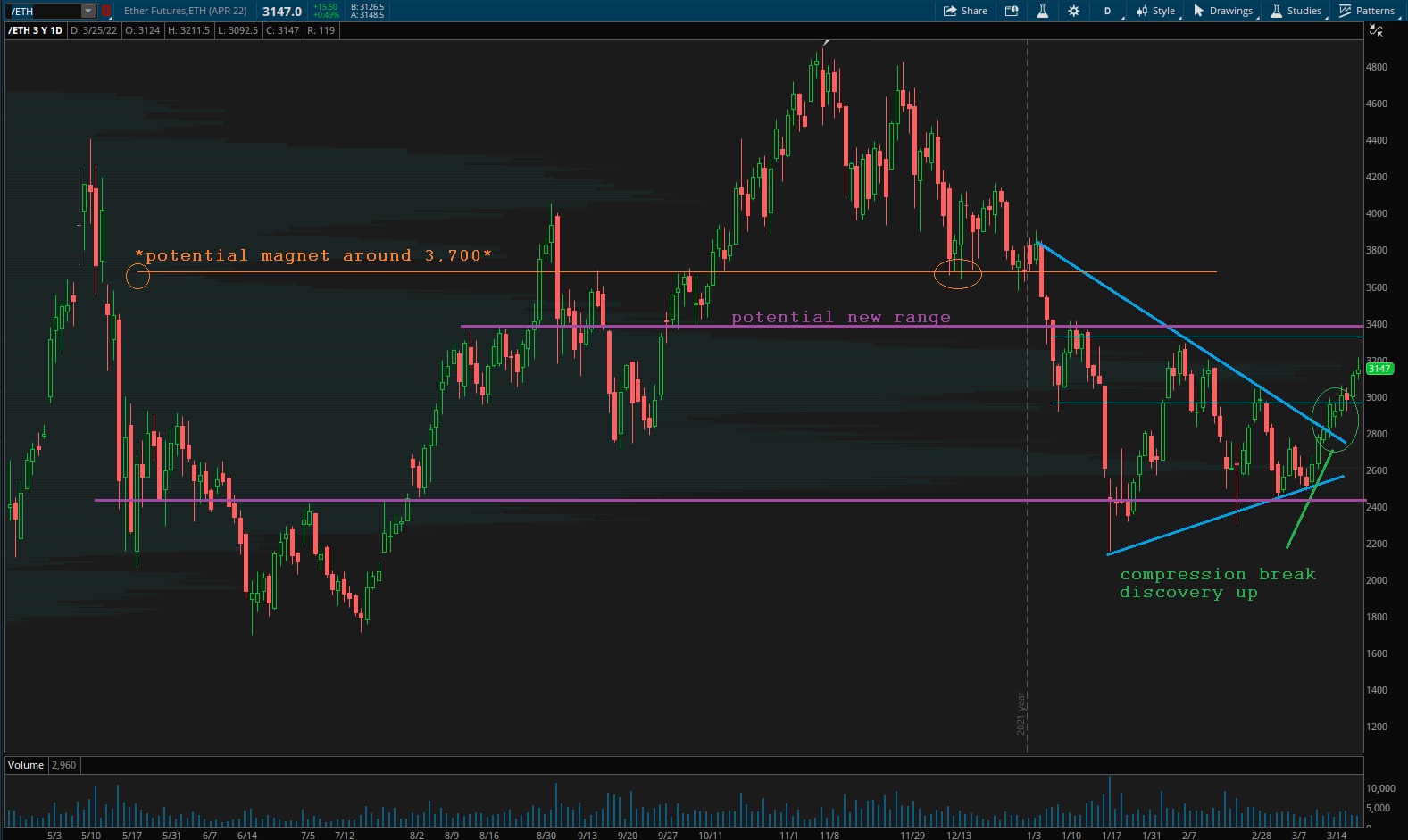 V. INDEX MODEL
Bias model is extreme rose colored sunglasses for the second consecutive week. The e(RCS) seen two weeks back being the first such reading of 2022.
We were Bunker Buster nine reports back. This is the second Bunker Buster in recent history, with the previous one being seventeen reports back. The Bunker Buster before these recent two was fifty-five weeks ago.
Extreme Rose Colored Sunglasses calls for a calm drift, perhaps with a slight upward bias next week.
Here is the current spread: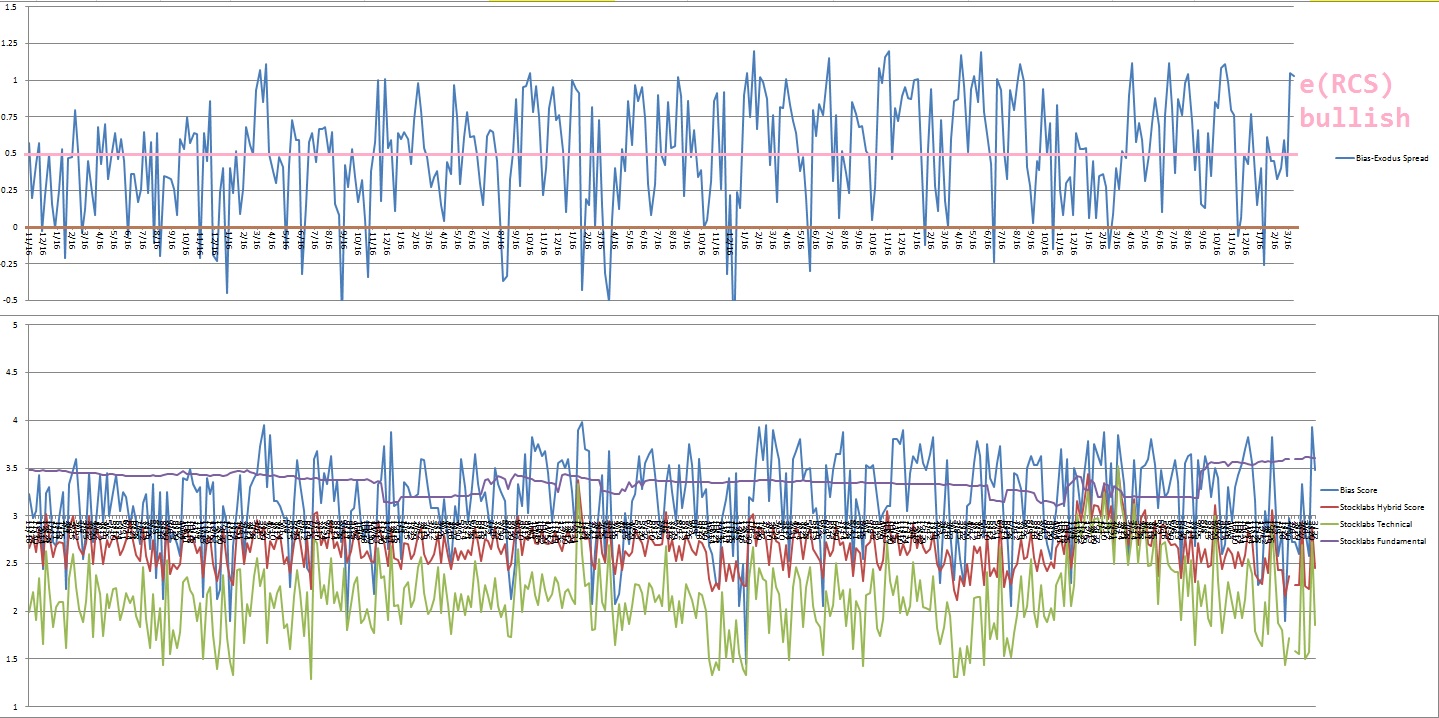 VI. 3-month Hybrid Oversold
On Friday, March 11th Stocklabs went hybrid oversold on the 3-month algo. This is a ten day bullish cycle that runs through Friday, March 25th, end-of-day. Here is the final performance of each major index over the cycle:
VII. 6-month Technical Overbought
On Thursday, March 17th Stocklabs went technical overbought on the 3- and 6-month algo. This is a ten day bullish cycle that runs through Thursday, March 31st. Here is the performance of each major index so far: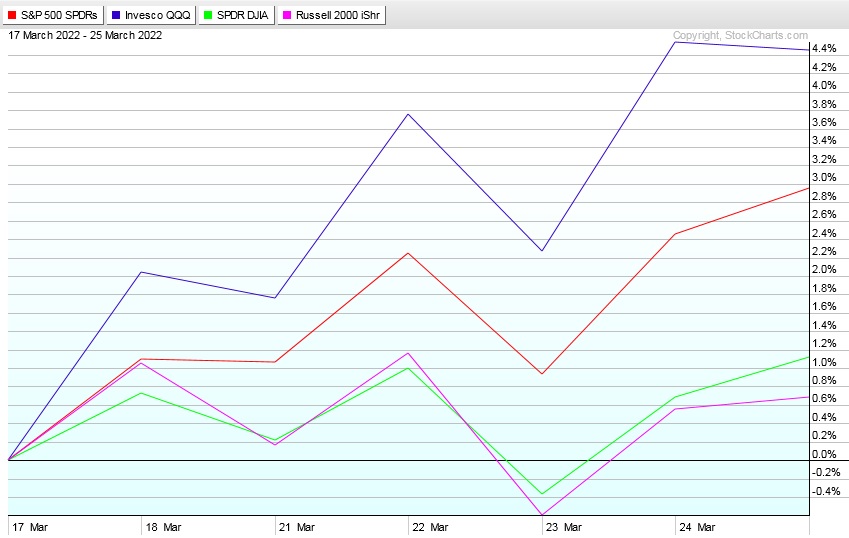 VIII. QUOTE OF THE WEEK:
"One of the symptoms of approaching nervous breakdown is the belief that one's work is terribly important." – Bertrand Russell
If you enjoy the content at iBankCoin, please follow us on Twitter