Honest Job here. Still being put through the ringer. But at least we stuck to our guns last week.
Funny how much less dicey the dip looks once we're off the lows…
I do not have much to say. My enemies are many and they want to see me suffer. That simply cannot be.
This afternoon I will march du Nain Rouge, to pay homage to the devilish little dwarf that hides in the trees of Detroit, warning of disaster and fending off outsiders.
Markets sent the potential all-clear signal for the first time since this route began back in November. You'll see what I mean if you read this week's strategy session.
Let Stocklabs be thine guide, Indexmodel thine compass, and morning trading reports thine map.
I will be back to morning trading reports real soon. Just you wait.
Then just sort of make your way through the worldt. No one's master. No one's slave.
Model calls for a drift along last week's highs. It may be choppy at times, but primary expectation is for us to be flat/higher by end-of-week.
Swing away lads.
I like the idea of taking an earnings gamboll on ADBE (reports Tuesday, after the bell).
Okay for now.
Raul Santos, March 20th, 2022
And now for the 379th edition of Strategy Session.
---
Stocklabs Strategy Session: 03/21/22 – 03/25/22
I. Executive Summary
Raul's bias score 3.93, medium bull*. Volatility melts away as markets hold onto last week's highs in a sort of sideways drift.
*extreme Rose Colored Sunglasses (e[RCS]) triggered, see Section V.
II. RECAP OF THE ACTION
Hard selling through Monday, putting equities on the lows to start the week. Strong rally all through Tuesday erases Monday's losses. Gap up Wednesday, which eventually faded ahead of the Fed. Fed hiked 25bps Wednesday afternoon and third reaction was up. Strong sustained rally through the rest of the week.
The last week performance of each major index is shown below: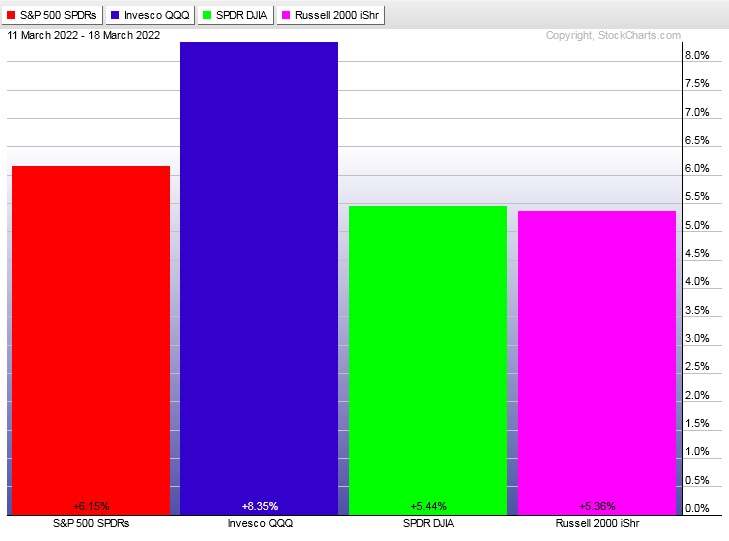 Rotational Report:
Rotations were strongly bullish after three consecutive weeks of clear bearishness. Tech and Discretionary out in front, just exactly what bulls want to see.
bullish
For the week, the performance of each sector can be seen below:
Concentrated Money Flows:
After sixteen weeks of money flows being dominated by sellers, with a few mild bull flows peppered in, last week finally printed a strong buy flow. The action last week could effectively overpower the strong selling flows we've been seeing since late November 2021.
bullish
Here are this week's results:

III. Stocklabs ACADEMY
That Monday Fake-out Was One for the books
Read back to last week's Section III. The conditions were right for a dramatic move early in the week to be a 'fake' move. Not fake as in not actually occurring but unlikely to carry through the entire week.
That hard sell Monday was bleak. It was plunging into the lows across the board. Musk was challenging Putin to single combat. Rate hikes were on the horizon.
Set all of that aside. The calendar was on a quad witching. Stocklabs was hybrid oversold. IndexModel was neutral. These cold, dead facts, things our logic centers can lean on when the world at large seems a mess, were saying, "watch for a fake-out".
That is why we do these boring reports every Sunday, and another report every morning if we're actively day trading. The repetition and routines are all designed to keep us aligned with what we can control, our execution.
We cannot control the markets. Geopolitics, or even message boards (unless we pander to the crowd).
Note: The next two sections are auction theory.
What is The Market Trying To Do?
Week ended searching for sellers
IV. THE WEEK AHEAD
What is The Market Likely To Do from Here?
Weekly forecast:
Volatility melts away as markets hold onto last week's highs in a sort of sideways drift.
Bias Book:
Here are the bias trades and price levels for this week:

Here are last week's bias trade results:

Bias Book Performance [11/17/2014-Present]: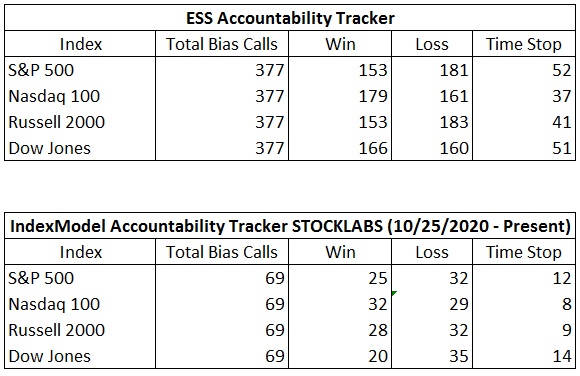 Pressing range highs
Markets fluctuate between two states—balance and discovery. Discovery is an explosive directional move and can last for months. In theory, the longer the compression leading up to a break in balance, the more order flow energy to push the discovery phase.
Market are most often in balance.
Every week this newsletter uses auction theory to monitor three instruments, the Nasdaq Transportation Index, PHLX Semiconductor Index and ethereum. Readers are encouraged to apply these techniques to all markets.
Funny how much more clear a range looks once we move away from the edge. Now Transports has a bit more room of upside but are clearly still in range.
See below: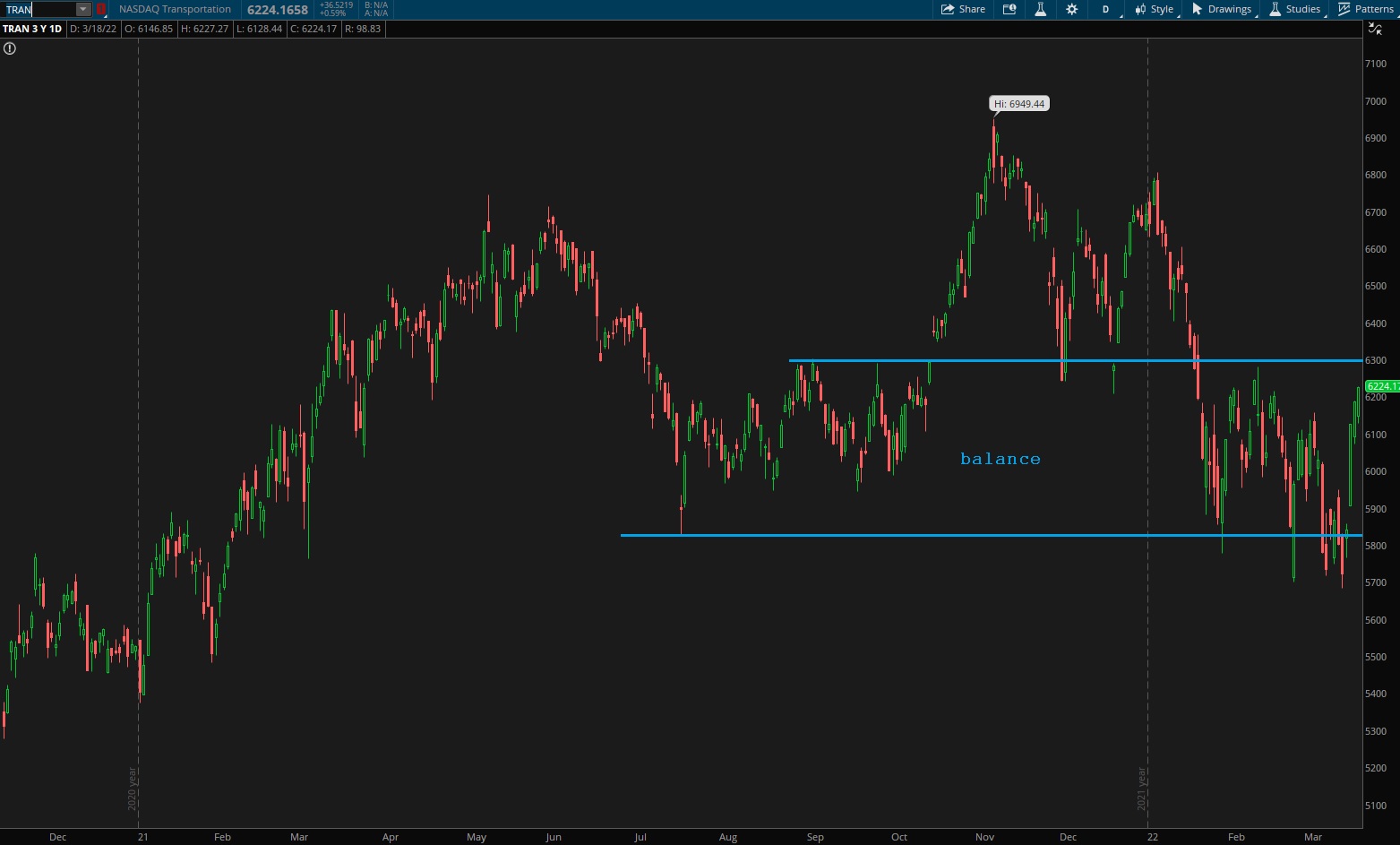 Semiconductors are nearing the pivot zone of their range. It will be interesting to monitor this key index as we head into next week. Range is the call for now, with potential to run higher.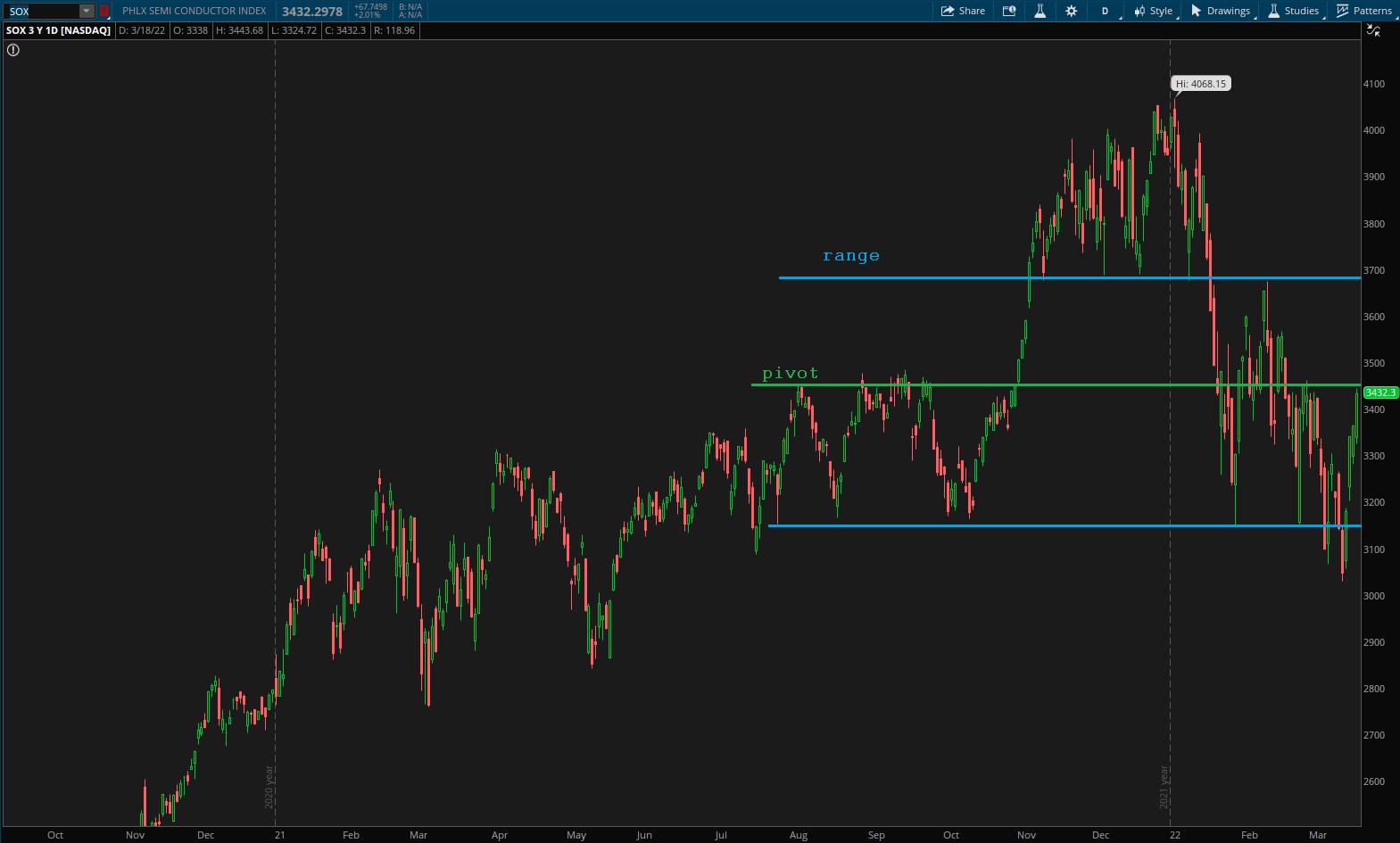 Ether is also in range, but near the top-end. The primary expectation is for range to hold and continue to coil by rotating lower. There is also the less likely potential for a discovery phase higher.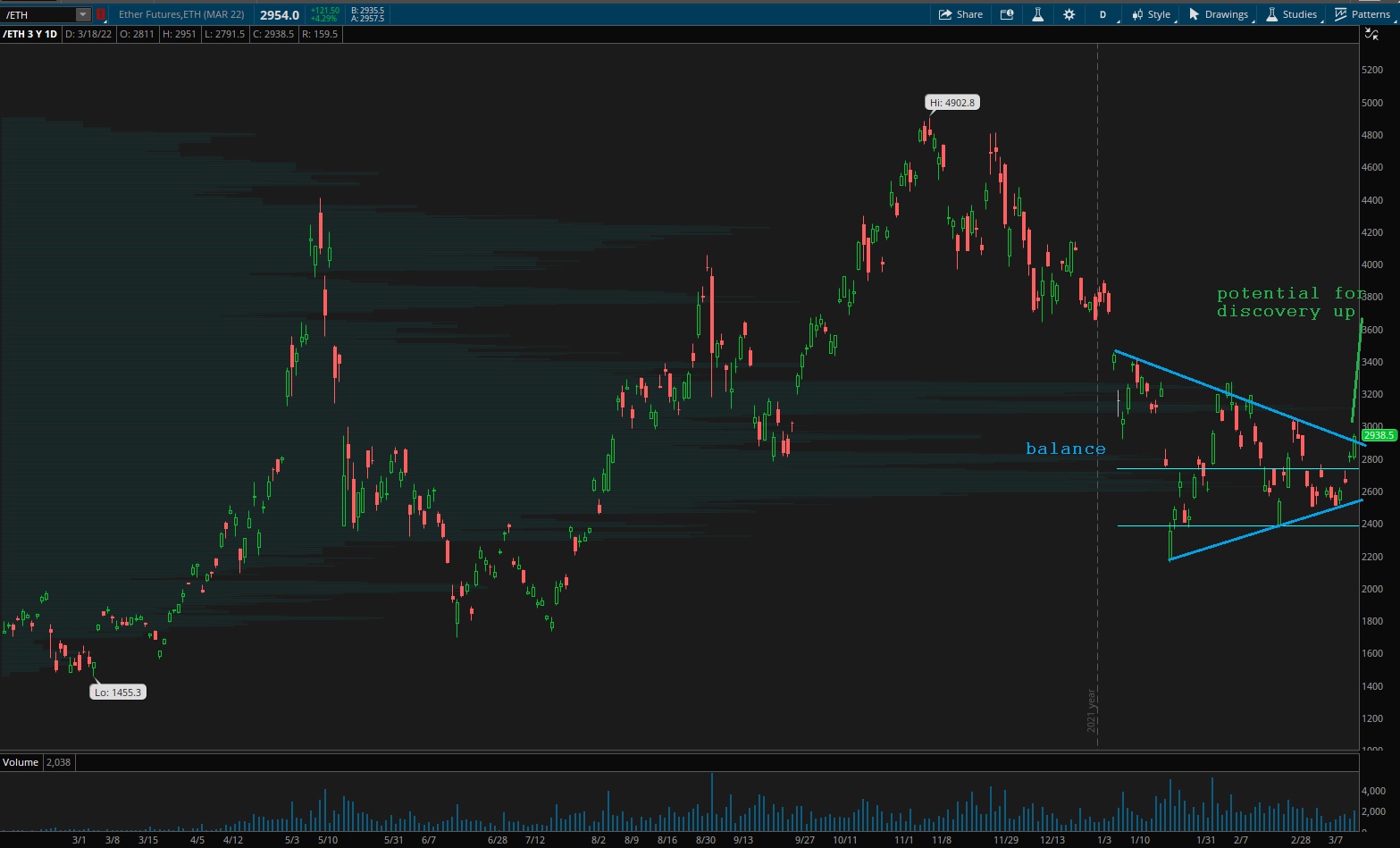 V. INDEX MODEL
Bias model is extreme rose colored sunglasses for the first time in 2022 after being neutral last week and ose Colored Sunglasses bearish two weeks back. The model was neutral for three weeks prior to that bearish signal. We were Bunker Buster eight reports back. This is the second Bunker Buster in recent history, with the previous one being sixteen reports back. The Bunker Buster before these recent two was fifty four weeks ago.
Model calls for a  calm drift, perhaps with a slight upward bias next week.
Here is the current spread: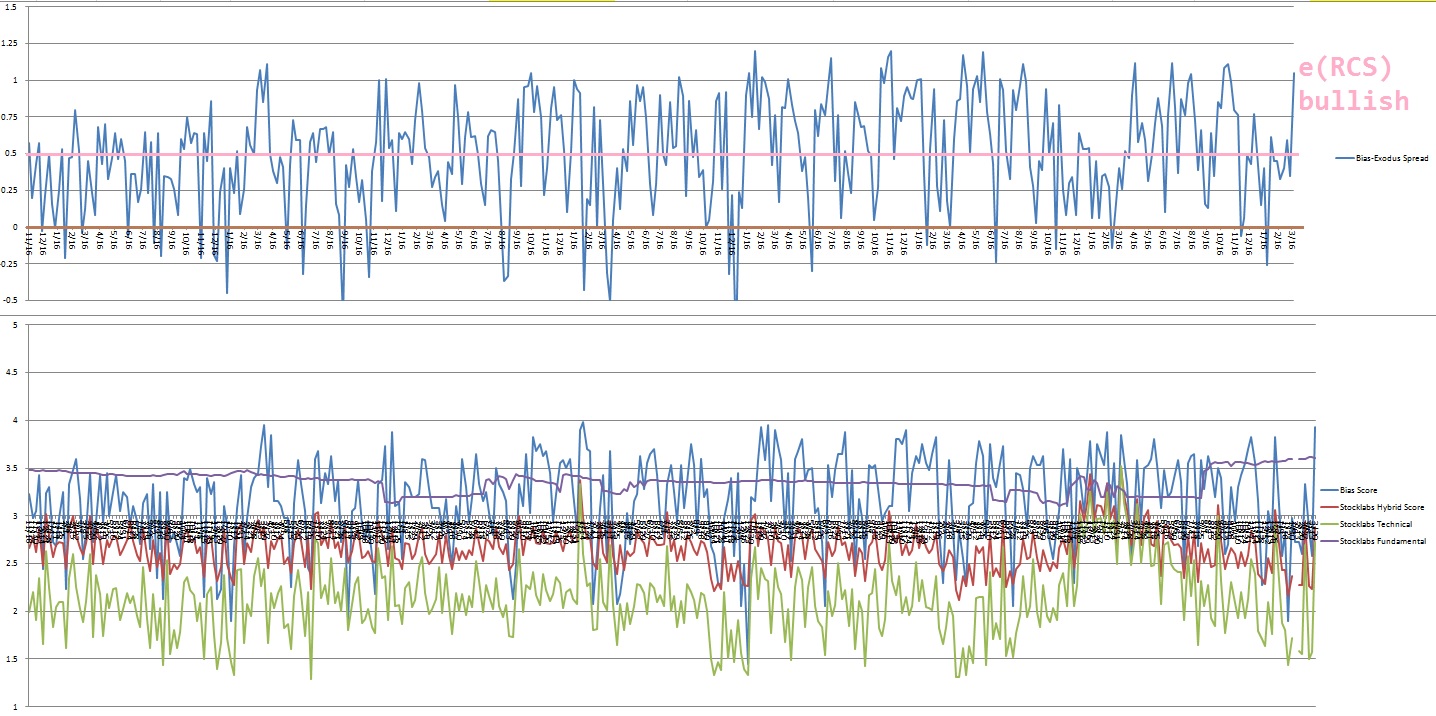 VI. 3-month Hybrid Oversold
On Friday, March 11th Stocklabs went hybrid oversold on the 3-month algo. This is a ten day bullish cycle that runs through Friday, March 25th, end-of-day. Here is the performance of each major index so far: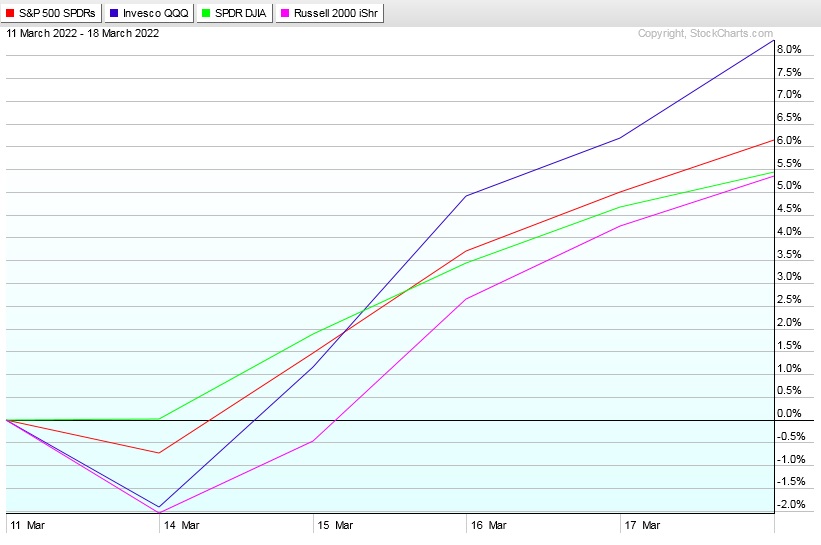 VII. 6-month Technical Overbought
On Thursday, March 17th Stocklabs went technical overbought on the 3- and 6-month algo. This is a ten day bullish cycle that runs through Thursday, March 31st. Here is the performance of each major index so far: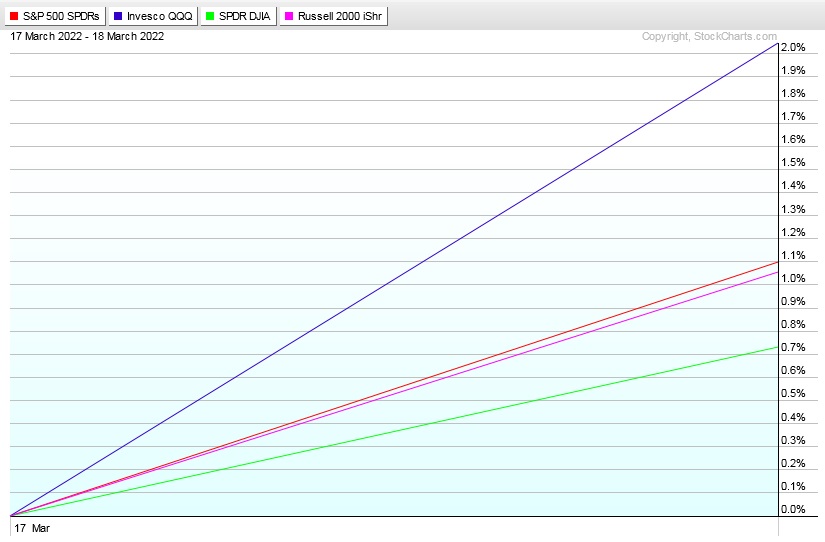 VIII. QUOTE OF THE WEEK:
"The best plan is only good intentions unless it degenerates into work." – Peter Drucker
Trade simple, WORK
If you enjoy the content at iBankCoin, please follow us on Twitter