Sometimes one gets the feeling they're like honest Job. Constantly being put to the test by higher powers who are having an ego contest.
I've made no claim of being a gentle human. I work hardt and that means I tear through machines. I broke a hoe last summer. Broke a hoe the summer before that too.
In the last 12-or-so months I've lost the use of many pieces of equipment I hold dear. Then they cut my data feed on January 1st and I've essentially taken the entire first quarter off from trading.
Maybe it was for a reason. Maybe I'd of blown my accounts to Timbuktu had I been working the opening bell all these winter mornings. We don't know.
But I do know I've nearly rounded the bend on Raul's cabin-in-the-woods floor project and I bought a new mattress. I bought a new mattress and will be done doing bastard flooring soon and when I'm done doing stupid flooring I may never do another floor again. I plan to ease off the hootch a bit. Get back into hot yoga and naps and maybe swim some laps and certainly get back to work trading futures.
I think all this tension will sort of melt away. At least here in America. As festival/carnival season picks up. Folks will forget about the stupid pandemic, they'll grow tired of war reporting, and the stock market could start to mellow out into the conditions where I thrive.
Listen I get it. There are a few, extremely vocal accounts out here who would love nothing more than to see total war and chaos and death on a horrific scale. They seem like they are the majority sometimes, but I can assure you they are not. They just make more noise than the silent majority of humans.
Folks just want to be happy and healthy and make money and have good sex.
That's it.
Soon we'll remember these feelings and *poof* we'll be back to stellar vibes and steady gains.
Okay for now,
Raul Santos, March 13th 2022
And now the 378th edition of strategy session.
---
Stocklabs Strategy Session: 03/14/22 – 03/18/22
I. Executive Summary
Raul's bias score 2.58, medium bear. Buyers show up early on and begin working price higher. Then look for third reaction to the Wednesday afternoon FOMC announcement to dictate direction into the second half of the week.
II. RECAP OF THE ACTION
Hard selling through Monday. Relief rally Tuesday through Wednesday nearly erased Monday's losses. Sellers stepped back in Thursday and pressured the tape lower into the weekend but did not take out the lows set earlier in the week. There was a bit of relative strength from the Russell 2000.
The last week performance of each major index is shown below: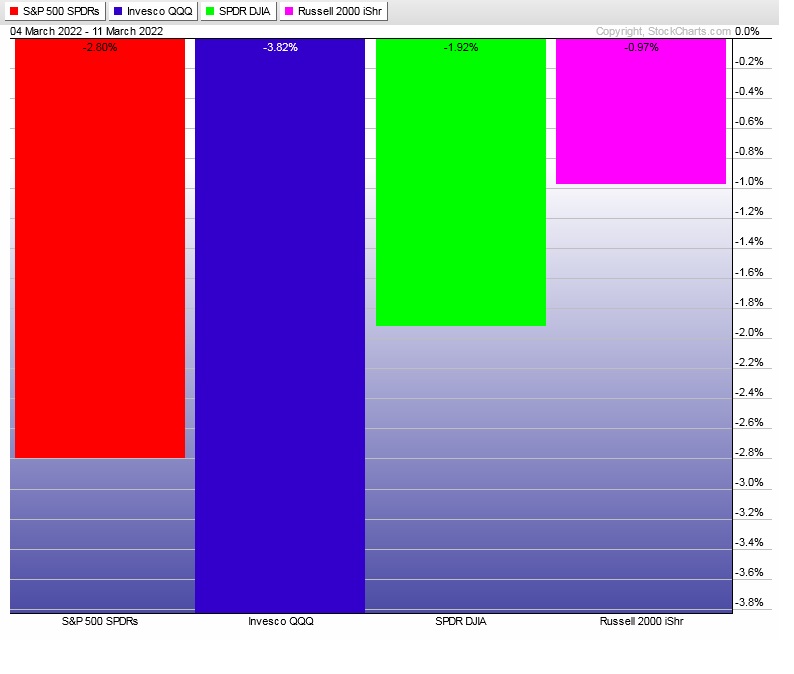 Rotational Report:
Rotations still looking bearish. Having been clearly bearish for three consecutive weeks, one begins to wonder if a strong bullish set of rotations is coming soon.
For now, bearish.
For the week, the performance of each sector can be seen below: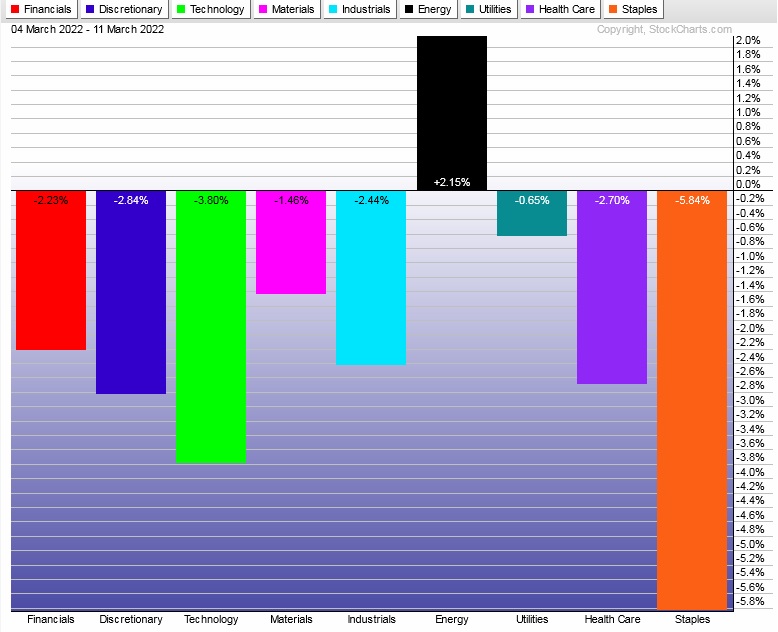 Concentrated Money Flows:
Money flows have been dominated by sellers for the last sixteen weeks.  There have been a few slightly positive skews in recent weeks but nothing strong enough to negate the selling.
Last week's money flows were again dominated by sellers.
bearish
Here are this week's results:

III. Stocklabs ACADEMY
Quad-witching, watch for fake outs
With volatility already high I am heading into the March option expiration skeptical of any big directional moves. There is a tendency for these expiration weeks to make a lot of noise, moving hard one direction only to undo the action later in the week.
We also have the FOMC meeting Wednesday which is a "hot" meeting. We are likely to see a 25 basis point rate hike. However investors will be listening for clues as to the pace of additional rate hikes this years.
Overall it could be a tricky week. There is nothing wrong with stepping aside until more favorable trading conditions arise.
Note: The next two sections are auction theory.
What is The Market Trying To Do?
Week ended searching for buyers
IV. THE WEEK AHEAD
What is The Market Likely To Do from Here?
Weekly forecast:
Buyers show up early on and begin working price higher. Then look for third reaction to the Wednesday afternoon FOMC announcement to dictate direction into the second half of the week.
Bias Book:
Here are the bias trades and price levels for this week:

Here are last week's bias trade results:

N/A (did not update model)
Bias Book Performance [11/17/2014-Present]: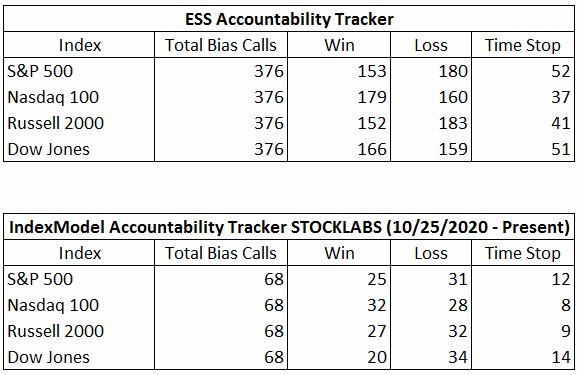 Pressing into range lows
Markets fluctuate between two states—balance and discovery. Discovery is an explosive directional move and can last for months. In theory, the longer the compression leading up to a break in balance, the more order flow energy to push the discovery phase.
Market are most often in balance.
Every week this newsletter uses auction theory to monitor three instruments, the Nasdaq Transportation Index, PHLX Semiconductor Index and ethereum. Readers are encouraged to apply these techniques to all markets.
Transports lost the balance zone slightly above current prices but is still somewhat in balance.
See below: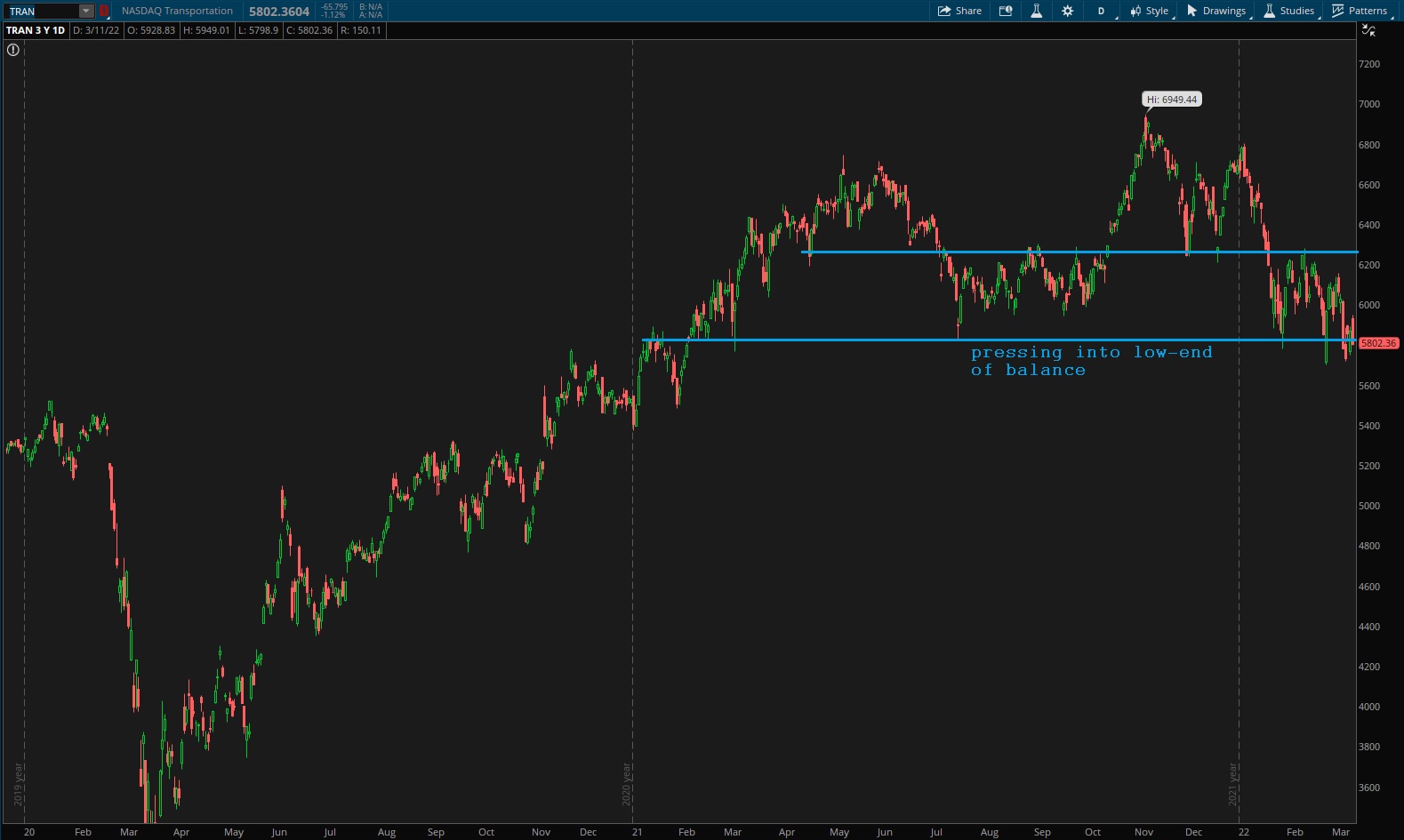 Semiconductors are really pressing into range low, and in doing so they erased a failed auction buyers had going for them. This thing could go into discovery down next week and take the whole market with it. Or, range will hold. We're coming into the week right on the edge of a breakdown.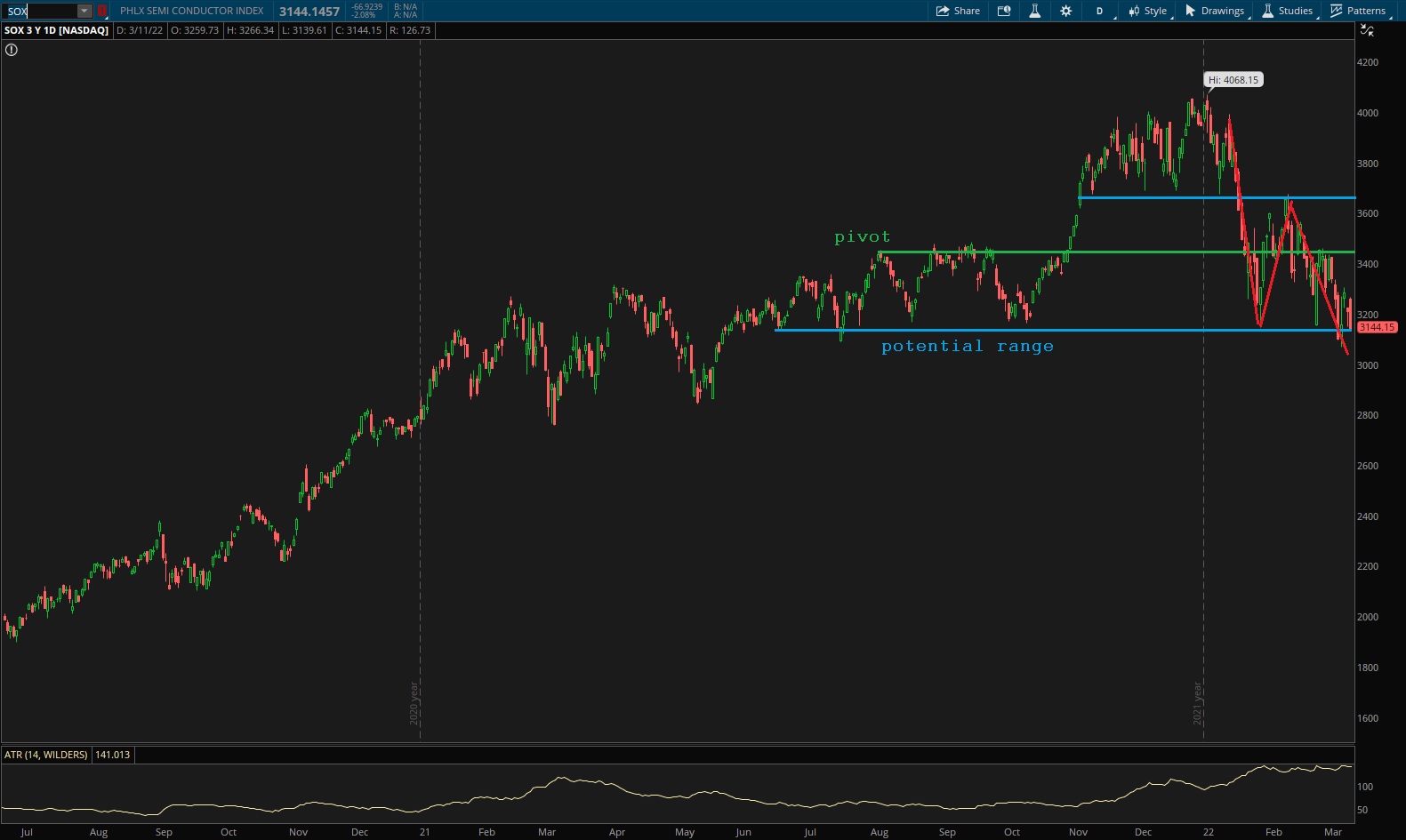 Ether is still compressing into value. This chart could make an explosive move soon. There is certainly lots of energy building.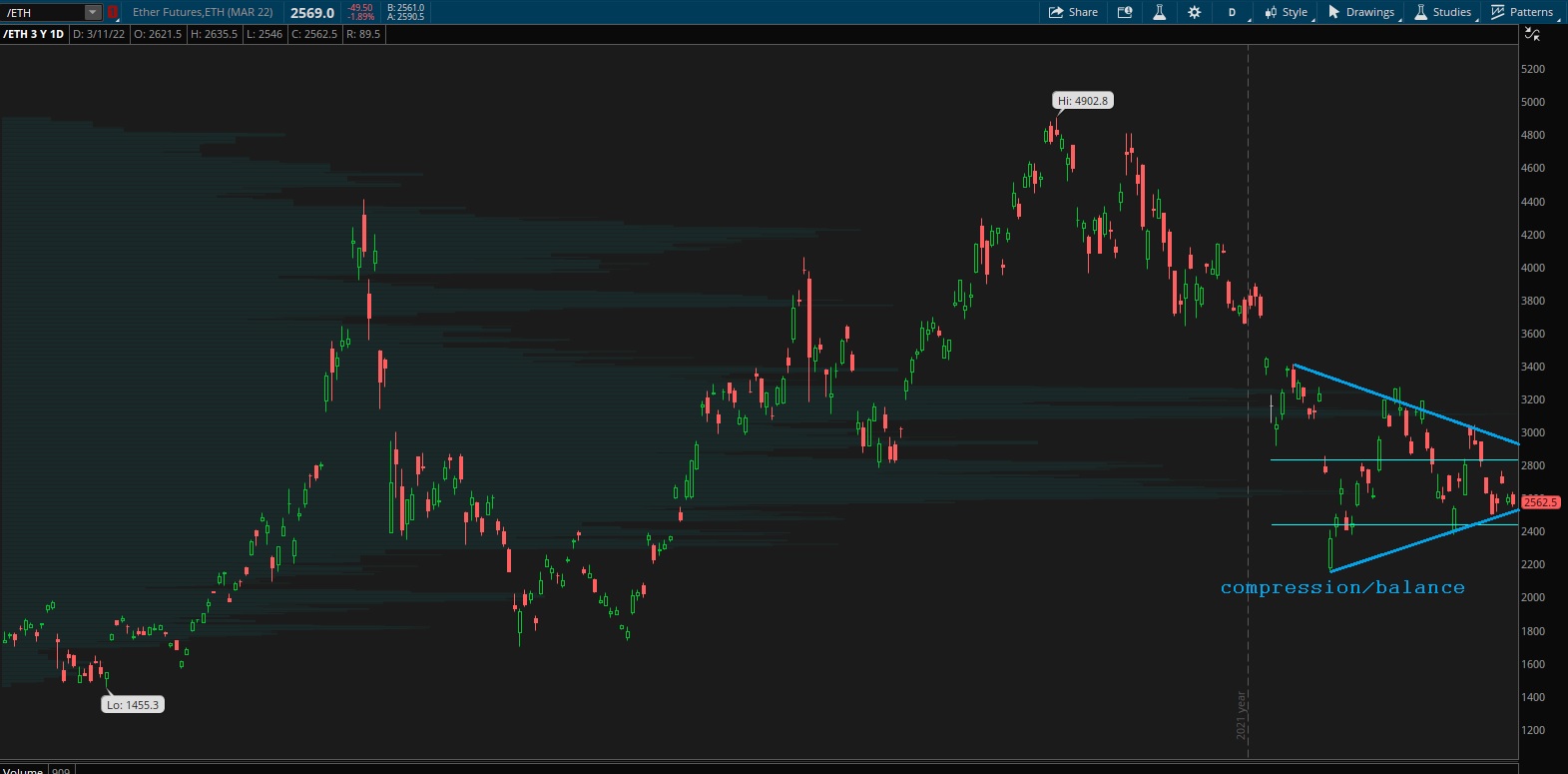 V. INDEX MODEL
Bias model is neutral after being Rose Colored Sunglasses bearish last week. The model was neutral for three weeks prior to that bearish signal. We were Bunker Buster seven reports back. This is the second Bunker Buster in recent history, with the previous one being fifteen reports back. The Bunker Buster before these recent two was fifty three weeks ago.
Model is neutral heading into next week. No bias.
Here is the current spread: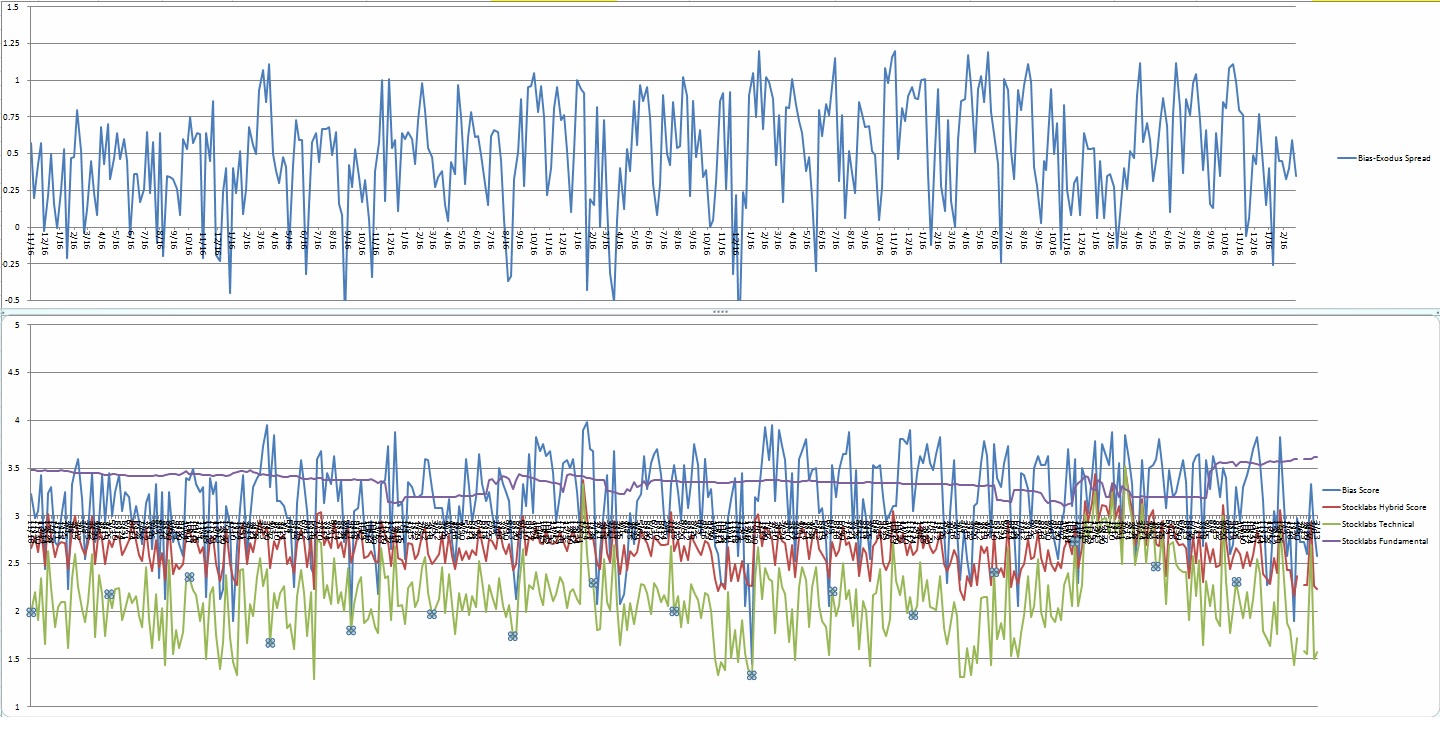 VI. 12 month Hybrid Oversold
On Wednesday, February 23rd Stocklabs went hybrid oversold on the 6- and 12-month algo. This is a ten day bullish cycle that runs through Wednesday, March 9th, end-of-day. Here is the performance of each major index so far: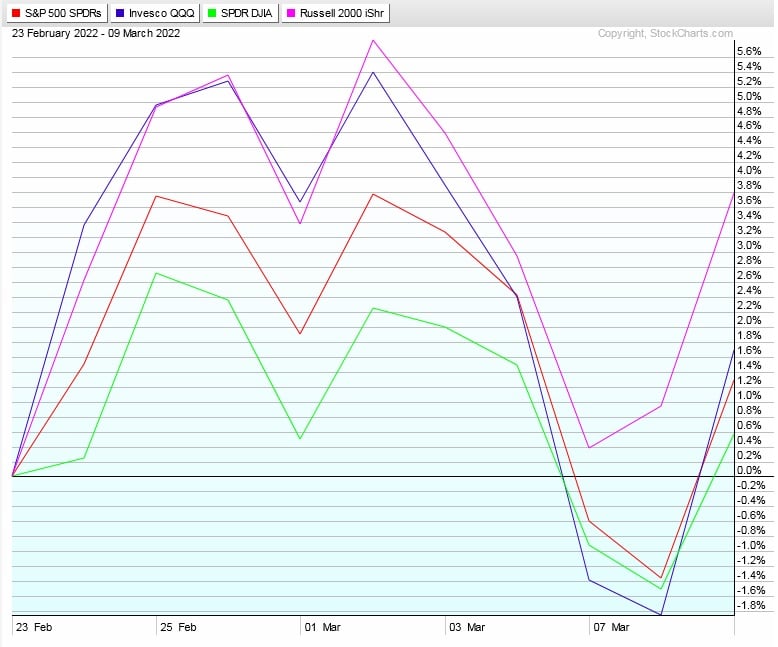 VII. 3-month Hybrid Oversold
On Friday, March 11th Stocklabs went hybrid oversold on the 3-month algo. This is a ten day bullish cycle that runs through Friday, March 25th, end-of-day.
VIII. QUOTE OF THE WEEK:
"If the world were a logical place, men would ride sidesaddle." – Rita Mae Brown
Trade simple, expect chaos
If you enjoy the content at iBankCoin, please follow us on Twitter