Grand morning grand traders, may you fill you wallets with several grand this month.  I want to turn your attention to the 30 minute /ES_F chart, our futures contract representing the S&P 500 index.  You can see price working a rotating off of a bounce last week, but encountering some resistance.  Such is the challenge any marketplace encounters when working through a glut of supply.  Remember all of that egregious buying I did last month?  Supply.
Anyhow, I think the SPX is important this week, especially if we see this weakness which is creeping in right now follow through in the afternoon.  With Goldman Sachs on the cusp of a breakdown and little Miss Yellen on deck, everyone is feeling a bit skittish.  An overall aversion to risk at this junction makes sense, just like taking little jabs at mother Russia from your broadcasting sofa.
The path our SPX is taking looks familiar, and is entering a long only environment I am very fond of.  Should we find buyers around 1770, I will be pedal to the metal long.  And wouldn't it just be swell if I could shed this TZA hedge in the green?  I know you all wish the best for your humble market broadcaster.
Here is where I want to see buyers come in as we enter the hon3y hole: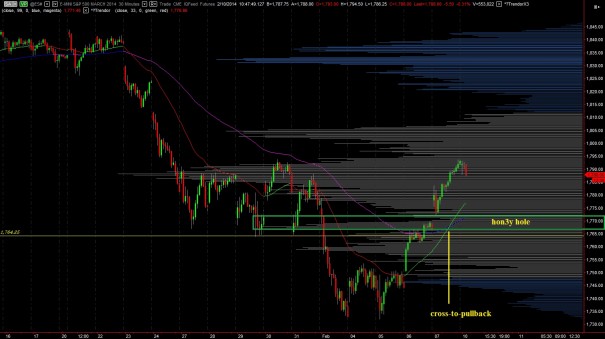 If you enjoy the content at iBankCoin, please follow us on Twitter