I don't deal in geopolitical, fiscal policy or sensational narratives behind stock market moves.  I digest a bunch of raw data every Sunday in form of price and volume—and not just volume at a specific time—where it occurs and what it accomplishes.  Then I dig down into the internals, update my charts on a few key sub-indexes, review the big news from last week and how the market reacted, see which public companies rocketed or tanked on earnings or other news and then finally I add in a layer of sentiment.  Add all that up, and I am bearish heading into next week.  These are a few of the most pertinent details regarding my bearish call heading into the week.
IndexModel, my auction theory model, signaled Rose Colored Sunglasses, the only bearish signal it generates.  Other recent signals were August 11th and June 16th, and going back to 2015 the hit rate on this signal is high.  So when I write a blog title that says "high probability" it is actually backed by a data set that is measured and tracked.  Not just some careless tweet.
The PHLX semiconductor index printed a failed auction last week.  Here is a picture of what I mean: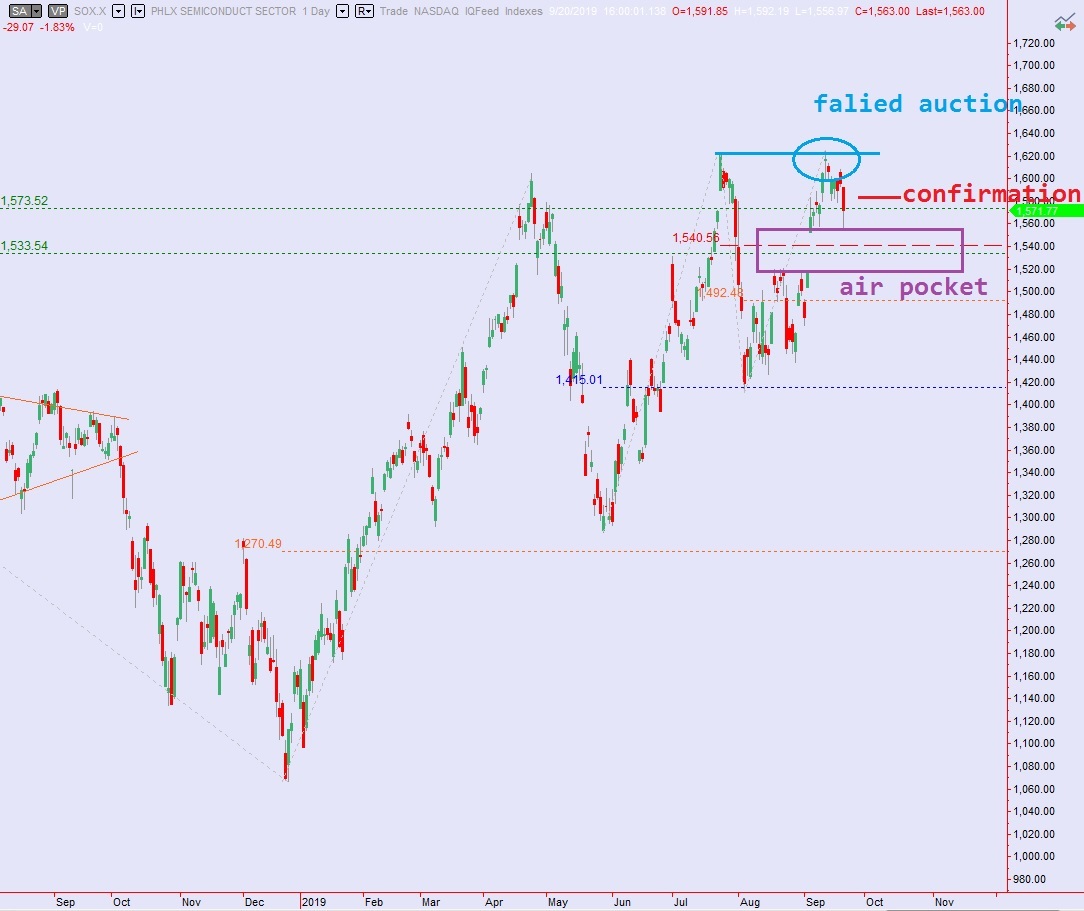 Most of you jokers don't pay attention to my work, but the upside down version of the failed auction above happened on the NASDAQ Transportation index at the beginning of September and was what precluded the rally.  This was my note on September 1st: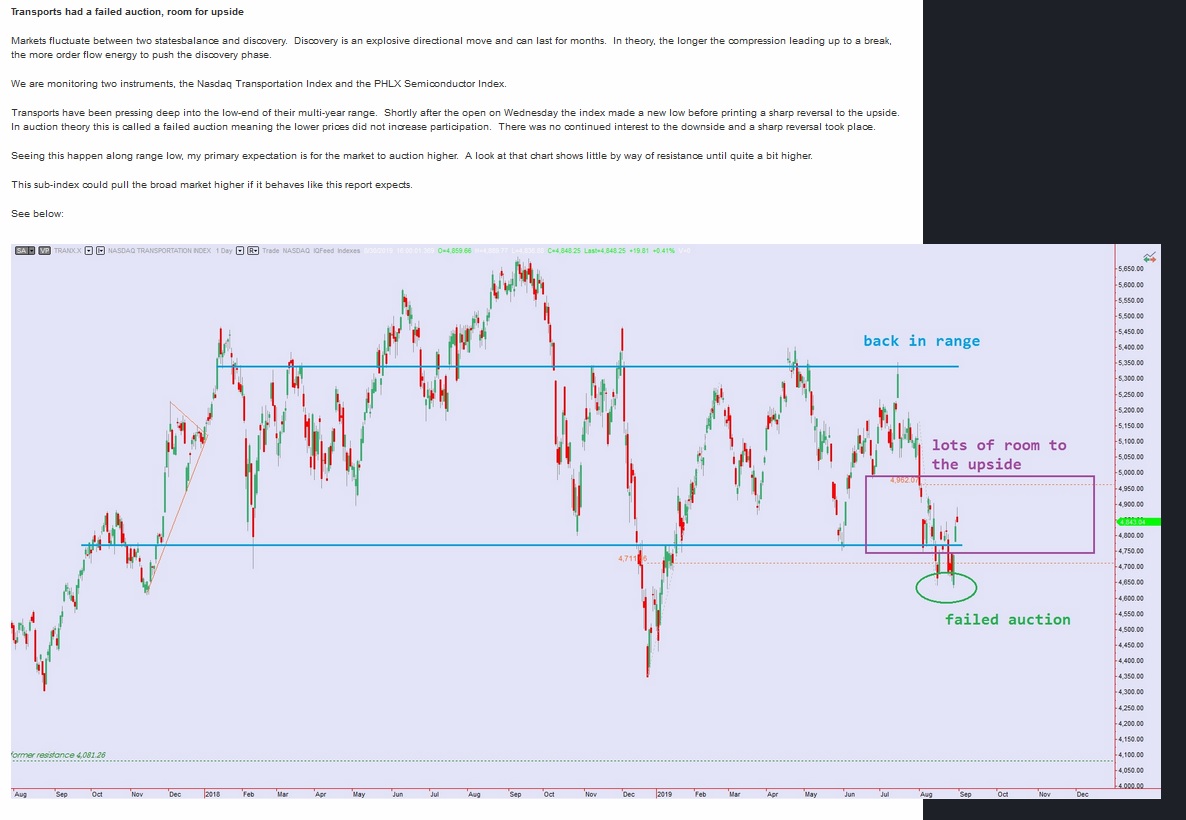 Since this week's failed auction is on the semiconductor index, and since semiconductors are the key driver of the entire stock market rally since 2016, the situation deserves a bit more attention.
Thirdly, the current picture of the NASDAQ transportation index is rather bearish also.  Looks like an island top: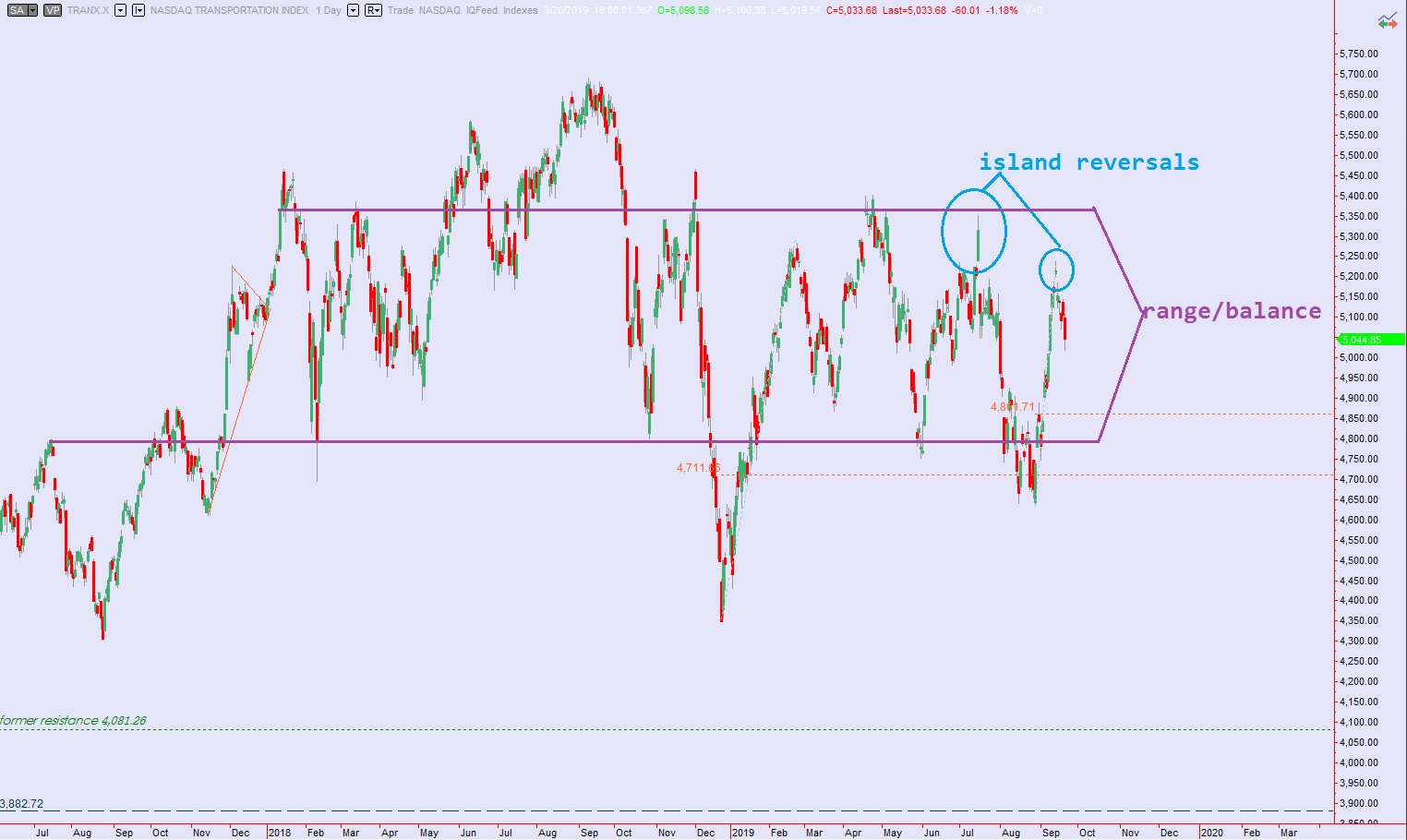 Fourthly, last week saw investors rotate into UTILITIES, the most risk-averse sector in the financial ecosystem.  The only other strength last week was seen in low quality sectors.  Meanwhile consumer discretionary was weak.  BIG RED FLAG: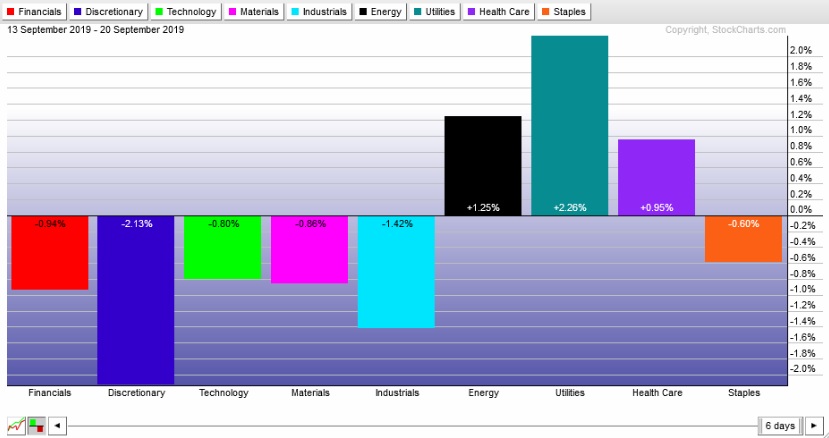 If you drill down into the industry-by-industry performance from last week, the picture becomes more clear.  Key industry groups saw significant outflows last week: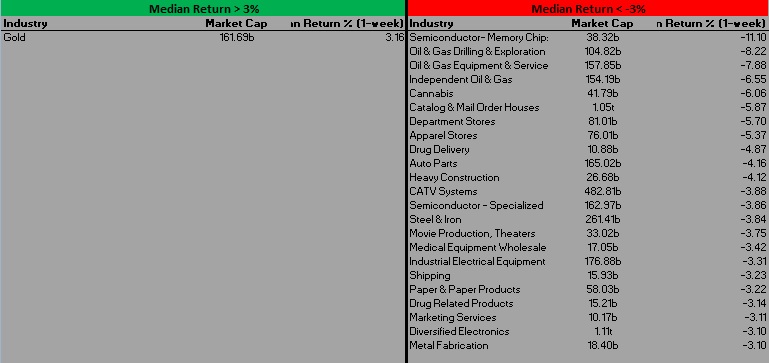 The third move after the Fed rate decision was down.  That had me leaning bearish Wednesday and as you might imagine, I had to tuck and run when then powerful rally blew through late Wednesday.  I was on the road for business the rest of the week, but sure enough, sellers worked us back down to the weekly low.  I am talking NASDAQ prices.  Sellers took control of the tape.
Finally, I listen to other traders, the real OGs and otherwise, through a variety of methods—-Twitter, newsletters, internet videos, and so on.  Coming into the week I picked up on a tone of arrogance, borderline hubris.  My mentor always like to say though, which drives me nuts, "if you see it, you be it." I know what it looks like because it is inside of me too.  And usually the market whips me back into obedience.
So there you have it, my bearish thesis over the next five days.  It's an uncomfortable call with markets near record highs and the Fed LOWERING interest rates, which disgusts me.  Maybe some news bit or Presidential tweet will come to my bearish aide, or not, or the opposite.  I have no idea and anyone who claims to is a liar.
My plan is to establish a position short via SQQQ at some point early next week and ride the position through late Friday. I will also only be working the short-side of the NASDAQ 100 tape, intraday, fading overnight gap ups, "going with" downward crosses of the daily mid point if I have an open overnight or range extension stat, and selling into any rallies into the key price levels highlighted during the morning trading reports.
Nothing fancy.  It's all quite simple actually, and wholly independent of any world happenings.  Do you know how satisfying it is?  To love thy discipline and let it support me?  Making my way through the world, no one's master and no one's slave?
Really nice.
Raul Santos, September 22nd, 2019
Exodus members, I basically outlined this Sunday's Strategy Session above, but there are more details in the report, which is live now.  Go check it out!
If you enjoy the content at iBankCoin, please follow us on Twitter