The overnight action in the S&P saw a wave a selling rip though overnight pressing prices over 15 handles off the high.  Since then price has rotated higher a bit and we are currently trading about 8 handles below yesterday's close.
Early on price is negotiating an interesting level right here from 1681 – 1683 which was a huge volume cave during yesterday's trade.  I am interested to see who dictates price away from the range and the directional conviction they carry with their trade.  It could certainly be the hand tip during the morning session.
With a gap of less than 10 handles, it is prudent to keep the gap trade in your contextual mind during today's session.  The sellers hold the momentum edge currently and it would not surprise me to see another push lower from them early on.  But it is important to consider the possibility of trapping shorts on that move and the implications it has on a potential gap fill.
I have highlighted a price levels of interest and a few scenarios on the following market profile charts: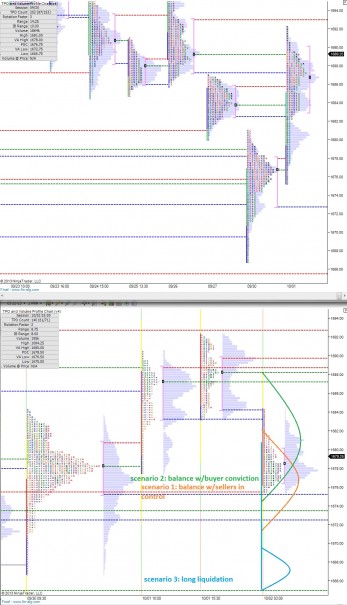 If you enjoy the content at iBankCoin, please follow us on Twitter