Hello and good morning.  The globex session spanning from Sunday evening and into the early hour of Monday has been a quiet one, stable, and without much by the way of new developments.  The S&P printed a nice bell curve distribution overnight within the upper 1/3 of Friday's range.
Both Friday and Wednesday left the very visible footprints of reactive buyers.  These show up as long buying tails.  We often speak about the big money being away during the summer, which is debatable, but last week certainly saw signs of heavy money flow.  Whether it was due to the new month or the pros coming back to work, I'm not certain.
What I do know is if we see the market trade back below these buying tails this week, that is going to put all of that aggressive reactive buying under water.  If price sustains above the buying tails, we may see a bit of confidence returning to the market.  The buying tails are key piece of information to measure sentiment against early this week.
I've highlighted several areas of opportunity on the following market profile chart.  I'm particularly interested in the confluence of support nearby from 1652.50 – 1653.  If the market cannot sustain trade above these levels today, the reactive buying on Friday comes into question as we enter the thin volume portion of the profile.  My expectation is for buyers to hold near these levels.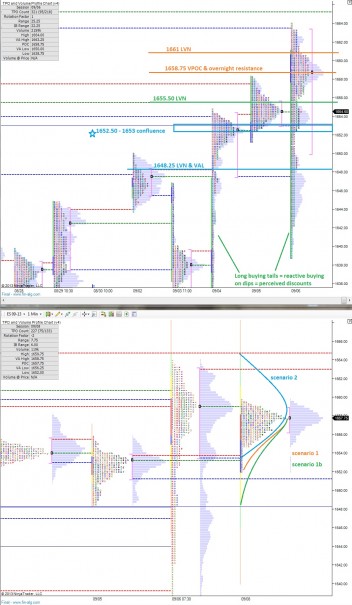 If you enjoy the content at iBankCoin, please follow us on Twitter