Dow futures are now off by more than 350 points and Chinese stocks are getting hammered to the tune of 1.1%. Over in commodity land, oil is plunging — lower by 2.3%. Rest assured, today was a day that will live in infamy — the day the party ended and Apple confirmed our gravest fears.
What is that, you ponder?
How about ZERO growth at Apple?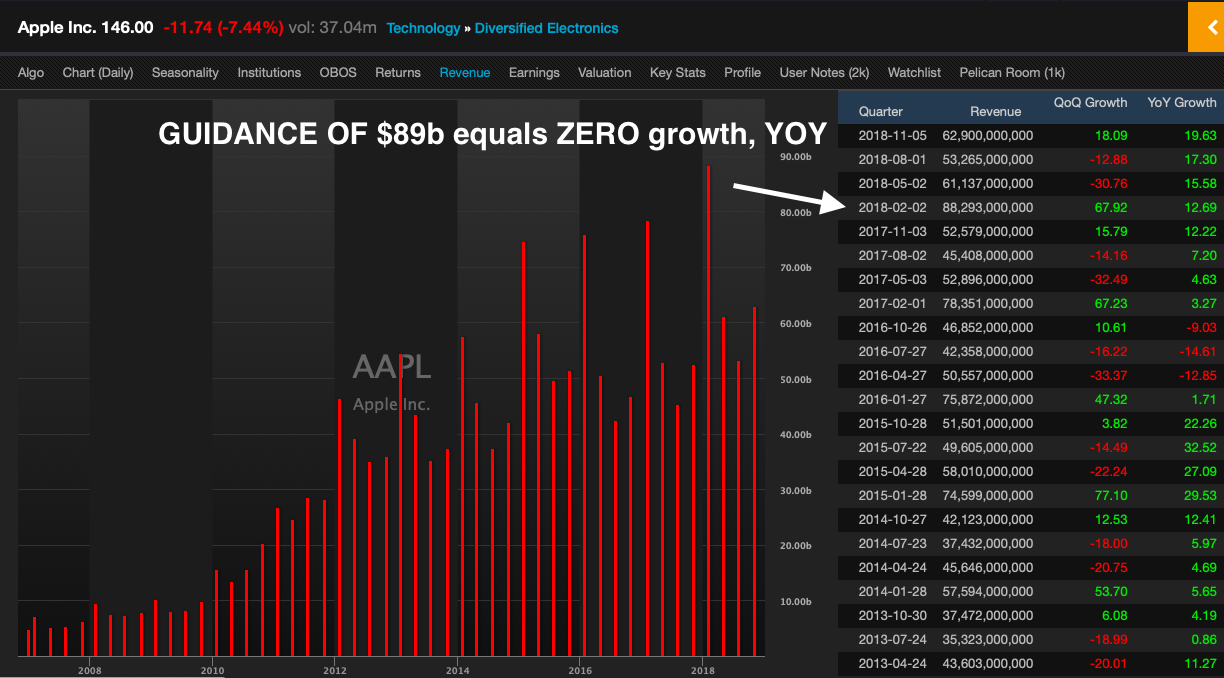 Stocks like NVDA, trading at 9.9x sales versus their historical median of 3 will warn too and get decapitated by 75%.
So what are we to do?
Frankly, run.
You cannot win, so you will need to liquidate early and hope some assholes with small brains buy the early morning dip, for once that occurs the real drop will happen.
Analyzing today's moves, I stand to shed a good deal of money tomorrow. I'll need to sell TNA, BRZU, SLCA, HUBS, CLF, CC, OSTK, and RNG — most likely for a collective loss of 5%. That represents 40% of my trading account. I have another 40% in TLT, DRV, NUGT, AG, and EGO — which I'm hoping will offset some of the losses in the aforementioned stocks. I see gold is up 0.3% in the overnight session and the 10yr is lower by 3bps to 2.63% — which mean TLT will be nicely higher.
With the Yen spiking higher and markets collapsing, I might make an additional 8% in DRV — which is a 10% position.
My pivot will be most important. Will I short into the hole and get raped on a reversal? Or will my shorts catch a wave lower, one that cracks and breaks, and ruins 2019 from the beginning?
Stay tuned for tomorrow's episode in Fly fucking with his trading account in the bear market of 2019.
Comments »