The knee-jerk reaction here is to buy. But what are you buying? You're getting long into the teeth of a virus that has forced commerce to halt around the world. Moreover, this decline is crude is tangible and means your oil company is now losing money. I get why you trade for a trade, but I do think this decline has been too orderly and would expect a RETEST of the days lows.
As such, I sold out of my plays that I put on Friday, all but one, and now have a 70% cash position.
COCP +47%
BCRX +5.2%
(TRIB -20%)
(MRNA -6.8%)
(AAL -3.4%)
(NCLH -23%)
(WYNN -11%)
(SIX -7%)
(IMAX -6.66%)
(URBN -11%)
Each position was equal weighted. I am bearish on bonds here and feel that if anything happens to the upside it will include the complete evisceration of bonds. This is not an easy market to be long and I feel for anyone who is losing money today. But don't be fucking retards and believe in MAGA STEEL and the idea that the Coronavirus is less than the flu.
So last year 37,000 Americans died from the common Flu. It averages between 27,000 and 70,000 per year. Nothing is shut down, life & the economy go on. At this moment there are 546 confirmed cases of CoronaVirus, with 22 deaths. Think about that!

— Donald J. Trump (@realDonaldTrump) March 9, 2020
Saudi Arabia and Russia are arguing over the price and flow of oil. That, and the Fake News, is the reason for the market drop!

— Donald J. Trump (@realDonaldTrump) March 9, 2020
Looks like HYG is at 2018 lows and leveraged loan ETF SRLN new lows.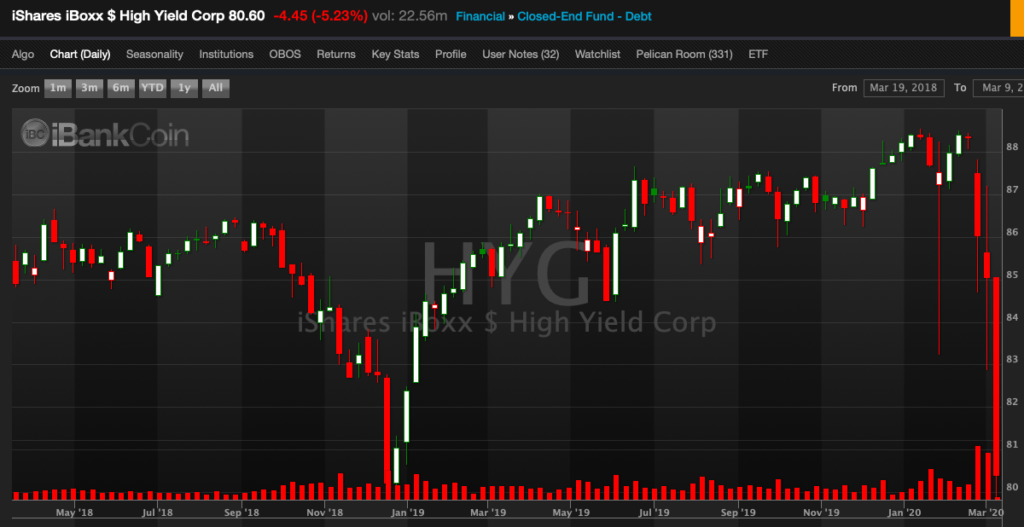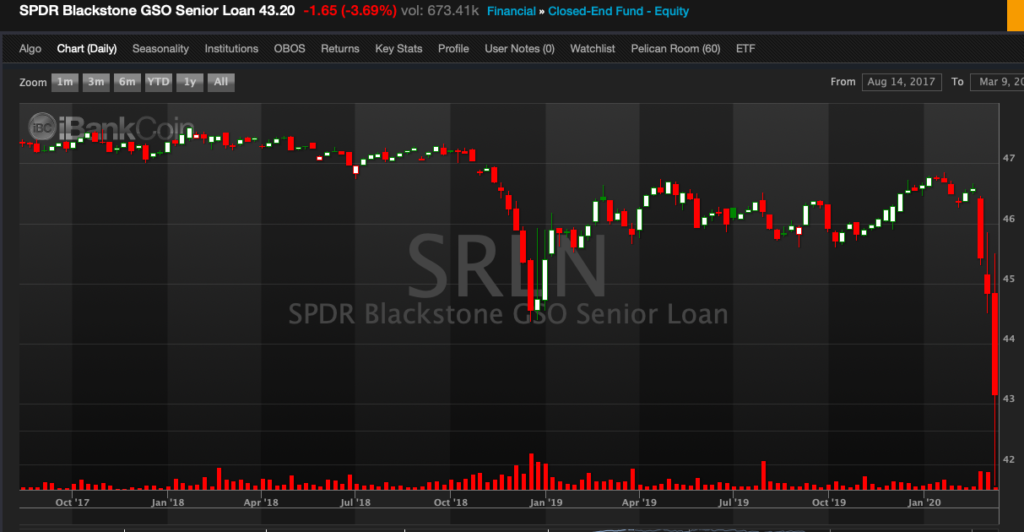 There is a much larger picture to consider here — the ramifications of $30 WTI and how it affects the 10 million crude jobs in America — 8% of GDP, and the states that are completely dependent upon them.
Comments »