Whatever happened to the Trump reflation trade that was accompanied by a raging dollar? It seems that has been completely revoked and exchanged for more of an Obamaesque tech rally — predicated on status quo and deep state shenanigans.
I know The Donald likes to take credit for the market rally — but it's not going up because of him. The market is going up in spite of him — ignoring all of his policies and potential detriments and pretending he doesn't exist.
Prove me wrong.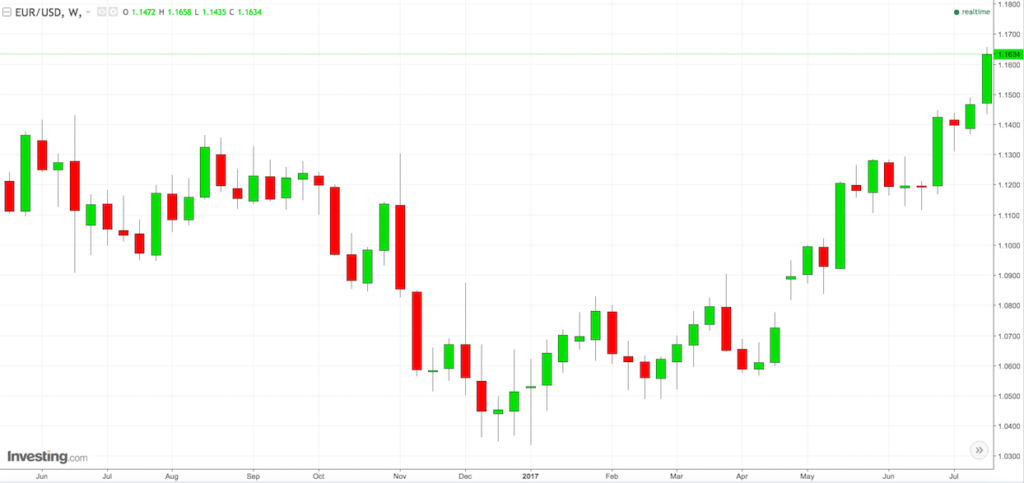 The Euro is raging higher vs the dollar, +1.06% today
In related news, Robert Mueller is reportedly expanding his investigation into Trump — looking at his business dealings. Why is this significant? Just yesterday Trump said that if Mueller expanded the investigation into his business, it would be unfair and inappropriate. Remember, Trump even threw his AG under the bus yesterday, saying he would not hire Sessions again — because of his recusal from the Russian probe.
The U.S. special counsel investigating possible ties between the Donald Trump campaign and Russia in last year's election is examining a broad range of transactions involving Trump's businesses as well as those of his associates, according to a person familiar with the probe.

FBI investigators and others are looking at Russian purchases of apartments in Trump buildings, Trump's involvement in a controversial SoHo development with Russian associates, the 2013 Miss Universe pageant in Moscow and Trump's sale of a Florida mansion to a Russian oligarch in 2008, the person said.

Agents are also interested in dealings with the Bank of Cyprus, where Wilbur Ross served as vice chairman before he became commerce secretary, as well as the efforts of Jared Kushner, the President's son-in-law and White House aide, to secure financing for some of his family's real estate properties. The information was provided by someone familiar with the developing inquiry but not authorized to speak publicly.

The roots of Mueller's follow-the-money investigation lie in a wide-ranging money laundering probe launched by then-Manhattan U.S. Attorney Preet Bharara last year, according to the person.
The Hill asked AG Sessions would he thought of the President's comments and this is what he had to say.
"I have the honor of serving as attorney general. It's something that goes beyond any thought I would have ever had for myself," Sessions said during a press conference Thursday.

"We love this job, we love this department and I plan to continue to do so as long as that is appropriate," Sessions said. Quoted by The Hill, he added that those who work in the DOJ "will continue every single day to work hard to serve the national interests and we wholeheartedly join in the priorities that President Trump."
Maybe Trump is just a huge Nixon fan, a Nixonphile, and he simply wanted to reenact the timeline — but this time making Nixon, err him, win.
Comments »