Traders were busy overnight pushing the Nasdaq around. Price managed to print an abnormal 47.75 point range downward and starting around 6am traders have nearly gone round trip on the range, taking us back to positive as we head into cash open.
Economically, we have Existing Home sales at 10am and Crude/Distillate inventories at 10:30am. KO,BA, and MCD are some of the big players who reported earnings premarket, and after the close we'll hear from FB, T, QCOM, and EBAY.
Yesterday we opened gap up and printed a normal day with no range extension. We're currently priced to open on the top-end of its range.
Heading into today, my primary expectation is for sellers to work into the overnight inventory and push dwon to 4427. From here I will look for buyers to step in and start working toward the overnight high 4446.25 to ultimately target the HVN at 4450.75.
Hypo 2 is buyers drive off the open, take out 4446.25 (ONH) early and test through 4453.25. If they can sustain trade above this level then look for a run to new high on the Nasdaq.
Hypo 3 is sellers responds at 4450 and reverse us down through 4426 setting up another tour of the choppy range into the end of the week.
Hypo 4 sellers push into overnight inventory off the open and sustain trade below 4426 to target the overnight low 4398.50.
Levels: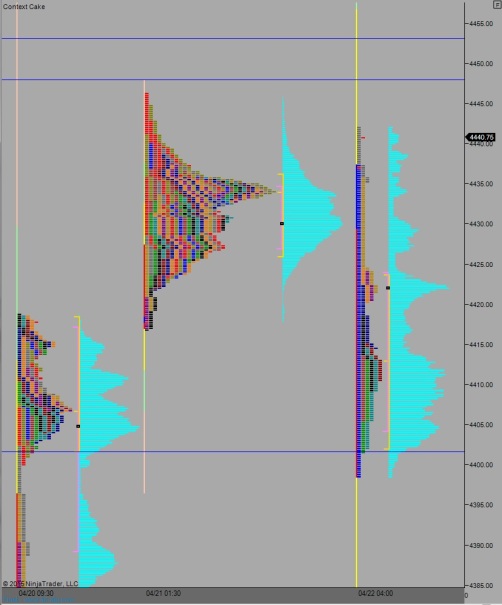 Comments »