Equity futures continue to print wide ranges overnight on slightly above average volume.  Prices are higher in NASDAQ futures.  The overnight print suggests a slight imbalance exists to the upside, with our overnight volume profile looking like a half-completed bell curve distribution.
My first morning scenario would be an obvious bit of selling pressure since the overnight inventory is long.  Sellers may target an overnight gap fill down to 3473.75.   Price may continue lower, but my vision on the day is for yesterday's session low to hold.
A second scenario would be for buyers to enter the market and gap-and-go drive prices higher.  For this to occur, we would need to see the opening print make perhaps one or two ticks lower and then blast higher, suggesting the long-term timeframe is entering the market.
A quick rundown of market control is presented below:
Long term timeframe – buyers
Intermediate term timeframe – sellers, we continue to make lower highs and lower lows since 1/22
Yesterday day timeframe – neutral, the NASDAQ printed a neutral profile, with rage extension on both sides of the initial balance.  This suggests indecision and balancing.  These prints tend to occur at or near inflection points.
Overnight timeframe – buyers, buyers have made four upward rotations in price and printed half a Gaussian distribution.
We prepared for the neutral print inside of 12631 yesterday just before the Fed meeting.  At the time, I noted 3440.50 as my max pain price level, a level that if breached would cause my capitulation.  I still find the price level incredibly important.  However, the neutral print held true and presented an excellent entry on the day.
Below is an updated picture of the "correction road map" chart, a 30 minute RTH chart of the NASDAQ, and also a picture of the overnight profile showing a slight imbalance with an upward skew: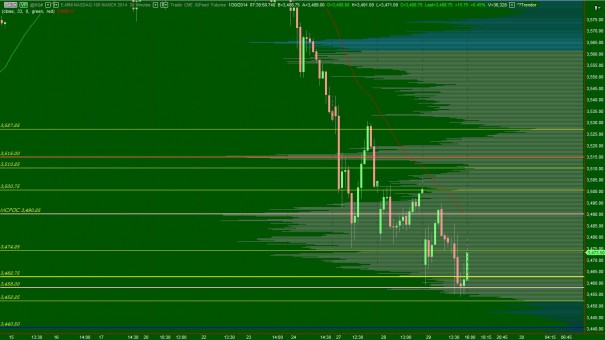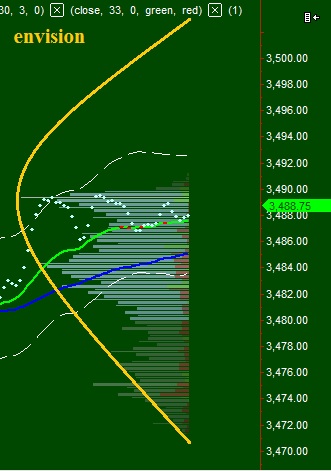 Comments »