I used to write real doomy and brimstoney blog entries when IndexModel would signal bearish but I cannot afford to gussy up my thoughts.  Not now.  Not with option expiration on the bend.  Not with Berkshire, Walmart, Alibaba and Nvidia slated to report earnings.
Instead let's just look at the facts.
IndexModel ranks five components of auction behavior across the four major indices—Dow, S&P, Russell 2000 and NASDAQ.  These rankings create one number which is then compared the the overall hybrid score inside Exodus.  This creates a value that oscillates through time, much like a CCI or RSI, look: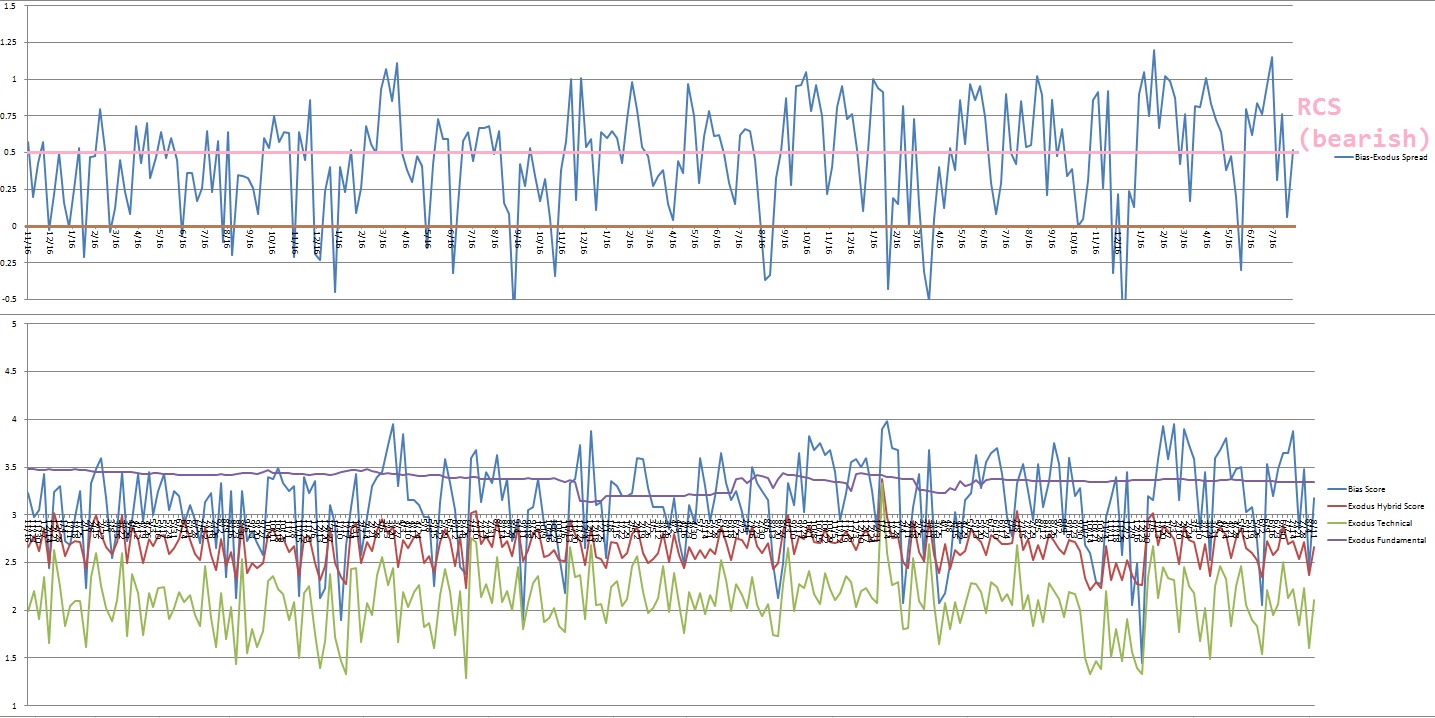 The bearish signal is called 'Rose Colored Sunglasses' because price action usually seems pretty calm on the surface, as if the main indices are tinting the lenses we use to see the market.  As where Exodus is looking at every single stock and factoring in lots of other macro data. And perhaps seeing more under the surface of strong indices.
But heading into next week the indices do not look rock solid and strong.  They are kind of whippy.  The last two weeks have been choppy.  Then there is the NASDAQ transportation index, which sort of looks like, at least when I draw the bottom line this way, sort of looks like price might be breaking down from a very well-established range: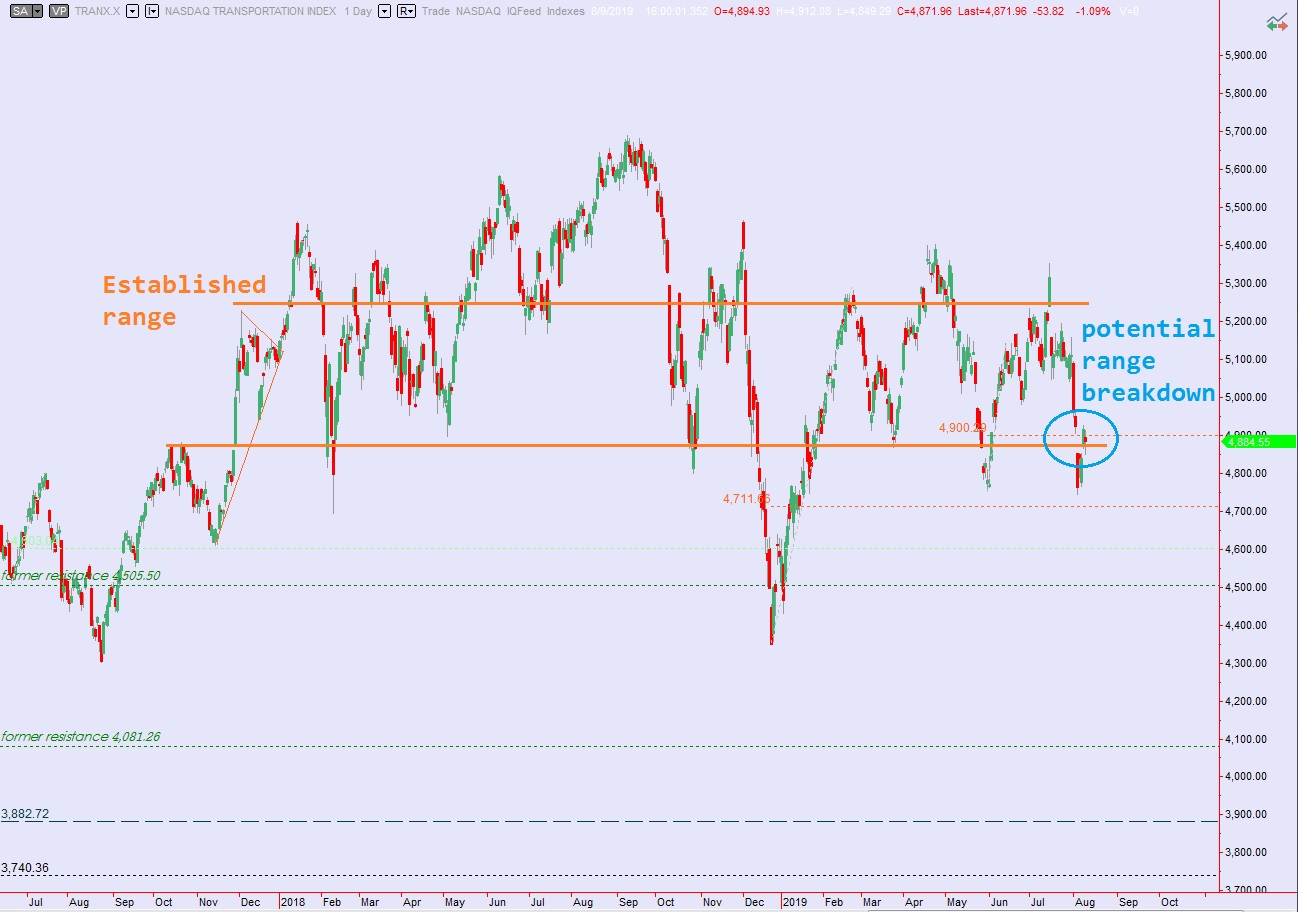 Last week we saw a late-week recovery, but when you look at the sector rotations, Utilities led—hardly a vote of confidence: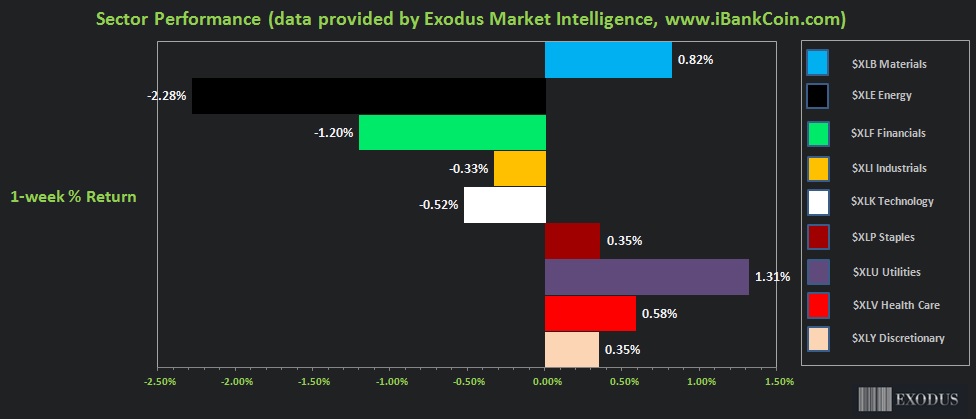 Those are my bearish notes.  There are bullish cross-currents.
We are in the middle of a bullish 'hybrid oversold' cycle inside Exodus.  It lasts until the Monday after next.  There are other interesting data inside Exodus that remain bullish.
So what does it all mean? I have to form a bias to trade.  That does not mean you need to do so, but that's how I trade my best.  Come Monday morning, I will distance myself from the trading buttons.  Once the morning action has abated, I will sit down and assess.  My theory is that we see some strength early Monday.  I want to see that, then I want to see sellers step in.  If they do I will join them by selling short the NASDAQ 100 both with a five day position in SQQQ and via short scalps in the /nq_f.  Given the recent volatility, I may try out the new micro contracts, the MNQ.
That's about all I have to say.  I will spare you a spirited prose of destructive predictions.
If, for whatever reason, I can convince myself to instead go sit on some remote beach in northern Michigan instead of engaging this tape, that would be okay too.
As always, TBD.
RAUL SANTOS, August 11th, 2019
Exodus members, the 247th edition of Strategy Session is live.  I elaborate on all these observations in a bit more detail, be sure to check it out!
If you enjoy the content at iBankCoin, please follow us on Twitter