I was just-on-time sitting down at my trading terminal, only I forgot I had to reboot and load September contract onto my charts.
Then sellers didn't show up and drive lower off the open, so I knew I had time to do a morning lap around town, handling a variety of municipal matters before traffic ticked up.  It also offered me a solid distraction instead of engaging the short side of the tape Monday morning after two weeks of bullish action.
However, as anyone who read last Sunday's strategy session knows, IndexModel signaled Rose Colored Sunglasses, which is a bearish bias.  Per the rules of my trading plan, I am only allowed to trade the short side of $nq_f and at some point, ideally before the FOMC press conference, initiate a position in SQQQ, effectively making a leveraged bet against the stock market.
I was feeling a bit anxious to sit down and tease apart the market profiles going back to late-April, which was the last time we were up hear near all-time highs.  "All-time highs," that's also a phrase [fact] that is not so bearish.
But the system is the system is the system and by golly if it signals Rose Colored Sunglasses, then I need to find good places to start working the short side of this tape.  Splitting the profiles to find key working levels, preparing a few hypothetical scenarios, and reviewing the latest information coming out of the stock market is like taking an animal tranquilizer.  As I worked through the charts, I felt my breath starting to slow, now I am writing an afternoon plan, soon it will be time to focus back on the task at hand.
Raul Santos, June 17th, 2019
________________
NASDAQ future came into Monday gap up after an overnight session featuring elevated range on elevated volume (note: volume metrics are skewed this week, as some active traders are still trading the June contract, despite the majority moving to September).  Price was balanced overnight, forming a tight distribution along last Friday's high.  As we  approached cash open price was hovering along Friday's high.
After a brief, two-way open auction buyers stepped in and drove price higher, trading up through last Thursday's high.  At 10am NAHB hosing market index data came out below expectations.  Buyers worked a bit higher, taking $nq_f range extension up before finding a responsive bid near last Wednesday's upper quadrant.
At 11:30am 3- and 6-month T-bill auctions took place.  Some selling pressure occurred around that time, but buyers became initiative up ahead of the daily midpoint.
Also on the economic calendar today we have long-term TIC flows at 4pm.
Last week markets came gap up into Monday then spent the rest of the week in a volatile chop.  The Russell demonstrated divergent strength throughout the week, a signal of healthy risk tolerance.  The last week performance of every major index is shown below:

On Friday the NASDAQ printed a normal variation up.  The day began with a gap down and after a brief two way auction buyers stepped in.  They were unable to reclaim the Thursday low.  Instead we spent the most of the session chopping along the low.  There was a late-day ramp, but it was sold back down to the midpoint before cash markets closed for the weekend.
Heading into this afternoon, my primary expectation is for buyers to make a new high of day, taking out 7577.50 to set up a move to target 7600 before two way trade ensues.
Hypo 2 sellers work price down to the daily midpoint 7548, buyers defend here and two-way trade ensues.
Hypo 3 sellers press down through daily mid 7548, setting up a move to target 7500 before two way trade ensues.
Levels:
Volume profiles, gaps, and measured moves: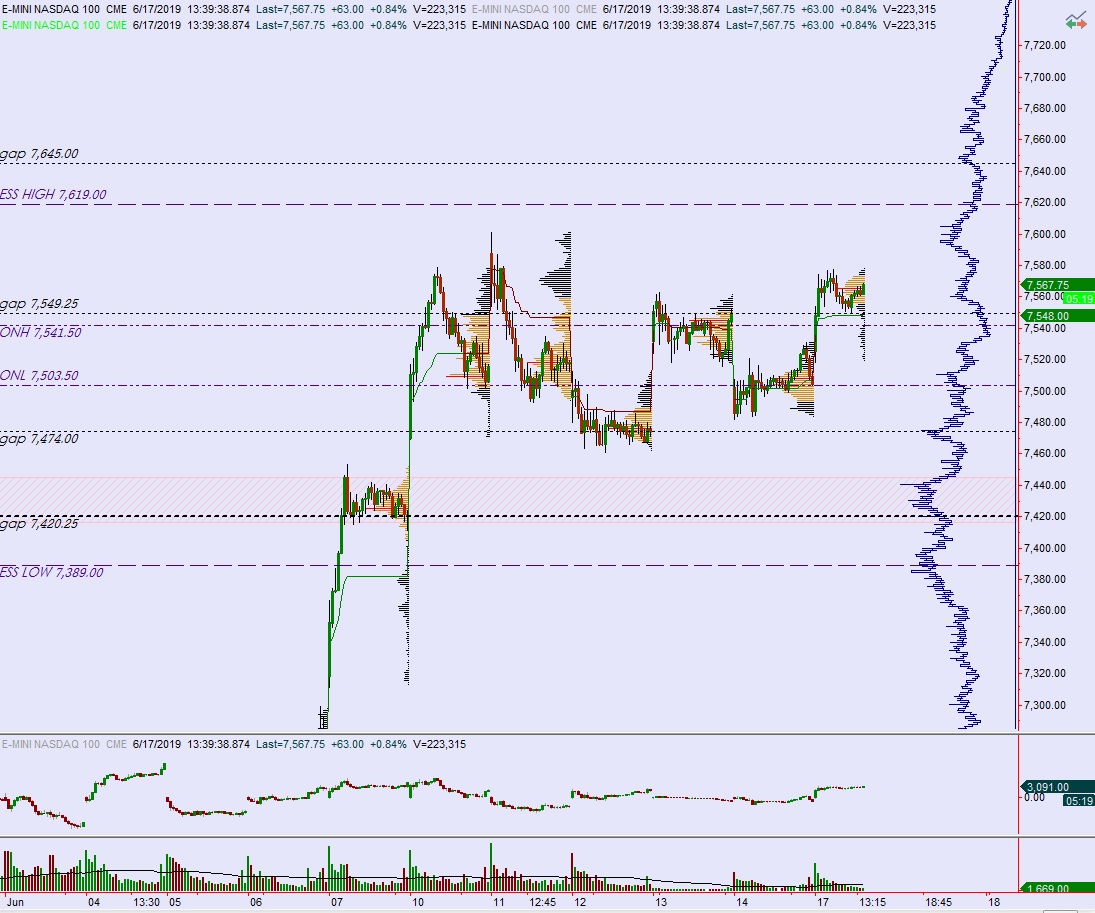 If you enjoy the content at iBankCoin, please follow us on Twitter