A few years ago I had to be honest with the information I was receiving in the form of huge losses trading stock options.  I wasn't able to stick to my system.  I didn't lacked the mental fortitude to wake up five days a week with 15 cannons pointed at me ready to blow of the hands, feet, and groin of my trading account.  I have nothing against option traders, but I learned that my skill set is not suited for a system that only wins 10-20% of the time.
I went back into the lab, looked at which trades I did best, and tripled-down on the process of doing those trades well.  I also went to work establishing other forms of cash flow outside of trading.  Then I carefully pressed weights up-and-down for four years, and weeded gardens, and dug lots of holes, and wheelbarrow-d sand around like an immigrant.
Anyways, last week I booked about equal the gains as I've had so far in all of 2019 combined, effectively doubling my profits for the year.  Basically I waited six months for the proverbial deck to stack and then aggressively executed my trades.
I superimposed the last two executive summaries from the Sunday Strategy Session onto this chart.  Each forecasted five day's worth of price action with uncanny accuracy: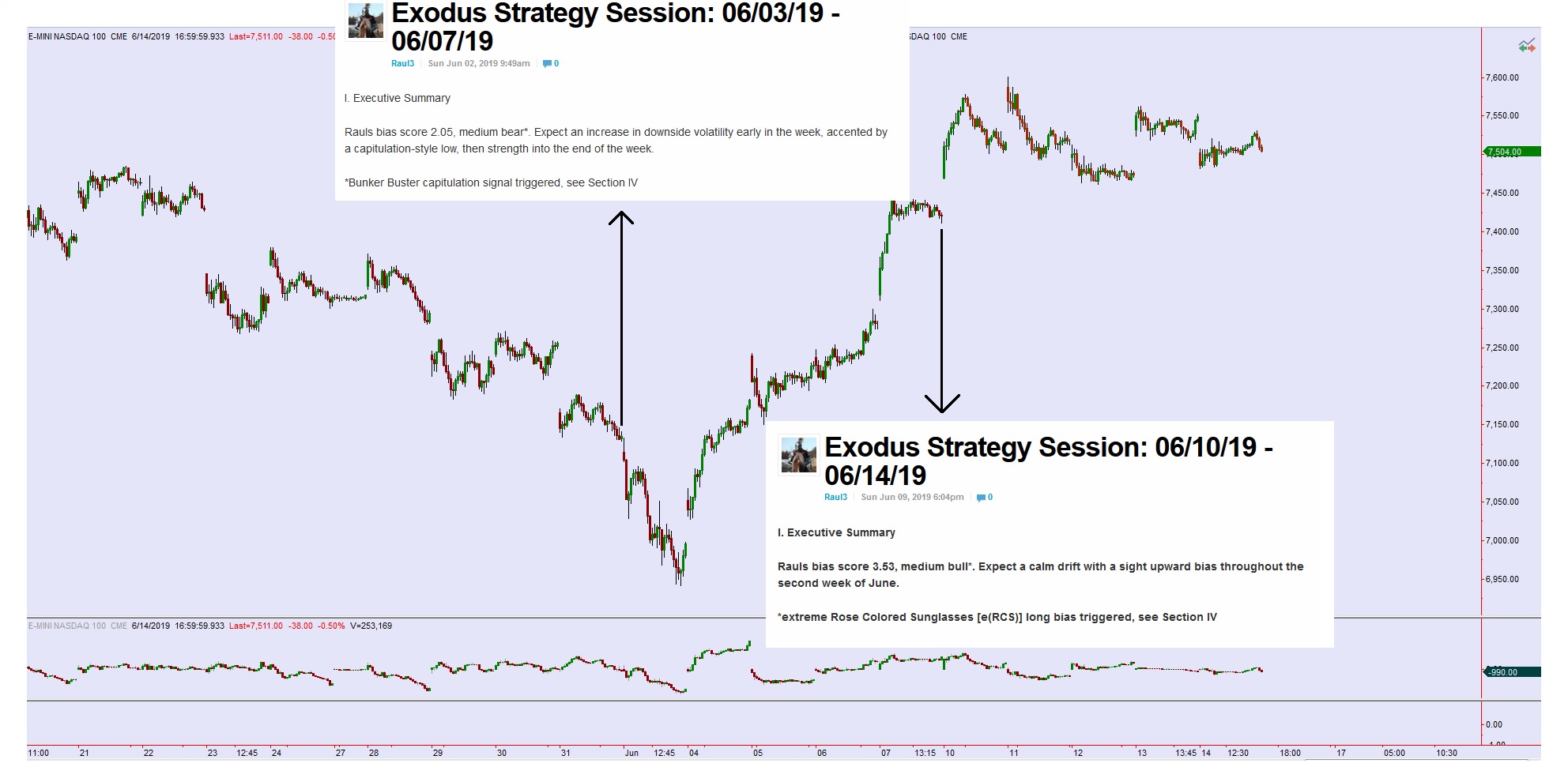 There are a handful of people who use Exodus every day to enhance their approach to investing and trading.  The rest of the subscribers are wanton degenerates, ferreting about our tool shed with no intent.  I'd like to see all these jokers leave and never come back.  They don't have the right ingredients to be a trader.
The only difference between both types of Exodus subs and yours truly, is I am trading better than all of you, all whilst putting on a live seminar on the art of trading.
If you want an internet sewing circle to sit around all day and gossip about the latest news bit, go tweet—daddy needs Twitter's users active.  My massive TWTR holding needs to hit all-time high or zero so I can move on with my life.
As for Exodus, I'd like to see it populated only by ruthless traders, scoundrels who would just as soon pluck my eyeballs out if given the chance.  People with no sworn allegiance, dead-set on pirating about the financial markets capturing fiat american dollars, gyarr.
That's all I have to say about any of this except for one more thing:
June is RAUL'S MONTH.
-Raul Santos, June 16th 2019
Exodus members, the 239th edition of Strategy Session will be live in about two hours (around 2pm New York).  I haven't written it yet, so I do not know which section will be most interesting.  Bonus points if you go back to the 06/10-06/14 report and revisit the talk about NASDAQ transports.  They were THE TELL to hold on during last week's little selling bout.  Had you, for whatever reason, been sweating the mid-week selling, this contextual piece could have provided you solace.  Instead of seeking it from another person, like a mentor or Elon Musk aka DAD.
PS – "Happy Father's Day"
If you enjoy the content at iBankCoin, please follow us on Twitter